"the baker" gift set giveaway
This post may contain affiliate links. Please read my disclosure policy.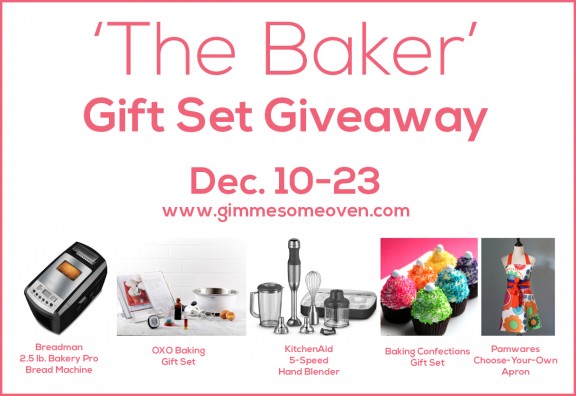 Our December giveaways continue here at Gimme Some Oven! As our follow-up to last week's giveaway for 'The Cook' (which is still open through Dec. 16), this week we are celebrating 'The Baker'!
And I couldn't be more excited about the five different brands who are so generously sponsoring the giveaways. From a premium bread machine, to a fabulous baking gift set of goodies, to an uber-multi-functional hand blender, to a fun and colorful baking confections gift set, to a cute option to choose your own apron, I'm pretty sure all of these prizes will have you ready to bake the day away this holiday season. Any of these would also be fantastic gifts for the foodies in your life. Or you might even want to treat yourself to a little holiday present of your own. ;)
Either way, be sure to read below to learn more about each of these amazing brands. Then enter for a chance to win, because we will have 5 lucky winners!
We now have nine giveaways happening on the sites right now that you won't want to miss, including some special giveaways as we kick off Hobbit Week today on the blogs! I can hardly take it – too much fun! :)
How To Enter "The Baker" Gift Set Giveaway:
a Rafflecopter giveaway
(Follow the Rafflecopter instructions to enter.)
Items Included In "The Baker" Gift Set Giveaway: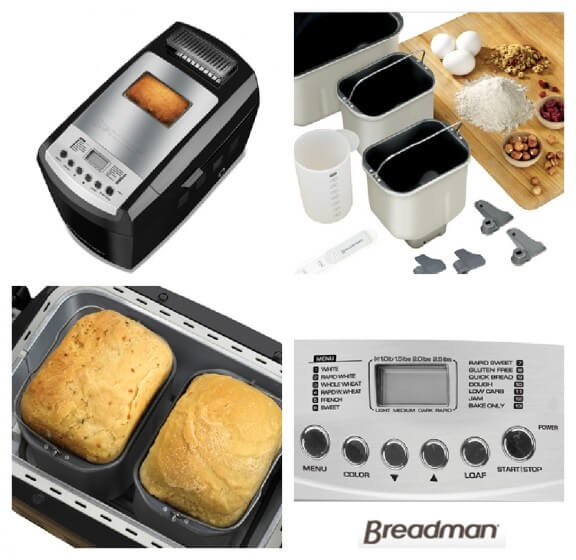 1 Breadman 2.5 lb. Bakery Pro Bread Machine  ($199.99 value)
For all of you bread bakers out there — or all of you who want to learn how to be bread bakers — you are going to love this giveaway from Breadman! We are going to be giving away one of their sleek, beautiful 2.5 lb. Bakery Pro Bread Machines. But don't be fooled by the name. This baby can do way more than just bake a basic loaf of bread.
This bread machine allows you to choose the size of the loaf (2.5, 2, or 1.5 pounds – or bake two 1 lb. loaves at once). And then it also comes with an automatic fruit and nut dispenser, 3-crust shade options and 13 customizable baking functions make it simple to try something new with each loaf, including low-carb, gluten free, and artisan dough. Seriously, technology blows me away sometimes. The best thing is that all of this can happen with pretty much the push of a button, and then you will have a home that smells amazing, and professional-quality bread to serve to your friends and family. Delish!
So be sure to check out Breadman's website, where they are posting some amazing holiday sales right now (including $50 off this bread machine!). And you can also find them on Facebook and Pinterest.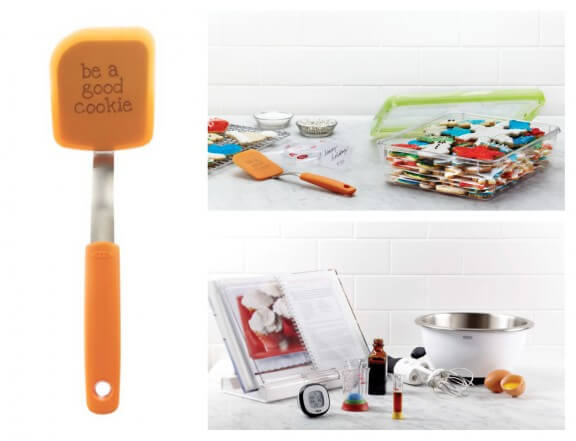 1 OXO Baking Giftset ($150 value)
I am so excited to have OXO as a part of this giveaway, especially after I have been using my adorable little cookie spatula (above) while baking batches and batches of cookies this month for Cookies for Kids Cancer (an incredibly cool program created and sponsored by OXO). So I am excited that we are going to be giving away a Good Cookie Spatula to one lucky reader, plus an amazing baking giftset valued at $150!
OXO has long been one of my favorites for "tools you can hold onto", as they say. They are so well made, always easy to grip, and so smart and functional! I have been caught star-gazing at the OXO wall at the store on more than one occasion, always checking to see what great new tool or design they have come out with next! And now one of you will have a new OXO collection in your own home! The winner will receive a Good Cookie Spatula, a 4-Piece Mini Measuring Beaker Set, an Egg Beater, a Pop-Up Cookbook Holder, a Stainless-Steel Mixing Bowl Set, a Magnetic Digital Timer, and a LockTop Container (perfect for cookies and cupcakes!).
Such a fun prize pack! So be sure to visit OXO's site to learn more about the great products they have, and you can also follow them on Facebook, Twitter. And then also take a moment to visit their site and Facebook page for the Cookies for Kids Cancer program. I hope you will consider getting involved!

1 KitchenAid 5-Speed Hand Blender ($129.99 value)
How many of you are fans of kitchen appliances that have a million functions? (I'm raising my hand high here in my little loft kitchen with no storage space!!)  Well, then I'm pretty sure you will be a huge fan of this amazing 5-Speed Hand Blender from KitchenAid. Made with the industry's first ever interchangable stainless steel blades and the first-ever removable pan guard (so you don't scratch up your cookware, this high-tech baby is brilliant! It blends, chops, shreds, minces, froths, mixes, whisks, emulsifies, aerates, and will basically turn into your new favorite appliance.
I especially love to use hand blenders for whipping up a quick smoothie, or shredding some quick veggies, chopping nuts, or even frothing up some milk for a homemade latte! So quick and simple, easy to clean, and you don't have to worry about using a large appliance for a small task. And I also love that the 1-liter pitcher also comes with a splash-proof lid. Always a good thing in my kitchen! :)
You can check out a great video to see the 5-Speed Hand Blender in action here. But then be sure to also visit KitchenAid to learn more about their latest products on the website, Facebook, Twitter, and YouTube.

1 Giftset from The Bakers Confections ($71 value)
Oh my goodness. For all of you readers who love to make food look cute (in addition to delicious!), I'm pretty sure you need to immediately visit one of my favorite Etsy shops – The Bakers Confections. It is pretty much cute food packaging heaven. From adorable cupcake liners of all kinds, to paper straws, to twine, to sprinkles galore, to printables, and so much more, this sweet Etsy site is literally a one-stop-shop for everything you need to make your food look all the more colorful, cute and fun!
So I'm excited that one lucky winner will win an awesome gift assortment from the shop, including the: Girls Rainbow Jimmie Sprinkles, Girls Rainbow Non Pareil Sprinkles, White Scallop Baking Cups, Mini Girls Rainbow Striped Paper Favor Bags, Cake Pop Lollipop Sticks, Girls Rainbow Striped Wooden Ice Cream Spoons or Cupcake Spoons, Rainbow Stripes Paper Straws with DIY Printable Flag Toppers, Girls Rainbow Baker Twine Mini Bundle Pack.
So be sure to poke around and see all that The Bakers Confections Etsy shop has to offer. Also connect with them on Pinterest and Facebook, where they are currently in the midst of their own 12 days of Christmas giveaways. Exciting!!

1 Choose-Your-Own Apron from Pamwares ($32 Value)
I actually went "shopping" myself for this part of the giveaway. I really wanted an apron to go with the baking giftset, but for the life of me, I could not find any aprons online that I genuinely liked!!! It seemed like every apron was either too frilly, to impractical, too boring, or too…meh. But after an hour of searching and getting depressed about the state of apron shopping online, I happened to stumble upon this colorful apron from the Pamwares shop on Etsy. And all of a sudden, it was as though the angels started singing.
SO MANY CUTE APRONS, PEOPLE! Oh my goodness. I could not stop favoriting them. So many cute, modern and bright fabrics. And they are all handmade by Pam, and she will make special aprons for you made-to-order as well. Plus, the full-size aprons are only $32!! I see many hostess gifts ahead here in my future. So check out the Pamwares Etsy shop, and also visit her on Twitter.
Be sure to also enter these other Gimme Some giveaways this week:
In Case You Missed It:
To enter the giveaway, follow the instructions in the Rafflcopter widget above just below the pagebreak.
Disclaimer: All giveaways have been provided by each of the brands listed. I was in no way compensated to host these giveaways, and all opinions are my own as always.