"the griller" gift set giveaway
This post may contain affiliate links. Please read my disclosure policy.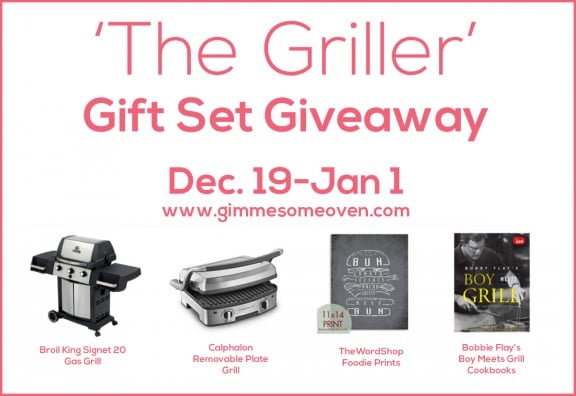 The delicious December giveaways are continuing at Gimme Some Oven. As our follow-up to our earlier gift sets for The Cook and The Baker, today we are kicking off a smokin' giveaway for The Griller!
I am extra excited about this week's roundup being from Kansas City, the land of barbeque. One of the best local stores we have is sponsoring an a-ma-zing $500 gas grill, and then we have a gourmet indoor removable plate grill, some stellar foodie art prints, and one of the all-time best grilling cookbooks. So whether you love to grill indoors or outdoors, whether you love a good steak or you prefer vegan kabobs — you can do it all in style with items from this amazing giftset. And any of these would make fantastic gifts for the other grillers in your life too!
There are 4 chances to win, so be sure to eneter! Also don't forget to visit the other four Gimme Some blogs (Film, Life, Reads, Style), as we now have 10+ giveaways happening on the sites right now that you won't want to miss.
How To Enter "The Griller" Gift Set Giveaway:
a Rafflecopter giveaway
(Follow the Rafflecopter instructions to enter.)
Items Included In "The Griller" Gift Set Giveaway: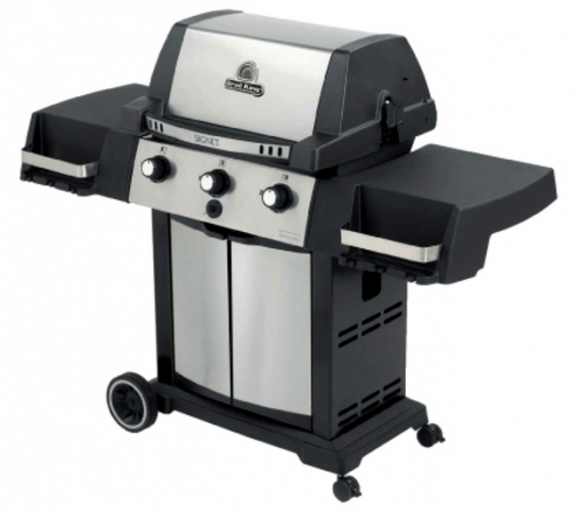 1 Broil King Signet 20 Gas Grill ($499.99 value)
I am thrilled that this amazing Broil King Signet 20 Gas Grill is being sponsored today by one of the best grilling stores in the area – All Things BBQ. I actually grew up with the family who owns the store, and have been so impressed with watching how their business has grown from a family tradition into one of the best bbq sites/stores I know. Their website is an amazing resource for (literally) all things barbeque – from grills and smokers, to sauces and rubs, to outdoor kitchens, to fuels, all kinds of accessories, cookbooks, and even cooking classes. For those local to the Wichita area, they even have an awesome grill rental program for special events or just to try out a new product. More that just a store, though, All Things BBQ is passionate about grilling, and loves to work individually with customers to find exactly what you might need. So if you are new to grilling, or a pro wanting to kick things up to the next level, don't hesitate to email, call, or visit their store or site to get your grill on!
And speaking of, this gorgeous Broil King Signet 20 gas grill is seriously going to make someone's day. It packs some serious power, and also has a ton of cooking space for making a full meal. Its heavy cast iron cooking grids offer superb heat retention to quickly sear foods, locking in juices and flavor. And the large, deep oven makes the Signet ideal for convection cooking large roasts, even large turkeys. You can read more specs here. Basically, an amazing grill for any sort of barbeque cravings you could have, and perfect for hosting great backyard parties!
So be sure to check out All Things BBQ's website, where they are hosting a 10% off sale on all gluten-free items right now (enter the code GLUTENFREE). And then also follow them on Facebook, Twitter, Pinterest, Instagram and YouTube.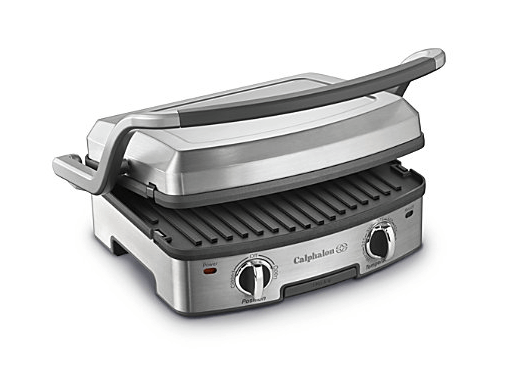 1 Calphalon Removable Plate Grill ($129.95 value)
For those of you (like me) who may not have the space for an outdoor grill, or for anyone who also just loves the option to grill indoors (especially during the chilly winter!), I am excited that we have another great Calphalon giveaway for you — this Calphalon 5-in-1 Removable Plate Grill.
This gorgeous appliance is all about style, performance and simplicity. Its reversible grill/griddle plates let you cook five different ways, so you can prepare eggs, pancakes and sausage for breakfast, a Panini for lunch, and grill chicken or steak for dinner. You can open it flat to convert to a full griddle or full grill, or close it to use as a contact grill or Panini press. Plus, the high-performance Calphalon nonstick plates and removable drip tray can go right into the dishwasher for easy cleanup. Especially as someone with limited storage in my kitchen, I am all for appliances that have multiple uses. And literally, you can make so many delicious things with this single grill! I also love that you can trust the quality that comes with the Calphalon brand.
Be sure to also read more about the new Your Set option with Calphalon for choosing a custom cookware set on the website, watch some of their VYou videos (recently with Chef Michael Symon!). Then connect with Calphalon on Facebook, Twitter, YouTube, Pinterest and Instagram.

1 TheWordShop Set of Prints
You all know that I am a bit of an Etsy fan, and especially love finding great foodie prints to share with you. So I am excited to introduce you to one of my favorite shops — TheWordShop. I imagine you have seen some of their modern prints before. (They are also the designers behind the Keep Calm phenomenon!)  I am a big fan of their prints from TheWordShop, and love the simple, clean and creative designs. They also all come in tons of colors, so that you can pick just the right one to match your decor.
So for our grilling giveaway, one reader is going to win a set of two 8×10-inch prints, choosing between their prints of Hambuger Art, Hot Dog Art, French Fries & Ketchup, in the color of your choice. I love them!
Take some time to browse around all of the other great prints at TheWordShop. And also be sure to stop by their other shops – Keep Calm Posters, Keep Calm Shop, Coffee Shop, and Pixie Pixels.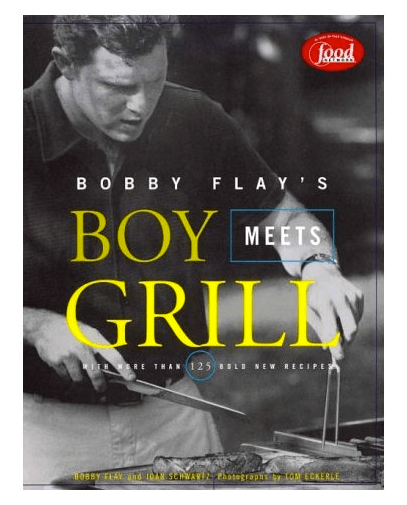 1 'Bobby Flay's Boy Meets Grill' Cookbook ($32.50 value)
For those of you who are new to grilling, and those of you who have been at it for years, everyone can learn something from this classic best-selling cookbook from Bobbie Flay. From classics like Butterflied Chicken with Lemon, Garlic, and Basil to Whole Lobster Smothered in Cascabel Chile Butter to Grilled Pork Loin Sandwiches to Spicy Mango Ketchup, this "hot" cookbook includes 125 mouth-watering recipes that you will love preparing on your grill.
Be sure to also enter these other Gimme Some giveaways this week:
In Case You Missed It:
To enter the giveaway, follow the instructions in the Rafflcopter widget above just below the pagebreak.
Disclaimer: All giveaways have been provided by the brands listed. I was in no way compensated to host these giveaways, and all opinions are my own as always.