Tomato-Rubbed Bread (Pa Amb Tomàqet)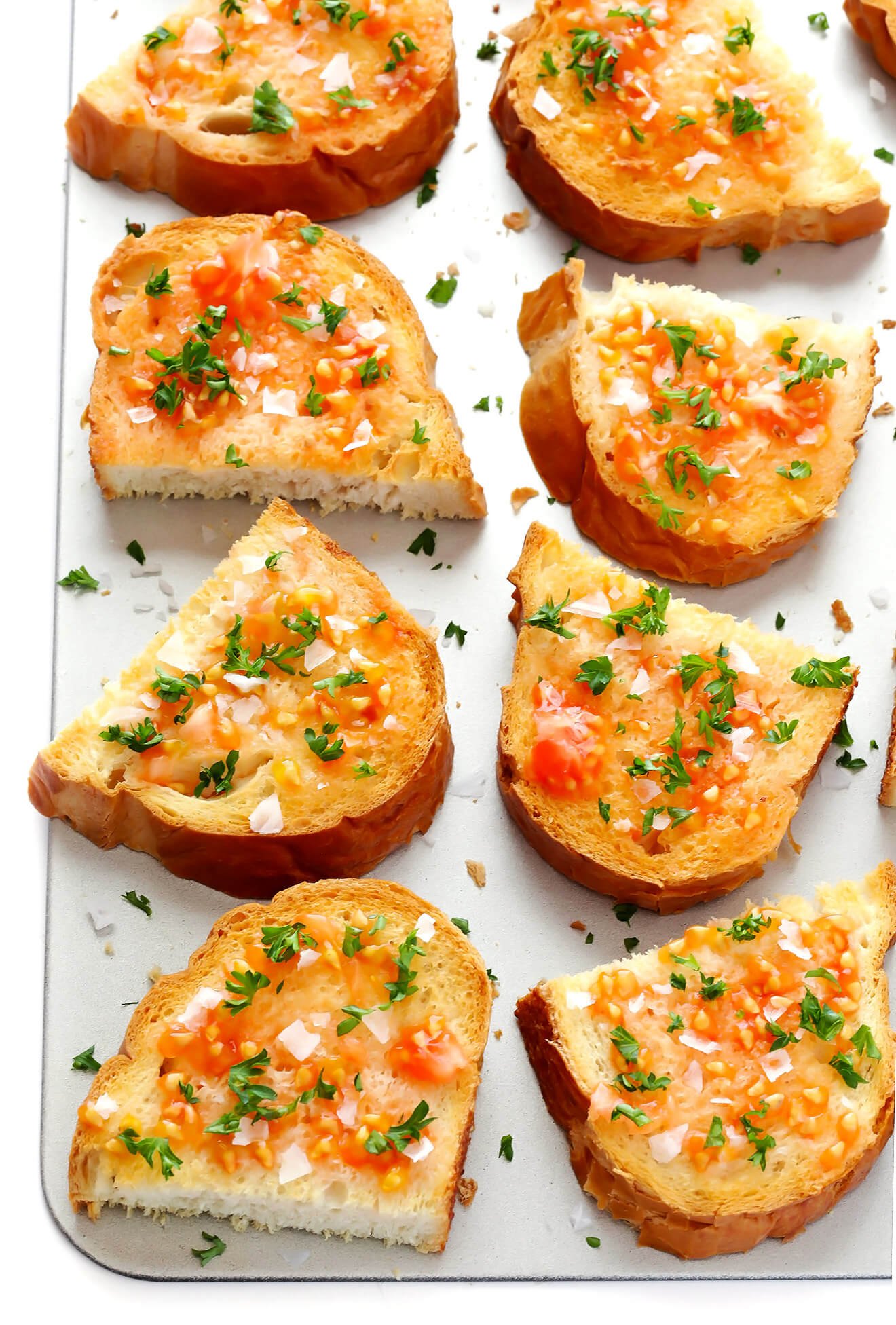 Oh my goodness, you guys…Barcelona.  ?
We've only been home from our trip to Spain for a little over two weeks, but I would seriously pack up my bags and head back over again in a heartbeat.  This city absolutely stole my heart.
And based on a quick scroll through the dozens of photos on my phone, the incredible food definitely did as well.  ?
I mean, not that that came as any sort of surprise.  I literally can still remember the sights and smells and tastes of my favorite dishes I tried in Barcelona the last time I was there, about four years ago, down to the most specific of details.  Which — for a girl who can't remember what she had for lunch two days ago — says something.  So the second I dropped off my bags at my hotel (sadly sans Barclay, who was delayed a day after forgetting his passport, whoops), I absolutely couldn't wait to head out into those bustling, beautiful streets in search of the tapas that had made such an impression on me years ago.  I'll admit — a part of me was nervous that I had idealized (and maybe romanticized) the city so much in my memory that it wouldn't live up to expectations, and that the food would be good but maybe not great.
But oh Barcelona, you did not disappoint.
Meal, after meal, after meal, after yet another delicious meal there, Barclay and I absolutely fell in love with the flavors of Spain.  I've always joked that I'm a "tapas girl" with any kind of cuisine anyway, since I much prefer to try bites of everyone else's meals than stay focused on a single dish of my own, and I love it when food comes out on a staggered timeline whenever it's ready instead of every dish being served at once.  But man, I was amazed at how consistently awesome the flavors were in all of the tapas we had.  And the paella.  And the wine.  (Oh my goodness, the wine.)  It was all just totally my palate — fresh, bold, savory, a little spicy at times, and all totally beautiful and delicious.  We tried everything from the traditional favorites to the fun modern twists on things, and enjoyed it all.
But guys, I've gotta tell you, one of our surprise favorites of the trip was this magical bread.
In Catalan, it's called pa amb tomàqet.  Or in Spanish, pan con tomate.  Or in English, bread with tomato.  And it's literally just that — toasted bread, rubbed with fresh tomato, drizzled with olive oil, and a pinch of salt.  Seriously the simplest thing ever, but as Barclay and I agreed, also one of the best things ever.  We couldn't get enough of it, and kept ordering (and thus, regularly spoiling our appetites with) it just about everywhere we went.  And it made us ridiculously happy.
So of course, the first thing I did when I got home was toast up a fresh batch for us with a glass of rioja.  And then of course, had to share it with you amigos.  ?
Those of you who regularly eat tapas may have had this one before.  But — as our Barcelonan friends explained to us — pan con tomate is actually prepared differently around the different regions of Spain.  Apparently in the South of the country (near Madrid, etc.), it's traditional to make a much thicker tomato puree and spread that with a spoon all over the top of crusty bread, which also sounds delicious.  But in Catalonia (especially in Barcelona), it's traditional to literally just rub the tomato on the crusty bread, so that a simple light layer covers and soaks into the top of the bread.
But in both areas, good toasted bread, garlic, olive oil and flaky sea salt are also involved.  ?
So to make the bread Catalan-style, simply toast up whatever size and kind of bread slices you have on hand.  (Bread that is a few days old actually works best for this kind of toast!)  Then once the slices are hot out of the toaster (or oven), rub a (whole) garlic clove all over the top of each slice.  Then drizzle the slice with olive oil, rub the cut-side of a halved fresh tomato all over the slice, sprinkle with flaky sea salt (and fresh herbs, if you'd like)…and serve nice and warm.
And…enjoy.
Like I said, it truly is the simplest thing ever, and only takes a few minutes to prepare.  But my goodness, it hits the spot every single time.
(Seriously, I feel like those Europeans are onto something with all of their amazing bread and wine with every meal…?)
Hope that you can give it a try soon, and enjoy a little taste of Spain in your home as well.  ?
And stay tuned — I'm hoping to get all of these photos edited and share lots more about our trip with you guys next week!  So many amazing places to recommend if it's on your traveling bucket list!
Tomato-Rubbed Bread (Pa Amb Tomàquet)
This tomato-rubbed bread recipe (known as "Pa Amb Tomàquet" in Catalan in Spain) is a delicious appetizer super quick and easy to prepare, and full of the best fresh flavors!
Ingredients:
bread slices
peeled (whole) garlic cloves, halved
extra-virgin olive oil
fresh tomatoes (any kind), halved
optional extra toppings: chopped fresh basil, parsley, or chives
Directions:
Toast the bread slices either in a toaster, or by baking them in the oven at 400°F (turning once) until the slices are golden on both sides.  (Baking time will totally depend on the type and thickness of your bread, so just keep an eye on the slices and flip once they are golden on each side.)  Remove from oven and transfer the sheet to a wire baking rack.
Immediately rub the cut-side of the garlic cloves all over the top of each slice.
Drizzle the top each slice with olive oil (or you can do this after rubbing the tomatoes).  Then immediately rub the cut-side of the fresh tomatoes all over the top of each bread slice, and sprinkle with a pinch of sea salt.
Serve immediately.
All images and text ©
If you make this recipe, be sure to snap a photo and hashtag it #gimmesomeoven. I'd love to see what you cook!
This post contains affiliate links.