Tzatziki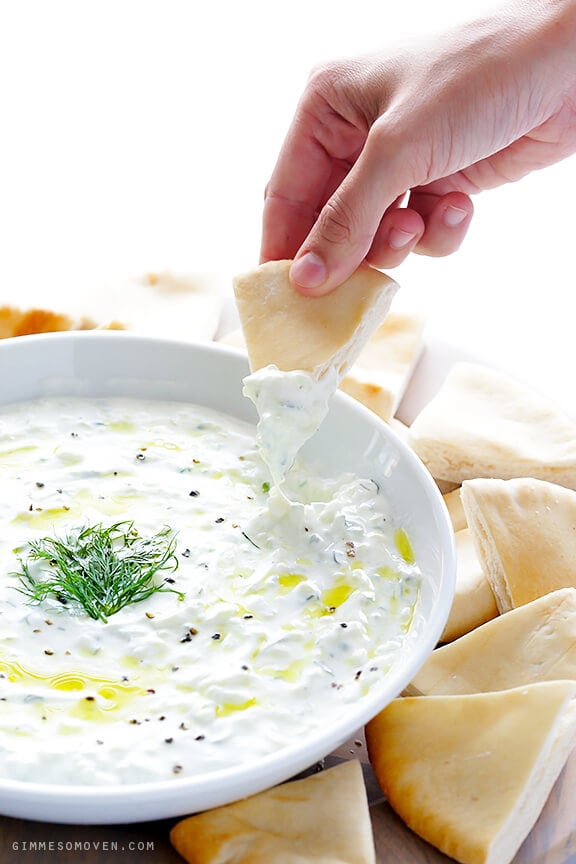 Random fact about me:
I can accurately pronounce Spanish, Italian, French, German, Latin, and just about any other language if needed.
It's one of the odd perks that comes from having been an opera major in college.  (Perhaps another random fact that you did not know about me.)  All vocal music majors are required to take a semester or two of a class called "Diction" where you learn how to pronounce just about any language imaginable with the help of the International Phonetic Alphabet.  The IPA doesn't translate words for you.  It just tells you exactly how to pronounce them, which comes in helpful with singing songs and arias in various languages.  And nowadays, it comes in handy with learning how to pronounce foreign foodie words.
You know, like the Greek sauce we all love called tzatziki.
IPA: /tsaˈtsiːki/.
Many of you probably already know how to pronounce it.  But in case you don't (which I know many don't, based on all of the creative pronunciations I hear when people order at our local Greek restaurant), here's a mini IPA lesson for the day.  Similar to the phonetic spellings in English dictionaries, each letter in the IPA alphabet represents a sound:
t = as in "ten"
s = as in "sell"
a = the vowel in "father"
i = the vowel in "beet"
k = as in "keel"
And the quote mark (') comes before the syllable that is stressed.
Put them all together, and you have…/tsaˈtsiːki/…tzatziki!  
Opa!  (Maybe you should become an opera major too.)  ;)
Tzatziki Recipe | 1-Minute Video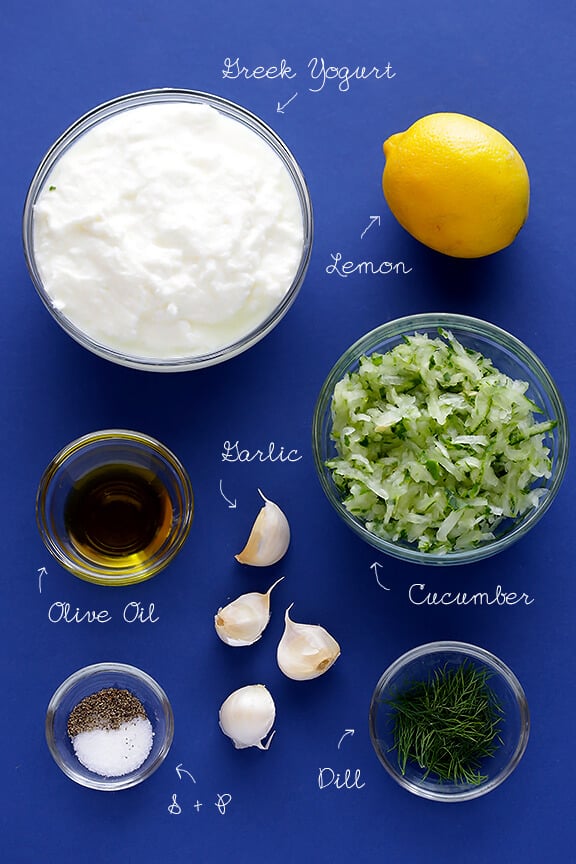 Well at least now if you see an IPA pronunciation listed in the dictionary, you'll know what that means.  Just imagine decoding a 400-page textbook of foreign aria lyrics over the course of a semester…  At least those skills can still come in handy every now and then in the kitchen too.
Like when it comes to making and saying tzatziki.
I assume most everyone is familiar with the delicious Greek yogurt sauce that's famous on gyros, burgers, falafel, salads, and in the dip aisle at Trader Joe's.  And in a new taco recipe coming on the blog tomorrow.  Everyone loves tzatziki!  But what I think everyone doesn't necessarily know is how ridiculously easy it is to whip up a batch homemade.
All you need are the ingredients above.
Basically all you do to make tzatziki is combine all of the ingredients in a bit bowl, and then stir to combine.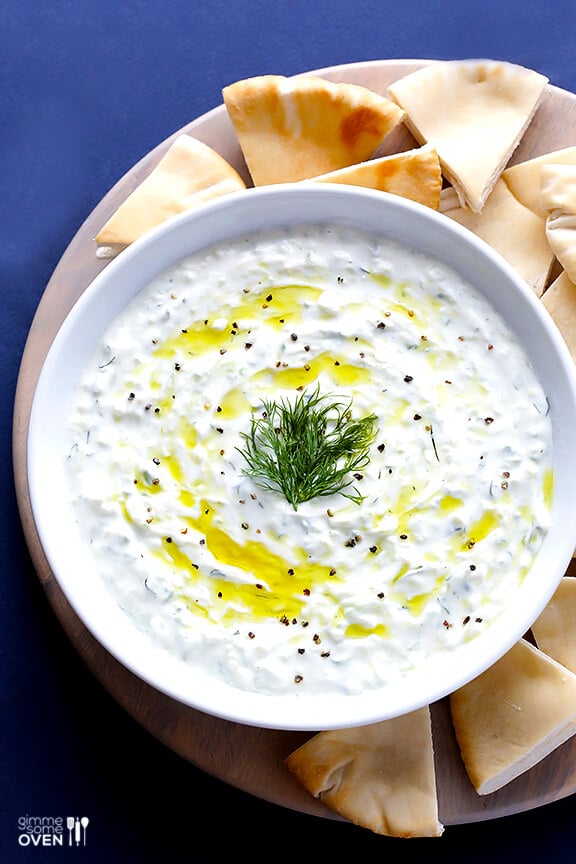 You can either spoon it onto whatever entree you may be making.  Or tzatziki sauce also stands well on its own as a tasty dip.  I like to drizzle mine with olive oil, crack a little fresh pepper on top, and poke a sprig of dill in the middle to make it look extra pretty.  Then just serve it up with whatever dippers you'd like — soft pita, crunchy pita chips, fresh veggie sticks, etc. — and you're good to go.
Opa!  Tzatziki!  Enjoy!!!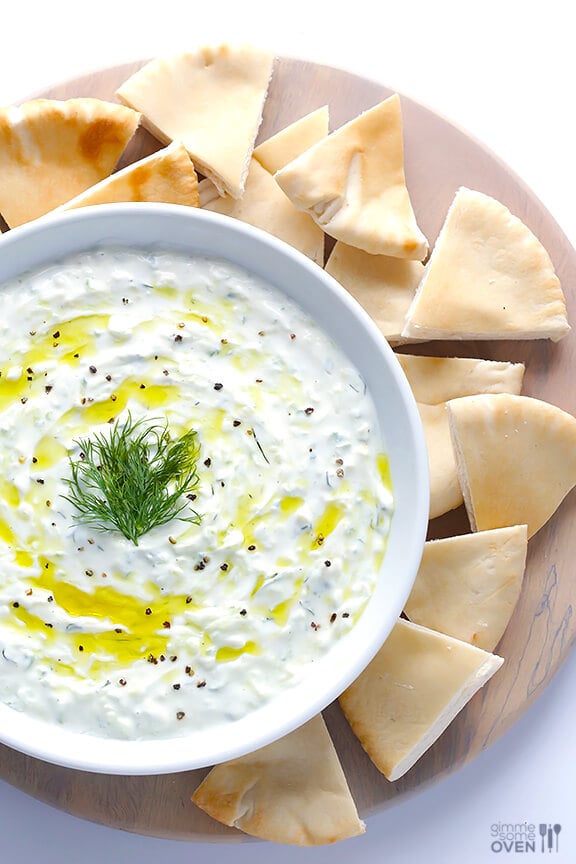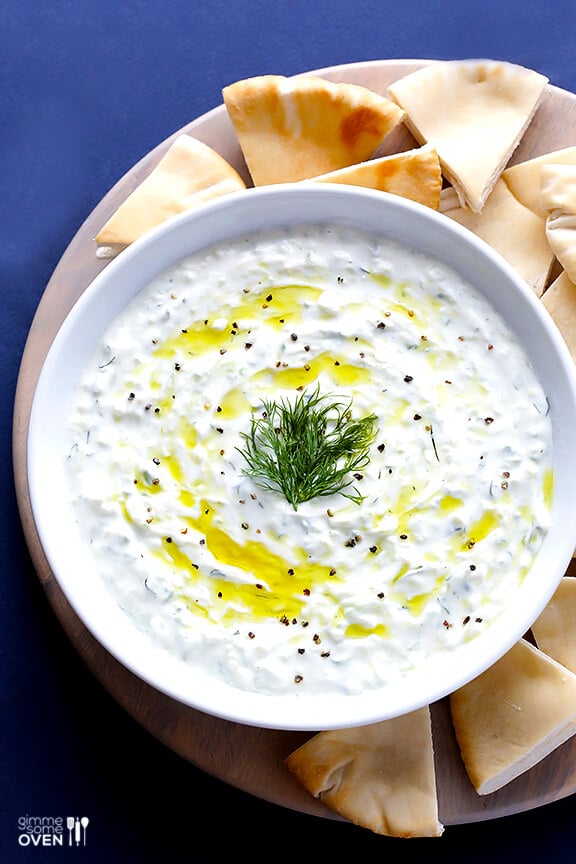 Tzatziki
Greek tzatziki dip is easy to make homemade with fresh ingredients, and it can be used in a wide range of dishes!
Ingredients:
2 cups full-fat plain Greek yogurt
4 garlic cloves, peeled and minced
1 English cucumber*, seeded and grated (about 1 cup)
1 tablespoon chopped fresh dill (not dried dill)
1-2 tablespoons fresh lemon juice, to taste
1 tablespoon olive oil
1/2 teaspoon sea salt
1/4 teaspoon freshly-ground black pepper
Directions:
Stir all ingredients together until combined. Taste and adjust seasoning if needed.
Serve immediately, or refrigerate in a sealed container for up to 2 days.
*I recommend using an English cucumber so that you don't have to worry about removing the seeds.  Feel free to peel it if you would like.  Also, if you would like a thicker sauce, feel free to squeeze the excess juice out of the shredded cucumber before adding it to the dip.
All images and text ©
If you make this recipe, be sure to snap a photo and hashtag it #gimmesomeoven. I'd love to see what you cook!