Watermelon Fire and Ice Salsa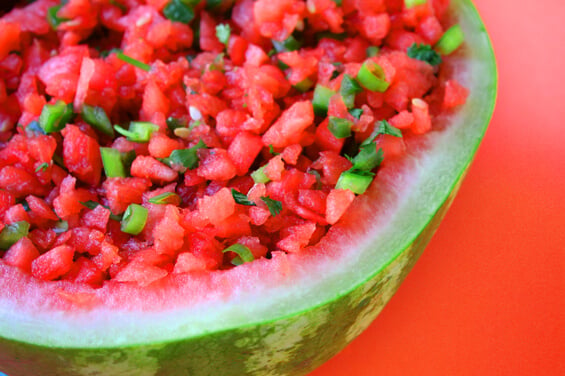 There is something about cutting into a fresh, ripe, red watermelon that just screams "summer" to me.  Love it!
So to celebrate the return of 90+ degree heat and a friend's housewarming party, I decided to whip up another batch of this salsa that was a hit at our annual pyromaniacs-unite-and-blow-up-zillions-of-fireworks family 4th of July celebration this year.  Granted, all of the chopping for this one can be a little time consuming (and super-juicy — look out!), but once again I was reminded of why it's oh-so-worth-it.  This salsa is irresistible!  The sweet and savory blend of flavors is delicious – especially when paired with tortilla chips.  And the fresh and juicy watermelon provides a refreshing alternative base for salsa.
That said, this recipe is also fairly versatile.  Feel free to substitute in other fruits (cantaloupe, pineapple, mango, etc.), other peppers (red, orange, yellow), or more/less jalapeno to modify the "heat".  Or if you have leftovers, I also imagine it would be fantastic served on top of fish or chicken, or mixed into a fresh salad.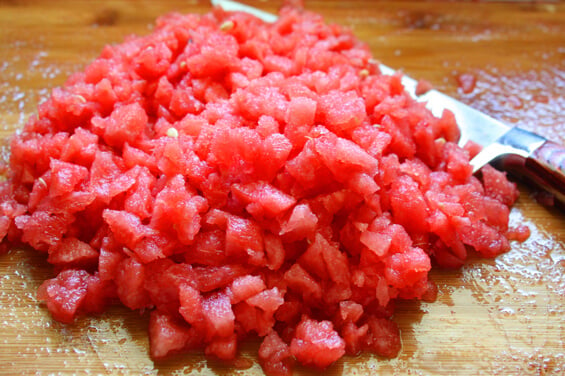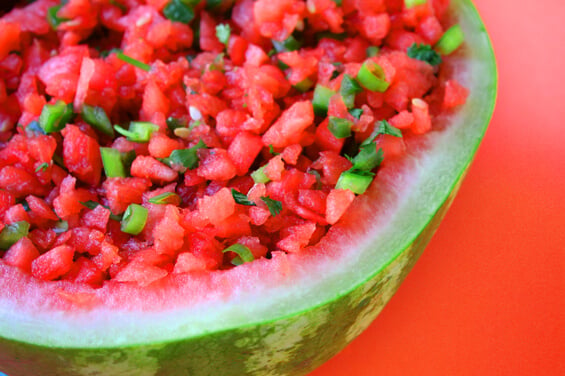 Watermelon Fire and Ice Salsa
This watermelon fire and ice salsa screams summertime, with its hot and cool components!
Ingredients:
3 cups watermelon, finely diced (approx. 1/4″)
1/2 cup green bell pepper, finely diced
2 tablespoons lime juice
2 tablespoons fresh cilantro, chopped
3 tablespoons green onions, chopped
2 tablespoons jalapeno pepper, seeded and finely diced
1/2 teaspoon garlic salt
Directions:
In a large bowl, gently mix together the chopped watermelon, green bell pepper, lime juice, cilantro, green onions, jalapeno with a spoon.  Pour into a colander or mesh strainer and gently stir to strain out any extra juices.  Then add in garlic salt, transfer to a serving bowl (or hollowed-out watermelon half) and serve immediately.
Because watermelon can have a tendency to get — well, very water-y — there are two extra things you can do to avoid having this salsa turn into a pool of juice if you're not planning to serve it immediately.  First, if it is going to sit in the fridge for a few hours before serving, set aside a few extra minutes after you take it out to repeat the colander/strainer step, and drain out any extra juices that have naturally accumulated.  Second, definitely wait to add the garlic salt until it's ready to serve!  The properties in salt tend to drain fruit of their juices fairly quickly, and even age melons a bit.  So save it until the end, and then enjoy, enjoy!
If you make this recipe, be sure to snap a photo and hashtag it #gimmesomeoven. I'd love to see what you cook!