Zwilling 9-Piece Knife Block Set GIVEAWAY ($449.99 Value!)
This post may contain affiliate links. Please read my disclosure policy.
This giveaway is sponsored by Zwilling.
As promised in yesterday's post on how to cut butternut squash, I have a fun new giveaway to share with you today that will help with all of your slicing and dicing needs, and help you breeze through them in style. Yes, I'm sure you caught a glimpse of that beautiful photo above. We're giving away a brand new, gorgeous, well-made, gonna-make-you-want-to-chop-All-The-Things 9-Piece Professional Knife Block Set from Zwilling!
And I'm pretty stoked about it.
Because as you all have heard me say time and again, of all the investments you can make in your kitchen, I've a big believer in the value of saving up for a really good set of knives. You know, a set of "big girl knives". Knives that are incredibly well-made and will last decades (especially when well-taken care of). Knives that are well-balanced in the palm of your hand, and will slice and dice your food with ease. And knives that — yes, also very important — will look smokin' hot in that kitchen of yours!
As someone who spent far too many years cooking with a $20 knife set from college, I'll be the first to admit that you don't need fancy equipment to cook good food. But my goodness — cooking sure is much easier, much more fun, and in some cases (like trying to power through a huge butternut squash) I believe that cooking can be much safer when you're using a solid set of knives.
So lucky for us, the kind folks at Zwilling — you know, those folks who make some spectacular knives — reached out and offered to give away this gorgeous knife block set to a lucky Gimme Some Oven reader. Which means that could possibly be you! Who knows? You'd better scroll below and take a minute to enter that giveaway to find out… ;)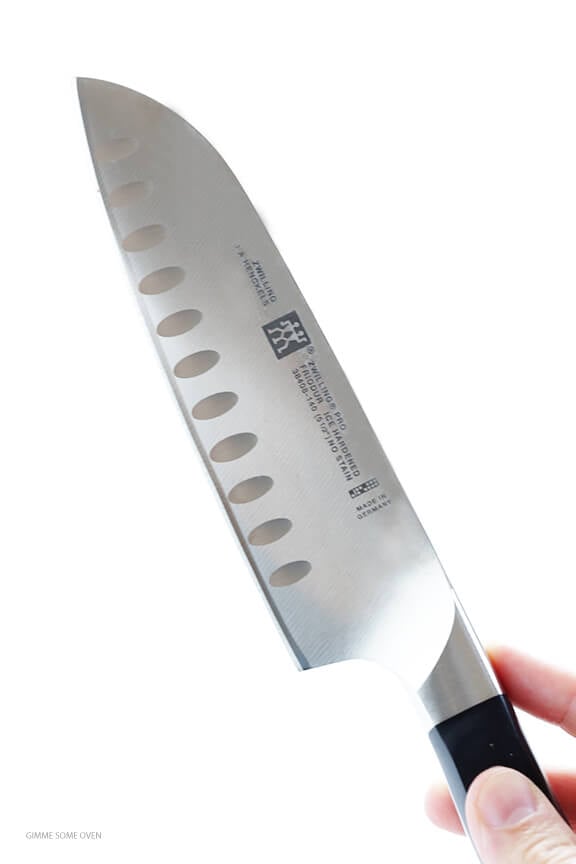 I've actually been testing out this Zwilling 9-Piece Professional Knife Block Set myself for the past month, and oh my goodness, it has been an absolute treat to use.
The set comes with 9 pieces, including a 3″ paring knife, 4″ paring knife, 5″ santoku knife hollow edge, 6″ slicing knife, 8″ chef's knife, 8″ bread knife, kitchen shears, sharpening steel, and a hardwood block that fits in beautifully with my kitchen. I mean, let's be real, the entire set is beautiful to look at. But more importantly, each knife does a beautiful job when put to work preparing food, like slicing the cucumbers for my water each day…
…or slicing through a hunk o' butternut squash.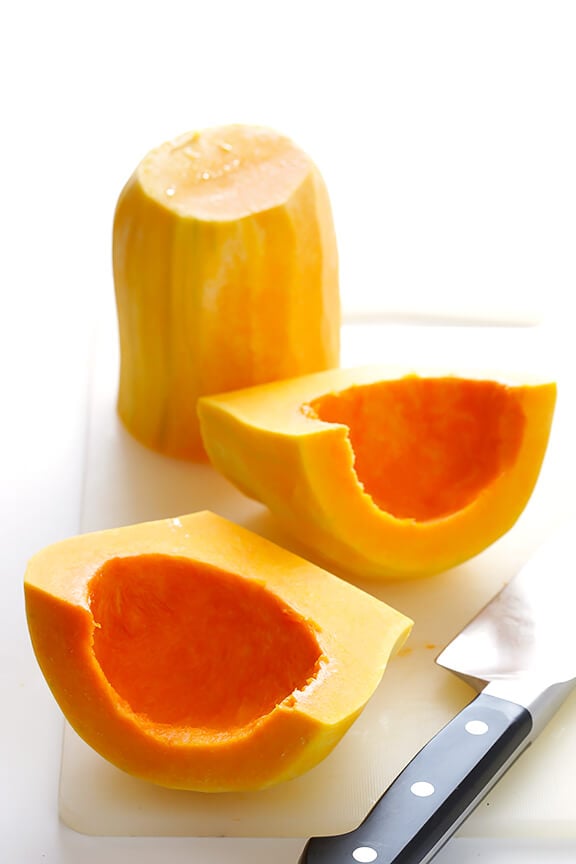 Needless to say, these knives have instantly become the new rockstars of my kitchen.
And I have become their #1 fan. :)
So! For anyone else interested in upgrading to a new knife set, I highly recommend looking into them. And also — of course! — entering the giveaway below for a chance to win a set for free! Here are the deets:
ZWILLING 9-PIECE KNIFE BLOCK SET GIVEAWAY
Giveaway Prize:
One lucky winner will receive a new Zwilling Pro 9-Piece Knife Block Set ($449 value), which includes:
3″ Paring Knife
4″ Paring Knife
5″ Santoku Knife Hollow Edge
6″ Slicing Knife
8″ Chef's Knife
8″ Bread Knife
Kitchen Shears
Sharpening Steel
Hardwood Block
Why They're Awesome:
Each knife is precision forged using Zwilling's Sigmaforge process, resulting in an exceptionally hard yet flexible blade.
Zwilling's friodur ice-hardening technique results in a harder, sharper blade that is corrosion resistant and highly elastic.
Each blade has hollow-ground depressions to reduce friction and minimize sticking.
Precise lasers are used to ensure each blade's edge is at the optimal cutting angle for maximum sharpness.
HOW TO ENTER:
Follow the Rafflecopter instructions below to enter the giveaway, and good luck!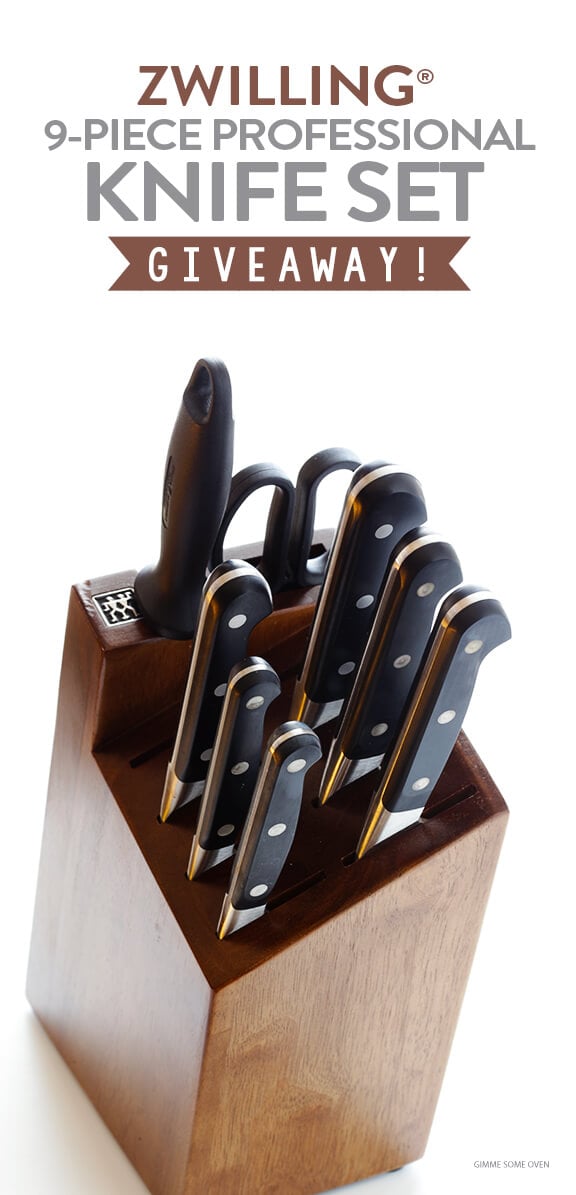 This giveaway has been sponsored by Zwilling. They provided the giveaway prize, as well as an additional set of knives for me to test out and review, but all opinions here are 100% my own as always. Thanks for supporting brands like these who help make giveaways possible!