Cherry Pie
Learn how to make cherry pie with this simple and classic cherry pie recipe!
Ok, I took a vote on our Facebook page yesterday for which pie recipe you'd like to see next. And while blueberry came in at a very close second (and will be happening later this week!), I think it's clear which classic dessert usually gets everyone's vote — Cherry Pie!
I have to admit that I initially went to the market to buy blueberries to make this pie so that we could photograph our tutorial on How To Make A Lattice Pie Crust. I had made a blueberry pie the week before for my pieathon night with friends, and it was so crazy good that I wanted to make it again. But then I walked by this enormous bin of bing cherries on sale.
And I decided it was time to learn how to make a cherry pie.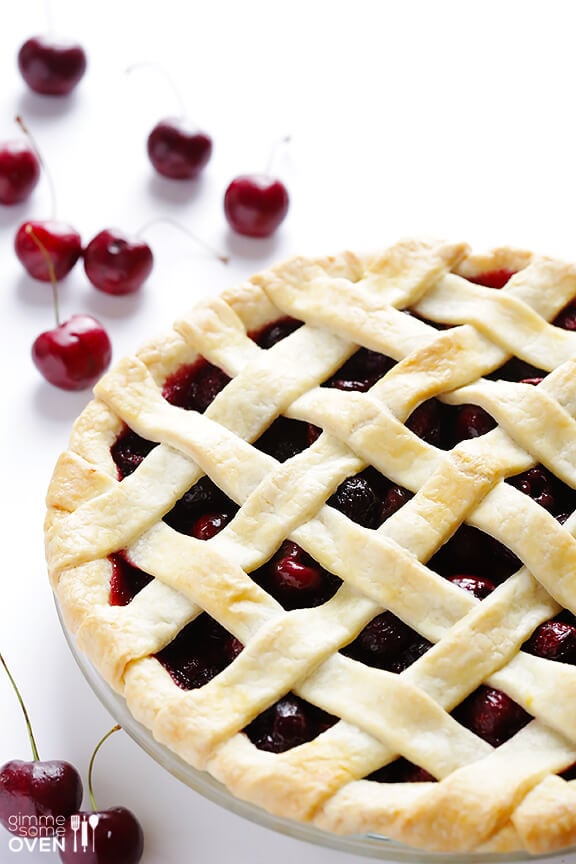 My summer intern, Rachel, happened to be working with me in the kitchen that day. And since she had never before used a cherry pitter, she volunteered for the lucky job of pitting a zillion cherries! Our little cherry pitter (see below) made quick work of the project, but it definitely made us want to give props to the generations of bakers who came before us and did this by hand.
By this point, after making so many pies, I had my recipe for How To Make A Pie Crust completely memorized. But Rachel and I were kind of surprised to learn how easy it was to make cherry pie filling!
We ended up opting for the method that just tosses the cherries in a dry mix, rather than cooking them on the stove. (Very similar to my recipe for Peach Bourbon Pie.) So once the cherries were pitted, it literally just took a minute or so to toss together the cherry pie filling. We quickly laced up the lattice crust, and then it was time to Gimme Some Oven, baby! ;)
Needless to say, I think that we both agreed that the impulse cherry buy paid off. Homemade cherry pie is the best!!!
This cherry pie recipe turned out to be absolutely wonderful! I was a little worried if I would like the cherry pie filling recipe made with sweet bing cherries instead of the typical canned tart cherries. But the pie was definitely not overly-sweet, and I loved the freshness of the bing cherries. The perfect pie to celebrate summer!!!
Hope you enjoy this one too!
Cherry Pie
Ingredients
1 unbaked double pie crust recipe
5 cups sweet cherries, pitted
1/2 cup sugar
1 Tbsp. fresh lemon juice
1 tsp. fresh lemon zest
1/2 tsp almond extract
1/2 tsp vanilla extract
1/4 cup corn starch
1 Tbsp of butter, cut into tiny pieces
1 Tbsp. milk
sugar for sprinkling (I used turbinado)
Method
Preheat the oven to 425°F.
Toss together the pitted cherries, sugar, lemon juice, lemon zest, almond extract, vanilla extract and corn starch in a large bowl until evenly coated.
Roll out the bottom pie crust, and gently lay it in a 9-inch pie pan. (See detailed instructions here.) Transfer the cherry filling to the pie crust, and sprinkle with little dots of butter.
Roll out the top pie crust, and either lay on top and cut a few slits in the middle to make a full double pie crust (detailed instructions here). Or cut the top pie crust into strips to make a lattice pie crust (detailed instructions here). Brush pie crust with milk and sprinkle with sugar, if desired. Then refrigerate for at least 30 minutes, or freeze for 10 minutes, before baking.
Place the pie in the middle rack, with a baking sheet or pie of aluminum foil on the rack below to catch any pie drippings. Bake for 15 minutes, then reduce the temp to 350°F and cook for 35-45 additional minutes, or until the crust is nicely golden and the filling is thick and bubbly.
Remove and allow to cool completely before serving.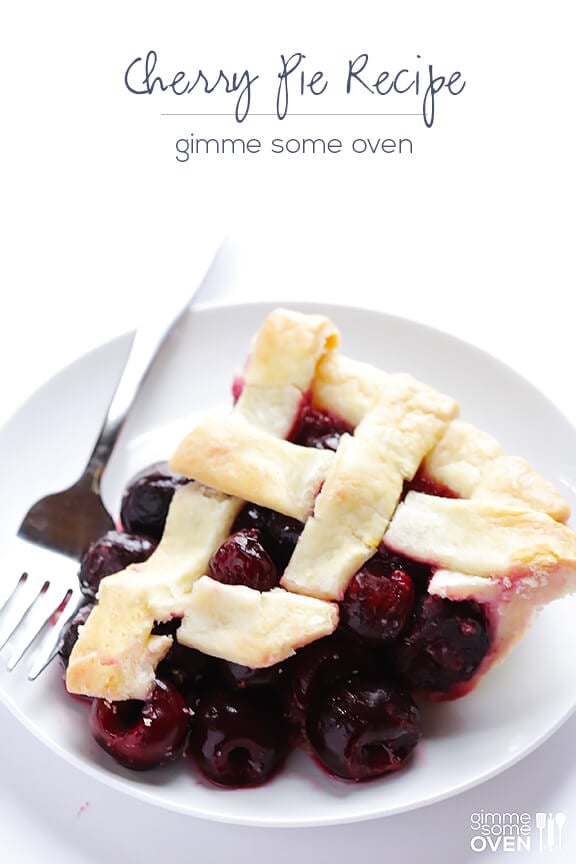 Disclaimer: This post contains affiliate links.