Chicken, Bacon & Avocado Chopped Salad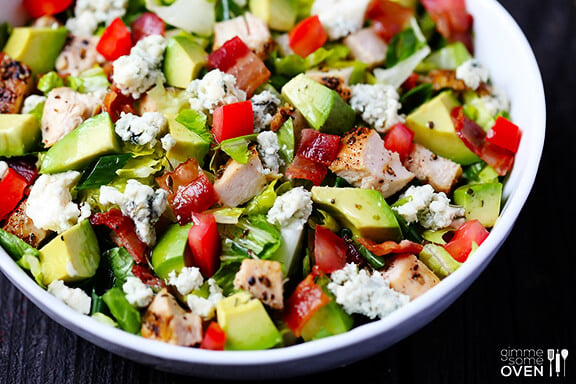 Sometimes the best salads come as a bit of a surprise.
A few weeks ago when I traveled to small-town Kansas for my friend Monica's wedding, I ended up getting there early in the morning with the other members of our old college band so that we could rehearse for the (13!!!!) songs that we were going to play during the ceremony.  Miraculously, we somehow plowed through our rehearsal in two hours, but definitely worked up a big appetite for lunch!
A guy from the area insisted that we try a local favorite, Martinelli's.  So we walked into this nice Italian restaurant on a random Saturday afternoon, and found ourselves looking at a menu of fancy pastas and entrees, because apparently that's how we roll in Salina, Kansas.  :)
But instead of the pasta carbonara or gourmet lasagnas, our local friend said that his favorite item on the menu was actually their house salad — a chicken chopped salad with avocado, bacon, tomatoes, blue cheese, and a garlic dressing.  I was about to protest that I didn't think this sounded uber "Italian", but then I realized it-sounded-absolutely-heavenly-and-I-wanted-it-NOW.
So I ordered it.  And it was molto marvelous.  So of course I had to make it again and share it with you.
I call it a Chicken, Bacon & Avocado Chopped Salad.
I have no idea if it's authentically Italian, but it sure as heck is colorful, amazing, and crazy good.
Yay for surprisingly good meals shared with great friends, and now great readers like you!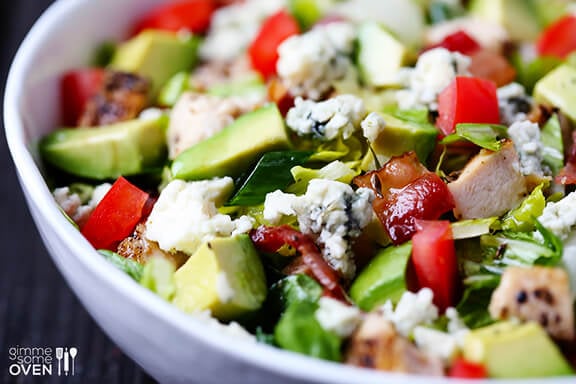 Chicken, Bacon & Avocado Chopped Salad
One of my new favorite chopped salads!
Ingredients:
Salad Ingredients:
2 boneless, skinless chicken breasts
salt and pepper
1 Tbsp. olive oil
8 cups chopped Romaine lettuce
8 slices bacon, cooked and diced
4 ounces blue cheese, crumbled
2 avocados, pitted and diced
2 roma tomatoes, diced
1/4 cup garlic vinaigrette (see recipe below)
1/4 cup chopped green onions
Garlic Herb Vinaigrette Ingredients:
1/2 cup apple cider vinegar
3 garlic cloves, minced
1 Tbsp. Dijon mustard (optional)
pinch of salt and freshly-cracked black pepper
1 Tbsp. dried Italian seasonings
1 1/2 cups extra virgin olive oil
Directions:
To Make The Salad:
Season chicken breasts on both sides with salt and pepper. Heat oil in a large skillet over medium-high heat and add chicken. Cook for 3 minutes per side, or until the chicken is cooked through and no longer pink inside. (Cooking time wil vary depending on the thickness of the chicken.) Remove chicken and let rest for at least 10 minutes. Dice chicken into small pieces.

Add the diced chicken, lettuce, bacon, blue cheese, avocados and tomatoes to a large bowl, and toss until combined. Drizzle or toss with garlic vinaigrette and serve immediately.
To Make The Vinaigrette:
Whisk all ingredients together until combined.

If you make this recipe, be sure to snap a photo and hashtag it #gimmesomeoven. I'd love to see what you cook!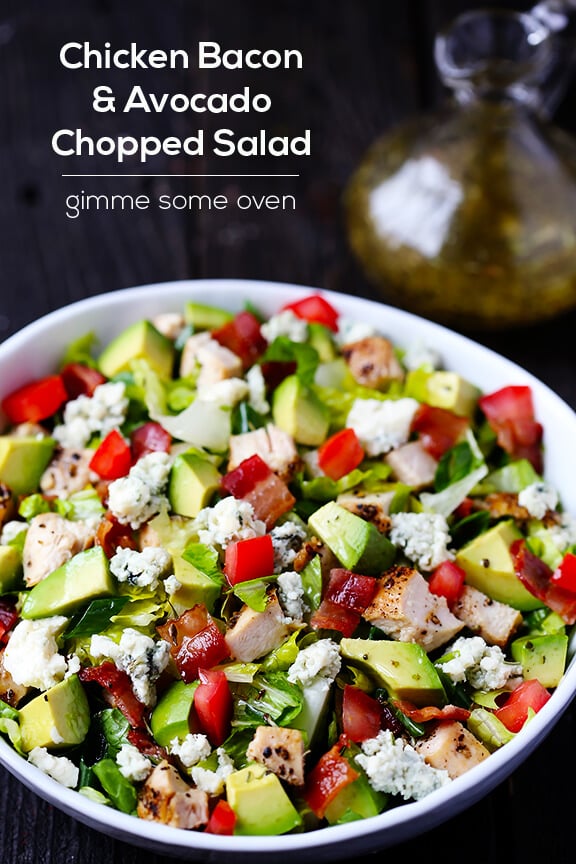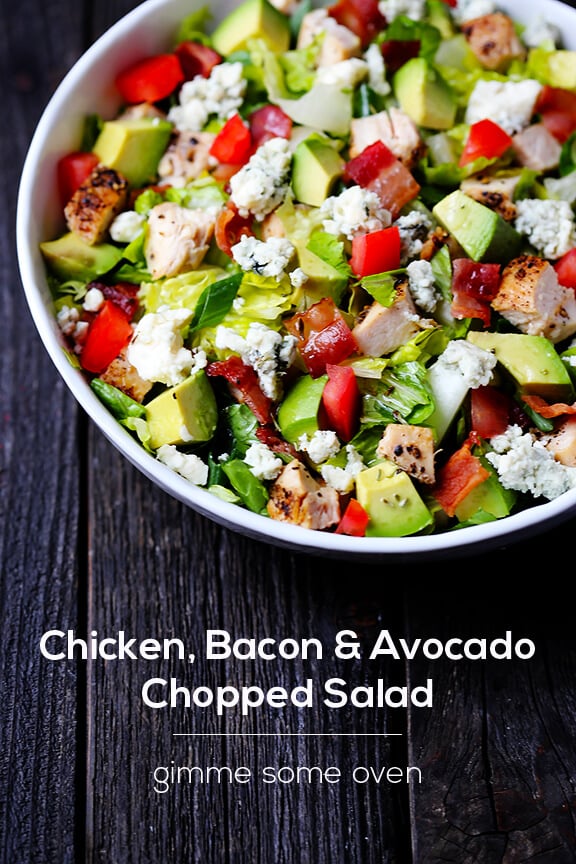 Leave a Comment:
Comments
Trackbacks/Pingbacks