Chimichurri Sauce
Anyone remember that episode of Seinfeld when they talk about how fun it is to say the word "sssssssalsa"? Well, get ready for chimichurri!
Yep. And in Spanish, the double "r" means you get to give it a dramatic roll as well.
Chimichurrrrrrrri.
For those of you who have never made this sauce, it is a parsley lover's dream come true. Lots of fresh flat-leaf parsley, plus some oregano, garlic, a little red wine vinegar, salt, pepper and olive oil — it's basically a parsley pesto! Definitely a simple, fresh sauce that pairs perfectly with grilled steak, chicken, or even fish or seafood.
Rrrrrrrrreally yummy. You should give it a try!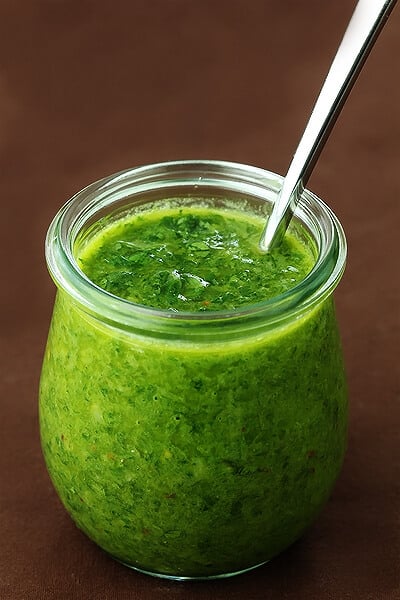 Chimichurri Sauce
Ingredients
1 cup fresh (flat-leaf) parsley leaves, tightly packed
2 Tbsp. fresh oregano leaves, tightly packed
3 cloves of garlic
2 Tbsp. red wine vinegar
¼ tsp sea salt
¼ tsp freshly-ground black pepper
½ tsp red pepper flakes
½ cup good-quality olive oil
Method
Place all ingredients in food processor except for the olive oil. Pulse until finely chopped. Transfer to a jar or bowl, and whisk in olive oil until combined. Use immediately or refrigerate for up to one week.
Ali's Tip:
You can also make chimichurri with cilantro instead of parsley! I enjoy making it with an extra pinch of cumin and chipotle powder mixed in.