Chopped Kale Greek Salad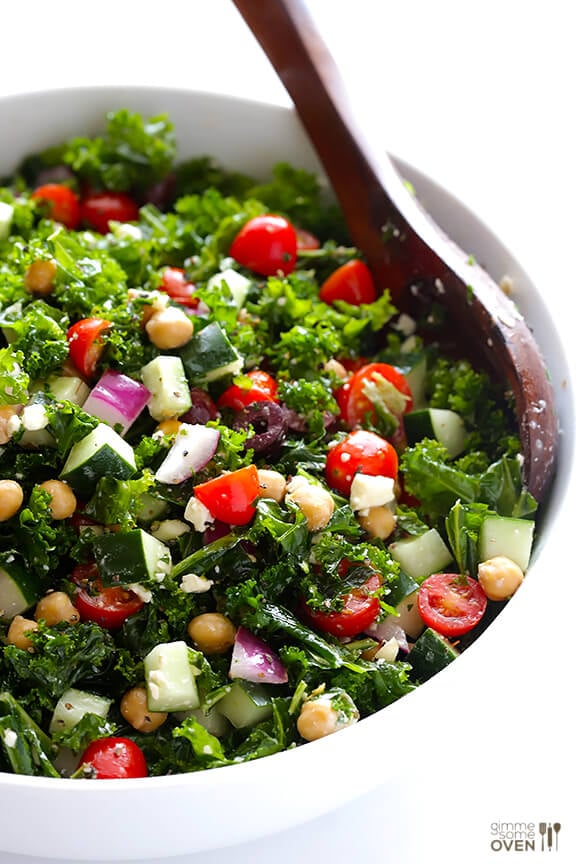 I've gotta hand it to my neighbors.  Even on a sticky, hot, sun-beating-down-on-us summer night in the middle of August, they showed up yet again for our "neighbor nights" this past Tuesday.  Just as they have done the Tuesday before that.  And the Tuesday before that.  And…
Yeah, they basically win the gold star for attendance.  And awesomeness.
Without a doubt, many changes have come about in the year or so that we've been gathering together.  Neighbors have moved into and out of the neighborhood.  Many neighbors have accepted new jobs or promotions.  Some neighbors have also had their relationship statuses change.  Our neighborhood itself as selected as the starting point for a huge new streetcar initiative in Kansas City, and is changing now day by day due to construction.  Some of our favorite businesses have come and gone.  Our trusty ol' grill even bit the dust in a storm, and now we are breaking in a new one this year.
Actually, the more I think of it, there has been a ton of change in our neighborhood this past year.
But when I was looking around the overflowing picnic tables on Tuesday night at the conversations that were happening neighbors, I realized that there has been one big flowing constant happening throughout the year — lots and lots of neighbors are becoming friends.  Like, not just the wave-to-you-as-you-get-in-your-car-in-the-parking lot kind of "neighbors".  Actual, legit, know-you-(and-your-dog's)-name-and-some-important-things-about-your-life-and-want-to-hang-out-and-talk-about-it kind of friends.
And it's pretty dang cool.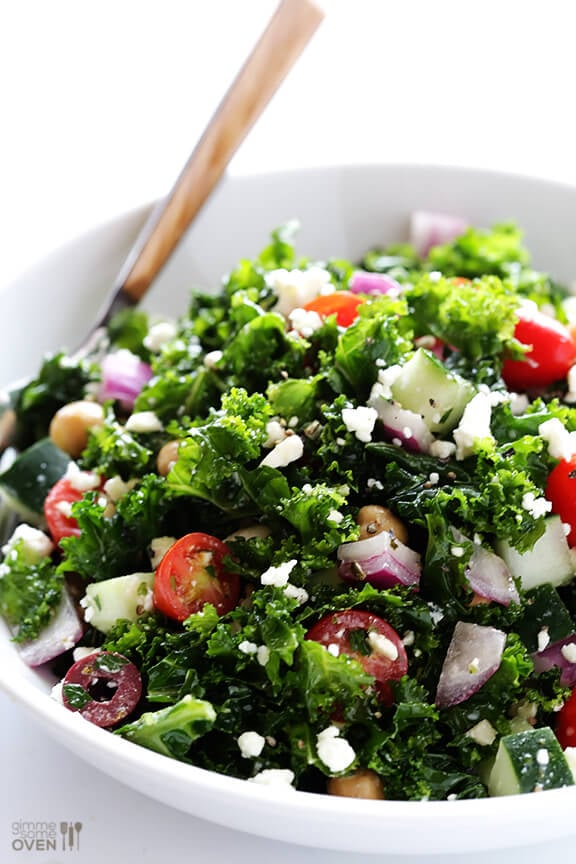 Most of these people never even knew each other a year ago, or even just six months ago.  But there's something about coming together week after a week — even if it's just to stop by for 10 minutes to say hi — that slowly but surely knits people together.   The fun and lighthearted (and safe) conversation topics where we all start eventually begin to be mixed with those that go a bit deeper.  And people begin to get a little more vulnerable.  And people start to really get to know one another.  And it's pretty special.  Without a doubt, our little community is not perfect.  But it's real, it's fun, it's messy, it's encouraging, it's hilarious, and it's just good.
And lest anyone ever forget, it all basically came to be because of food.
Food is what we used to first gather everyone together.  And food is still one of our collective favorite things about neighbor nights.  Unless it's raining and we take the excuse to go out for Mexican food, our tradition is to spend Tuesday nights around the grill and go potluck.  It's always a surprise to see what people are bringing.  Usually things work out well to have a well-balanced spread.  Sometimes no one had time to cook and we just have a table full of beer.  But we always make do and take the excuse to sit down and enjoy it together.
Many weeks, we have coincidences where half a dozen people show up with the same thing.  And this week we had that happen — well, with 3 people — with Greek food!  Someone brought dip, someone brought a cucumber salad, and I brought this chopped kale Greek salad.  It was a healthy riff on this Greek salad that I did at the last second with some of the tomatoes and kale from my CSA.  And it ended up being so fresh and tasty that I thought I'd share it with you kale lovers on here.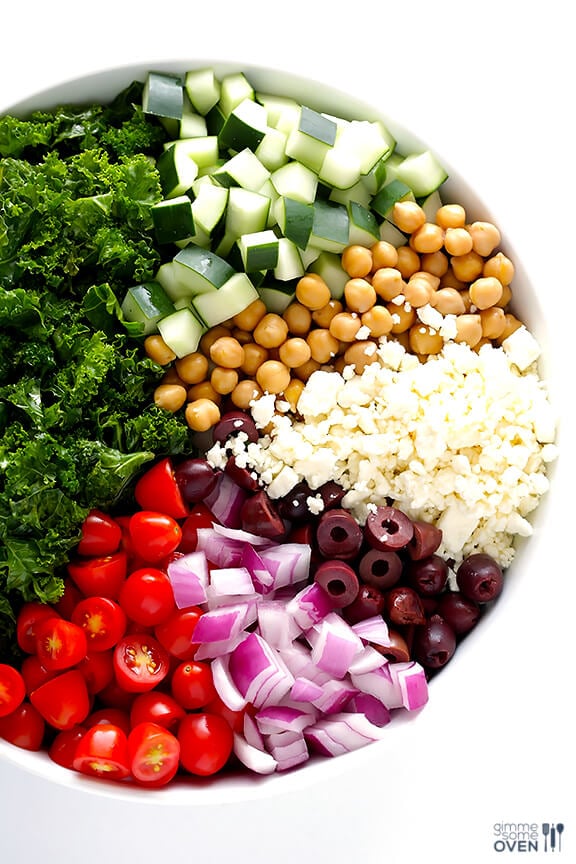 I first massaged my kale for a few minutes with a tablespoon or so of olive oil.  Then I added it to a big bowl with some of my favorite Greek ingredients.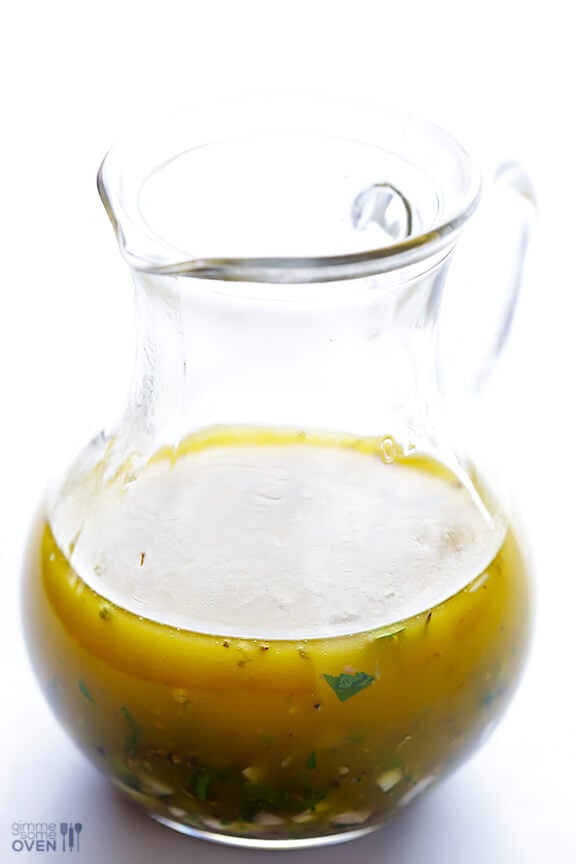 Then I made a garlicky fresh parsley lemon vinaigrette…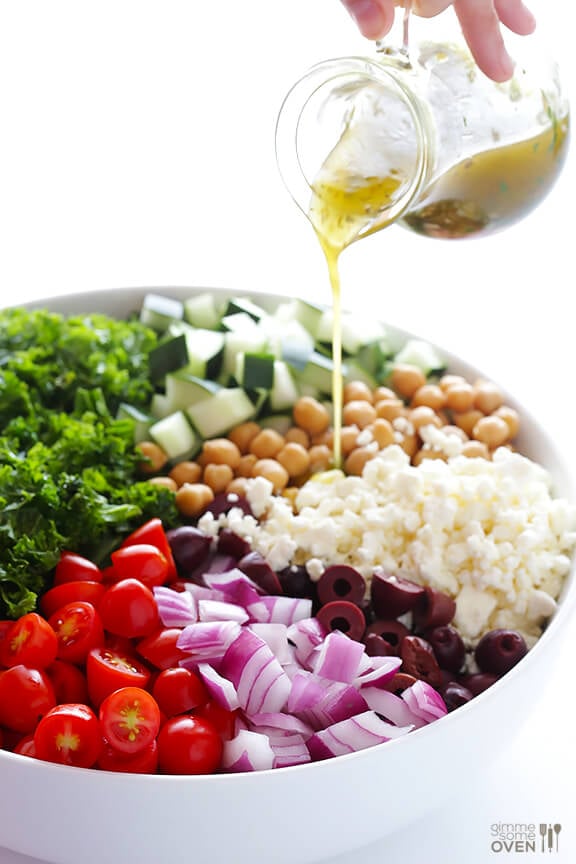 …drizzled it on top of said Greek ingredients…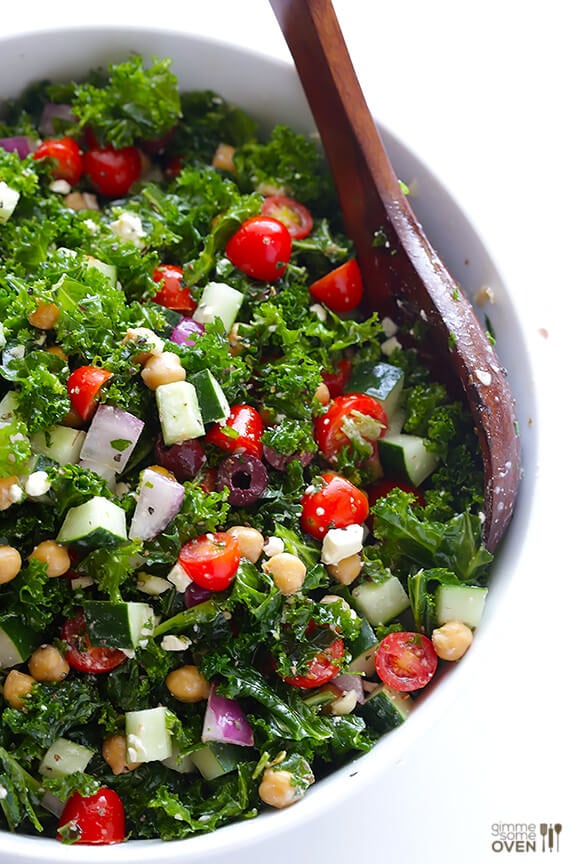 …and gave it all a good toss.  And then shared it with my neighbors.
They were more than happy recipe testers, as they usually are every Tuesday night, and gave it the big thumbs up.  And I, in turn, give them the big thumbs up.  Sharing good food with good friends is just the best.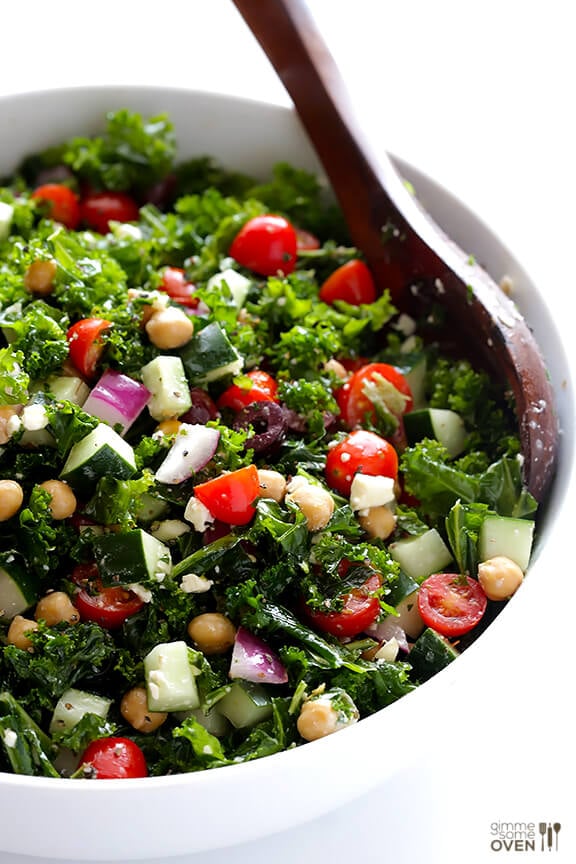 Chopped Kale Greek Salad
This chopped kale salad is fresh and full of those Greek flavors we all love!
Ingredients:
Greek Salad Ingredients:
1 large bunch (about 10 ounces) kale leaves, finely chopped
1 pint cherry or grape tomatoes, halved
1 cucumber, seeded and diced
1 (15-ounce) can garbanzo beans (chickpeas), rinsed and drained
1/2 red onion, thinly sliced
2/3 cup Kalamata olives, pitted
2/3 cup crumbled feta cheese
garlic parsley vinaigrette (see below)
Garlic Parsley Vinaigrette Ingredients:
1/2 cup olive oil
1/4 cup fresh parsley leaves, finely chopped
3 Tbsp. freshly-squeezed lemon juice
3 Tbsp. red wine vinegar
2 garlic cloves, pressed (or finely chopped)
1 tsp. dried oregano
1/2 tsp. sugar
1/4 tsp. salt
1/4 tsp. black pepper
Directions:
To Make The Greek Salad:
Toss all ingredients together with desired amount of dressing until evenly mixed.
To Make The Garlic Lemon Vinaigrette:
Whisk all ingredients together until blended. Season with additional salt and pepper if needed.
All images and text ©
If you make this recipe, be sure to snap a photo and hashtag it #gimmesomeoven. I'd love to see what you cook!