Crispy Slow Cooker Carnitas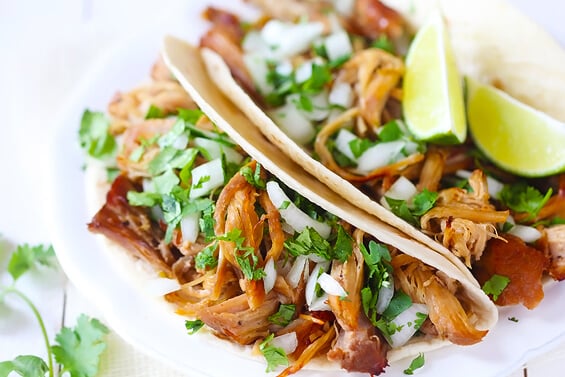 Oh my goodness, people.  I've stumbled upon a new way to make crispy pork carnitas.  But instead of spending hours upon hours babysitting your carnitas in the oven, turning them countless times to get the crispies, and adding in tons of extra oil (or lard – eek), these delicious and crispy carnitas can be made in your slow cooker!
Are you ready for the secret?!?
It's fabulously easy.
You just let the slow cooker do all of the work of preparing your tender and oh-so-flavorful pork.  (And get ready – your home is going to smell amazing!)  Then once the pork is ready, you shred it and lay it out on some baking sheets, and then briefly pop them under the broiler, giving them a quick turn and an extra dose of broth as they cook to keep them moist.  BRILLIANT.
And to top it all off, I thought that the seasoning combo I tried for these carnitas turned out fantastic!  Loved all of the Mexi spices, and I also threw in a bottle of a favorite (Kansas City!) beer for the cooking broth, which was fab.  Definitely a delicious recipe everyone will love on tacos, burritos, salads, sandwiches, or whatever carnitas dish your heart desires.  I know this one will definitely become a staple in my house!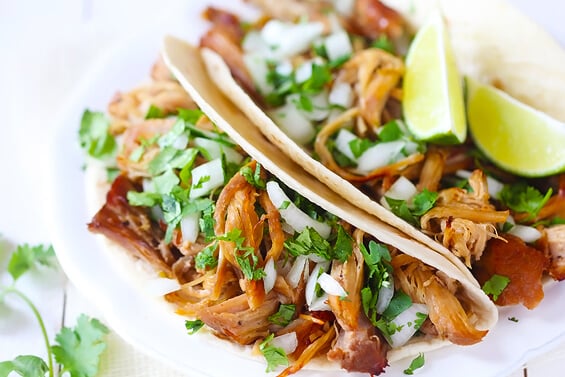 Crispy Slow Cooker Carnitas
A flavorful and easy way to make crispy carnitas using your slow cooker!
Ingredients:
1 Tbsp. canola or vegetable oil
1 (4-5 lb.) lean boneless pork roast, excess fat trimmed, cut into 3-inch chunks
8 oz. beer
1 large white onion, diced
4 cloves garlic, minced
1 Tbsp. chipotle powder (or 1 chipotle in adobo sauce)
2 tsp. cumin
1 tsp. chili powder
1 1/2 tsp. salt
1 tsp. black pepper
Directions:
Heat oil in a large skillet over high heat. Add the pork and sear on each side until browned (about 2 minutes per side). Transfer pork to the slow cooker.

Add remaining ingredients, and give the mixture a careful stir to combine. Cook on low for 6-8 hours until the pork is completely tender and shreds easily with a fork.

Once the pork is cooked, preheat your broiler to high heat and prepare two baking sheets with aluminum foil. Use a fork to shred the meat into bite-sized pieces, and then use a slotted spoon to transfer it to the prepared baking sheets, spreading it out evenly in a single layer. Reserve the remaining broth from the slow cooker.

Place one sheet under the broiler for about 5 minutes, or until the edges of the pork begin crisping up. Remove the sheet, and use a spatula or tongs to carefully toss the pork. Then ladle about 1/4 cup of the remaining slow cooker broth over the pork. Broil for an additional 5 minutes to get the meat more crispy. Then remove and ladle an additional 1/4 cup of broth over the crispy pork.

Repeat with the other baking sheet of pork.

Serve immediately in tacos, burritos, salads, or whatever sounds good to you! Or cover and refrigerate or freeze.

If you make this recipe, be sure to snap a photo and hashtag it #gimmesomeoven. I'd love to see what you cook!
Leave a Comment:
Comments
Trackbacks/Pingbacks