Garlicky Baked Shrimp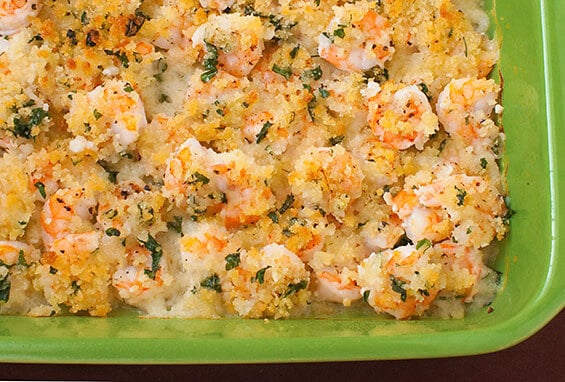 This past Friday, I stumbled upon two wonderful finds.
First, I had the pleasure of meeting a delightful new mechanic named Don.  I have been searching for a trustworthy new mechanic for awhile, and I think he may finally be "the one".  His office felt like it was pulled straight out of the 20s (when it was probably built), and good ol' Don is like a Fitzgerald character himself.  He has an opinion about just about everything, he's been in the neighborhood for decades, he's a die-hard Fox News addict, he loves to give all of his clients dating and relationship advice (solicited or usually not), and he could rival Click and Clack with his storytelling and laughter.  BUT, he's a fantastic mechanic and has worked miracles on my friends' Hondas in the past.  So I think he may be a keeper.  :)
Unfortunately the only magazines he had in his office were about cars and his favorite GOP candidates.  But thankfully I had stuck the latest issue of Real Simple in my trunk.  So I pulled it out while I waited, and then stumbled upon my second wonderful discover of the day — baked shrimp!  Um…YUM!
I have always sauteed or grilled shrimp before, so the idea of making them in a casserole was a new but welcome idea.  Since the ingredient list seemed easy, and I'm always up for a crunchy Panko breading, I decided to give it a try this weekend.  Sure enough, it was absolutely delicious!
Somehow I realized that I accidentally bought the package of teeny tiny frozen shrimp, so I admit it didn't quite look like the magazine photo.  (I would definitely recommend using large or extra-large shrimp!)  But shrimp is still shrimp, and the flavors came together perfectly!  I especially loved the extra crunch of the Panko and squeeze of lemon, and true to its name, the dish is wonderfully garlicky.  But best of all, it only took about 10 minutes to prep.  Definitely an easy dish to wow your family or friends in a time crunch!
Yay for fun Friday discoveries!  I have a feeling I will be revisiting both again very soon.
Garlicky Baked Shrimp
You will love this crunchy Garlicky Shrimp Bake recipe! Delicious and ready to serve in about 20 minutes! The perfect weekday meal!
Ingredients:
1 lb. raw shrimp, deveined and peeled
4 cloves garlic, minced
3 Tbsp. white wine
salt and pepper
1/4 cup (4 Tbsp.) melted butter
1/2 cup Panko bread crumbs
2 Tbsp. fresh Italian-leaf parsley, chopped
half of a lemon (optional)
Directions:
Preheat oven to 425 degrees F.

In a bowl, combine the shrimp, garlic, and white wine. Stir to combine, then pour into a baking dish. Spread out evenly, and then season with salt and pepper.

In another bowl, use a fork to mix melted butter, Panko, and parsley until well combined. With your fingers, sprinkle the mixture evenly in the baking dish over the shrimp.

Transfer dish to oven and bake until the shrimp are pink and opaque, about 11-14 minutes.

If you make this recipe, be sure to snap a photo and hashtag it #gimmesomeoven. I'd love to see what you cook!
Be sure to check out these other great shrimp recipes too!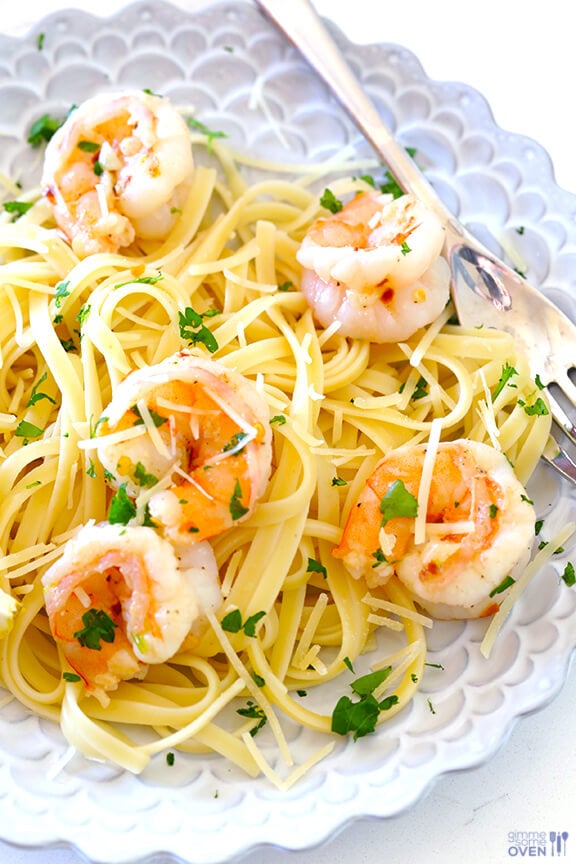 15-Minute Skinny Shrimp Scampi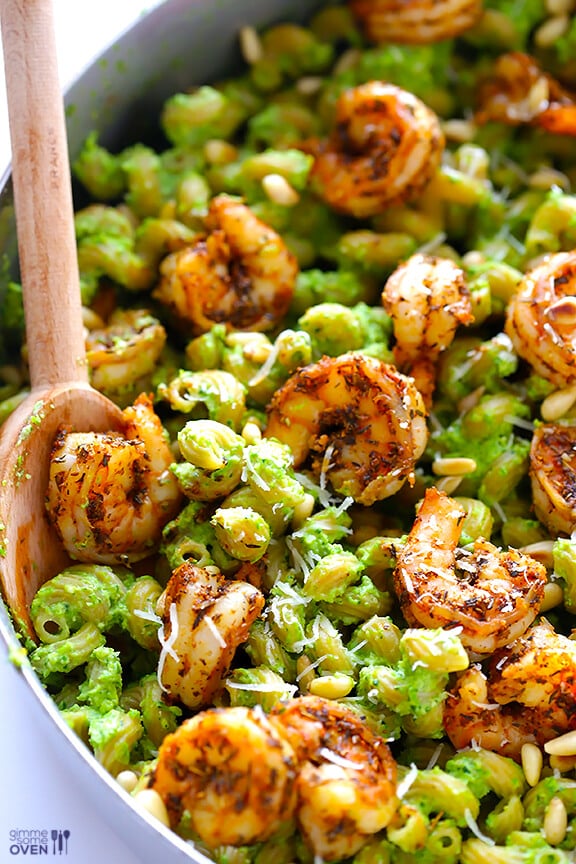 Asparagus-Spinach Pesto Pasta with Blackened Shrimp
Leave a Comment:
Comments
Trackbacks/Pingbacks