Beef Enchiladas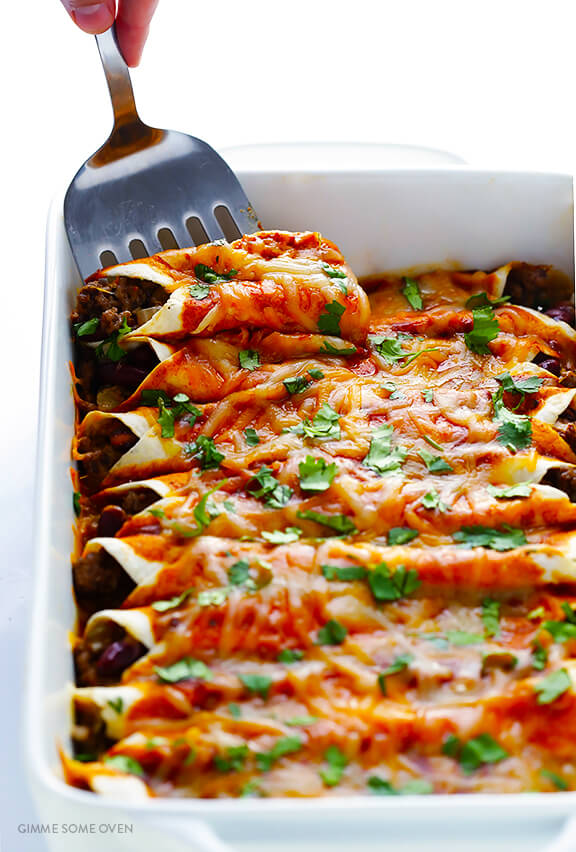 Big news, friends:
I JOINED SNAPCHAT.
Finally, I know.  I've been avoiding it for a few months now.  New social networks always tend to give me anxiety.  But after spending a day from John and Dana from Minimalist Baker this past weekend in Portland, who expertly walked me through a tutorial on all things snappy, I finally decided to bite the bullet and start snapchatting.  Or snapping?  Chatting?  Story-ing?  …?
Clearly, I still have much to learn about the latest and greatest new social media network.
If you happen to be snapchatting as well, come find me at gimmesomeoven, where on Wednesday I snapped all about making and photographing these enchiladas on a rainy Kansas City day.  Readers have been emailing me asking for a ground beef enchilada recipe ever since I shared my recipes for the (humbly-named) Best Chicken Enchiladas Ever and my Homemade Red Enchilada Sauce.  I have admitted here before that I'm not a big fan of ground beef, but I'm always a fan of reader requests.
So for all of you hamburger-lovers out there, this one's for you!
I brought along a pan of these to my small group on Wednesday night, who were more than happy to help me taste-test and then take home the leftovers.  And they got the thumbs up!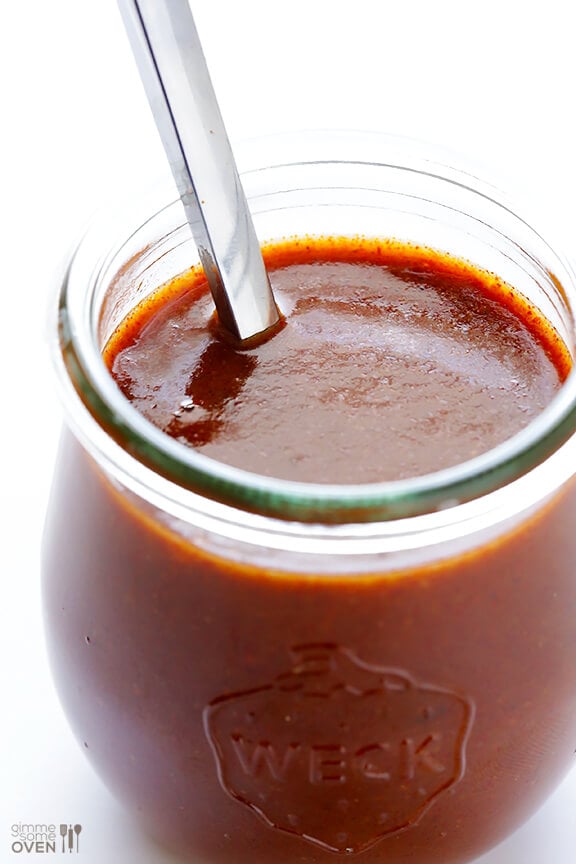 As with all of my red enchilada recipes on the blog, these are of course also made with my favorite homemade enchilada sauce.  If you've never made it before, it's a must.  Incredibly easy to make, incredibly good, and incredibly essential to this recipe.  Store-bought sauces just aren't the same.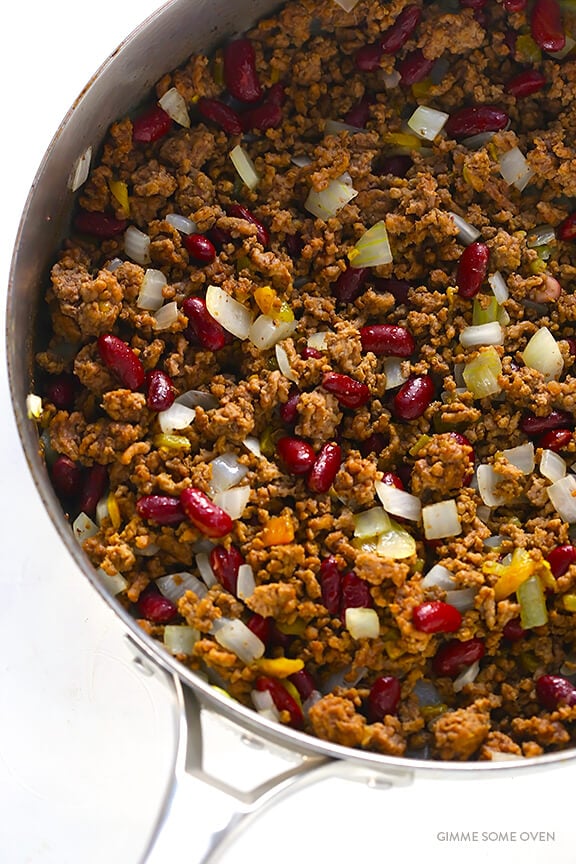 The other key to the recipe is lots of lean ground beef.  I like to mix beans into my enchiladas for extra protein, so I added some kidney beans (which seem to go well with beef), but you could also sub in black beans or nix them entirely.  Saute in some onions and green chiles as well, and then portion the mixture into some soft flour tortillas with lots of cheese and extra sauce.

Pour any leftover sauce on top.
And then bake them up to warm, melted cheesy, enchilada-y perfection.  Seriously, the sauce gives them the best flavor.  And they're the perfect comfort food meal for any day you're craving Mexican.  (Oh, and bonus, they also freeze well!)
Hope you enjoy 'em!
Beef Enchiladas
This beef enchiladas recipe is made with a delicious (and easy!) homemade red enchilada sauce, and it's guaranteed to be a crowd-pleaser!
Ingredients:
1.5 pounds lean ground beef
salt and pepper
1 small white onion, peeled and diced
1 (4-ounce) can diced green chiles
1 (15.5 ounce) can black beans or lentils, rinsed and drained
8 large flour tortillas
3 cups Mexican-blend shredded cheese
1 batch red enchilada sauce, or 1 can store-bought enchilada sauce
(optional: 1/4 cup chopped fresh cilantro)
Directions:
Heat oven to 350°F.  Grease a 9 x 13-inch baking pan with cooking spray.  Set aside.
Cook the ground beef in a large saute pan over medium-high heat until it is browned and completely cooked through, using a spatula to break up the beef into small pieces as it cooks.  Using a slotted spoon, transfer the beef to a separate bowl and set aside.  Reserve 1 tablespoon of the remaining grease, and discard the rest.
Add the onion to saute pan and cook for 5 minutes (in the reserved 1 tablespoon of grease) until is is soft and translucent.  Stir in the green chiles and beans, and cook for 1 minute to warm, stirring occasionally.  Remove pan from heat, and stir the ground beef and 1/4 cup enchilada sauce into the onion mixture until combined.  Set aside.
To assemble the enchiladas, set up an assembly line including: tortillas, enchilada sauce, ground beef mixture, and cheese. Lay out a tortilla, and spread two tablespoons of sauce over the surface of the tortilla.  Portion about 1/8th of the ground beef mixture and spread it in a line down the center of the tortilla, then sprinkle with 1/3 cup cheese. Roll up tortilla and place in the prepared baking dish. Repeat with the remaining ingredients.  Spread any of the remaining enchilada sauce on top of the tortillas, then sprinkle the remaining shredded cheese on top.
Bake uncovered for 20 minutes.  Remove from oven and serve immediately, garnished with chopped fresh cilantro if desired.
All images and text ©
If you make this recipe, be sure to snap a photo and hashtag it #gimmesomeoven. I'd love to see what you cook!