Peaches and Meringue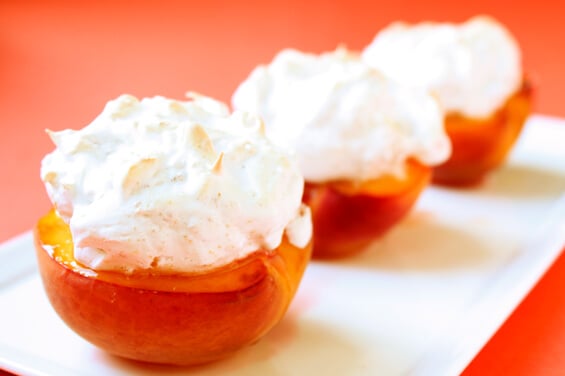 Ok, I'm officially calling it — this is my favorite new recipe of the summer!!  :)
Had wanted to give this dessert a try for weeks, but hadn't yet run across a batch of perfectly ripe, sweet peaches this summer.  So when I finally found the perfect batch this week (and of course, went a little overboard stocking up!), decided to celebrate by making this recipe with a group of girlfriends last night.  And I'm so glad we did — they were amazing!!
Granted, I've long been a fan of anything peaches+cream, so had high hopes going in, but I completely underestimated what an incredible combination the peaches and meringue would make!  From the textures, to flavors, even to the charming look – they truly complimented each other perfectly.  And the best part is that the process is simple and fun!  (We may or may not have stood around the oven and counted to "15" and then "20", and then oooohed and ahhhhed together over the golden meringue…  :D)
Yes, definitely a new "favorite".  So as we continue into the heart of peach season, I'd absolutely encourage anyone to give this a try!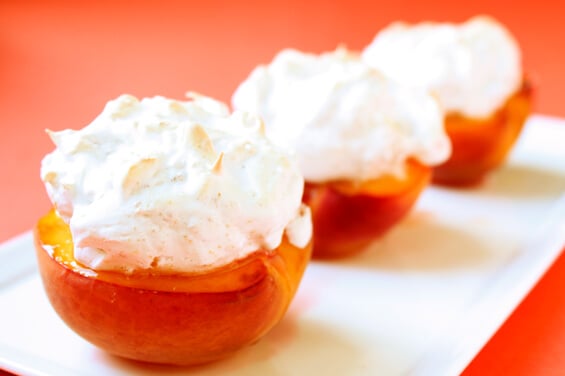 Peaches and Meringue
This recipe for peaches and meringue is an easy recipe that is perfect for the summertime!
Ingredients:
2 large ripe peaches, halved and pitted
3 Tbsp. plus 1 teaspoon sugar, divided
1 large egg white, at room temperature
2 Tbsp. finely chopped graham crackers
Directions:
Preheat broiler. Put peaches, cut side up, on a baking sheet and sprinkle with 1/4 teaspoon sugar on each half. Broil 4 to 5 inches from heat until tops begin to brown, 2 to 4 minutes.

Beat egg white with a pinch of salt in a deep bowl using an electric mixer at medium-high speed until foamy. Gradually add remaining 3 tablespoons sugar, beating until white holds stiff, glossy peaks. Fold in graham crackers.

Place a dollop of meringue on each peach half and broil 10-15 seconds. Turn off broiler and leave peaches in oven just until tips of meringue are browned, 20-30 seconds (watch very carefully).
*Note that the egg in this recipe is not fully cooked.

Not to be a "Debbie Downer", but I've read multiple articles reporting that unfortunately peaches have the highest pesticide rate of all fruits and veggies. What a bummer!! Apparently all of that beautiful, soft fur loves to cling onto all things good and bad.

So if you have any organic (and/or local!) markets around, I'd highly recommend budgeting a little extra to make sure your peaches are organic. :)

If you make this recipe, be sure to snap a photo and hashtag it #gimmesomeoven. I'd love to see what you cook!
Leave a Comment:
Comments
Trackbacks/Pingbacks