Thai Basil Chicken (Gai Pad Krapow)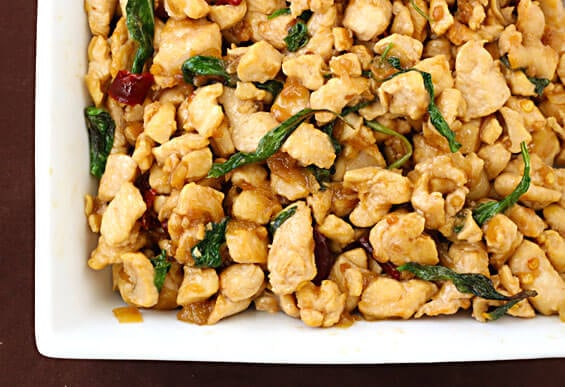 Every week that I've been at the market this summer and passed by the bunches of fresh, vivid, and wonderfully fragrant Thai basil…I crave this dish. YUM!
Basil chicken has long been a favorite of mine.  (Which I must say is a little odd for me, since I'm not usually drawn to plain meat dishes.)  But there's something about the simplicity of the dish, highlighting its namesake ingredients, that I absolutely love.  So flavorful, and so delicious!
The good news is that this dish is also super quick, simple, and affordable (my three favorite things!) to make at home.  You can serve it however you'd like — with rice, or over noodles, or even in as lettuce wraps.  It's easily a 30-minute meal (or less!).  And get ready — it makes your house smell amazing. :-)
So grab a bunch (ha…literally!) of Thai basil, and give it a go!!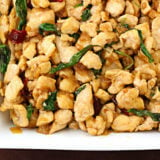 Thai Basil Chicken (Gai Pad Krapow)
A healthy meal that is quick and easy to prepare. You'll love this classic Thai Basil Chicken recipe!
Ingredients:
2 Tbsp. vegetable oil
4 cloves garlic, minced
6 "bird's eye" chilies, minced with seeds (use more/less to taste)
2 shallots (or 1 small onion), diced
10 oz. chicken (thigh or breast meat), ground or finely chopped
1 1/2 Tbsp. fish sauce
1/2 tsp. soy sauce
2 tsp. brown sugar
1 big bunch Thai basil leaves, stems removed
2 dashes ground white pepper
Directions:
Heat a wok or a heavy skillet over medium high heat until very hot. Add the oil, garlic and chilies and stir fry until until the garlic is very fragrant. Add the shallots (or onions) and continue stir frying until the onions have wilted. Add the ground chicken and fry until the chicken is cooked.

Stir in the fish sauce, soy sauce, brown sugar and white pepper. (I'd add the white pepper in gradually – it can easily overpower if you add too much!) If your pan was hot enough you should not have any liquid at the bottom of the pan, but if you do, continue cooking until the liquid is gone. Add the basil and toss a couple of time until the leaves are wilted and bright green.

Serve immediately.

If you make this recipe, be sure to snap a photo and hashtag it #gimmesomeoven. I'd love to see what you cook!
Ali's tip:
Feel free to serve this with jasmine rice, noodles, or in iceberg lettuce leaves (for lettuce wraps).