The Best Apple Pie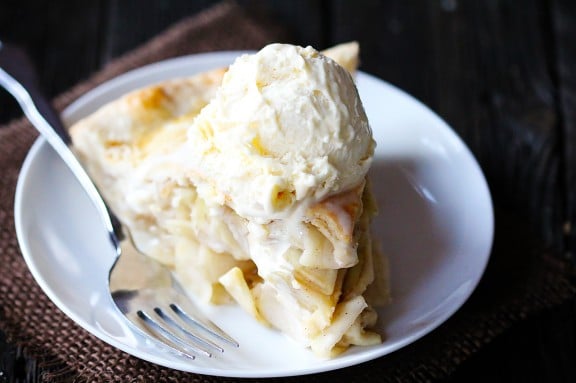 I am beyond excited that we are kicking off a giveaway today for a gorgeous Magimix 14-cup food processor.  (It is valued at over $500, so be sure to enter the giveaway here!)
So to put my own new Magimix to use, I decided to make a classic apple pie from scratch, using the food processor for every step.  Now granted, people have been making apple pies since before the time of electricity.  (Which – sidenote – it turns out that apple pie was actually the favorite dessert of Abraham Lincoln, who we're talking about today on our Reads and Film sites in honor of the release of the film "Lincoln"!)  But I have to tell you, even in the twenty-first century, having a great food processor sure makes cooking much quicker and easier.  Oy.
Case in point.
When I was in college, the annual fundraiser for our leadership department was to bake a few hundred (yes, hundred) apple pies to sell at the rockin' bluegrass festival held in town each fall.  People from all over the world flocked to this festival, and once they were there, they flocked to our pies.  They were fantastic!  But after four years of putting in my pie-making shifts — manning the apple-corer for 4 hours, or serving in the pie dough line, or getting in the occasional late-night food fight ;) — I was apple-pied-OUT.  Seriously.  It has been 8 years since I graduated college, and 8 years since I made an apple pie.
Until today.  Just for you all.  I thought it was time to break out my favorite recipe.  But this time, instead of kneading the dough by hand, my Magimix whipped up my favorite all-butter pie crust in seconds.  And then the handy grater thinly sliced all of my apples (can't wait to use that attachment more).  And then for the final touch, it whipped up some homemade whipped cream, with the press of a button.  Seriously, I'm pretty sure this machine is going to change my cooking life.
And the good news is that I still have my pie touch!  So if you're looking for a foolproof, classic apple pie recipe, I'm convinced this is the best apple pie recipe around.   And with the help of a food processor now, I promise it won't be 8 years before I make another one.  ;)
The Best Apple Pie
A simple and delicious recipe for "the best apple pie" -- made almost entirely with a food processor!
Ingredients:
1 double-crust pie dough, refrigerated (*see below for recipe*)
2 tablespoons all-purpose flour, plus more for dusting the workspace
3/4 cup sugar, plus extra for dusting the top of the crust
1/2 teaspoon ground cinnamon
1/4 teaspoon ground nutmeg
1/4 teaspoon salt
1/8 teaspoon allspice
3 large Granny Smith apples (about 1.5 pounds), cored and peeled
4 large McIntosh apples (about 2 pounds), cored and peeled
1 Tbsp. lemon juice
1 large egg white, lightly beaten
(optional) vanilla ice cream and [whipped cream|http://www.gimmesomeoven.com/how-to-make-whipped-cream/] for serving
Directions:
Preheat oven to 375 degrees. Prepare a 9-inch [pie plate|http://www.amazon.com/gp/product/B0000636WQ/ref=as_li_qf_sp_asin_tl?ie=UTF8&camp=1789&creative=9325&creativeASIN=B0000636WQ&linkCode=as2&tag=gimsomove-20] with cooking spray.

Roll out the two pieces of dough on a floured workspace into large circles, until the larger one is at least 12-inches in diameter, and the smaller one is about 10-inches in diameter. Carefully transfer the larger pie dough to the pie plate by and press it in gently to line the entire bottom of the pan, with the dough sticking out at least 1/2-inch above the rim. Cover gently with plastic wrap and refrigerate.

While the dough is re-cooling, whisk together the sugar, cinnamon, salt and allspice in a large bowl until mixed. Set aside.

Fit your food processor with a slicing disc attachment, and thinly slice all of the apples. (You can also do this by hand with a knife.) Toss the apples with the lemon juice until evenly coated. Then transfer the apples to the large bowl with the flour mixture, and gently toss until all of the apples are fairly evenly coated with the flour mixture.

Turn the fruit mixture, including the juices, into the chilled pie shell and mound the apples slightly in the center. Carefully lay the second (10-inch) pie crust on top of the apples so that it is centered around the bottom crust. Trim the edges of the top and bottom crust to 1/2-inch beyond the pie pan lip. Then tuck the rim of dough underneath itself so that the folded edge is flush with the pan lip. Flute the edge or press with the tines of a fork to seal the pie crust. Cut 4 small slits in the top of the dough.

Return pie to the freezer for 10 minutes. Then remove and brush with the egg white, and sprinkle evenly with a few pinches of sugar. Cover the edges of the pie crust lightly with aluminum foil or a [pie crust shield|http://www.amazon.com/gp/product/B000SSTUQO/ref=as_li_qf_sp_asin_tl?ie=UTF8&camp=1789&creative=9325&creativeASIN=B000SSTUQO&linkCode=as2&tag=gimsomove-20].

Bake for 40 minutes, then remove pie crust shield. Bake for an additional 20 minutes, or until the crust is a deep golden brown and the juices just barely start to seep out.

Transfer pie to a wire rack and let cool to room temperature before slicing, at least 3 hours.

*Here is my favorite all-butter DOUBLE pie crust recipe:

Ingredients:
2 3/4 cups all-purpose flour
1 tablespoon sugar
1 teaspoon salt
1 cup (2 sticks) cold butter, cut into 1/4-inch cubes
1/2 cup water

Instructions:
Add the flour, sugar and salt to a food processor. Pulse a few times until well-blended. Scatter in the butter, and pulse 7-8 times to cut in the butter well. Remove lid and fluff the mixture with a fork to be sure that it is not sticking to the sides or bottom of the food processor. Drizzle half of the water over the dry ingredients, then pulse another 5-6 times until crumbly. Fluff the pastry again with a fork, then sprinkle on the remaining water. Pulse 5-6 more times until the pastry starts to form small clumps and looks crumbly. (If the dough completely balls up and sticks together around the center blade, you have pulsed too far!)

Transfer the dough to a large bowl, and use your hands to pack it into a ball, just like you would a snowball. Separate the dough into two pieces, with one just slightly larger than the other (to make the bottom of the pie crust). Knead each ball of dough a few times, then flatten to make perfecly round disks about 3/4-inch in thickness. Wrap each disc in plastic wrap and refrigerate for at least an hour before rolling.

Recipe somewhat adapted from [The New Best Recipe|http://www.amazon.com/gp/product/0936184744/ref=as_li_tf_tl?ie=UTF8&camp=1789&creative=9325&creativeASIN=0936184744&linkCode=as2&tag=gimsomove-20] and [Pie|http://www.amazon.com/gp/product/155832254X/ref=as_li_tf_tl?ie=UTF8&camp=1789&creative=9325&creativeASIN=155832254X&linkCode=as2&tag=gimsomove-20]

If you make this recipe, be sure to snap a photo and hashtag it #gimmesomeoven. I'd love to see what you cook!
This post contains affiliate links.
Leave a Comment:
Comments
Trackbacks/Pingbacks