5-Ingredient Easy White Chicken Chili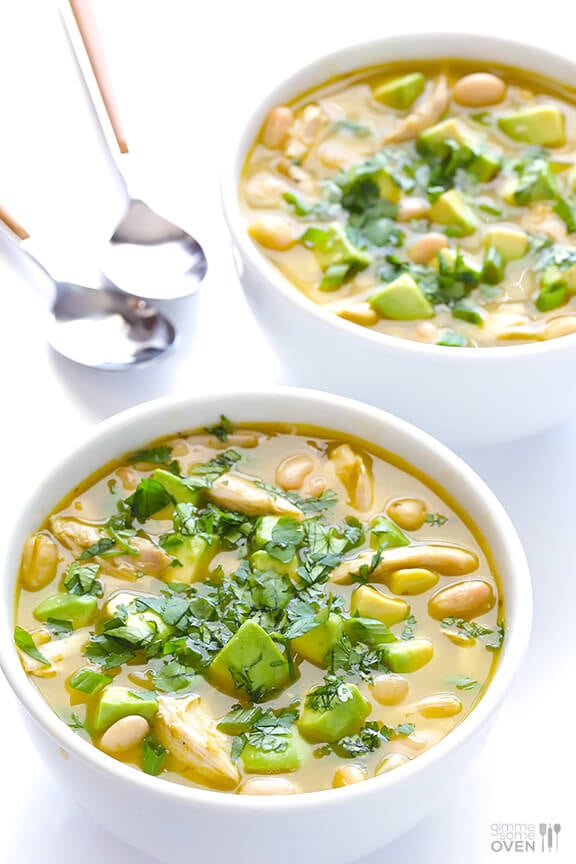 Last year, I posted one of my all time favorite White Chicken Chili recipes on the blog.  But while I love it, there's also a little shortcut white bean chicken chili recipe that I make even more often when I'm short on time.  It is super easy and only calls for 5 ingredients.  So I thought I would share it with you today and give it an extra creative name — 5-Ingredient Easy White Chicken Chili.
In addition to only calling for a handful (get it, a handful) of ingredients, this easy white chicken chili recipe also can be made and on the table in just 15 minutes.  Definitely a perfect busy weeknight meal, and it also makes great leftovers and can be frozen for later.  So if you love it, consider making a double or triple batch and you will have multiple dinners prepared and ready to go in minutes.
Ok, are you ready for the secret ingredient?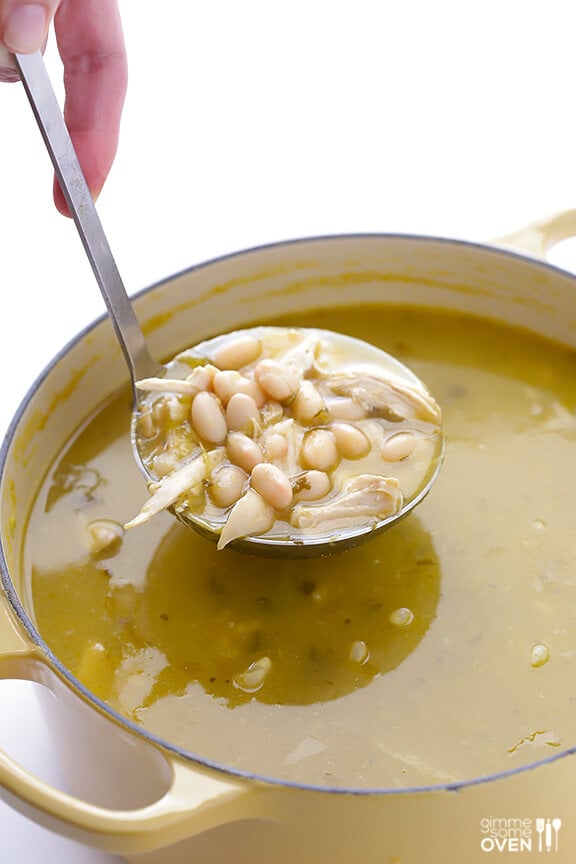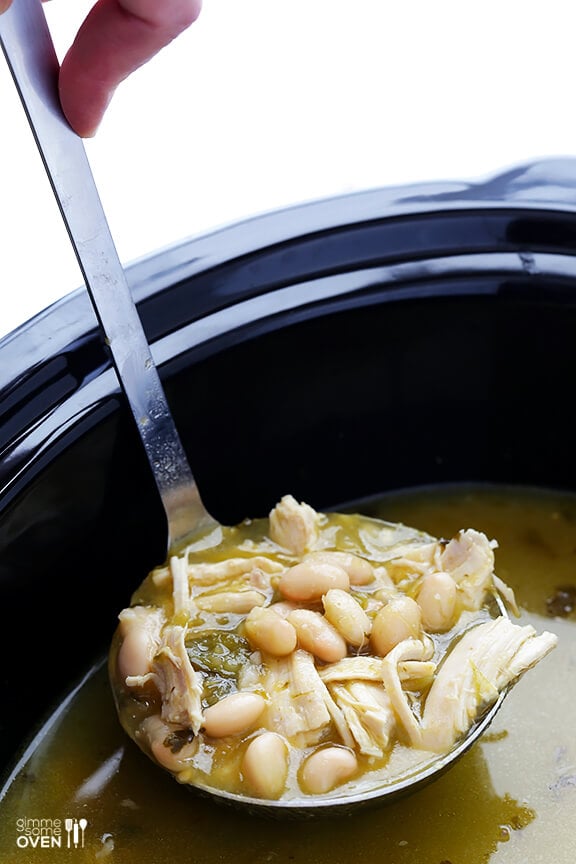 It's salsa verde!!!
This delicious salsa singlehandedly provides pretty much all of the seasoning you need for white chicken chili!  It's flavorful, has a bit of heat, and a bit of tang, and pairs perfectly with delicious chicken broth, shredded chicken, and white beans.  I do like to add a little ground cumin to the mixture just to round things out.  But when I discovered the salsa trick a few years ago, I was amazed.  Such a great shortcut!
Also, when I'm in a hurry, I tend to buy pre-made salsa verde for this.  But if you want to make homemade tomatillo salsa verde, I have a delicious recipe on the blog that I recommend.  It's so simple to make at home, and so good!
If you want to get fancy and add a few toppings to this soup, I love throwing in some diced avocado, fresh cilantro, green onions, and occasionally some sour cream or shredded cheese.  But it's also delicious as-is with just five ingredients.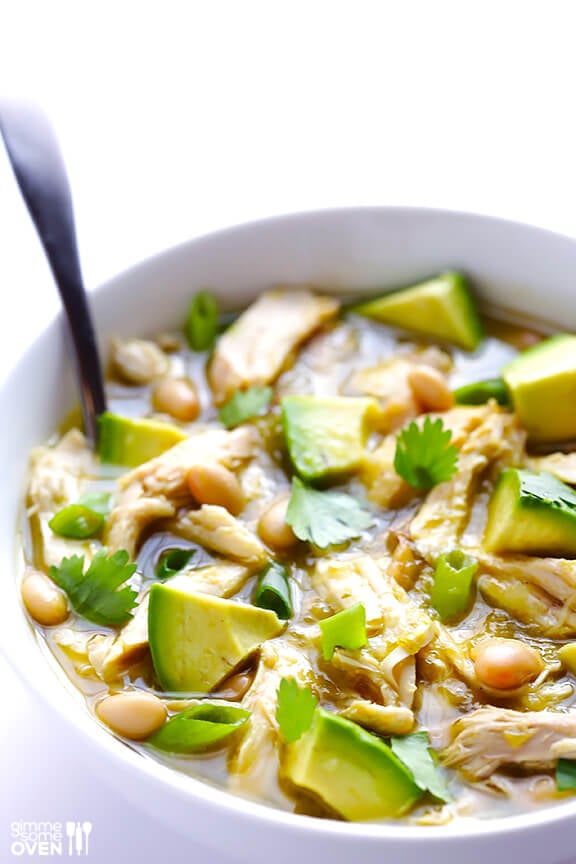 Hope you enjoy!
5-Ingredient Easy White Chicken Chili
This delicious and easy white chicken chili recipe can be made with just 5 ingredients in 15 minutes!
Ingredients:
6 cups chicken broth
4 cups cooked shredded chicken (*or see slow cooker method below, which uses uncooked chicken breasts)
2 (15-oz) cans Great Northern beans, drained
2 cups salsa verde (store-bought or homemade http://www.gimmesomeoven.com/tomatillo-salsa-verde/)
2 tsp. ground cumin
optional toppings: diced avocado, chopped fresh cilantro, shredded cheese, chopped green onions, sour cream, crumbled tortilla chips
Directions:
Stovetop Method: Add chicken broth, shredded chicken, beans, salsa and cumin to a medium saucepan, and stir to combine.  Heat over medium-high heat until boiling, then cover and reduce heat to medium-low and simmer for at least 5 minutes.
Serve warm with desired toppings.
Slow Cooker Method: Add chicken broth, 2 (uncooked) *boneless skinless chicken breasts, beans, salsa and cumin to a slow cooker, and stir to combine.  Cook on low for 6-8 hours, or high for 3-4 hours until the chicken is cooked through and shreds easily with a fork.  Add the beans during the last half hour of cooking. Shred the chicken.
Serve warm with desired toppings.
All images and text ©
If you make this recipe, be sure to snap a photo and hashtag it #gimmesomeoven. I'd love to see what you cook!