5-Ingredient Kettle Chip Caramel Chocolate Fudge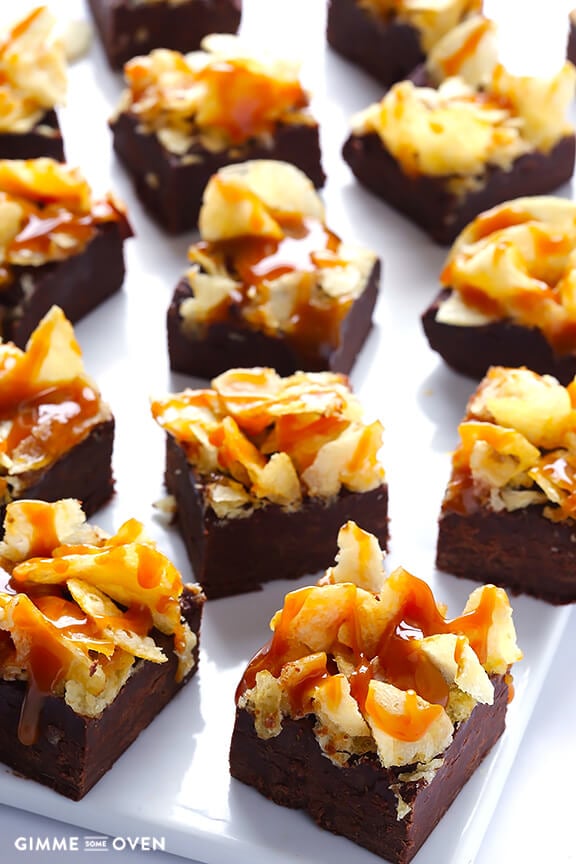 3-ingredient, foolproof, rich, melt-in-your-mouth chocolate fudge…topped with crispy, sea-salty, I-want-to-eat-the-whole-bag Kettle Brand chips….drizzled with sweet and salty caramel sauce…and then cut into bite-sized pieces perfect for sharing and enjoying?!?
(Oh, and all of this with just about 10 minutes of prep time?)
As Uncle Jesse would say, have mercy.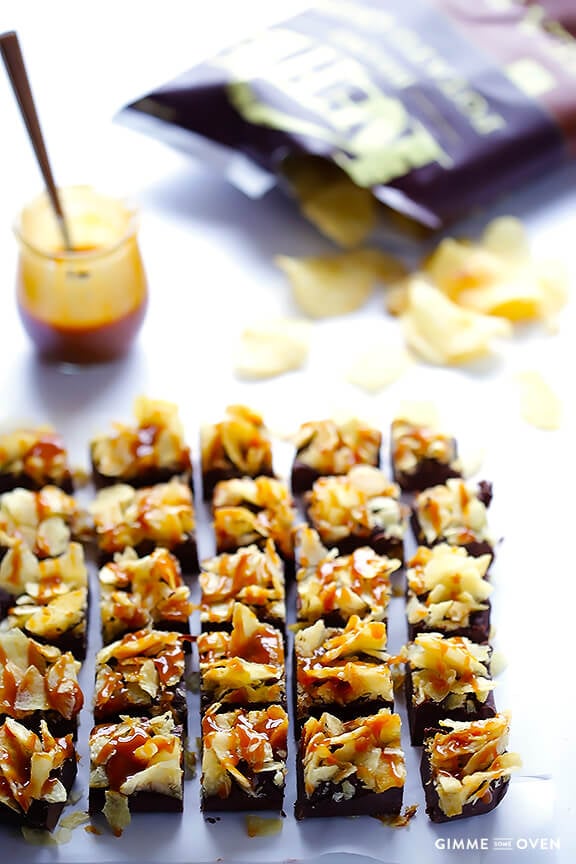 Yep, the sweet and salty craving hit again this weekend when I was trying to decide what recipe to make for book club.  It had been a few years since I whipped up a batch of my favorite 3-ingredient fudge, and I was running short on time and knew that it wouldn't take long to prep.  (And let's be real — what book club full of 20 women doesn't get excited about a pan of chocolate?!)
But as I was pulling out the ingredients, my eyes landed on a box of Kettle Brand Chips that I had received in the mail to inspire a holiday-themed recipe.  And suddenly, the light shone down from the heavens and the angels sang and I knew what I had to try:
Kettle Chip Fudge!!!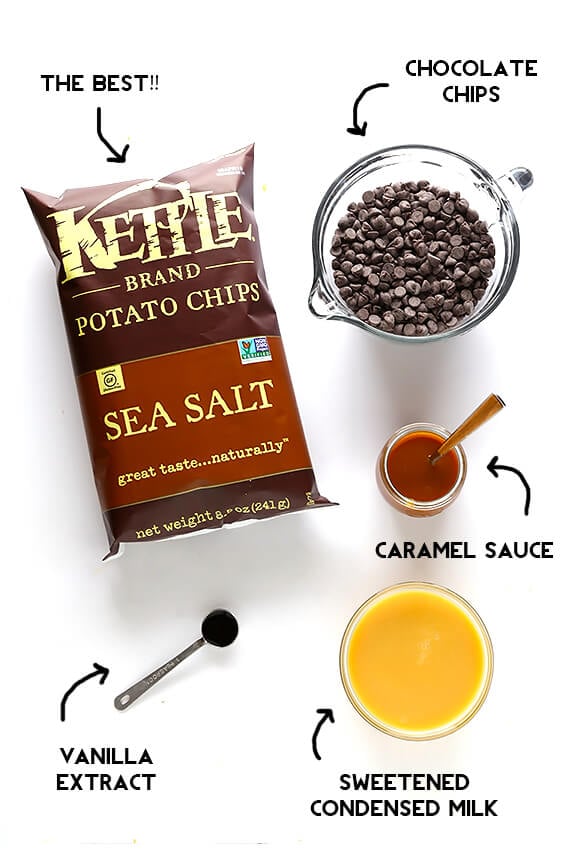 Oh, but why make it a 4-ingredient recipe when you could make it (my favorite) a 5-ingredient recipe?
Caramel sauce to the rescue.  Boom.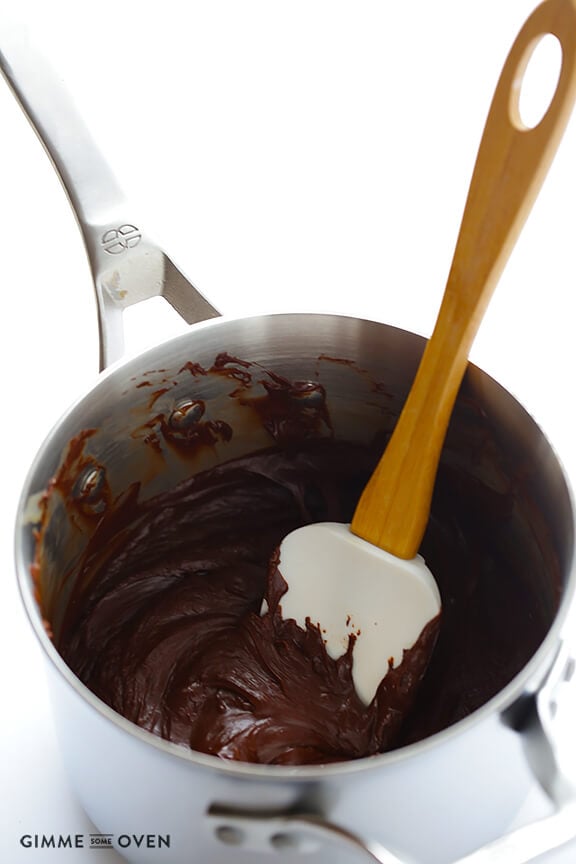 Seriously, the base fudge recipe could not be easier.  Simply melt chocolate chips and a can of evaporated milk together in a saucepan (or in the microwave) until the chocolate is melted.  Then stir in a bit of vanilla extract for extra flavor.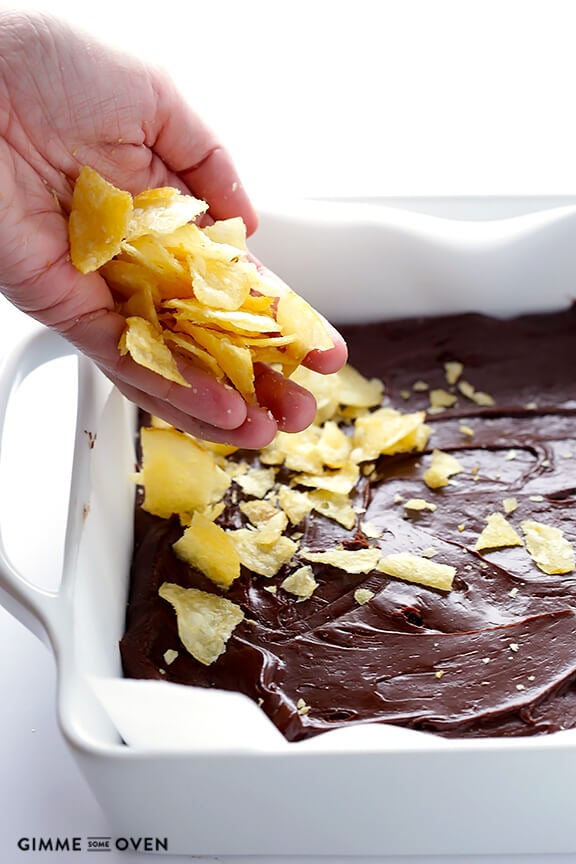 Spread the fudge out into a parchment-lined baking pan.  And then — then!!! — crumble up a few handfuls of Kettle Brand potato chips and press them into the fudge.
I went with the Sea Salt flavor — my favorite — but all sorts of other flavors of Kettle Brand potato chips would work for this recipe.  I'm obsessed with how crunchy and delicious these chips are, and love that they're made with straightforward, simple ingredients.  So they're a must for this fudge!
I wanted mine to be all spiky out of the top, so I made sure to poke some of them in vertically to make them stand up a bit more.  But my book club members agreed that I might have let my food styling flare get the best of me, and they recommended slightly more crumbled chips for easier poke-free eating.  (Although I would note that they still ate them all.)  ;)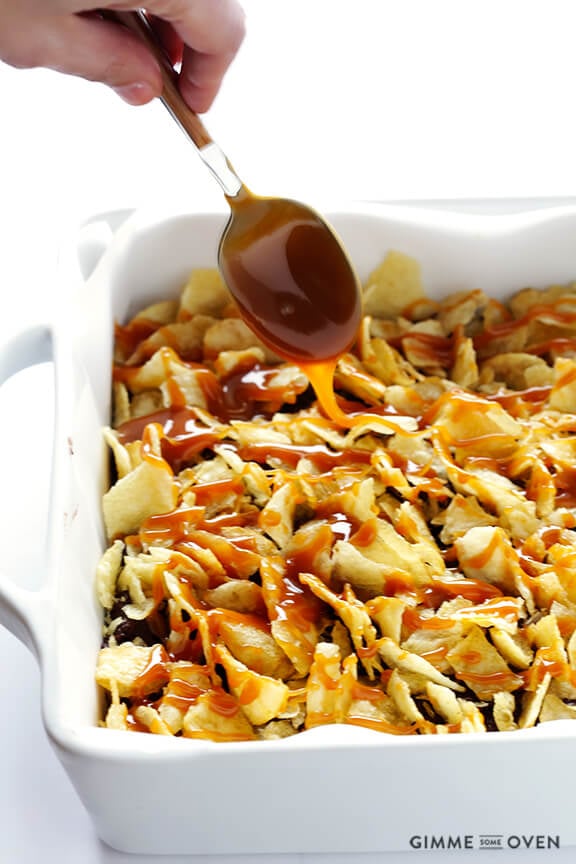 Then, drizzle the chips with lots of caramel sauce for an extra layer of salty and sweet.  Refrigerate the pan until the fudge is firm.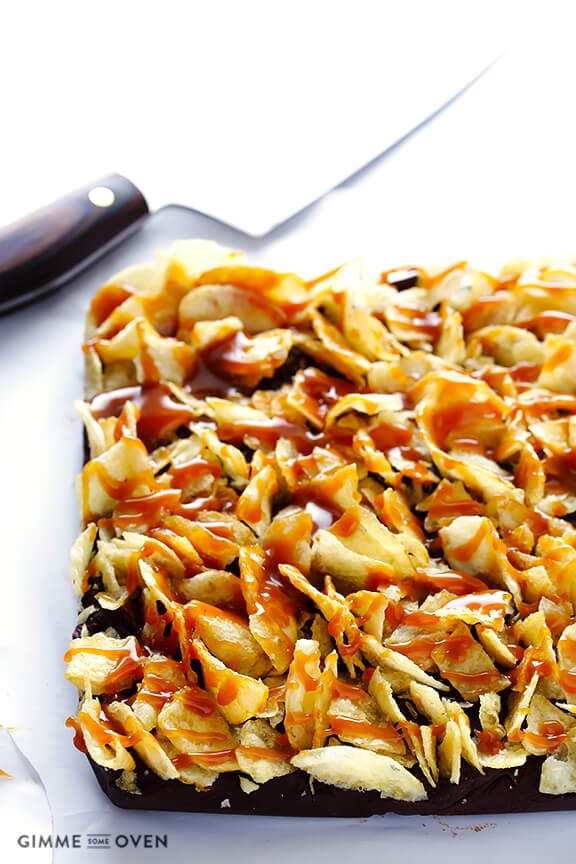 And then, when you're ready to serve, just lift the parchment and fudge out of the pan and transfer it to a cutting board.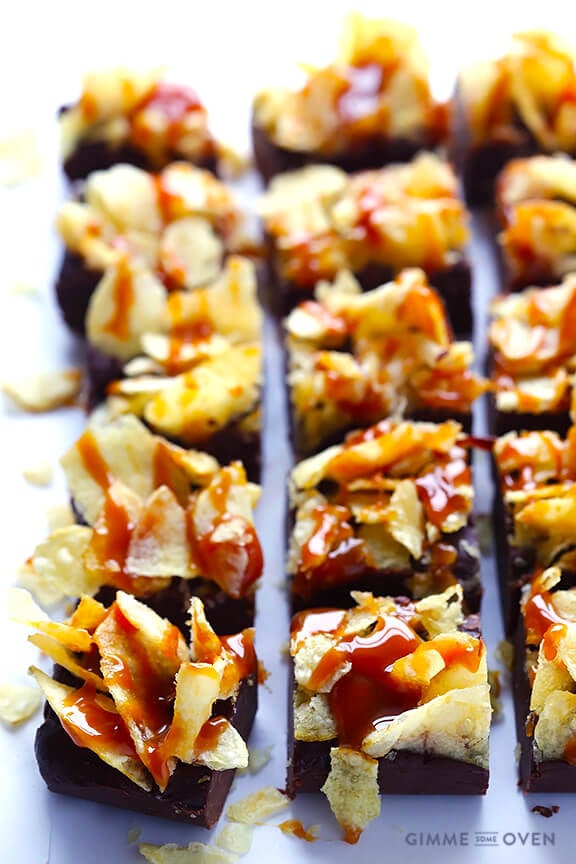 And chop the fudge into your desired size of pieces.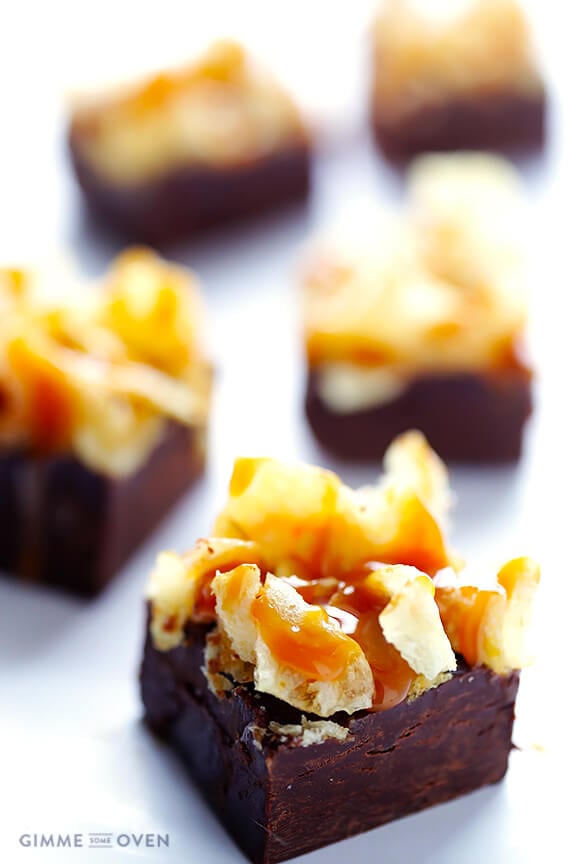 And…please take a moment to admire your little works of sweet and salty art….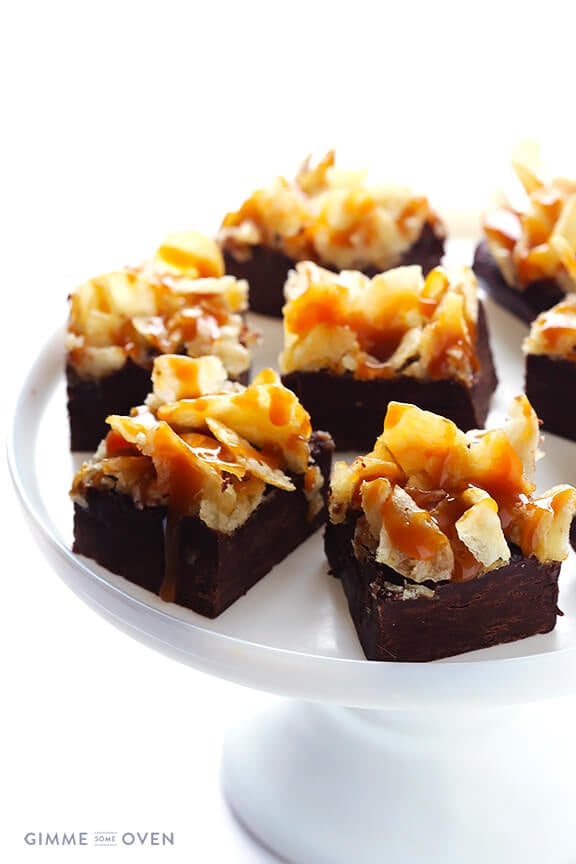 …and then please devour them immediately.
These definitely won the award for "ooohs" and "ahhhs" amongst my book clubbers and neighbors who were my willing taste-testers.  And then they gave them a big thumbs up after they took a bite.  Success!!!
So if you're looking for a little showstopper of a recipe to share this holiday season, I'm tellin' ya, you've got to try this one.  My friends and I agreed it would also be fun to try as a chocolate bark, so that the chocolate and potato chips are even more closely distributed.  But however you make it, I guarantee it'll be a fun one.  And a delicious one.  ;)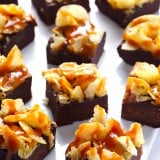 5-Ingredient Kettle Chip Caramel Chocolate Fudge
This 5-Ingredient Kettle Chip Caramel Chocolate Fudge is quick and easy to make with just about 10 minutes of prep time. And it is the ultimate in sweet and salty fudgy goodness!
Ingredients:
3 cups (18 ounces) semi-sweet or dark chocolate chips
1 (14-ounce) can sweetened condensed milk
1 1/2 teaspoons vanilla extract, store-bought or homemade
3 handfuls Kettle Brand Potato Chips, crumbled (I used Sea Salt flavor)
1/2 cup caramel sauce, homemade or store-bought
Directions:
Line the bottom and edges of an 8×8-inch baking pan with parchment paper or aluminum foil.
In a saucepan, stir together chocolate chips and condensed milk until combined.  Heat over medium-low heat until the chocolate chips are completely melted, stirring often so that the bottom does not burn.  Stir in the vanilla until combined.
Immediately spread the mixture evenly into the prepared baking pan, and then press the crumbled kettle chips into the surface of the fudge.  (You'll want to be sure to press them down into the fudge just a bit so that they'll actually stick.  But if you want to get fancy, you can try to poke some of the chips in so that they're sticking straight up a bit.)  Drizzle the top of the chips with the caramel sauce.
Refrigerate for at least 2 hours or until the fudge is chilled and firm.  To cut the fudge, carefully lift up the parchment or foil and transfer the block of fudge to a cutting board.  Peel back the parchment or foil, and then use a large knife to slice the fudge into your desired size of pieces.
This fudge is best enjoyed the first day so that the chips stay crispy.  But you can store it refrigerated in a sealed container for up to 1 week.
All images and text ©
If you make this recipe, be sure to snap a photo and hashtag it #gimmesomeoven. I'd love to see what you cook!
Big thanks to Kettle Brand Chips for sponsoring this post.  All opinions are my own as always.  And thanks to you all, as well, for continuing to support great brands like this that help make this site possible!