5 Ingredient Meals + $100 visa giftcard giveaway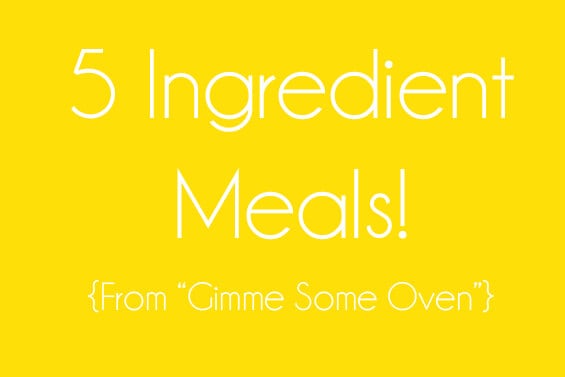 Today's post is part of a series from BlogHer and Perdue Chicken called K.I.S.S. — "Keep It Simply Smart."
A bunch of bloggers are going to be making their own lists about simplicity and time-saving inspiration in the kitchen. I don't know about you, but this series is totally up my alley. Simplicity and time-saving ideas? Check and check.
So I'm super excited that my topic to share is…(did the cover graphic possibly give it away?)…5-Ingredient Meals!
Yep! No turning your kitchen into a tornado full of cutting boards, open cartons, spices and cans with these recipes. All you need are 5 simple ingredients to make some speedy meals that you, your friends and your family will love!
And even better, I'm really hoping that these simple guidelines will encourage some of you by-the-book recipe devotees to give improvising a try. Really, most dishes we all love boil down to similar ingredient patterns. Once you learn those, you can mix and match and start creating some of your own original recipes. I promise you can do it, and it's really fun to get creative! So read on for my top ten list of ideas. AND enter to win a $100 Cooking.com gift card!!!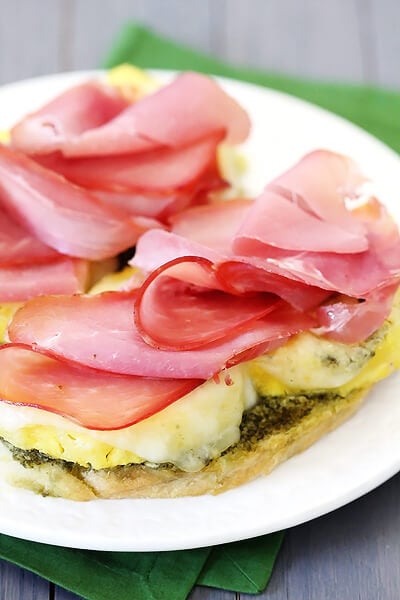 Prosciutto, Pineapple & Pesto Paninis — A fantastic 5-Ingredient Meal!
Again, these are just the basics, people. But trust me that if you follow these directions, the options are pretty much limitless for the deliciousness you can create. Also, for you vegetarians out there, just substitute your favorite hearty vegetables or tofu whenever the recipe calls for meat, seafood, etc. And now…drumroll please…Ali's "Keep It Simply Smart" Top Ten List of 5-Ingredient Meals:
Paninis — Bread + Meat/Chicken/Seafood + Veggies/Greens + Cheese + Sauce
Quesadillas — Tortillas + Meat/Chicken/Seafood + Veggies/Greens + Cheese + Salsa
Pizzas — Crust + Cheese + Meat/Chicken/Seafood + Veggies/Greens + Sauce
Green salads — Greens + Cheese + Veggies/Fruit + Meat/Chicken/Seafood + Dressing
Quinoa salads — Quinoa + Meat/Chicken/Seafood + Veggies/Greens + Nuts/Cheese + Sauce
Omelettes — Eggs + Cheese + Veggies/Greens + Bacon/Ham + Herbs
Kabobs — Meat/Chicken/Seafood + Veggies + Marinade
Grilled meats or veggies — Main Meat/Chicken/Seafood/Veggies + Marinade + Side
Pastas — Pasta + Sauce + Veggies/Greens + Meat/Chicken/Seafood + Cheese
Trifles — Crumbled Cake/Brownies + Whipped Cream/Pudding + Candy/Chocolate/Nuts + Fruit Sauce
$100 Cooking.com Gift Card Giveaway
How To Enter:
Leave a comment telling me how you like to "keep it simply smart" in the kitchen! Feel free to discuss meal preparation, pantry organization, time management, etc.
a) Leave a comment in response to the sweepstakes prompt on this post
b) Tweet (public message) about this promotion; including exactly the following unique term in your tweet message: "#SweepstakesEntry"; and leave the URL to that tweet in a comment on this post
c) Blog about this promotion, including a disclosure that you are receiving a sweepstakes entry in exchange for writing the blog post, and leave the URL to that post in a comment on this post
d) For those with no Twitter or blog, read the official rules to learn about an alternate form of entry.
Rules:
NO PURCHASE NECESSARY
No duplicate comments.
This giveaway is open to US Residents age 18 or older. Winners will be selected via random draw, and will be notified by e-mail. Winners will have 72 hours to claim the prize, or an alternative winner will be selected.
The Official Rules are available here.
This sweepstakes runs from 7/23/12 to 8/23/12.
Be sure to visit the Perdue Simply Smart Chicken brand page on BlogHer.com where you can read other bloggersí reviews and find more chances to win!
Like the PERDUE SIMPLY SMART Facebook page where you'll find product info, recipes, and other tips from bloggers.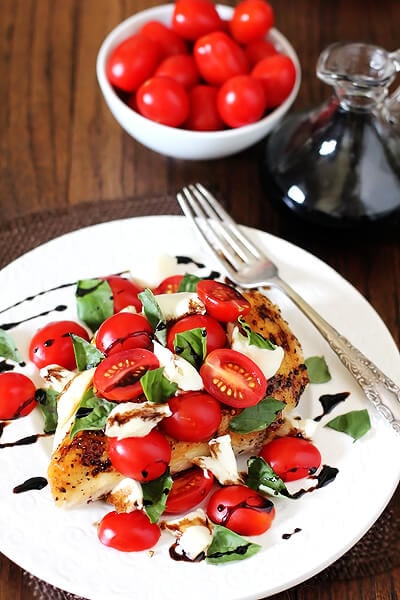 Chicken Caprese — Another Delicious 5-Ingredient (plus olive oil) Meal!