5 Tips For Optimizing Photos For Pinterest

I sometimes joke with friends that Pinterest pays my paycheck. Last month, for example, Pinterest brought in over 1 million pageviews for my site. That…is crazy.
Granted, Pinterest is not the only way my site gets traffic. But as far as social referring sites go, it is definitely at the top of my analytics charts by a landslide. So I have found that it is well worth my time — and worth any blogger's time who posts images to their site — to learn a few of the simple steps which will optimize your images and make them more "pin-able".
To be sure, everyone has their own opinions about what makes a good image on Pinterest. And you must follow your instincts with what feels good to you, and not just follow every trend that comes up on Pinterest. (For example, thus far I have resisted doing the mile-long Pinterest collages, even though I know they are effective numbers-wise, just because I don't personally love them.)  But if you are looking to increase your Pinterest traffic, there are definitely a few important things you can do.
Here are my top 5 tips…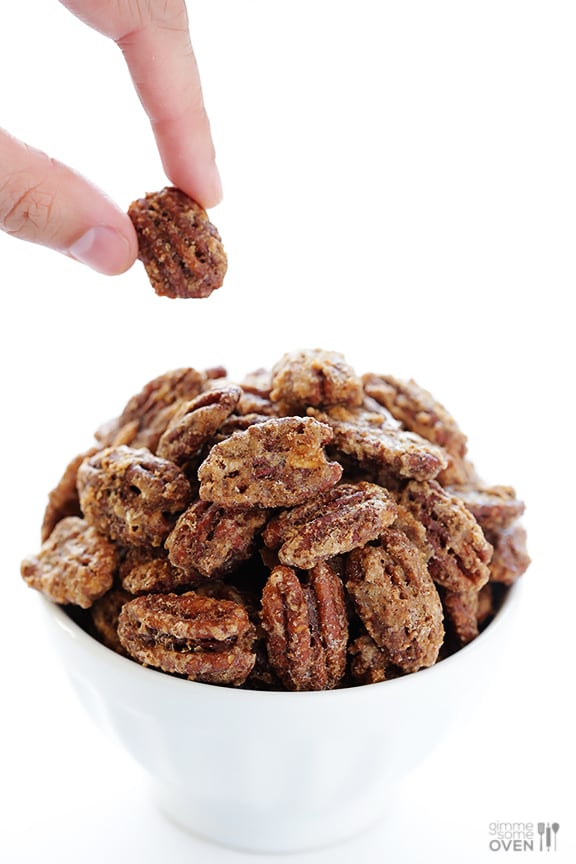 1. Go vertical
It probably goes without saying, but vertical images perform much better on Pinterest than horizontal or square images. In fact, statistically, the taller the image, the more it will (usually) be re-pinned. This is simply because all images are formatted to have the exact same width on Pinterest. So taller images will have the advantage of taking up more "real estate" on Pinterest — basically, more total space.
Some bloggers like to just pin traditional vertical images like the one above. Some like to create small or long collages. Some like to pin long infographics. The options are basically limitless.
But if you are looking for more Pinterest traffic, think vertical.
(Tip: If — like me — you began your blog only posting horizontal images for years, a collage is a great way to combine a few horizontal images to make a vertical one. Or you can also go in and crop old images to make them vertical.)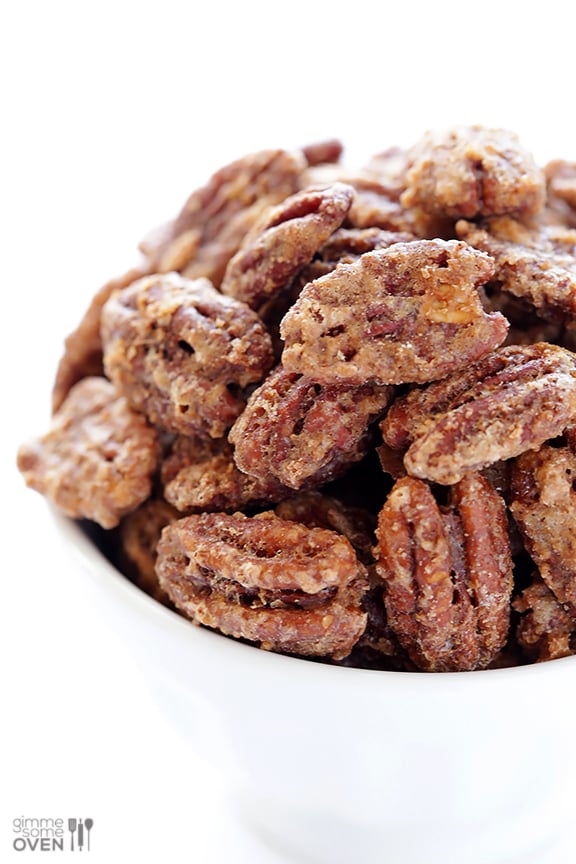 2. Get in close
I happen to love macro photography, which happens to bode especially well for my blog on Pinterest because close-up images often do much better than pulled-back images. My hunch has always been that this is directly related to the size of the thumbnails on Pinterest. When you are scrolling through your Pinterest feed on your computer, those little thumbnails are usually only an inch or two tall. So if you shot the photo at a distance and your subject is tiny, it may only be a centimeter or so tall and hard to see.
Now granted, I love those pulled-back, artistically-styled, beautiful images that so many bloggers post. They are quite honestly the images I pin for inspiration, and just generally the images that I am more impressed with. And I'm sure that many of them also perform impressively well on Pinterest.
But in general, macro photography — or at least, getting in at least somewhat close to your subject — definitely has helped me.
(Tip: I share all about my favorite macro camera lens that I use in this post.)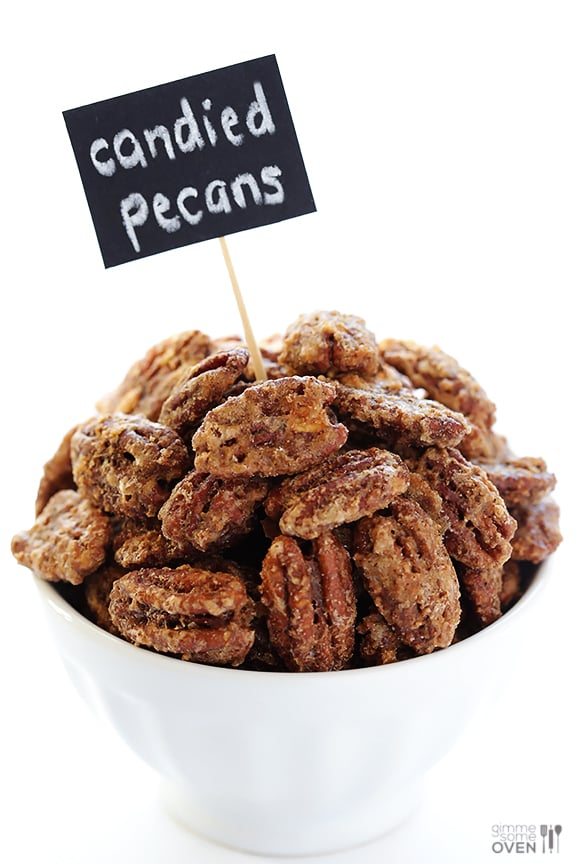 3. Title (and watermark) your actual image
It seems as though the verdict is still out on whether adding actual title text within your image actually works. Some will say unequivocally "yes". Others argue "no". When I look at my Pinterest source page, there seems to be a healthy mix of titled and untitled images being pinned, but most days there are definitely more titled than untitled images present.
Personally, I'm not a fan of having title text on photos. So I usually just include 1 or 2 photos in each post that have the title text on them, so that readers have the option if that's what they like. Sometimes I will use Photoshop to just type the title of the recipe in above or below the subject, like this. Or sometimes I will try and weave it into the photo in a more creative way, like in the little chalkboard sign in this candied pecans photo above (which was very successful on Pinterest).
I will say, though, that I think the key to having text on your photos is having good-looking text on your photos. This is, of course, 100% subjective to what people think looks good. But if you title your photos, I would highly recommend taking some time to look around on Pinterest and see what kind of text is working for other bloggers and merge that with what you think looks good to you. I have experimented with all kinds of text over the years, for better and worse, and see to find lately that bolder text works better than more subtle. But who knows, in a few months I will probably change my mind and try something else. ;)  Ideally, though, it would be awesome to choose a font and text layout that you like, and stick with it to be consistent.
Even more important than titling your photos is watermarking them. In my first few years of blogging before Pinterest, no one did this. But now, I'm pretty sure everyone does this, mostly because there are photo stealers out there who will grab your photo and illegally use it in a heartbeat without you knowing. Watermarking (and adding title text!) is the best way I know to prevent photo theft.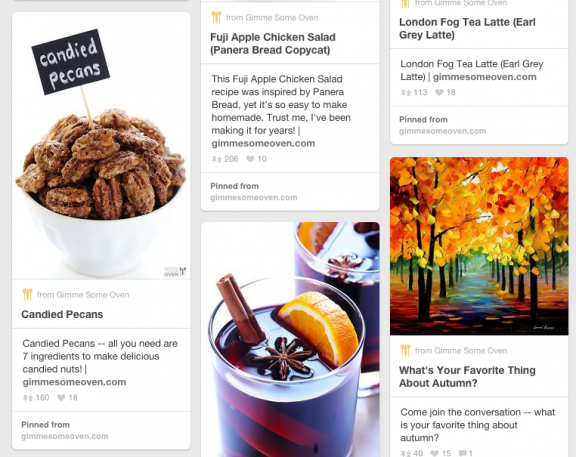 4. Write a catchy description
You can read all about my thoughts on this step here in this post about The One Thing You Must Do To Every Image Uploaded To Your Blog.
Title that image, baby!
When you title your image, that text will default as the description text for your image on Pinterest. And it's worth taking the time to be sure that description is a good one. I have read that 200 characters is the ideal length of a description in Pinterest, and include a few more tips for choosing a good description here. But at minimum, be sure that the description includes the title of your post, and not just the file name (i.e. IMG_2094) that your camera gave the image.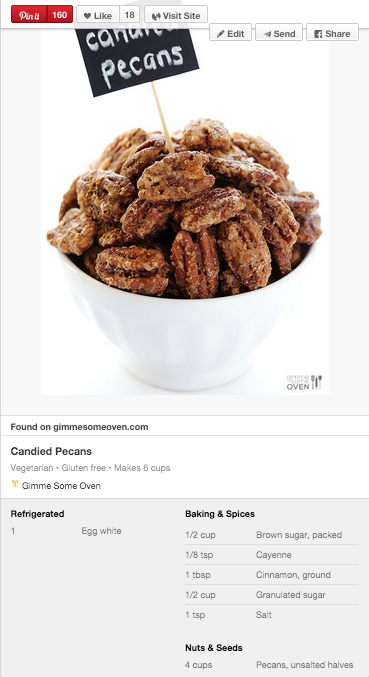 5. Use rich pins
I would say that rich pins were the best thing to hit Pinterest in this last year. And if you post about recipes, movies, articles, products, or places, they are well-worth your time to figure out.
As Pinterest says, "to get started, you will need to prep your website with meta tags, test out your Rich Pins and apply to get them on Pinterest. If you're not technical, you might want to ask your developer or site owner to help get you going." Here is the Rich Pins Instructions link to do so.
As a food blogger, I believe that rich pins have been a huge help in encouraging people to actually click through the pins to my site. First off, having rich pins gives you the bonus of having a very bold title given to each pin (by Pinterest) that sits above the description on your homepage feed. (I find that visually, these help draw a lot of extra attention!)  But then when pinners click on the pin, they get a preview of the ingredients needed to make the recipe, how much it will yield, whether or not it fits into special diets (i.e. gluten-free, vegetarian, etc.), and the URL where the pin will lead. I love them.
So if you don't have rich pins installed yet, hop on it. It may take a little work, but it is well worth it.