Almond-Crusted Chicken Nuggets
I never really intended to be the girl with the big tv.
I mean, I've never had cable, I rarely watch live tv or movies all that much, and until recently, I'd never really had space for a good tv.  But when I was downsizing and moving downtown about three years ago, I decided it was probably time to replace my old broken tv, and there was a nice spot for a new one in a corner of my loft.  So I hopped onto Craigslist with a $100 budget hoping to just find a little one that could suffice for movie nights and maybe the occasional ball game via antenna.  But much to my surprise, I stumbled across a suspicious listing for a "brand new", top-of-the-line, all-the-bells-and-whistles, huge tv for — you guessed it — $100.  Seemed way too good to be true.  (Especially on Craigslist.)
Still, curiosity killed intrigued the cat, so I emailed the guy to investigate.  And lo and behold, it was true.  Turns out that this guy had just won the tv at a raffle at work, but already had an even bigger one at home.  So he said that he had just popped it on Craigslist looking for someone to come "take it off his hand".  Um, which I was more than happy to do.  Which then transformed my place into The Home Amongst Our Friends With The Big TV.  Which I then learned…is actually pretty fun!
When there's a big game on, all of the neighbors come to my house.  When there's a long-awaited season premiere showing, we'll have a girls night at my place.  When my tv-less boyfriend and I feel like continuing our West Wing marathon (on a screen bigger than his laptop), we'll snuggle up on the couch and watch at my place.  Even just last night, I received a text from my neighbor after dinner asking if I was watching the Golden Globes — and even if I wasn't — could they come over to my place and let themselves in and watch it on the big tv?  (The answer to that with my neighbors is always a resounding yes, by the way.  Mi tv es su tv.)  :)
I never would have guessed when logging onto Craigslist years ago that my $100 would result in so many fun memories of friends coming over to my place, but I'm sure glad they did.  Turns out that watch parties are some of my favorite kind of parties.  And of course, what's a big game or a movie night without some good snacks?!  And even better, some healthier good snacks?!?
Enter my favorite new recipe for homemade, easy-to-make, baked-not-fried, ridiculously delicious chicken nuggets…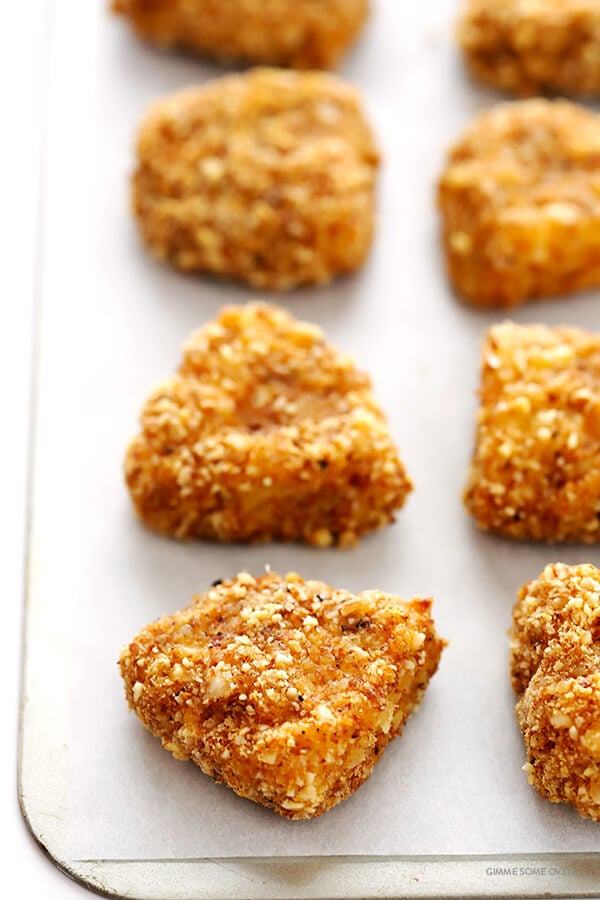 I've served up plenty of game day snacks over the years to friends coming over to visit.  But I must say, whenever I make a batch of homemade chicken nuggets, I'm shocked at how quickly they disappear…with adults.  I mean, it's a given that kids are usually obsessed with nuggets.  But I'm always surprised at how much my adult friends go crazy for a good ol' nugget, especially when they find out my nuggets are homemade and crusted with an extra flavorful, baked coating.
They're my guaranteed little entertaining touchdown.  ;)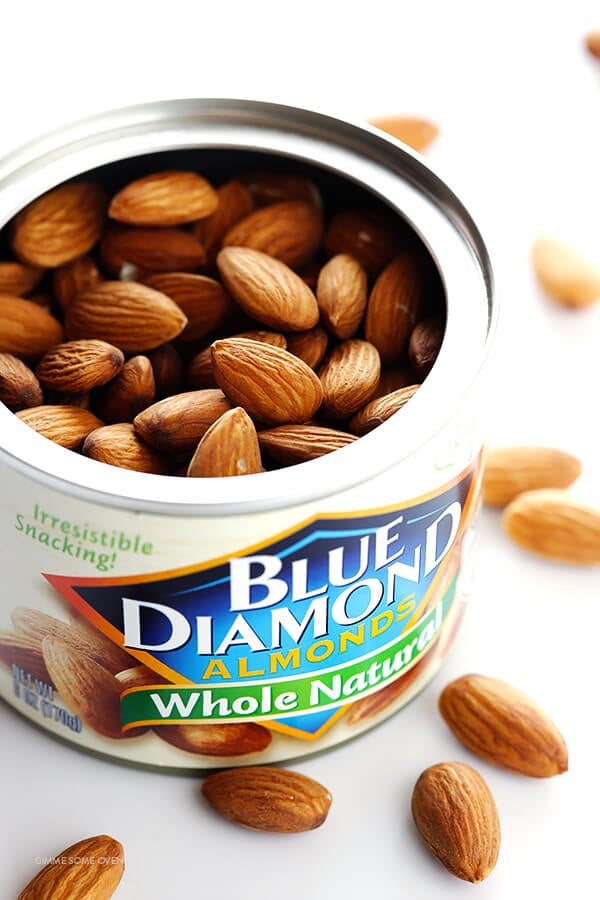 Over the past few years, I've experimented with making nuggets with a variety of coatings (like Parmesan, hemp seeds, or pretzels, to name a few).  But my hands-down favorite method nowadays is to coat them with crushed up almonds.  Basically, homemade almond meal.  The almonds are packed with good-for-you extra protein, they toast up well in the oven, and they add delicious flavor to your nuggets.  Win-win-win!
For this recipe, I decided to go with Blue Diamond Whole Natural Almonds — which are my staple almonds that I always now keep on hand for cooking, baking, and (of course) snacking — and just season them myself.  But if you want a wildly delicious shortcut, I also 500% recommend instead just using one of Blue Diamond's different varieties of already-seasoned almonds to coat the nuggets.  Some of their bold flavors — like Wasabi & Soy Sauce (I'm obsessed), Salt & Vinegar, Honey Dijon, or Sriracha almonds — would be absolutely magnificent.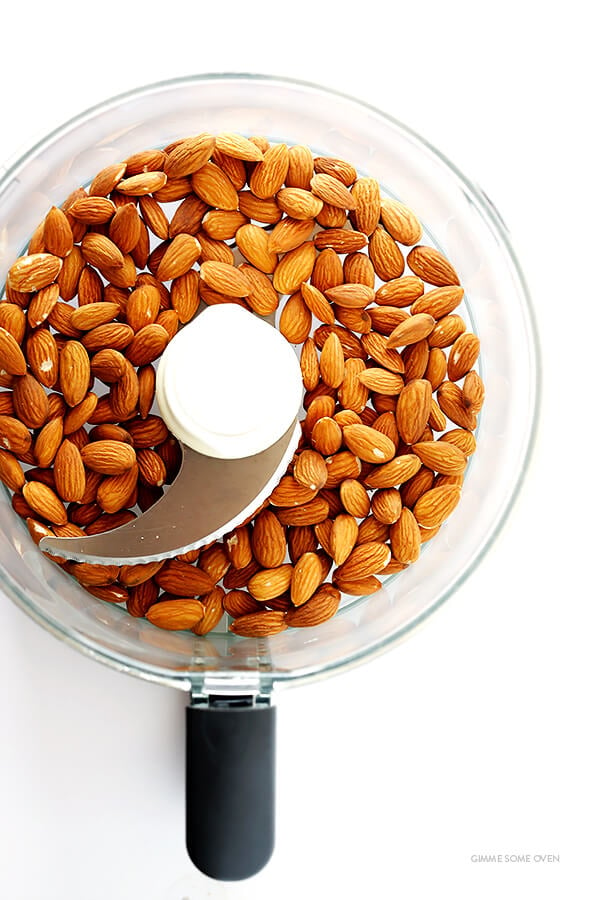 Whichever almonds you choose, here's the method.  :)
Simply ground your almonds up in the food processor until they reach the consistency of breadcrumbs.  Then mix them with some seasoning (if you're starting with the natural almonds — otherwise you can just rely on the seasoning of the bold flavors).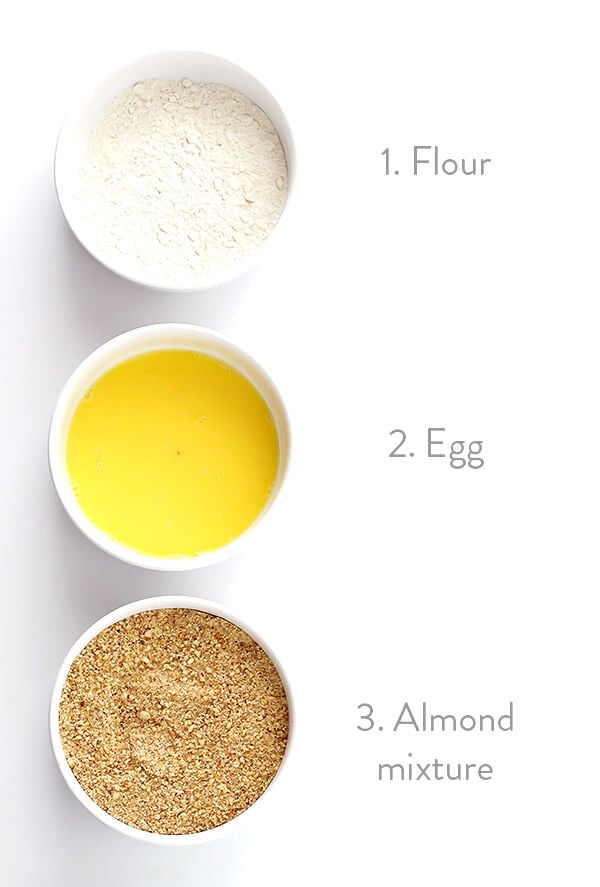 Then set up your little assembly line for the nuggets.  You'll need a bowl of:
flour (you can use all-purpose, whole-wheat, gluten-free flour, or even just even more finely-ground almonds)
egg (just whisk together an egg and some water or milk)
your ground almond mixture
Dip a bite-sized piece of raw chicken into the flour mixture, then the egg, then the almond mixture, and place it on a parchment-covered baking sheet.  Then repeat with the remaining chicken.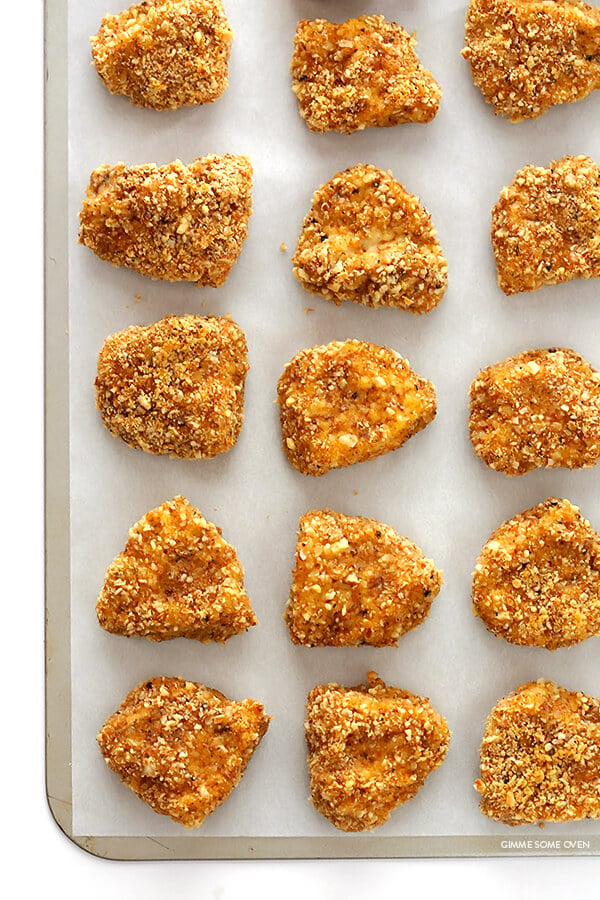 And then bake them up until they reach delicious, golden, chicken nugget perfection.  I like my nuggets a little crispy, so I usually underbake them a little bit and then turn on the broiler to finish them off for the last minute or two.  And then the dipping sauces are up to you.  ;)
But let me just assure you — "kids" of all ages will go crazy for these little guys.  They're perfect for game night, movie night, or even just any weeknight dinner when you're craving some tasty nuggets you can feel good about.  So grab your favorite flavor of almonds and start the search to figure out your favorite flavor of chicken nuggets today!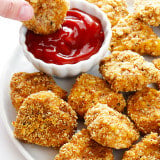 Almond-Crusted Chicken Nuggets
This Almond-Crusted Chicken Nuggets recipe is easy to make, they're baked and not fried, and they're full of delicious almond flavor!
Ingredients:
6 ounces Blue Diamond Almonds (I used Blue Diamond Whole Natural Almonds*)
1 teaspoon kosher salt, or more to taste
1 teaspoon smoked paprika
½ teaspoon garlic powder
¼ teaspoon freshly-cracked black pepper
1 egg
¼ cup water or milk
½ cup flour
1 ½ pounds (raw) boneless skinless chicken breasts, cut into bite-sized pieces
cooking spray
Directions:
Preheat oven to 400°F.   Line a large baking sheet with parchment paper, and set aside.
Add almonds to a food processor.  Pulse repeatedly until the almonds are finely ground.
Add the ground almonds into a small bowl, along with the salt, smoked paprika, black pepper and garlic powder.  Whisk to combine.  Taste, and season with extra salt and pepper or seasonings if desired.  (This will be the main flavoring for your nuggets, so make sure it tastes like you want it to!)
In a second bowl, whisk together the egg and water (or milk) until combined.
In a third bowl, add the flour.
Now set up your assembly line for coating the chicken nuggets — (1st) chicken, (2nd) flour, (3rd) egg, (4th) almonds, (5th) baking sheet.
Dip a piece of the chicken completely in the flour until it is completely coated, shaking off the excess flour.  Then dip the chicken in the egg until completely coated, then dip it in the almond mixture, then place it on the baking sheet.  Repeat with the remaining chicken.
Bake for 8-10 minutes, or until the chicken is cooked through and no longer pink inside, flipping the nuggets once halfway through cooking.  (If you want a crispier coating, you can bake the chicken for 6-8 minutes, then turn on the broiler for 1-2 minutes to crisp up the crust.  Just watch the chicken carefully so that the almond crust does not burn, and be sure that the chicken is cooked through on the inside.)
Remove and serve immediately with your desired dipping sauce.
*If you choose to make this recipe with one of Blue Diamond's other bold flavors of bold almonds, just ground them up in the food processor and leave out the salt, paprika, garlic powder, and black pepper.  The seasonings on the almonds will be plenty flavorful on their own.
All images and text ©
If you make this recipe, be sure to snap a photo and hashtag it #gimmesomeoven. I'd love to see what you cook!
This recipe is sponsored by Blue Diamond Almonds.  I am partnering with them to bring you some tasty new almond recipes with their Game Changing Flavors this football season, and all opinions are my own as always.  Thanks for continuing to support the brands who make this site possible.  Also, for some extra fun this football season, feel free to enter for a chance to win the Ultimate Football Party Prize Pack, get great savings and ideas for delicious snack hacks at GameChangingFlavors.com.