Asparagus-Spinach Pesto Pasta with Blackened Shrimp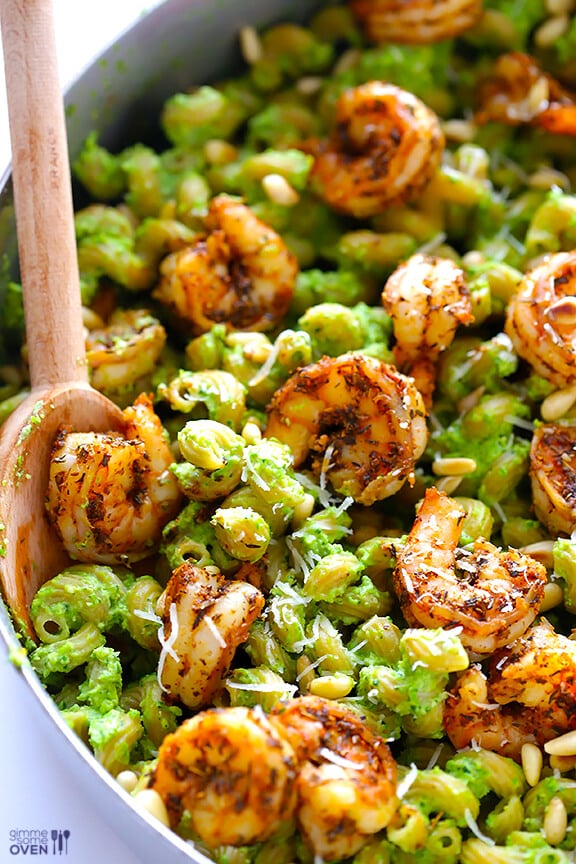 I probably should have poured a nice stiff drink recipe for you all on this loveliest of lovely tax days.  Especially for my fellow small business owners who just gave half of their revenue back to the government.  Good grief, I won't even go there.
Instead though, I thought I'd offer my idea of a more comforting alternative.
Pasta.
When life is good, and when life gets crazy, I turn to pasta.  And this pasta recipe is one of my all-time favs.  I actually posted it on the blog about 4 years ago when I was a brand-spankin' new blogger, and my photos were a lovely shade of neon.  (Although the vivid green of the this pesto is arguably neon in real life!)  But I'm trying to get in the habit of snapping new photos whenever I cook a really old blog recipe nowadays.  And when I was feeling a little "green" after writing some ridiculously huge checks this week, I thought it only appropriate to celebrate with a wonderfully green and seasonal pasta.
And just as it has for years, this one hit the spot.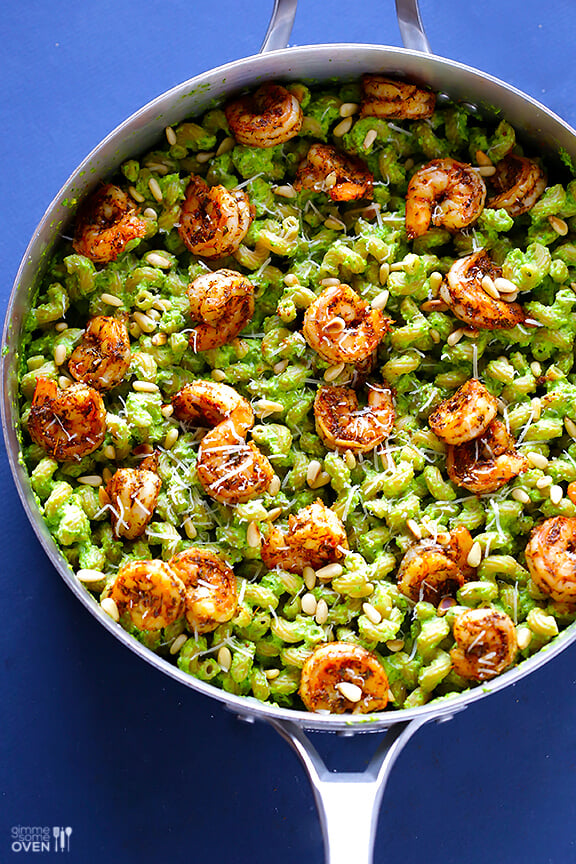 As the name suggests, the main ingredient in this beautiful pesto is asparagus.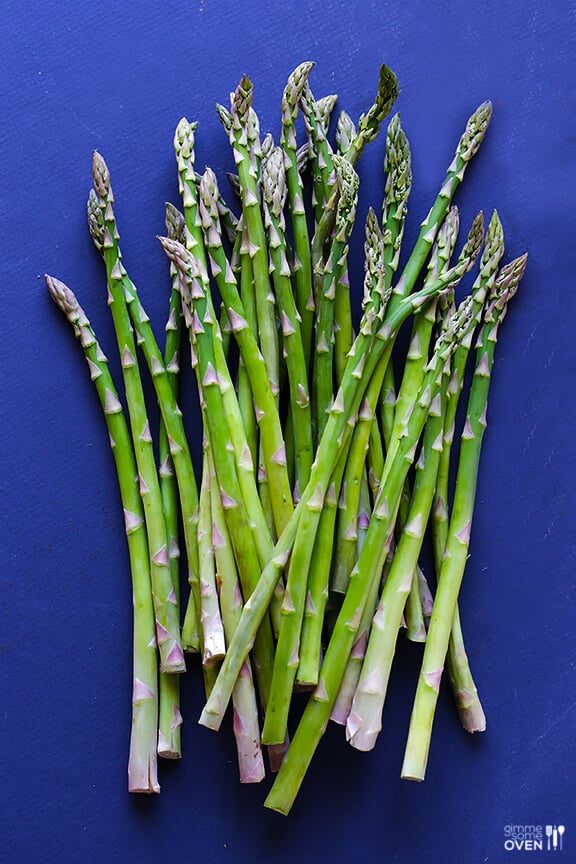 Lots and lots of fresh, beautiful, in-season asparagus.  I can't get enough of it this year.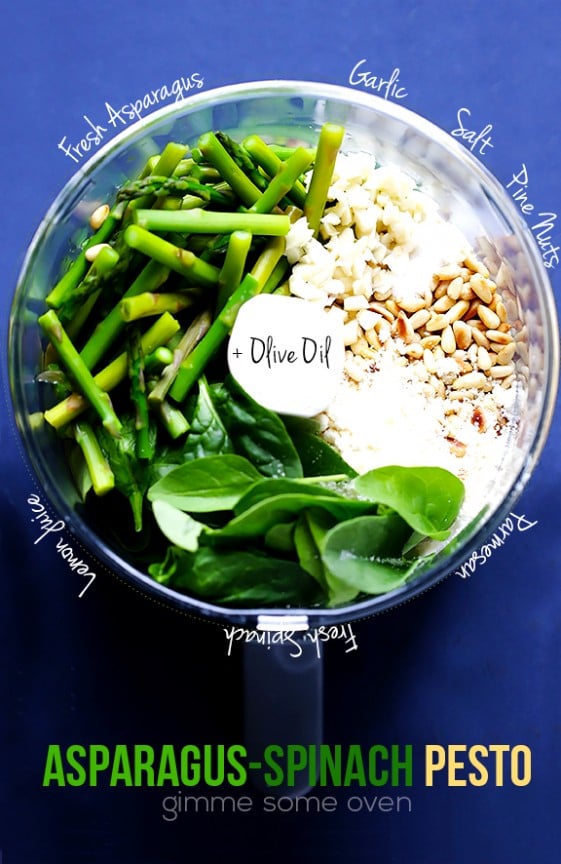 What I love about this specific asparagus pesto, though, is that it also sneaks in some spinach.  Actually, quite a bit of spinach, which adds in all sorts of nutrients and also makes this pesto so vivid that it nearly glows.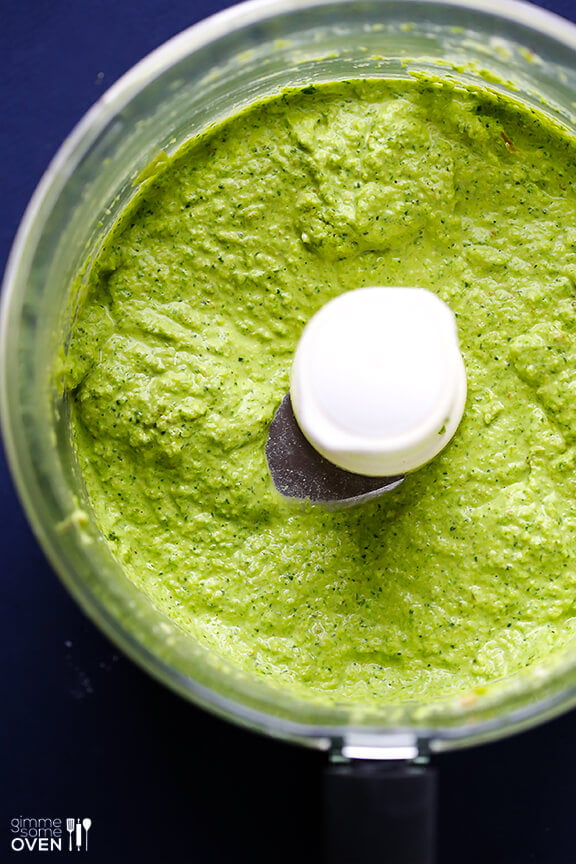 Um, YUM.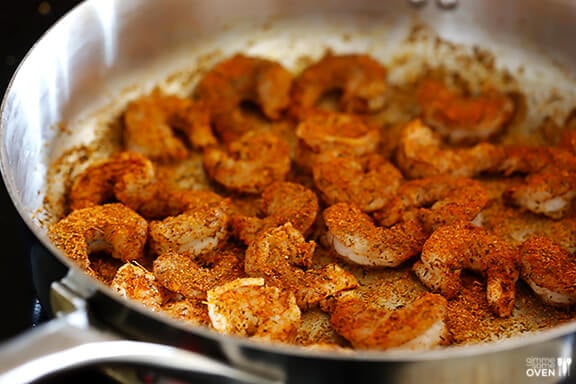 So, once your pesto is ready and your pasta water is boiling, add in the pasta to start cooking while you saute up your shrimp.  If you don't want to use shrimp, you could sub in chicken or other veggies, or just eat the pesto pasta plain.  But I first tried this pasta with blackened shrimp back in the day, and now I can't imagine it any other way.  Love me some blackened shrimp.
And as you can see, I douse my shrimp with blackening seasoning.  The more of that stuff the merrier in my book.
Saute the shrimp up until they are cooked, then transfer them to a separate plate and give your pan a quick rinse.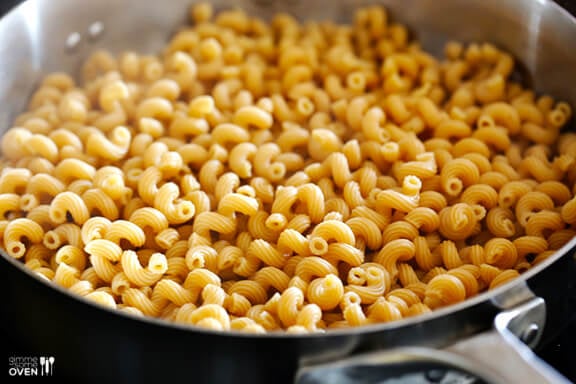 Once the pasta is cooked to al dente, reserve a 1/2 cup of pasta water on the side.  Then drain the pasta and then add it back to the saute pan.  (Or you can do these next steps in the stockpot where you cooked the pasta.)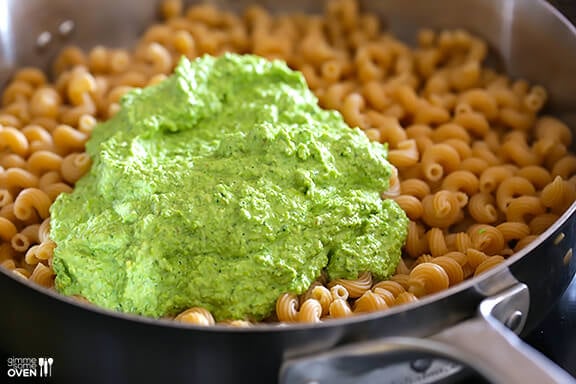 Add in that big glop of pesto, and stir it until it has coated the pasta evenly.  If you feel that the pesto is too thick, just add in a little bit of pasta water at a time until it reaches your desired consistency.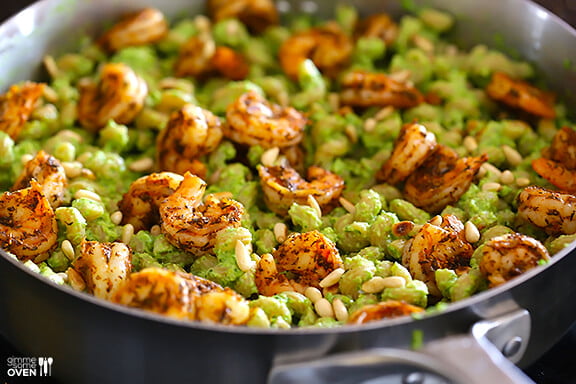 Then toss those shrimp back in, along with the toasted pine nuts.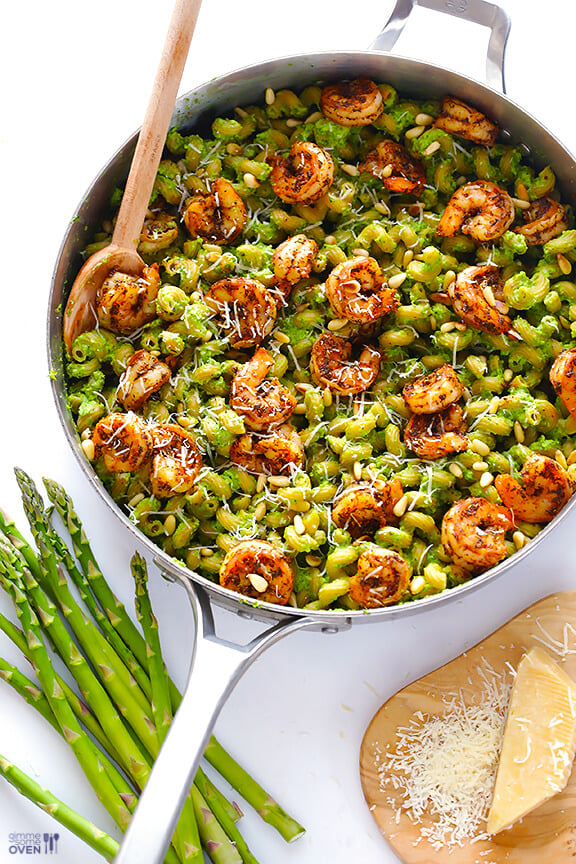 And sprinkle it all with a healthy helping of Parmesan cheese.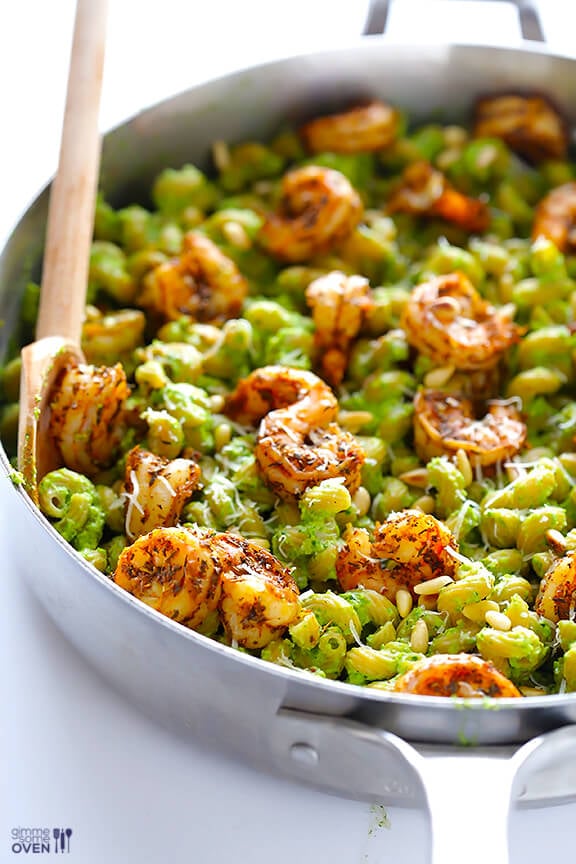 The serve it up!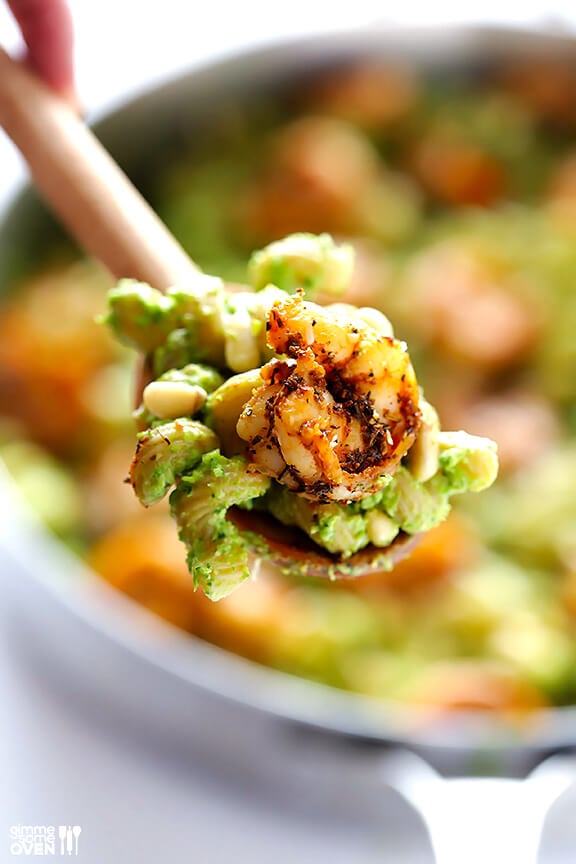 Goodness, I just made this a week ago and I already want to make another batch.  It is seriously that good.
Definitely the perfect comfort food for tax day…or any day that you're craving some seriously good food.  Enjoy!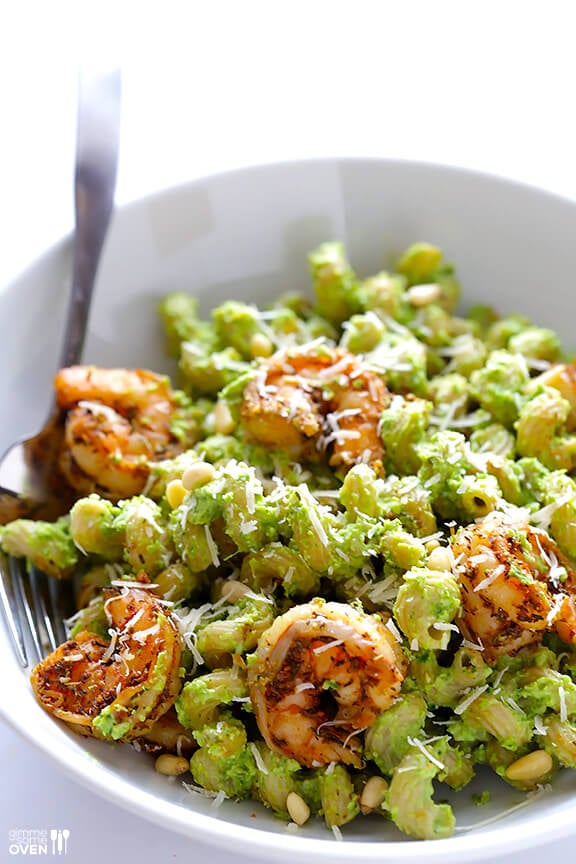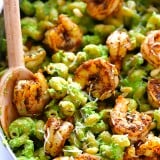 Asparagus-Spinach Pesto Pasta with Blackened Shrimp
This asparagus-spinach pesto pasta is fresh and full of great greens, and topped with zesty blackened shrimp.
Ingredients:
Pasta Ingredients:
1 lb. (16 oz.) dried pasta (I used DeLallo whole wheat)
1 lb. raw shrimp, peeled and deveined
2-3 Tbsp. blackening powder (use your favorite brand, or cajun seasoning, or this recipe here http://www.gimmesomeoven.com/10-minute-blackened-tilapia/)
1 Tbsp. olive oil
1/4 cup toasted pine nuts
asparagus-spinach pesto (see ingredients below)
Asparagus-Spinach Pesto Ingredients:
1 bunch asparagus spears (about 1 lb), ends trimmed and cut into 2-inch pieces
3 cups baby spinach leaves, loosely packed
4 cloves garlic, peeled
1/2 cup freshly grated Parmesan cheese, plus more for topping
1/4 cup toasted pine nuts
2 tablespoons lemon juice
1/2 teaspoon salt
1/2 cup extra-virgin olive oil
Directions:
To Make The Pasta:
Cook the pasta in a large pot of generously-salted water al dente according to package instructions.
Meanwhile, add the shrimp to a small bowl and toss with the blackening powder until covered. Heat olive oil in a large saute pan over medium heat. Add in the shrimp, and saute for 5 minutes, turning occasionally, until the shrimp are cooked through and pink and no longer translucent. Turn off the heat, and transfer shrimp to a separate plate and set aside.
When the pasta is al dente, reserve 1/2 cup of the pasta water then drain the pasta. Return the pasta either to the stockpot where it was cooked, or to the saute pan (with the stove heat turned off). Add the pesto to the pasta, and toss until evenly coated, adding in a bit of the reserved pasta water if needed to thin the pasta. Then stir in the shrimp and pine nuts, and serve immediately sprinkled with some extra Parmesan cheese.
To Make The Pesto:
Fill a separate medium saucepan or stockpot with water, and bring to a boil over high heat. Add the asparagus spears and cook for 2-3 minutes, until the spears are bright green and barely tender. Remove the asparagus with a slotted spoon and transfer to a bowl filled with ice water to stop the cooking.
Add the asparagus, spinach, garlic, Parmesan, pine nuts, lemon juice and salt to the bowl of a food processor fitted with the blade attachment. Process until combined. Then, with the motor running, drizzle in the olive oil until it is incorporated. As mentioned above, if the pesto seems too thick, add in a bit of pasta water to thin it out.
If you make this recipe, be sure to snap a photo and hashtag it #gimmesomeoven. I'd love to see what you cook!