Beef Chow Fun (Beef & Noodles Stir Fry)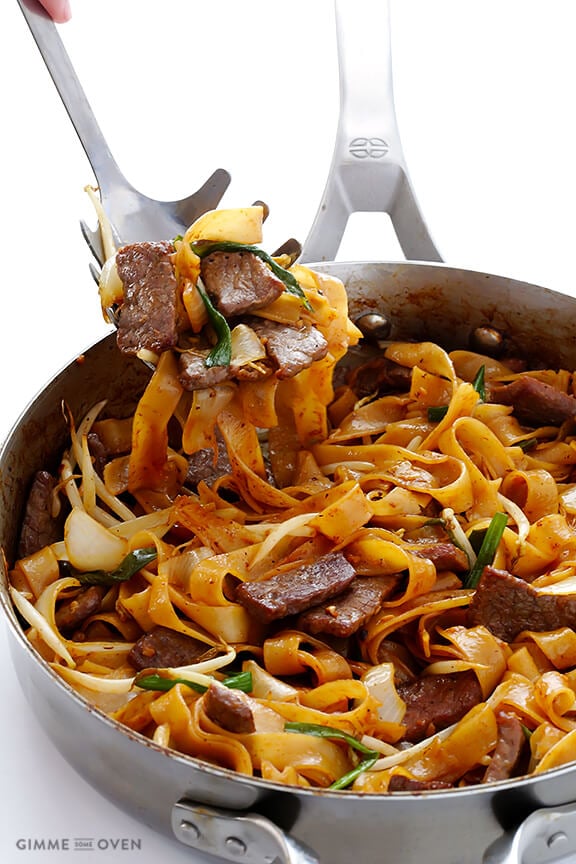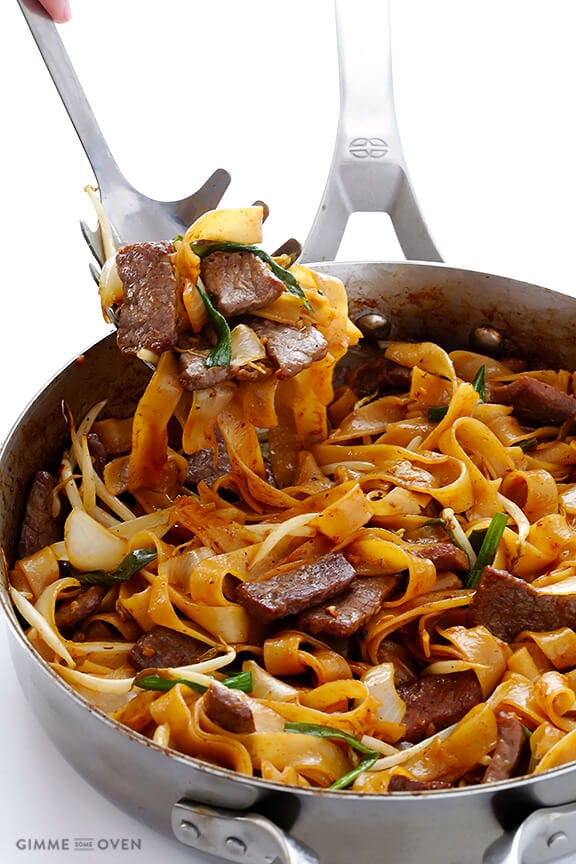 It's no secret that I happen to believe I live in the best neighborhood on earth.  But a little known fact on the blog is that I also believe I live next to a Chinese restaurant with the best takeout on earth.  Let's just say…they know me there by name.
Yes.  Lest anyone thik that I live in this magical food blogging land of 100% homemade meals, allow me to set the story straight.  I love to cook.  But I also really love it when other people — or restaurants — cook for me.  All the better if that food includes some form of chips and salsa, masala, or noodles.  And when I'm craving the latter, you'd better believe I have my neighborhood Chinese restaurant on speed dial.
My order history there would show that I tend to stay loyal to a handful of favorite dishes.  Fried rice is a must.  Anything moo shoo is always a winner.  And egg drop soup is a given with any order.  But this winter while I'm shying away from gluten and sugar, I have been rekindling my love for an old favorite I used to love — Beef Chow Fun.  Also known as Gon Chow Ngau Ho.  For anyone unfamiliar with the name, don't be intimidated.  It's basically the Cantonese version of good ol' beef and noodles.  It's full of great flavor.  And oh man, it always hits the spot.
So while I will forever be a fan of ordering it as takeout, this winter I decided it was time to learn how to make my beloved beef chow fun homemade.  You know, for "fun".  To see if I could do it.  As it turns out, I could and I was shocked at how easy this dish actually was to make.  You've totally got to try it.
Well first off, for anyone who has ever wondered about the behind-the-scenes look at a food blog, here's a little peek at the behind the scenes of my lunch break.
Beef chow fun + egg drop soup + La Croix + The Good Wife on Hulu.
My kind of lunch.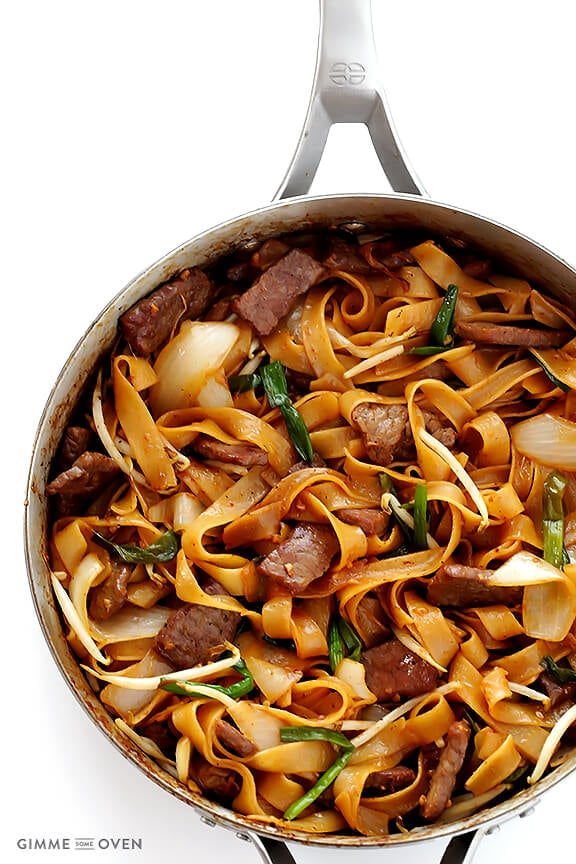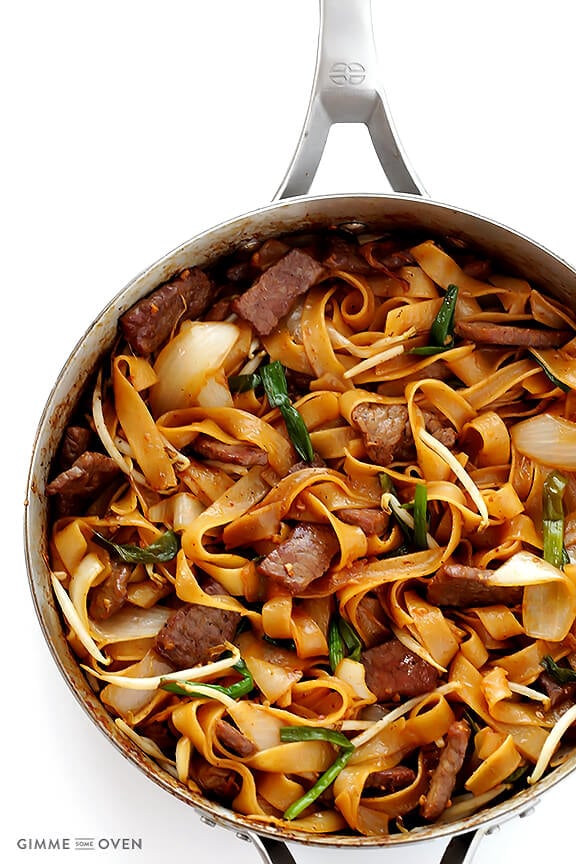 And here's my homemade version.  Pretty dang close, I must say.  And SO GOOD.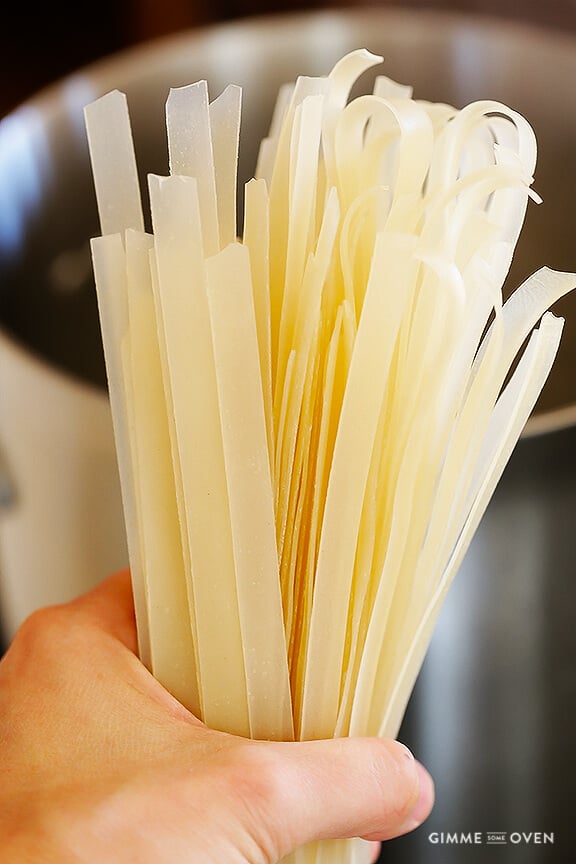 To make the dish, begin by tracking down some rice noodles.  Traditionally this dish is made with varying widths of "wide" rice noodles, but any will do.  Cook them up according to package instructions, and then set them aside.  (I boiled mine for a few minutes and then submerged them in ice water to stop the cooking process.)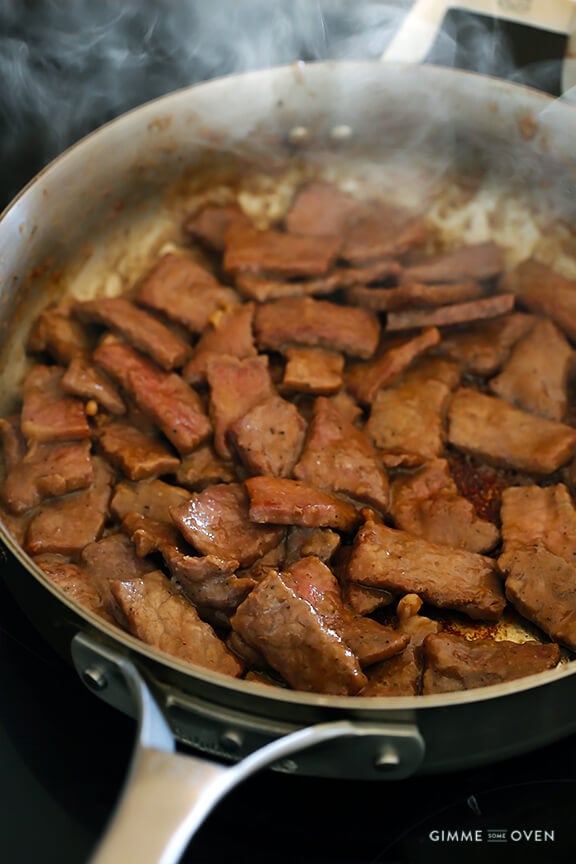 Then in a separate pan, brown up your marinated beef.  Remove and set it aside.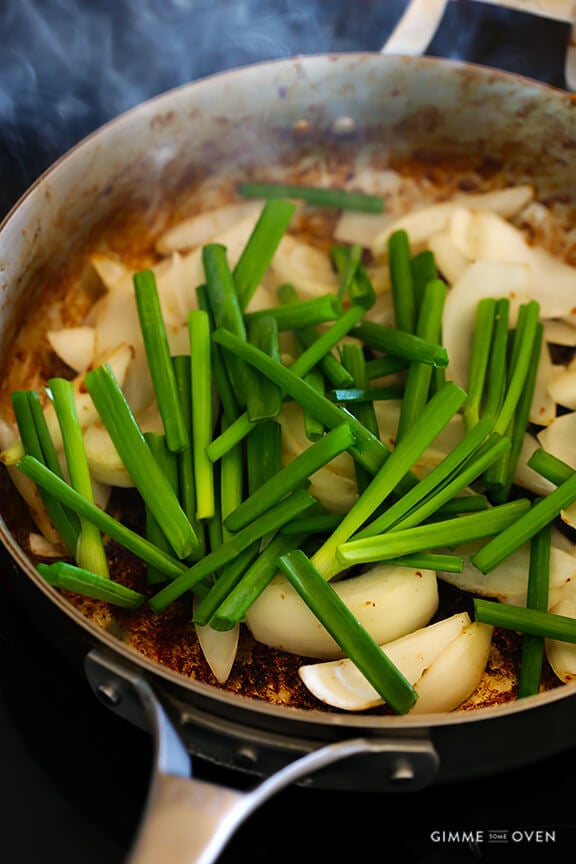 Then cook up those onions in the same pan.  My Chinese restaurant uses both white and green onions, which I happen to love.  But you can choose one or the other if you'd like.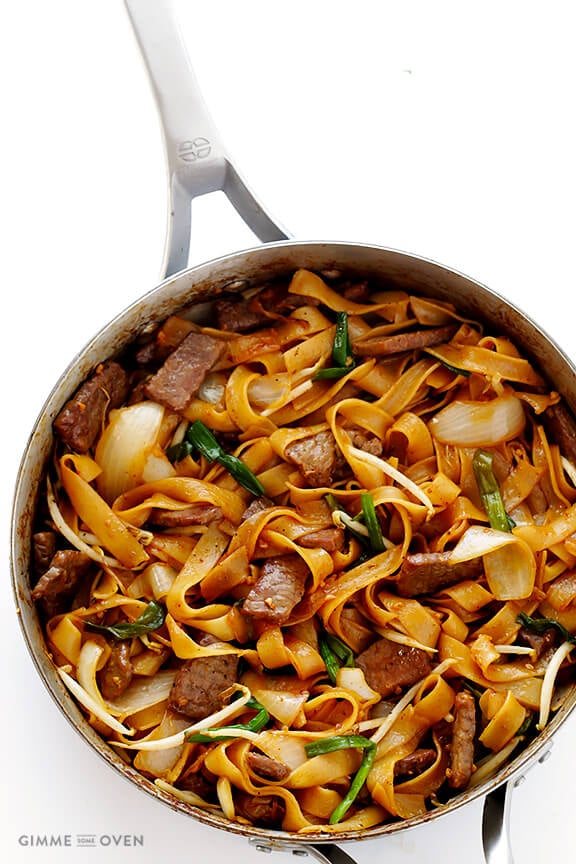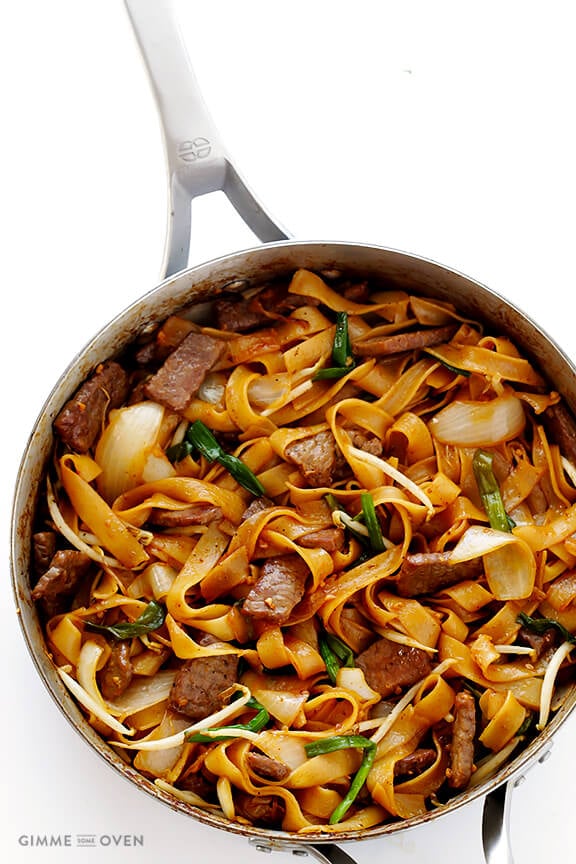 Then add everything together along with the sauce in a skillet or wok, and stir fry it a bit more to meld all of those tasty ingredients.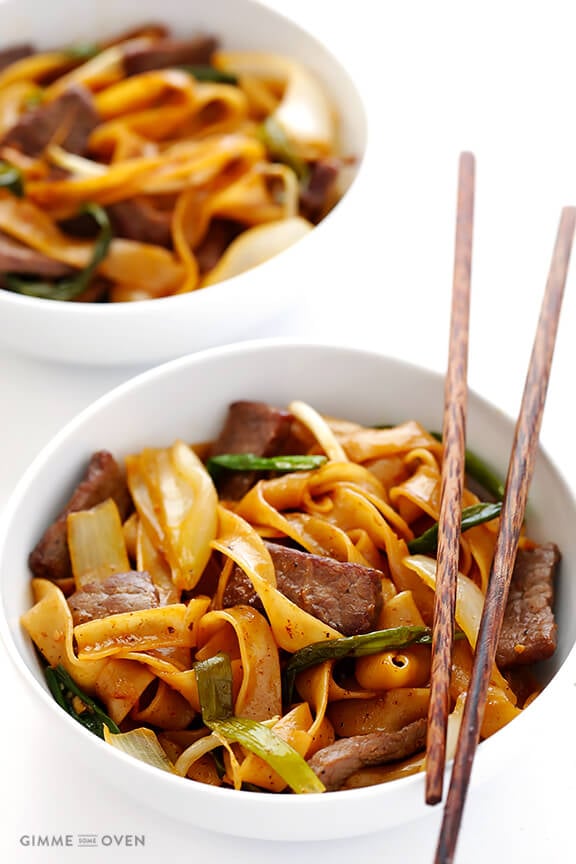 Then when you're ready, serve it up warm!
It's savory, slightly sweet, very filling, simple, and oh-so-comforting.
So you should probably make some right away.  :)  Enjoy!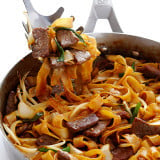 Beef Chow Fun (Beef & Noodle Stir Fry)
Traditional beef chow fun (a beef and noodle stir-fry) is surprisingly quick and easy to make at home, and so flavorful and delicious!
Ingredients:
Chow Fun Ingredients
7 ounces uncooked wide rice noodles
2 tablespoons vegetable oil (or any high heat oil)
8 ounces flank steak, cut into bite-sized pieces
1 white onion, peeled and sliced
4 ounces mung bean sprouts
4 green onions (scallions), sliced into 2-inch pieces
1 teaspoon sesame oil
salt and white pepper, to taste
Marinade
3 garlic cloves, finely minced
2 tablespoons dark soy sauce
2 tablespoons (regular) soy sauce*
1 tablespoon rice vinegar
2 teaspoons grated peeled fresh ginger ( or ½ teaspoon dry ginger)
1 teaspoon Sriracha (or more/less to taste)
1 teaspoon cornstarch
1/4 teaspoon baking soda
1/4 teaspoon salt
Directions:
Cook noodles according to package directions. Transfer to an ice bath and stir until chilled.  Set aside.
Whisk together all the marinade ingredients in a small bowl. Pour half the marinade mixture on the beef and toss to combine. Cover and refrigerate for at least 10 minutes, or up to 8 hours.  Refrigerate the second half of the marinade as well.
When you're ready to cook the dish, heat oil in a large skillet or wok over high heat. Remove the beef from its marinade with a slotted spoon, and add it to the pan.  Sear until browned, turning once or twice so that all sides cook evenly, about 1-2 minutes.  Transfer the beef to a separate plate with a slotted spoon and set aside.  In the hot pan, add the white onions and stir fry for 1 minute, stirring occasionally. Add the bean sprouts and stir-fry an additional 1 minute.
Add the second half of the marinade, the noodles and the beef to the pan.  Stir fry for 1 minute, tossing occasionally to combine. Add the green onions and sesame oil and stir fry for 1 more minute, tossing occasionally to combine.  Season with additional salt and white pepper (and Sriracha) if needed.
Remove from heat and serve warm.
*If you are gluten-free, be sure to use GF soy sauce.
All images and text ©
If you make this recipe, be sure to snap a photo and hashtag it #gimmesomeoven. I'd love to see what you cook!