Egg Drop Soup
This restaurant-style Egg Drop Soup recipe only takes about 15 minutes to make, and is full of amazing flavor.  My kind of comfort food!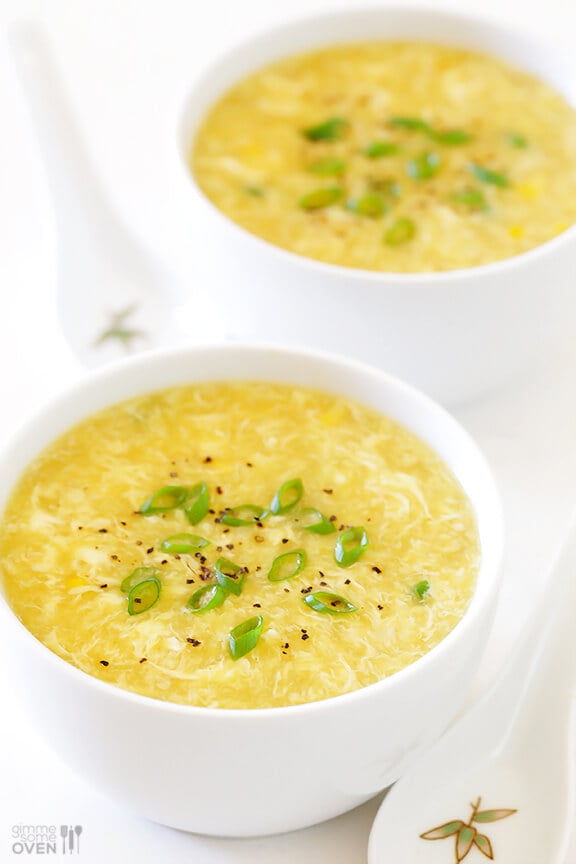 Guesswhatguesswhat?  Today we are revisiting my favorite recipe for my favorite soup of all time — egg drop soup!
Yes, we are "revisiting" the recipe because I decided it was time to give it a little photo makeover.  As often tends to be the case with food bloggers, I posted some of my longtime favorite recipes in the first year that I started blogging.  And while the food was delicious, the photos were often a little less than "appetizing".  And the dark and orange-looking egg drop soup photo happened to fall into that category.  I was reminded of this when I made a batch of egg drop soup this weekend and popped it on Instagram, and then had to look up the recipe when people started asking for the link (and kind of didn't want to send it out).  So I took it as an excuse to make a second batch of egg drop soup to enjoy in one weekend and do a quick photo shoot with the second batch.  We call that win-win, folks.
Also yes, I meant what I said and I said what I meant that egg drop soup's my faithful favorite soup one-hundred-percent.  Always has been, always will be.  I ordered it every single Saturday at our family's neighborhood Chinese restaurant growing up, and over the years have ordered it at over 200 other restaurants along the way.  Basically, anytime egg drop soup is on a menu, I order it.  But when I was in college, I also discovered how super easy it is to make egg drop soup homemade.  And now I'd say that I've probably made it over 200 times at home.  I adore egg drop soup.
In addition to being simple, flavorful, and oh-so-comforting, egg drop soup is also a great healthy choice if you're looking for a lighter soup.  So since we're in the middle of our healthy eating month here on Gimme Some Oven, I thought this would be a perfect time to re-share this favorite recipe.  If you've never tried making homemade egg drop soup, now's the time.  You must try it!
Update: Many of you have also asked over the years if we have a recipe for the other favorite Chinese restaurant soup — hot and sour soup — and we now do!  You can check it out here.

Egg Drop Soup Recipe | 1-Minute Video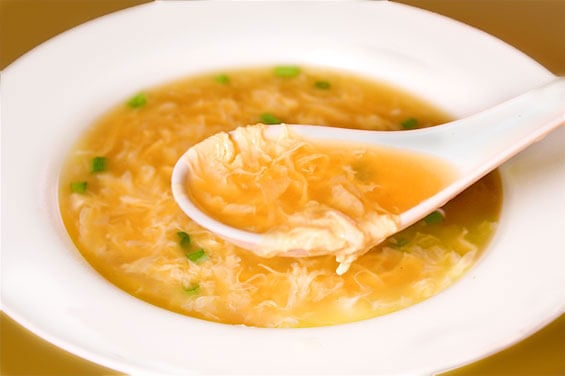 Ok, first of all, I thought I'd include the photo from the original post circa 2009.  A good ol' artificial lighting, floating-in-space, a little overly saturated photo.  Hey, it's where I began.  But let's see if we can make it a little more appetizing…
Ahhhh, much better.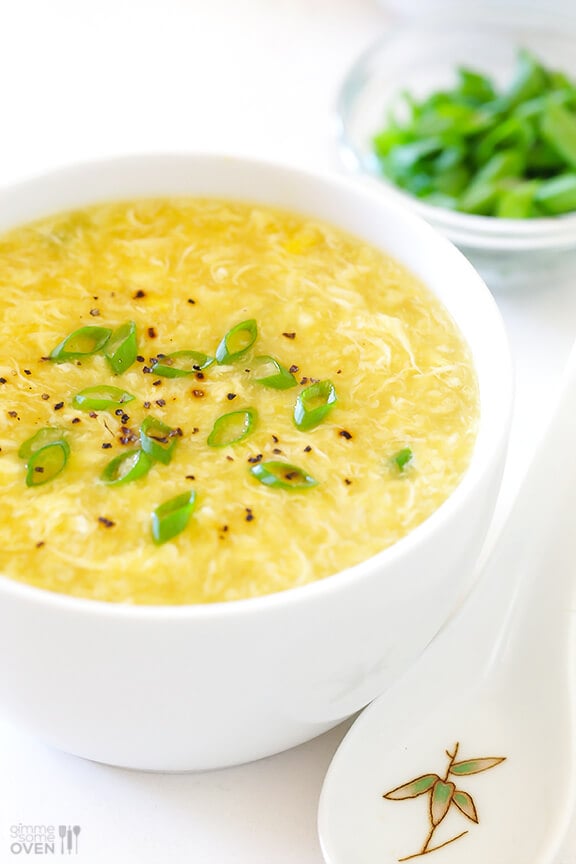 So why am I such a fan of egg drop soup?
Well, first of all, it was one of the first soups I tried as a kid that I liked.  (Key word: liked.)  I was an extremely picky eater as a child, and for years, egg drop soup was the only thing on the menu that I would order when my family visited our neighborhood Chinese restaurant every Saturday.  Eventually, I grew to like other dishes there as well, but almost every week I still ordered an enormous steaming bowl of egg drop soup.  And then I would enjoy every last spoonful, and start counting the days until the next Saturday.  I absolutely adored this restaurant's egg drop soup.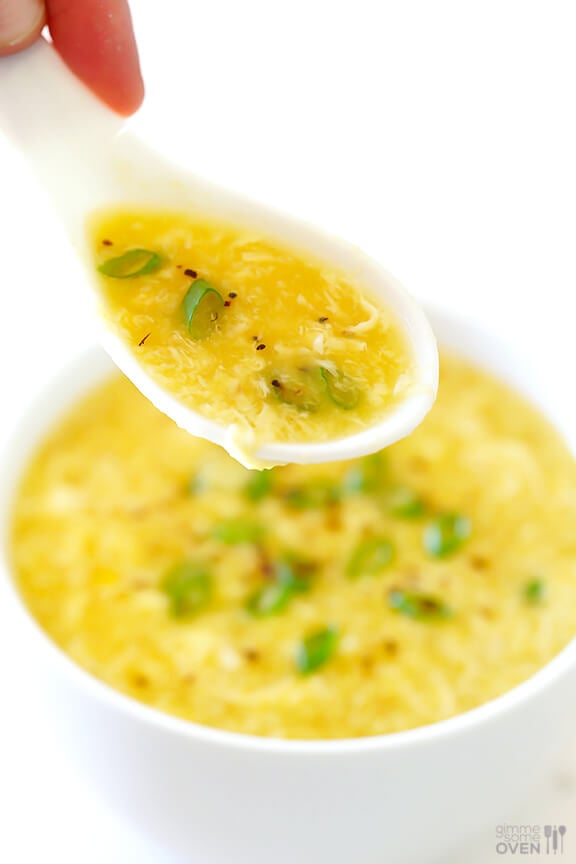 But ever since then, I've been hard-pressed to find Chinese restaurants whose egg drop soup lives up to their standard.  As I mentioned above, I order egg drop soup literally every chance I get.  But I've found there's a lot of really lame egg drop soup being served out there.  Too often the egg drop soup is bland, clumpy, or made with totally unnecessary dark yellow food coloring.  (Actually, I've found it to be a pretty reliable barometer for a restaurant's menu — if the soup's good, usually the main courses are as well, and vice versa.  Kind of like chips and salsa with Mexi restaurants!)
But when egg drop soup is good, it's good.  I like mine made with a good egg-to-broth ratio, with nice thin egg ribbons, slightly thickened broth, lots of good flavor (hints of ginger and sesame oil), with just a tiny bit of corn stirred in (totally optional, but a personal preference), and green onions on top.

So once I learned how ridiculously easy egg drop soup is to make, I began tweaking my recipe until I found a good one.  And then I've been making it and tweaking it multiple times a month ever since.  So without further ado, here's where the photos and recipe stands in 2013.  I've made a few small changes to the recipe since I first published, and hope you enjoy it.  Here's the how to:
First, we begin with the main ingredient: the eggs.
Everyone has their own preferences on whole eggs versus just egg whites, so go with what you like.  If you want the full egg-flavor, use the whole egg.  If you want to go lighter, the soup is delicious with just egg whites.  Me?  I tend to go half and half — 2 whole eggs, 2 egg whites.
Begin by mixing up your stock (find a good quality stock) and seasonings, and bring it all to a boil.  (*Be sure to stir in the cornstarch before heating the broth or else it will be clumpy.)
While the broth is heating, whisk your eggs together in a measuring cup so that they're nice and smooth.  You can mix them in any sort of bowl, but I recommend a measuring cup to make for easier pouring.
Once the broth comes to a boil, remove it from the heat and immediately pour in the eggs while using a whisk or fork to stir the broth in a circle to create the egg ribbons.  (Some recommend pouring the eggs over the tongs of a fork, but I haven't found that to work quite as well.)  Or if you're not worried about long ribbons, just whisk the broth vigorously while pouring in the eggs and you'll be good to go.  The goal is just no clumps, so whisk quickly and thoroughly.
Then as you can see, the eggs are cooked and ready to go!  For a few final seasonings, drizzle the all-important toasted sesame oil into the soup.  (Start with less and add more if you'd like — a little goes a long way.)
Then I also like to stir in some corn and green onions.  Both are optional, but highly recommended from Yours Truly.
Also be sure to season the soup with salt and pepper at this point, to taste.  I like generous pinches of both in my soup.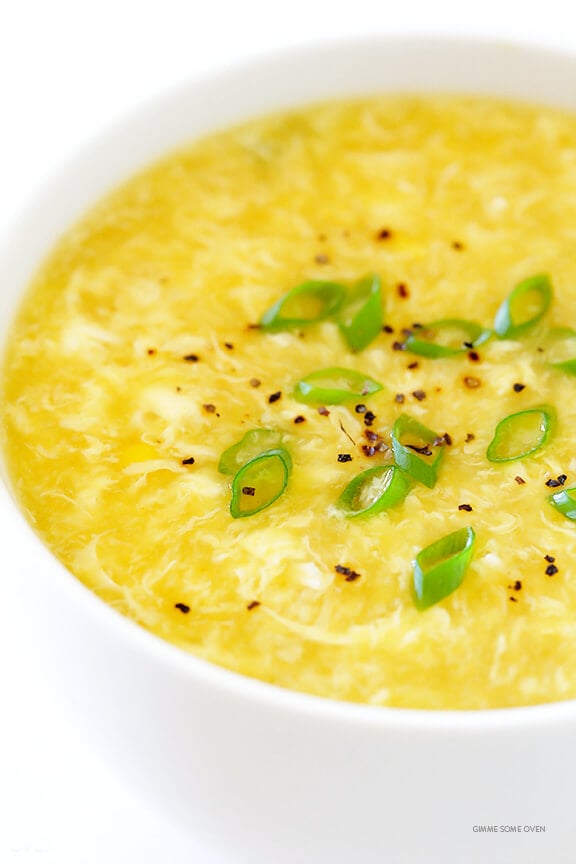 Finally, dish it up and top the soup with a few extra green onions for presentation.
So beautiful, so comforting, and so delicious.  And it can all literally be ready to go in less than 15 minutes.
Oh, egg drop soup.  You really are the best.  :)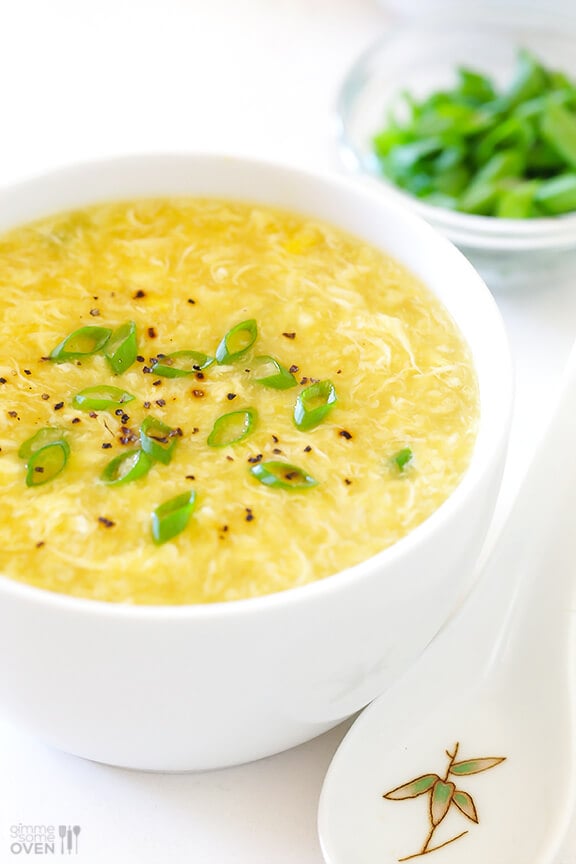 Egg Drop Soup
This Egg Drop Soup Recipe includes detailed directions and photos to guide you through the preparation of this renowned Asian favorite.
Ingredients:
4 cups good-quality chicken stock
2 tablespoons cornstarch
1 teaspoon ground ginger
1/4 teaspoon garlic powder
2 large eggs
2 egg whites
1/2 teaspoon toasted sesame oil
3 green onions, sliced thin (about 1/4 cup sliced), plus extra for garnish
1/4 cup whole-kernel corn or creamed corn (optional)
salt, to taste (I use about 1 teaspoon – I like my soup salty!)
black pepper, to taste (I use about 1/4 teaspoon)
Directions:
Whisk together chicken stock (chilled or room-temperature), cornstarch, ginger and garlic powder in a medium sauce pan until combined and no lumps remain. Heat over high heat until boiling, stirring occasionally.
Meanwhile, whisk together the eggs and egg whites in a small measuring cup or bowl. (I find the measuring cup easier for pouring.)
Once the broth reaches a boil, remove from heat. Then use a fork or whisk to stir the broth in a circular motion, while slowly pour the whisked eggs into the soup to create egg ribbons. Stir in the sesame oil, green onions and corn (optional) until combined. Season with salt and pepper to taste, also adding a dash or two of more sesame oil if you'd like more of that flavor.
Serve immediately, topped with additional green onions for garnish.
All images and text ©
If you make this recipe, be sure to snap a photo and hashtag it #gimmesomeoven. I'd love to see what you cook!