Egg Drop Soup
This restaurant-style Egg Drop Soup recipe only takes about 15 minutes to make, and it's my absolute fave. ♡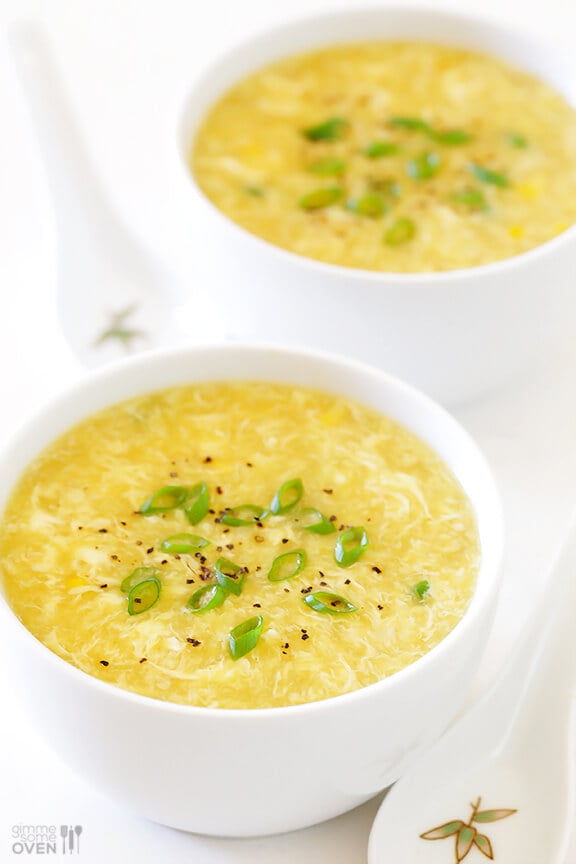 Growing up, my family had a tradition of stopping by our favorite little neighborhood Chinese restaurant for lunch every single Saturday.  And every single Saturday — like, we're talking hundreds upon hundreds of Saturdays here — I ordered the same exact thing.  And it made my little heart so happy.
Egg drop soup. ♡

MY LATEST VIDEOS
You guys, I can't even tell you how much I love this soup.  Clearly, it was the nostalgic soup of my childhood.  But even today, it continues to be one of my all-time faves that I still make at least once a week.  And I still love every single bite.
First off, egg drop soup is simply delicious.  It calls for the simplest ingredients that you probably already have on hand.  It takes less than 15 minutes to whip up.  It pairs well with just about any Asian main dish.  (Or, if you're like me, happily stands well on its own as a main.)  And it is just downright delicious.
That said, not all egg drop soups are created equal!  And especially after having sampled some tragically bland and boring soups at Chinese restaurants over the years, I feel the need to note that this egg drop soup recipe is anything but boring.  It's full of rich, delicious flavors.  It's easy to customize with your favorite add-ins and seasonings.  It yields the most perfect, lovely egg ribbons.  And I promise it will not let you down.
Let's make some!
✨Update: Many of you have also asked over the years if we have a recipe for the other favorite Chinese restaurant soup — hot and sour soup — and we now do!  You can check it out here.
Egg Drop Soup Recipe | 1-Minute Video
So What Is Egg Drop Soup?
In case this one's new to you, egg drop soup is a staple at Chinese restaurants across the United States.  It's typically made with slightly-thickened chicken or veggie stock, and filled with delicious egg "ribbons", which are created by whisking raw eggs into the simmering broth.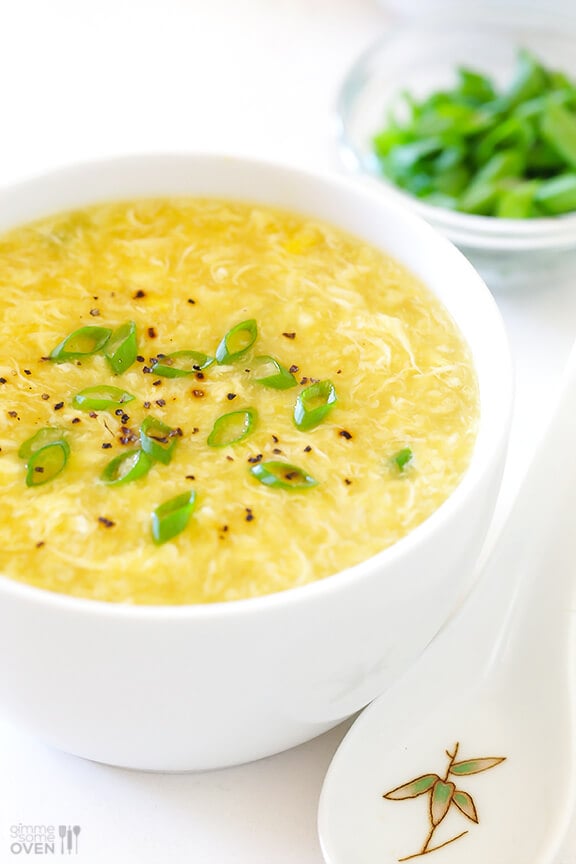 Egg Drop Soup Ingredients:
To make this homemade egg drop soup recipe, you will need:
Good-quality chicken or vegetable stock: your choice
Cornstarch: to thicken the stock a bit
Seasonings: ground ginger, garlic powder, salt and black pepper
Eggs: two eggs + two extra egg whites
Sesame oil: absolutely essential in this recipe (but add it in slowly, a little goes a long way!)
Green onions: thinly sliced, to mix into the soup and also use as a garnish
Whole-kernel corn: totally optional, but I love it
How To Make Egg Drop Soup:
To make egg drop soup, simply:
Prepare your stock: Whisk the stock, cornstarch, ginger and garlic powder together until combined before turning on the heat.  It's essential that the broth is room temperature or cooler, otherwise the cornstarch will clump up and not dissolve.
Bring the stock to a simmer: Stirring occasionally.  While this is heating, go ahead and whisk together your eggs in a separate measuring cup or bowl.
Slowly stir in the eggs: Once your stock has come to a simmer, use a whisk or a fork to begin stirring the stock round and round to create a slow "whirlpool".  Then gradually drizzle in the eggs as you continue to stir the stock, and they will turn into those magical little ribbons.  Remove pan from heat.
Add remaining ingredients.  Stir in the sesame oil, green onions and corn (if using) until combined.  Taste and season with salt and pepper as needed.
Serve warm. Garnished with extra green onions, if you'd like.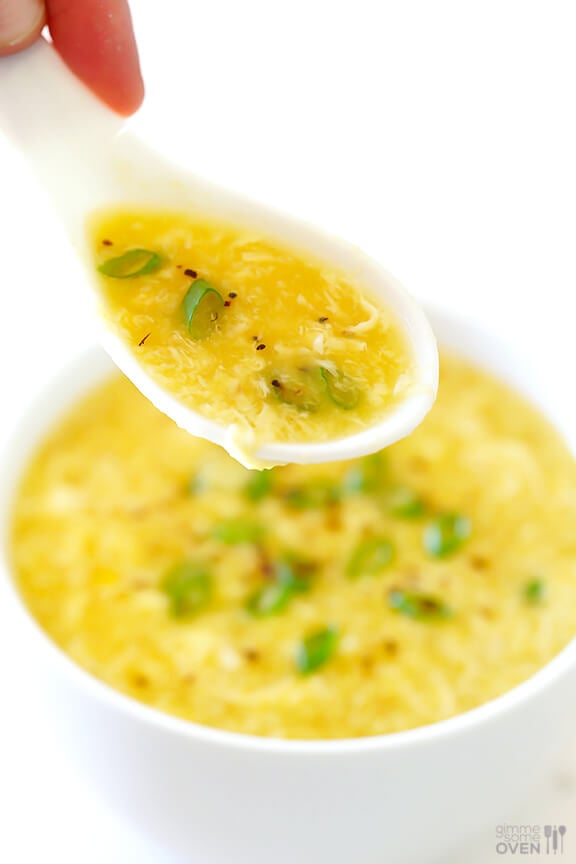 What To Serve With Egg Drop Soup:
This soup would be delicious when served with: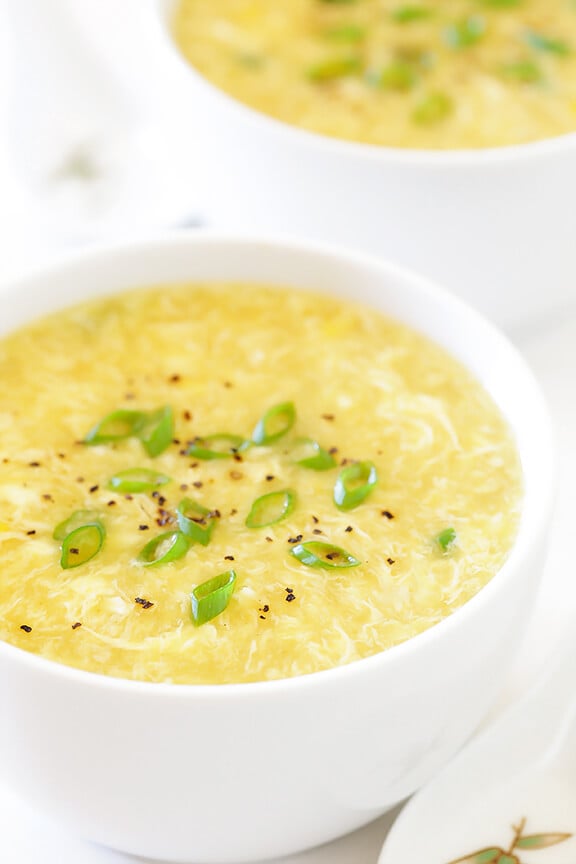 Why I Love This Egg Drop Soup Recipe:
I mean, this is my all-time favorite soup recipe…so there's that.  😉 But I especially love this particular recipe because:
It's easy to make in just 15 minutes.
It calls for simple ingredients that I almost always have on hand.
It's light, healthy, and full of protein with all of those tasty eggs.
It's just always so warm and comforting and delicious.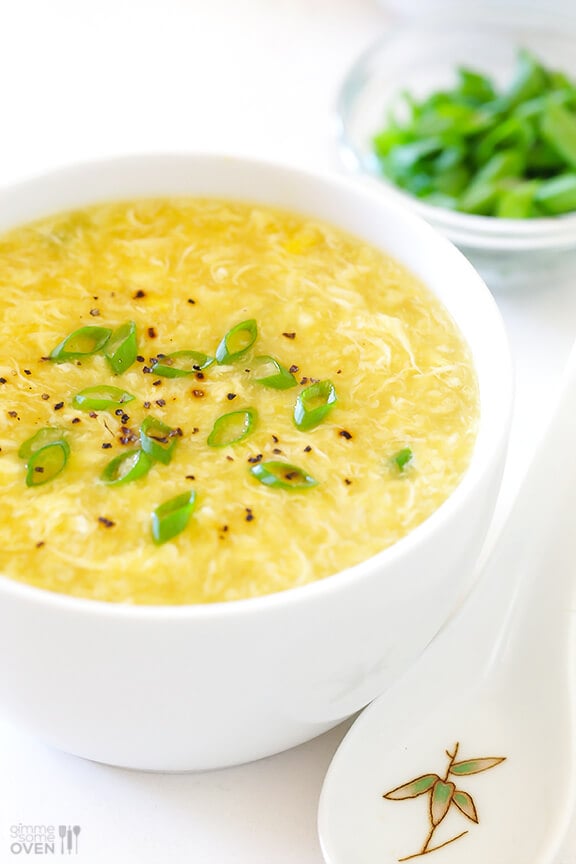 Egg Drop Soup
This Egg Drop Soup Recipe includes detailed directions and photos to guide you through the preparation of this renowned Asian favorite.
Ingredients:
4 cups good-quality chicken or vegetable stock
2 tablespoons cornstarch
1 teaspoon ground ginger
1/4 teaspoon garlic powder
2 large eggs
2 egg whites
1/2 teaspoon toasted sesame oil
3 green onions, sliced thin (about 1/4 cup sliced), plus extra for garnish
1/4 cup whole-kernel corn or creamed corn (optional)
salt, to taste (I use about 1 teaspoon – I like my soup salty!)
black pepper, to taste (I use about 1/4 teaspoon)
Directions:
Whisk together stock (chilled or room-temperature), cornstarch, ginger and garlic powder in a medium sauce pan until smooth. Heat over high heat until the stock comes to a simmer, stirring occasionally.
Meanwhile, whisk together the eggs and egg whites in a small measuring cup or bowl. (I find the measuring cup easier for pouring.)
Once the broth reaches a simmer, use a fork or a whisk to stir the broth in a circular motion, creating a "whirlpool". Then slowly pour the whisked eggs into the soup as you continue stirring to create egg ribboons.
Remove pan from heat.  Stir in the sesame oil, green onions and corn (optional) until combined.  Season with salt and pepper to taste, also adding a dash or two of more sesame oil if needed.
Serve immediately, garnished with additional green onions.
All images and text ©
If you make this recipe, be sure to snap a photo and hashtag it #gimmesomeoven. I'd love to see what you cook!