Rum Cake (From Scratch!)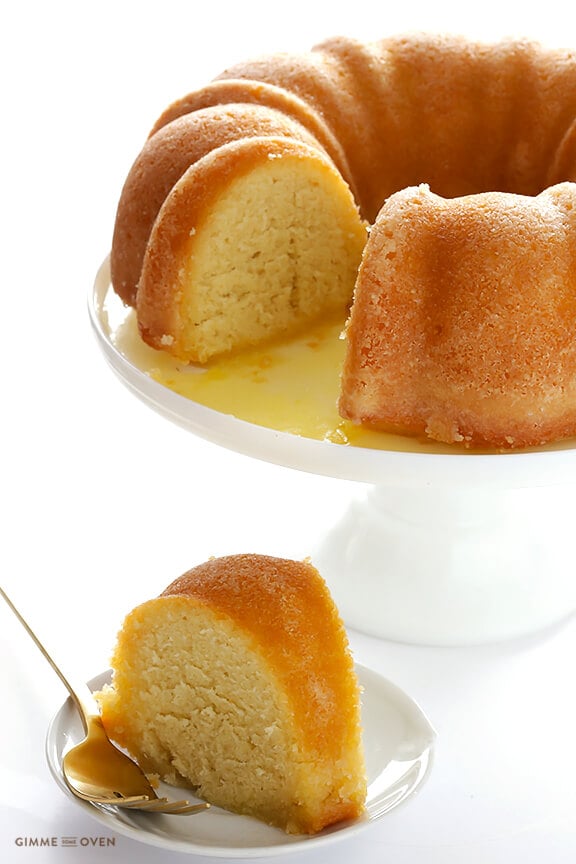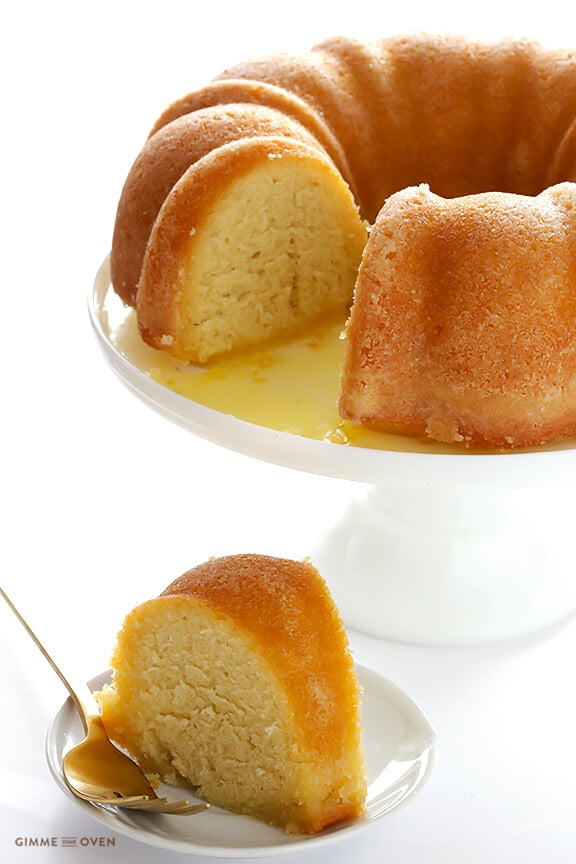 My good friend, Liisa, was the one who got me hooked years ago on rum cake.
Liisa was the one roommate I ever had who loved cooking just as much as I did.  And I must say that our kitchen back then and my life ever since have both been all the more delicious thanks to her.  (Case in point: she was the one who introduced me to my favorite red enchilada sauce, which I have made approximately five thousand times since.)  She cooked dinner almost every night and was a pro at using various spices and seasonings to make our simple budget meals taste tres gourmet.  But one of my favorite things about Liisa was her insistence on baking her own birthday cake each year.
Rum cake.
Actually, it's probably more accurately called butter rum cake, since the key ingredient to its decadence would make Paula Dean proud.
Liisa would always pull out her beautiful bundt pan, coat it with sugar, and then bake up a rum-laced yellow cake to golden perfection.  And then we would watch her poke holes all over the cake and pour an extra butter-rum sauce to fill in the gaps.  And then once the cake was inverted onto a pretty pedestal, the remaining sauce would be drizzled on top as a glaze.
It was the perfect birthday indulgence, and I loved it so much that I adopted for many future birthdays of my own.  And when I later found out that rum cake is traditionally considered a Christmas dessert, well, all the merrier.  More rum cake for all!!
This Christmas, though, I decided to finally see if I could figure out a rum cake from scratch that would rival the traditional recipe, which is usually made with a boxed cake mix.  I have to admit — this proved no easy task.  I don't know what processed magic they throw in boxed cake mixes, but especially with yellow cakes, those flippin' boxes are hard to beat.  But three rum cakes (and many happy Christmas parties) later, I think I found a scratch recipe that at least rivals the boxed mix version.  It takes a little more time and effort, but if you're trying to move away from processed food, it's definitely worth the try.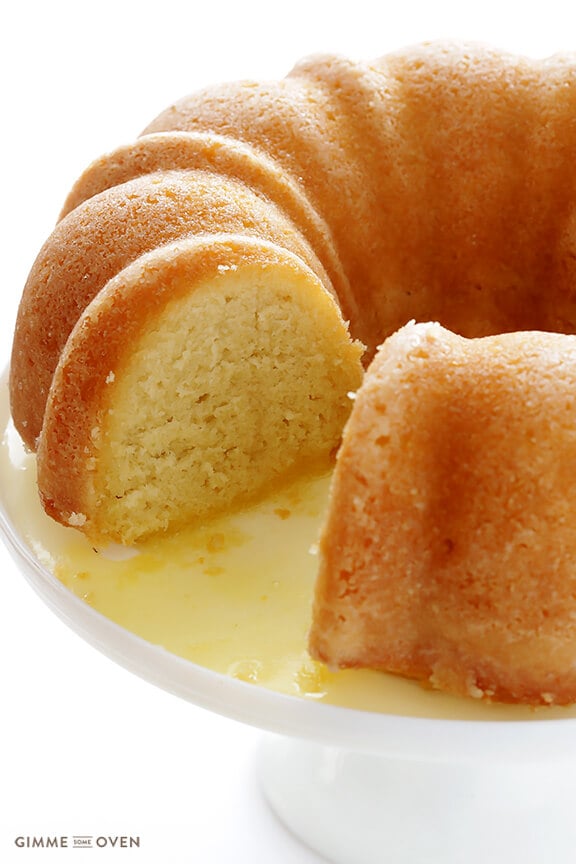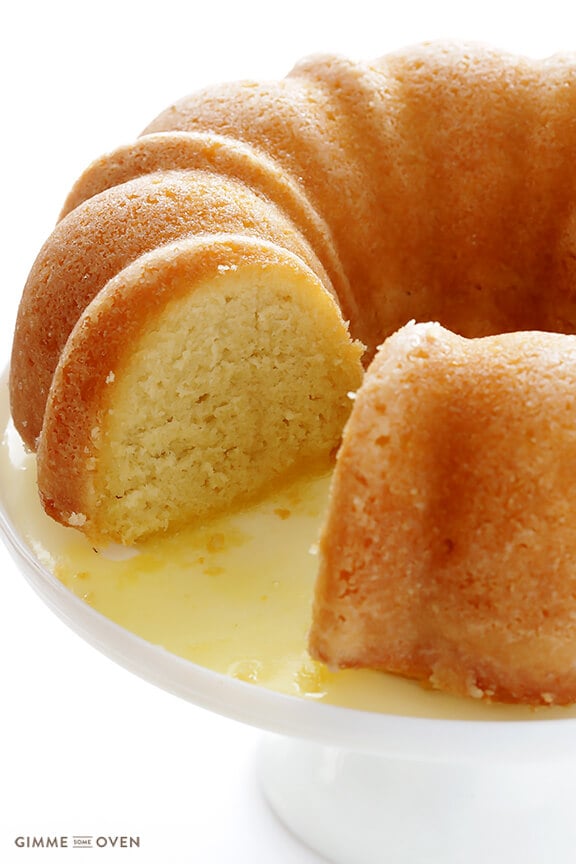 You might notice right off the bat that scratch yellow cakes are not quite as yellow as their boxed mix counterparts.  Which I find to be great news.  No yellow food coloring #4982, or whatever it is!  The only thing coloring this cake is lots of buttah, egg yolks, and — yes — some golden rum.  ;)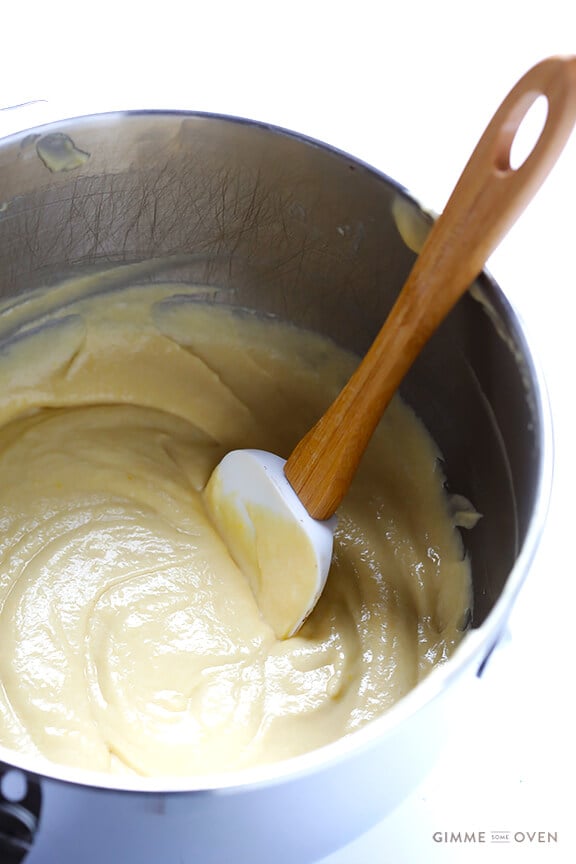 I ended up trying a handful of different yellow cake bases for this recipe.  And I have to admit that all of the frustrations I read from other bakers about scratch yellow cakes are true.  They're just hard!  Hard to make the perfect sweetness, hard to make light and fluffy, and hard to make moist.  I almost gave up and reached for Betty Crocker, but then I finally decided to play with the base recipe from America's Test Kitchen.  And of course — I shouldn't have been surprised — it was awesome.
The process isn't hard, but it is slightly more involved and time consuming than an average cake.  For example, you are required to separate the eggs and whip the whites into stiff peaks (similar to meringue), and then later fold them into the batter.  But if you have an electric mixer, that should be a breeze.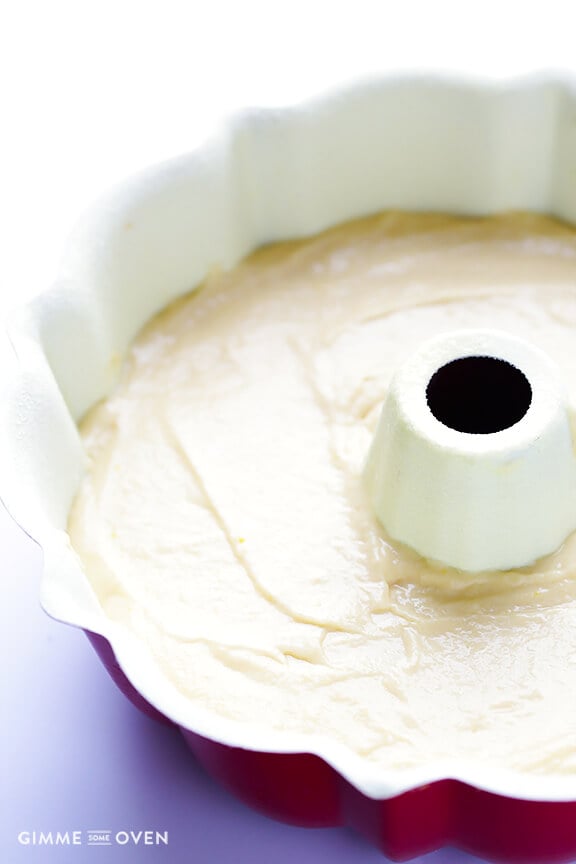 Once your batter is ready, spray your bundt pan liberally with cooking spray, and then coat every square inch of that surface with sugar.  (Be especially sure that the inner cone of the bundt pan is completely coated so that the cake doesn't stick!)
Then bake it up until it's nice and golden.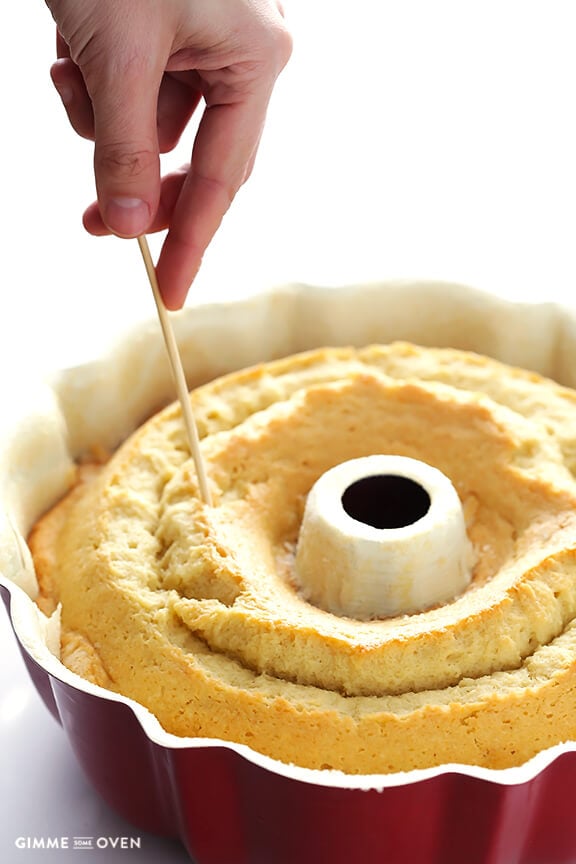 Then comes the good part.  Once the cake has cooled off a bit after baking, use a skewer or toothpick to poke holes all over the cake.  Then pour a butter-rum sauce all over the cake so that it seeps into every delicious hole.  Let it sit for awhile to soak it all up.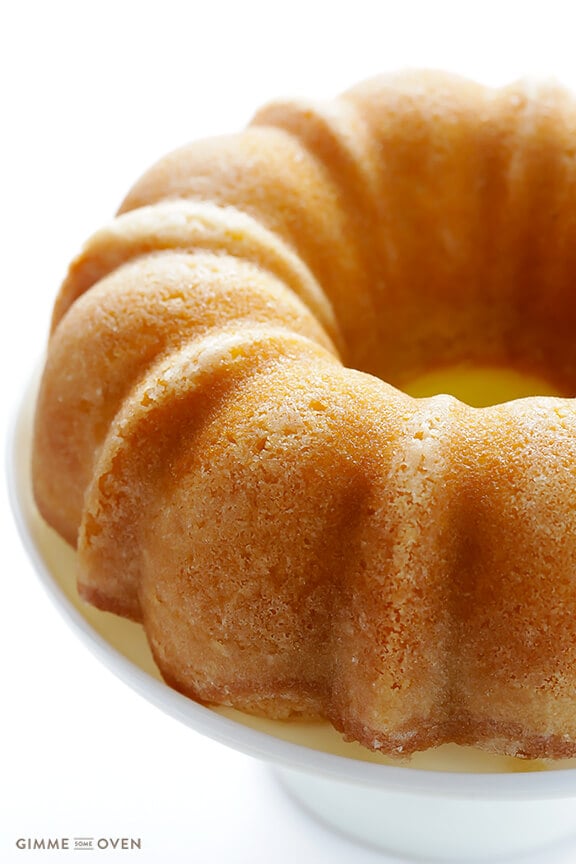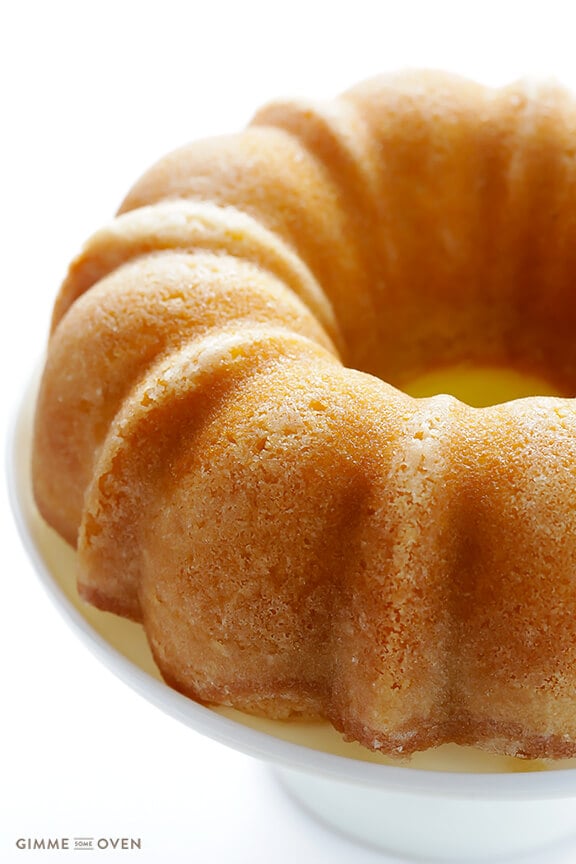 Then invert the cake onto a serving platter or pedestal.  (If your cake was kind of puffy on the top/bottom, you might want to use a knife to level it out before inverting it.)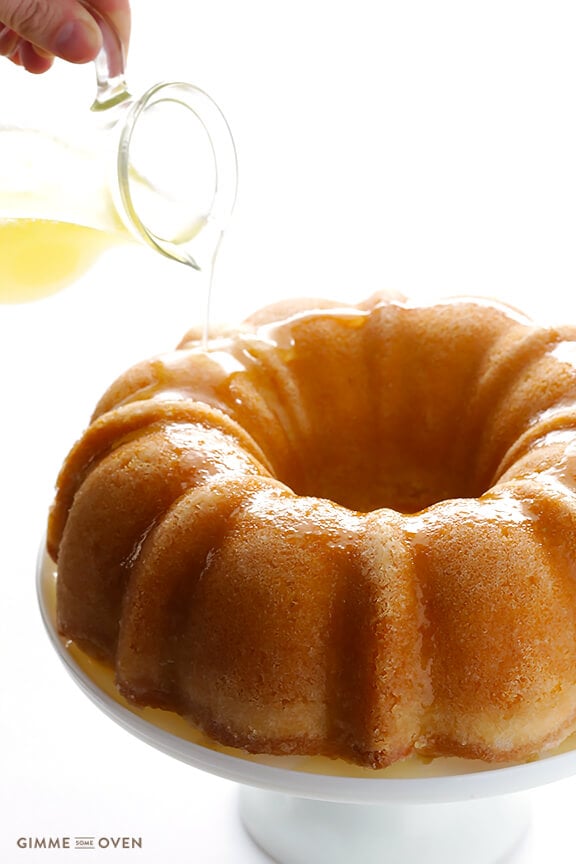 Then pour the remaining glaze on top of the cake, and watch it form a delicious rum-my shell all along the surface.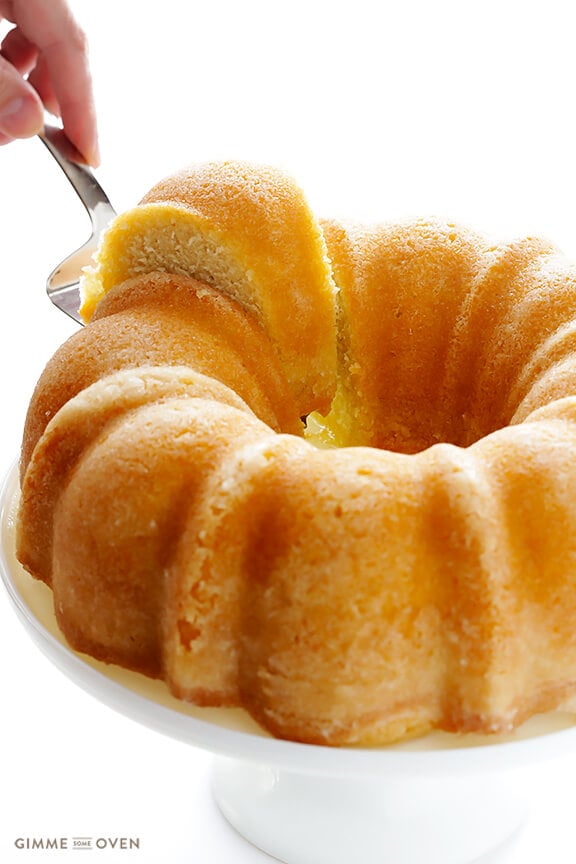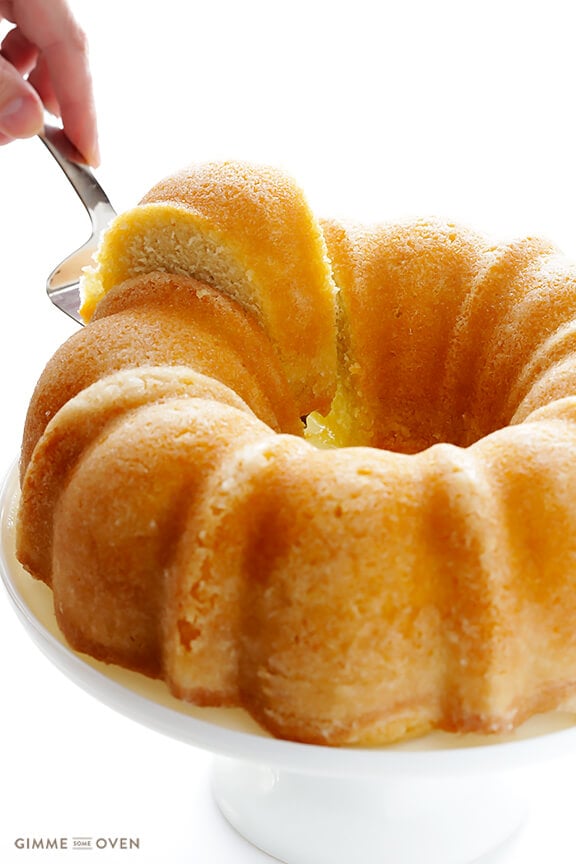 And when you're ready, dive in.
I always said that my recipe for the traditional cake-mix rum cake is actually better the second day after it has sat out for a bit.  But since the scratch version is slightly more finicky and prone to drying out, I recommend serving it the day of (and keeping it covered until serving).  But hey, I may have had the leftovers for breakfast after a party, and then served them to friends who gobbled them up two days afterwards.  So maybe nevermind.  ;)
Cheers to going un-processed!
Rum Cake (From Scratch!)
This rum cake recipe is made from scratch, with rum baked into a delicious yellow bundt cake and drizzled with a butter-rum sauce.
Ingredients:
Cake Ingredients:
2 1/2 cups cake flour (or see substitution below if you only have all-purpose flour)
1 1/4 teaspoons baking powder
1 teaspoon salt
1/4 teaspoon baking soda
1 3/4 cups sugar, divided (plus extra for sugar-ing the pan)
10 tablespoons unsalted butter, melted 
1/2 cup buttermilk, room temperature
1/2 cup rum (not spiced)
3 tablespoons vegetable oil
1 tablespoon vanilla extract
6 large egg yolks, room temperature
3 large egg whites, room temperature
Butter-Rum Sauce Ingredients:
1/2 cup butter
1/4 cup water
1 cup white sugar
1/4 cup rum
Directions:
How To Make The Cake:
Adjust oven rack to middle position and heat oven to 350 degrees.
Grease a bundt pan liberally with cooking spray.  Then add a few tablespoons of granulated sugar to the inside of the pan, and gently tap and turn it around until every square inch of the inside of the pan is coated in sugar.  (Be especially sure that the inner cone of the bundt pan is coated in sugar so that the cake does not stick.)  Set aside.
In a large bowl, whisk together cake flour (*or see substitute below), baking powder, salt, baking soda, and 1 1/2 cups sugar until combined.  In a different medium bowl or large measuring cup, whisk together melted butter, buttermilk, rum, oil, vanilla, and yolks until combined.  Set aside.
In clean bowl of a stand mixer fitted with whisk attachment, beat egg whites at medium-high speed until foamy, about 30-45 seconds.  With whisk still running, add in the remaining 1/4 cup sugar.  Continue to beat until stiff peaks just form, about 60-90 more seconds. Transfer the whipped egg whites to a separate bowl and set aside.
Add the flour mixture to now-empty mixing bowl. Using the whisk attachment again, gradually pour in butter mixture and mix on medium-low speed until it is just combined, about 15 seconds. (Don't overmix!)  Stop the mixer and scrape whisk and sides of bowl. Return mixer to medium-low speed and beat until the mixture is smooth and fully incorporated, about 10 to 15 more seconds.  Fold about 1/3 of the whipped egg whites into batter until just combined, then add the remaining whites and gently fold in until no streaks remain.
Pour the batter evenly into the sugared bundt pan.  Bake for 40-50 minutes, or until a toothpick inserted into the middle of the cake comes out clean.  (Don't overbake!)  Transfer the cake to a cooling rack and let it cool for at least 15 minutes.  (While the cake cools — or even better, while it's in the oven — make the butter-rum sauce.  Instructions below.)
Once the cake is slightly cool, use a toothpick or skewer to poke lots of holes all over the surface of the cake (while it is still in the pan.)  Pour about half of the butter rum sauce over the surface of the cake.  Let it rest for 5-10 minutes until the sauce is absorbed.  Then carefully invert the cake onto a serving platter or pedestal, and drizzle the remaining sauce evenly on top of the cake.
Serve immediately, or cover until ready to serve.
How To Make The Butter-Rum Sauce:
In a medium saucepan, whisk together sugar, butter and water until combined.  Bring to a boil over medium-high heat, stirring occasionally, and continue to boil for 5 minutes or until the sugar is completely dissolved.  Remove from heat and gradually stir in rum (carefully, as the rum will make the sauce boil up again).
If you don't have cake flour on hand, you can instead mix together 2 cups plus 3 tablespoons all-purpose flour + 5 tablespoons cornstarch.  Then (very important!) sift those together before adding to the cake.
If you make this recipe, be sure to snap a photo and hashtag it #gimmesomeoven. I'd love to see what you cook!