Avocado Strawberry Spinach Salad with Poppyseed Dressing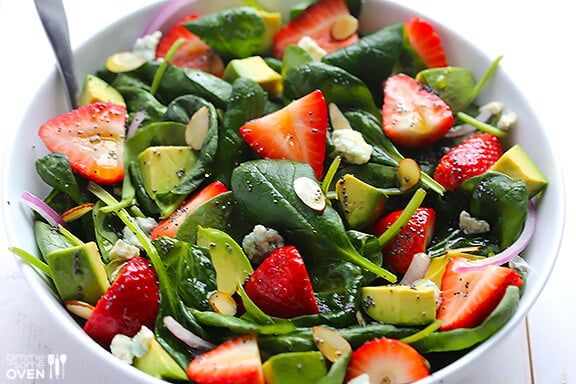 Toto, I think we're back in Kansas City now.  But if I eat this Avocado Strawberry Spinach Salad, I just might be able to pretend like I'm still in California at the Big Traveling Potluck!
That's right.  This past weekend, I traveled to beautiful So-Cal to spend the weekend with about 75 other food bloggers for a non-conference-y conference.  There were no sessions on SEO.  No 5-point plans to grow your business.  No huge crowds to press through.  Instead, it was a wonderfully low-key weekend overflowing with encouragement, avocados, great conversations, breathtaking California sunsets, make-your-own-spritzer bars, avocados, late-night chats, a surprise raffle win from Whole Foods (crazy exciting!), warm sunshine, great wine, guacamole contests, margaritas, and some truly amazing people.  Oh, and did I mention avocados? It's true.  From celebrating the release of Gabi's new Absolutely Avocados cookbook, to taking a tour of a stunningly beautiful avocado ranch from a self-proclaimed "gentleman farmer", to a make-your-own-guacamole contest, to a gourmet 4-course avocado dinner, to an avocado toast breakfast bar, I had no idea that this conference (sponsored by the amazing California Avocado Commission) was going to treat us to a taste of avocado heaven.  Such a treat!!
More than anything though, I was so excited to be reunited with some good blogging friends.  And then to really-and-truly "meet" some bloggers I have known for years online, as well as some brand new friends.  I have to admit that going to a big networking conference where it's 24/7 social time had made this introvert a little nervous, but everyone was so friendly and welcoming that it turned out to be a ton of fun.  And I came away really inspired by so many of the conversations and speakers.  Definitely a great weekend!
So to celebrate those delicious California avocados and California strawberries that we enjoyed, I thought it only appropriate to share one of my new favorite salads — this Avocado Strawberry Spinach Salad with Poppy Seed Dressing!  The classic strawberry spinach salad has been a favorite of mine for ages, but when you throw in some creamy avocados and gorgonzola, I fall in love with it all over again.  So simple, so fresh, and SO good.  Makes me happy.
Thanks so all of you Potluck bloggers (especially our inspiring and generous organizers, Three Many Cooks) for such a delightful weekend.  Hugs from Kansas City, and can't wait to see you all again soon!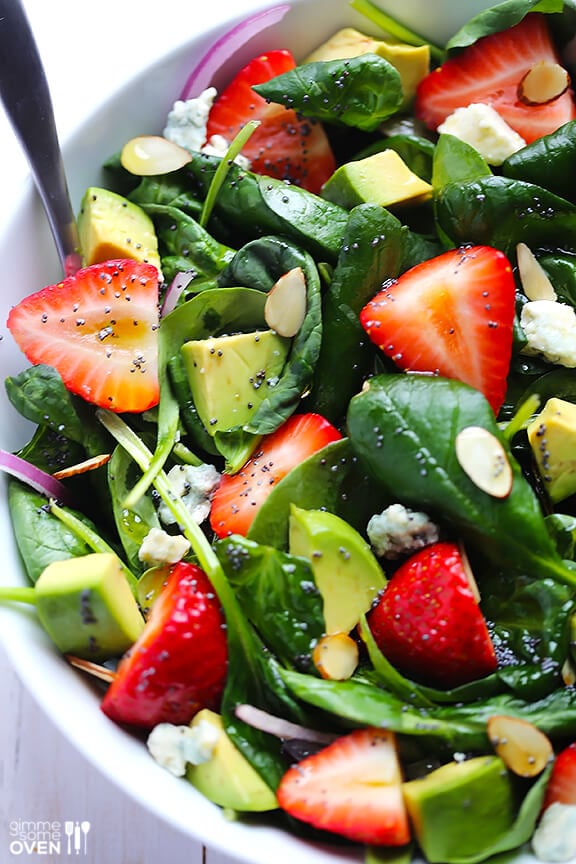 Avocado Strawberry Spinach Salad with Poppyseed Dressing
A delicious spinach salad with fresh strawberries, avocados, and a simple poppyseed dressing.
Ingredients:
Salad Ingredients:
6 cups fresh baby spinach
1 pint strawberries, hulled and sliced
1 avocado, diced (or you can double this to 2 avocados!)
4 ounces crumbled gorgonzola or blue cheese
1/4 cup sliced almonds, toasted
half a small red onion, thinly sliced
poppyseed dressing (recipe below)
Poppyseed Dressing Ingredients:
1/2 cup avocado oil (or any oil, such as olive oil)
3 Tablespoons apple cider vinegar
2 Tbsp. honey
1 Tbsp. poppy seeds
pinch of ground dry mustard (optional)
salt and pepper
Directions:
To Make The Salad:
Toss all ingredients together with your desired amount of dressing until combined. Serve immediately.
To Make The Poppyseed Dressing:
Whisk all ingredients together until combined.

If you make this recipe, be sure to snap a photo and hashtag it #gimmesomeoven. I'd love to see what you cook!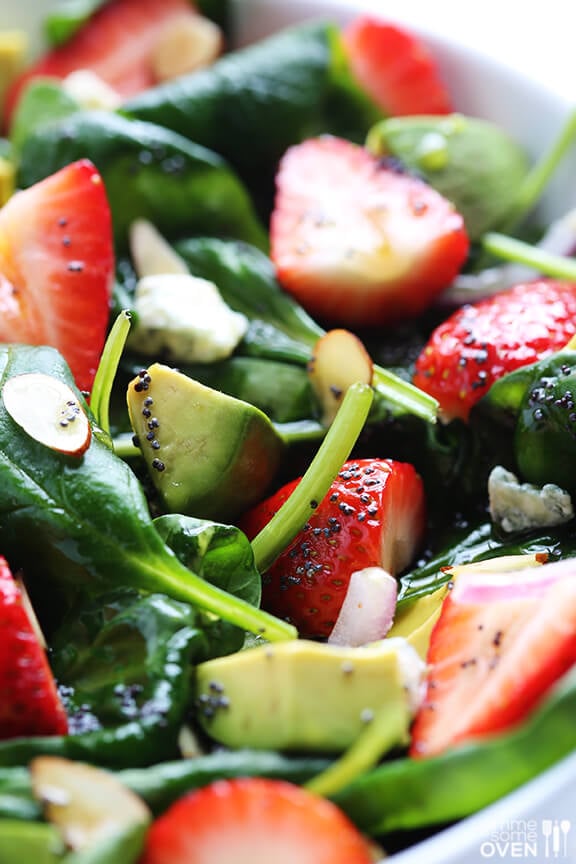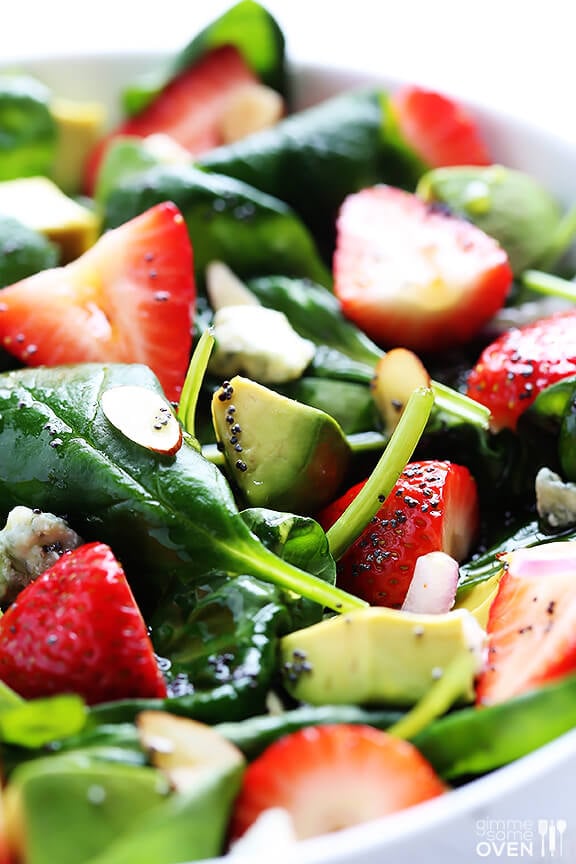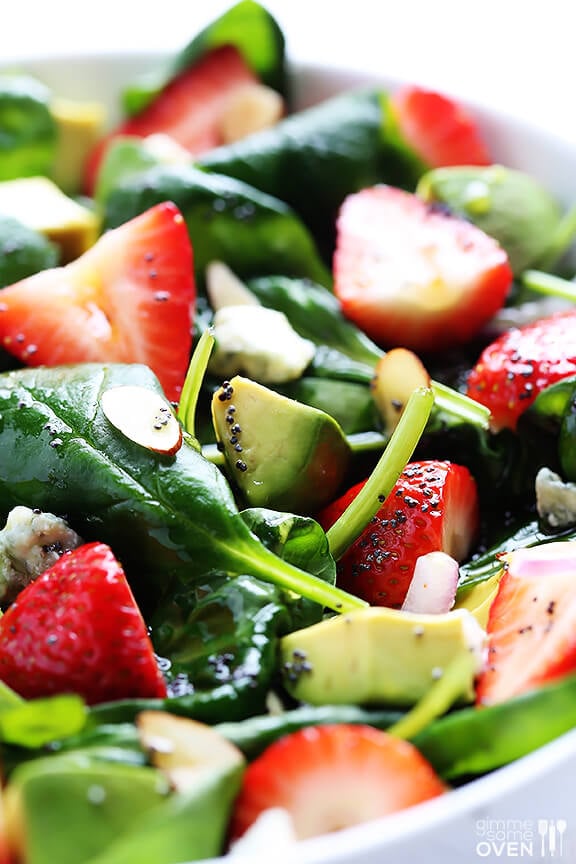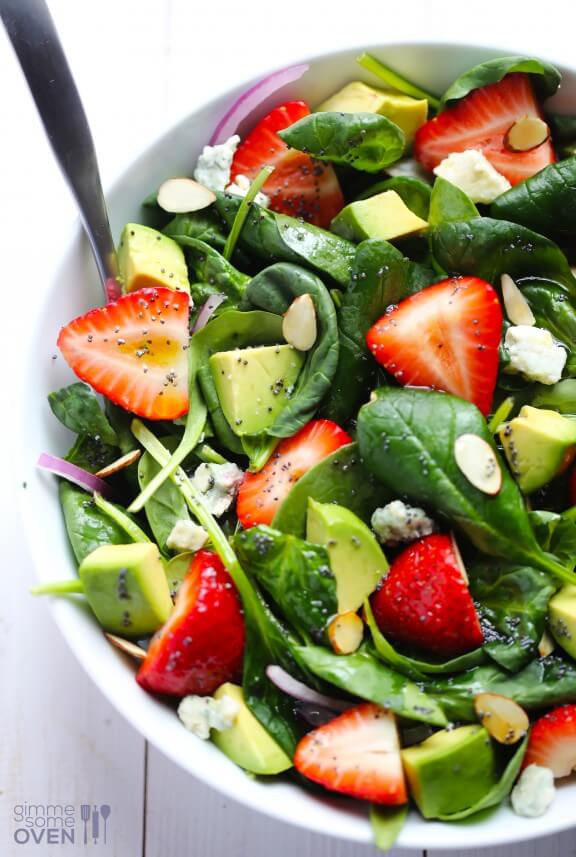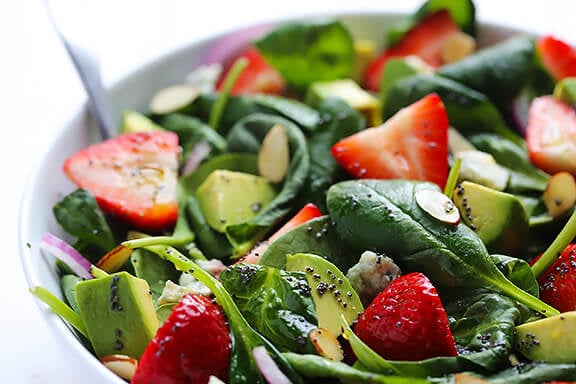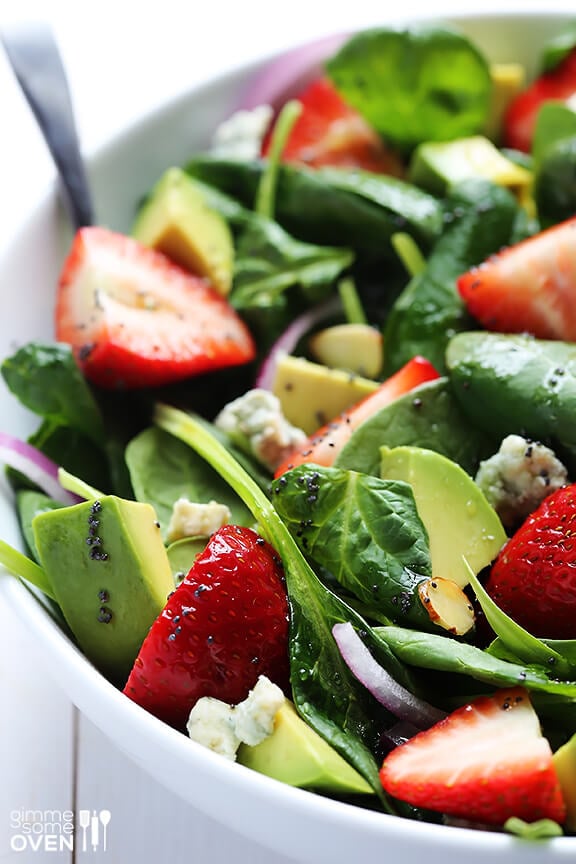 This post contains affiliate links.
Leave a Comment:
Comments
Trackbacks/Pingbacks