Blueberry Margaritas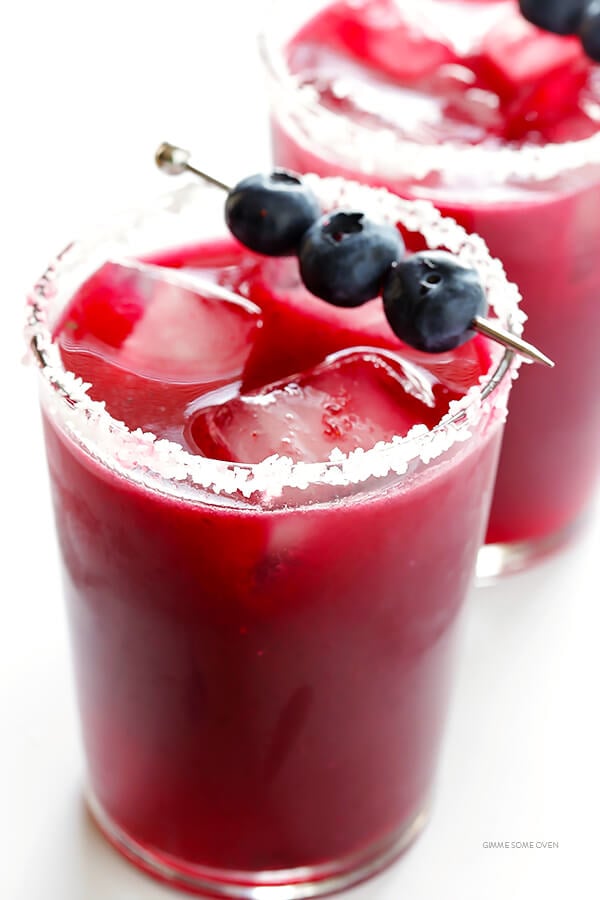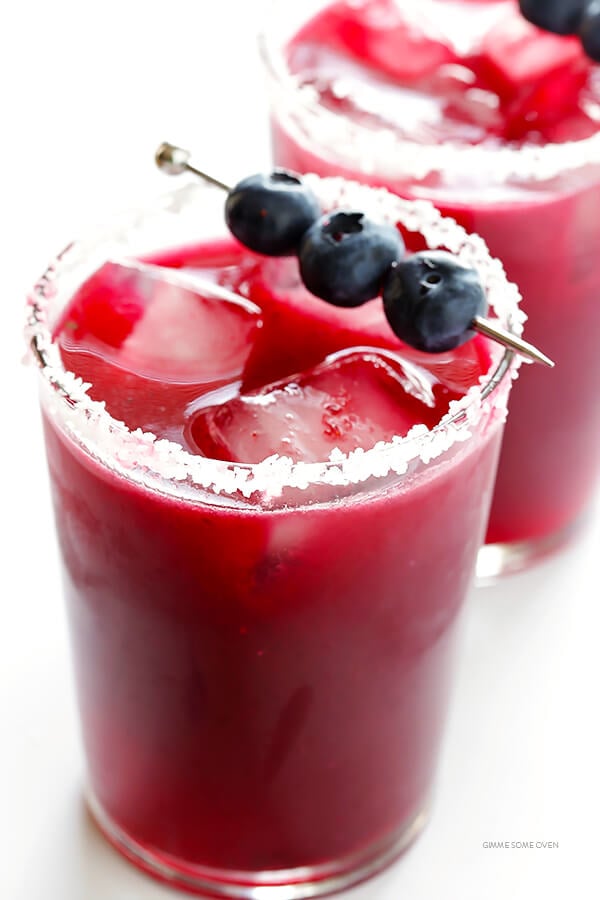 Just 6 more days until Cinco de Mayo!
Which means there are just 3 more days until Dos de Mayo — my birthday!!
As I probably mention here on the blog every year, I firmly believe this birth-date was meant to be.  Chips and salsa are my love language.  Some zesty enchiladas or tacos will forever be my go-to comfort food.  And a nice, fresh, homemade margarita is my idea of the happiest drink on the planet.
Which is why you may notice there is no shortage of homemade margarita recipes here on the blog.  (And why there will also be no shortage of homemade margaritas at my chips-and-salsa-tasting birthday party on Monday!)  And also, why I couldn't resist adding yet another recipe to our collection today!
So grab a pint of fresh ripe berries, and let's make some blueberry margaritas!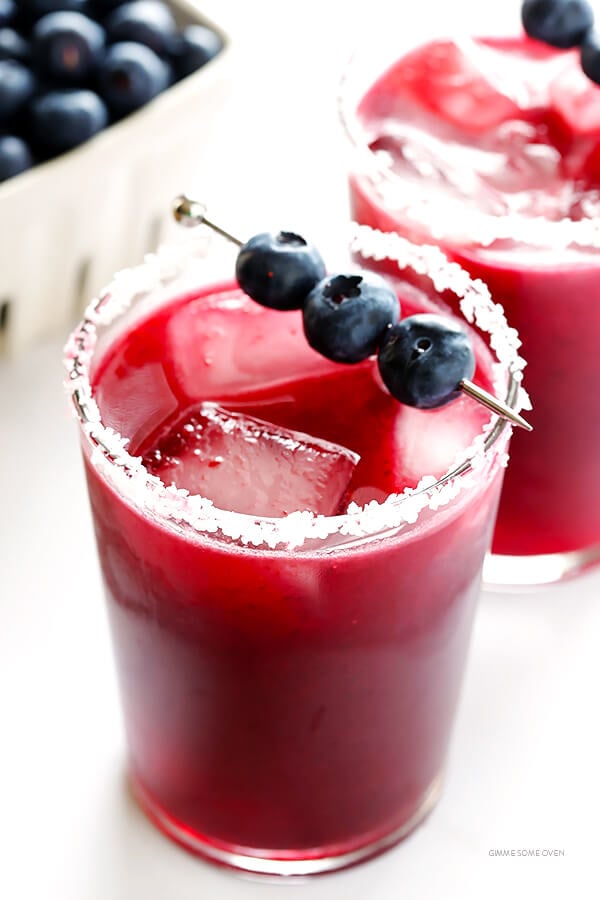 Yep, that is what we call one vibrant margarita.  Just look at those colors!!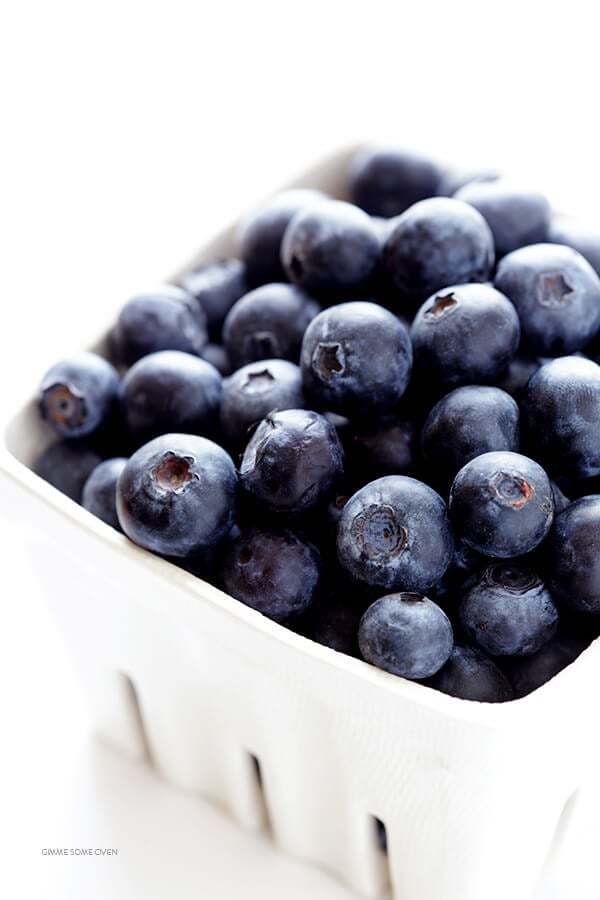 I went with a pint of fresh blueberries this time, but fun fact, if you make these with frozen blueberries, they'll be even more vibrant.  Those blueberries sure know how to pack in the color!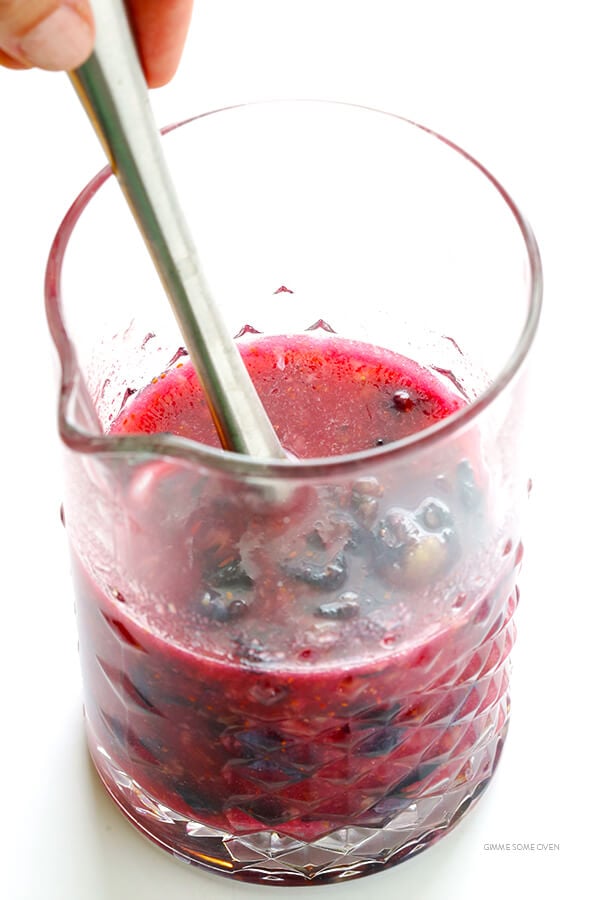 I've made blueberry margs plenty of times over the years, and have experimented with boiling blueberries into simple syrups, squeezing out their juice in a juicer, and muddling or blending them all up the old fashioned way with some lime juice and then straining out the pulp.  And the verdict is….each method works.  ;)  But the latter is my fav.
Just toss your blueberries and lime juice together in a jar and muddle them with all of your might.  Or — even easier — toss them together in a blender and puree until smooth.  Then strain out the juice into a cocktail shaker (discarding the berry pulp) and mix it with some good tequila and orange liqueur, and stir until combined.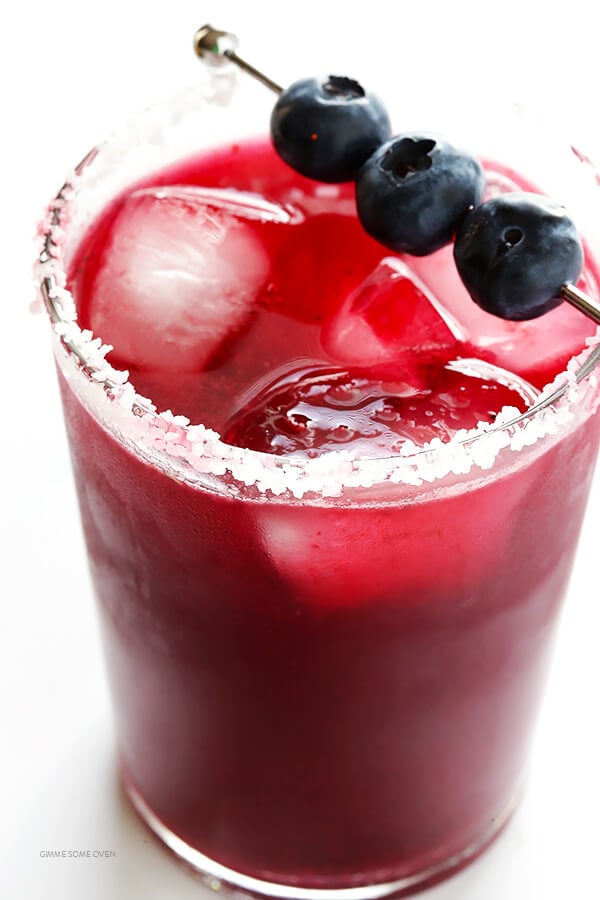 The blueberries naturally sweeten these guys up by a landslide.  But if they're still not sweet enough for you, you can stir in some agave nectar until they're just right for you.  Just serve them up in a nice salt-rimmed, chilled glass on the rocks…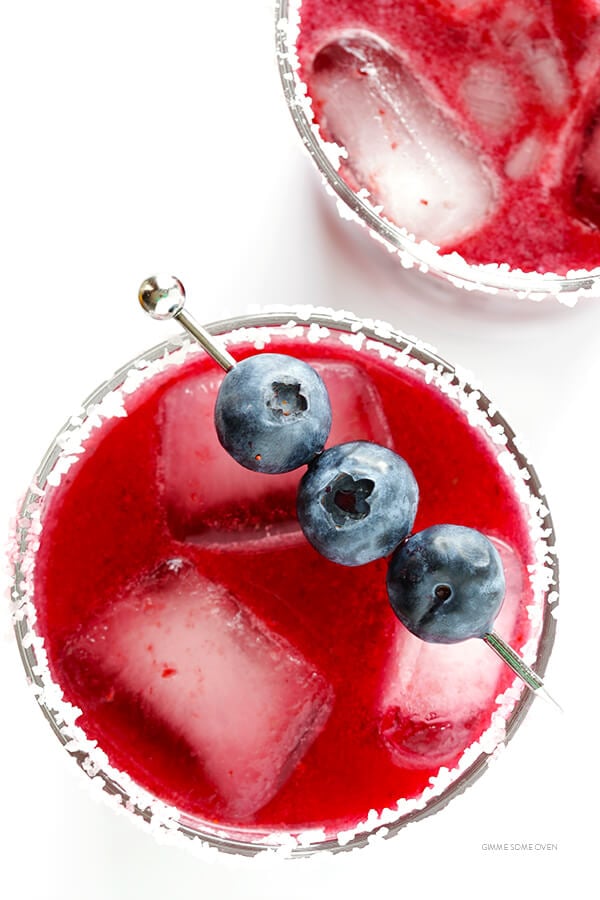 …and you're going to love 'em.
I did, and always do.  :)
So cheers, friends, and I wish you a delicious Cinco de Mayo week ahead!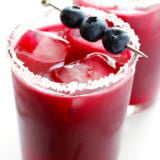 Blueberry Margaritas
This refreshing blueberry margaritas recipe is quick and easy to make, and sweetened with tons of fresh blueberries and lime juice.
Ingredients:
1 pint (2 cups) fresh blueberries
3 ounces freshly-squeezed lime juice
5 ounces blanco/silver tequila
2 ounces Grand Marnier or Cointreau (or any orange liqueur)
ice
optional: lime wedge and salt for rimming the glass
Directions:
Add blueberries and lime juice together blender, and pulse until smooth.  (Or alternately, you can muddle the blueberries and lime juice together in a jar until pureed.)  Strain out the juice through a fine-mesh strainer into a cocktail shaker, discarding the berry pulp.
Add the tequila and Cointreau to the cocktail shaker, and stir to combine.
If you would like salt-rimmed glasses, begin by running a lime wedge (the juicy part) around the top rims of your glasses.  Fill a shallow bowl with salt, and dip the rims in the salt until they are covered with your desired amount of salt.  (Or you can skip this step and use regular glasses that are not salt-rimmed.)
Fill the glasses with ice, then pour in the blueberry margarita mixture.  Serve immediately.
All images and text ©
If you make this recipe, be sure to snap a photo and hashtag it #gimmesomeoven. I'd love to see what you cook!