Best Chicken Enchiladas Ever!
This is my all-time favorite chicken enchiladas recipe, made with a simple homemade red enchilada sauce that my friends all love.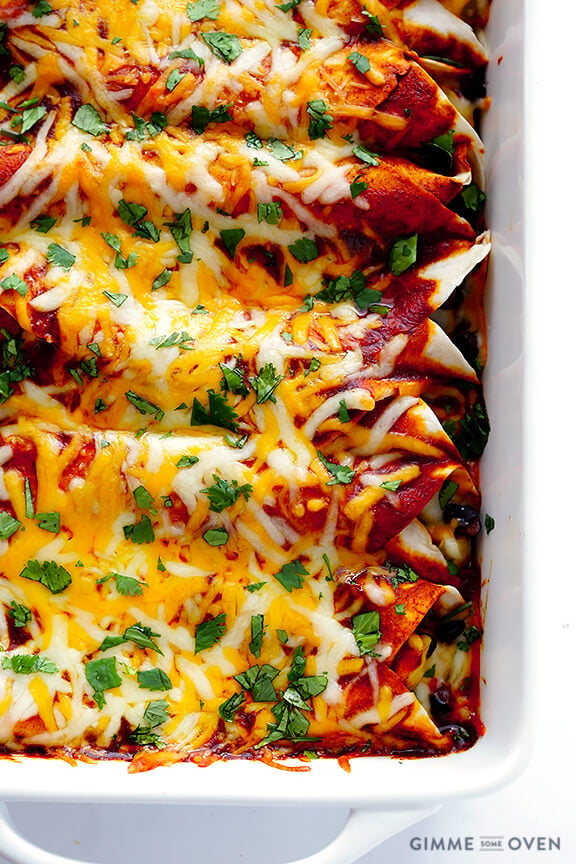 I know that food bloggers are never prone to hyperbole.  ;)
But with these enchiladas, I stand by the title that I gave to this recipe when I first blogged about it in 2009.  These seriously are the best chicken enchiladas ever!
Actually, I'm ok saying that because I actually learned how to make this recipe for enchiladas from my friend, Liisa.  She was my roommate for a few years back in my early twenties when I was learning how to cook.  And let's just say that I won the foodie roommate jackpot getting to live with a friend like her.  She not only cooked breakfast, lunch, and dinner for herself almost every day, but she equally as obsessed with Mexican food as I was.  And these chicken enchiladas were her specialty.
Nowadays, most of my friends would probably tell you that these chicken enchiladas are my specialty.  I can't even begin to count the times that I have made them.  They are my go-to dish to bring to friends in need, they are my favorite freezer meal, they are perfect for Cinco De Mayo, and they are the epitome of a crowd-pleaser whenever I bring them to a gathering.  Even just last night, I made a batch to take to a World Series watch party (#goroyals!), and when I went to grab the pan afterwards it was completely empty and washed and dried and waiting for me.  (Yes, my friends know that doing my dishes is my love language.)  ;)
So since this recipe has been buried in the archives for years, I thought I would pull it back up today to share the enchilada love with you.  Because I'm pretty positive you need these in your life now.
Chicken Enchiladas Recipe Video (1 Minute)
Alright, let's talk about how to make these.
This recipe itself is actually pretty simple — tortillas filled with a chicken/onion/green chile mixture, black beans, and shredded cheese.  But the secret ingredient that kicks this particular recipe up a major notch is…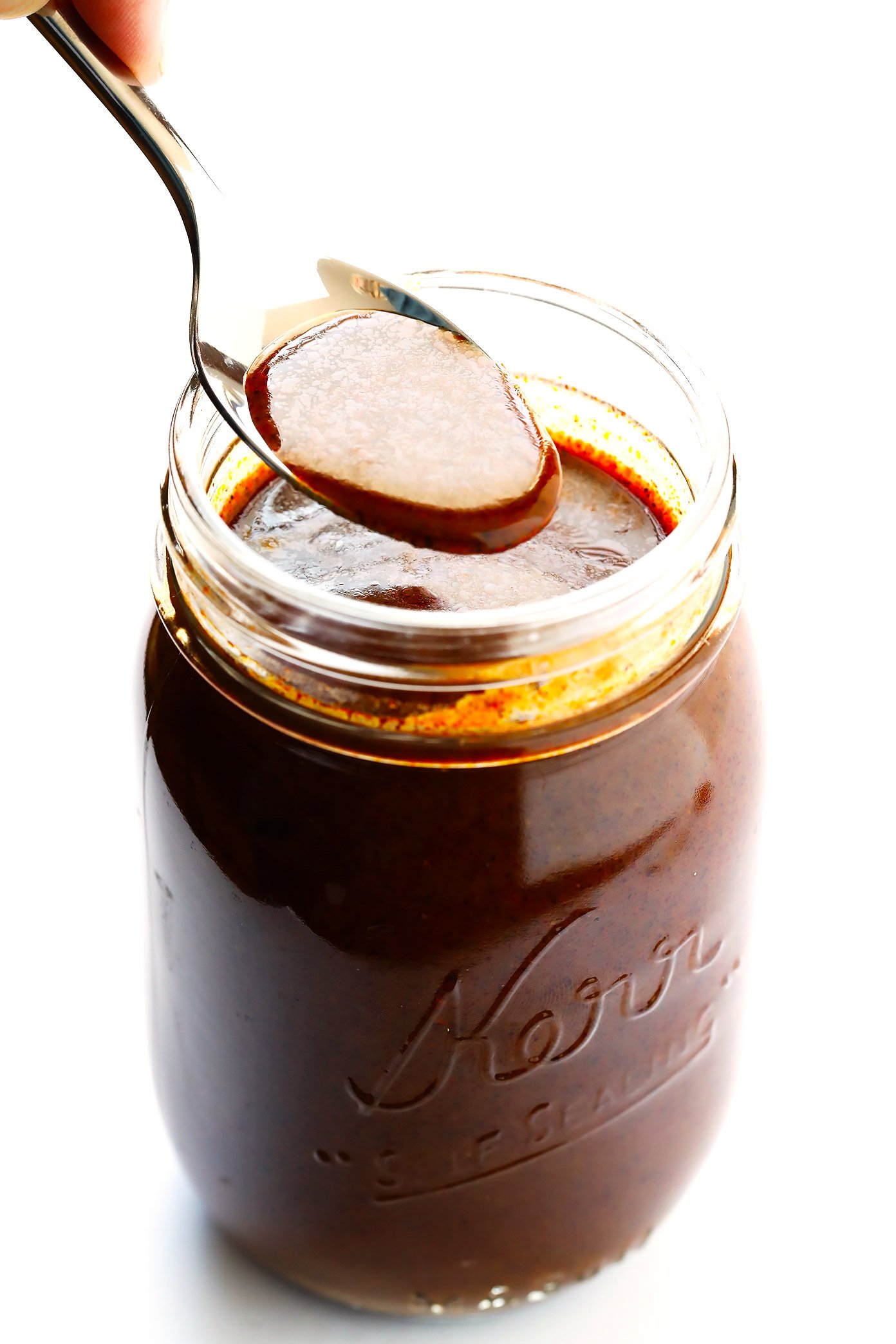 The special sauce.  Oh, this sauce.  After the first time I tried it, I knew that my store-bought red enchilada sauce days were over.  It is a New Mexico-style sauce (where Liisa is from), and it basically turns any enchilada dish you make into pure gold.  And, it's super easy to make using spices and ingredients that you probably already have on hand.
Trust me.  You won't regret taking the extra time to make this red enchilada sauce.  (And while you're at it, make a double or triple batch and freeze or can or giveaway the leftovers!)
So to make the enchiladas, just spread a generous amount of sauce on each tortilla, then add on some black beans (they are a great protein-packed "filler"), the chicken/onion/green chile saute, some shredded Mexican cheese…
…and then roll 'em up and place each enchilada in a large baking dish.  Then pour the extra enchilada sauce on top, and add on some extra cheese for good measure.  And gimme some oven!  I mean, bake it on up.  :)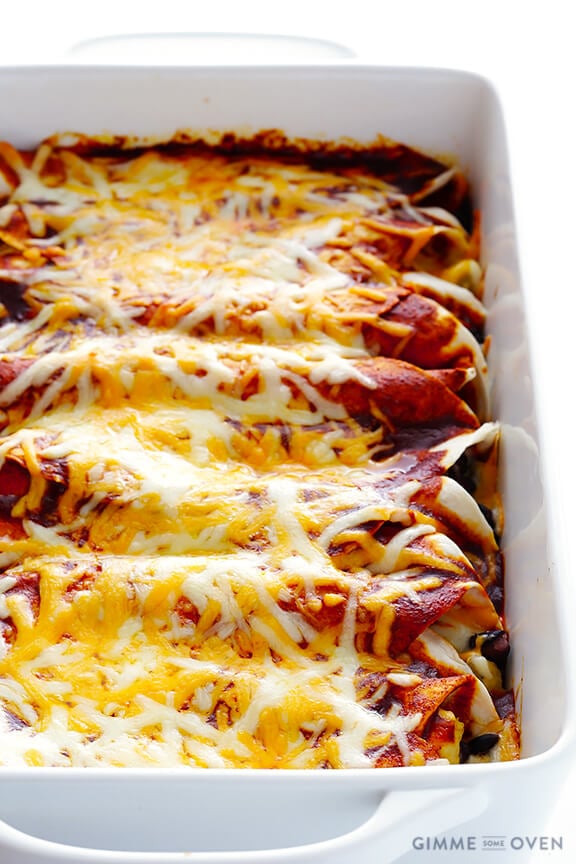 20 minutes later, a steaming pan of delicious enchiladas will be ready to go.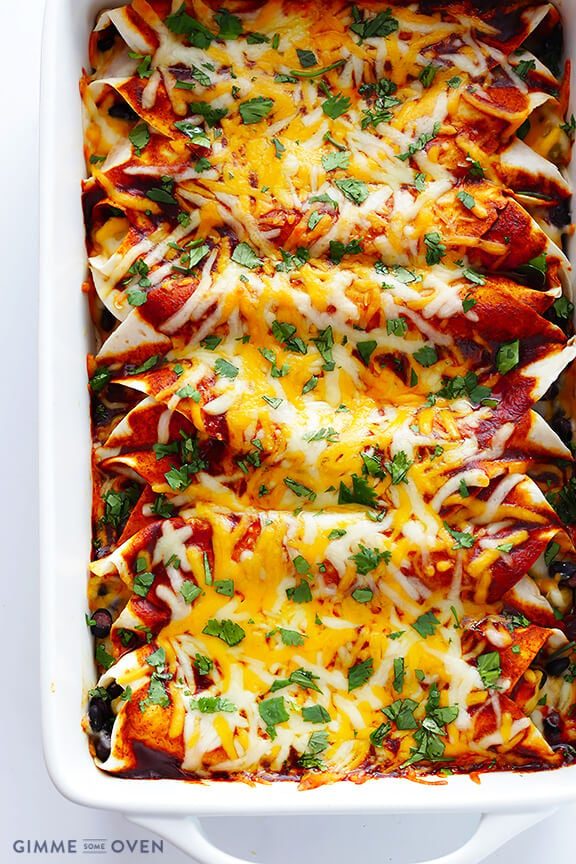 You can garnish it with some fresh cilantro (a la 2014) if you'd like.  ;)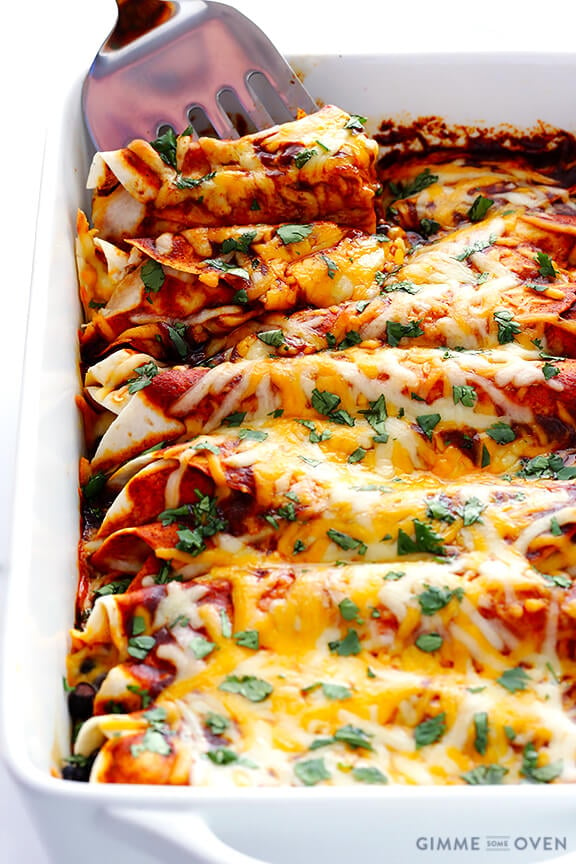 But you're probably just going to want to dive right in.  Because as good as these puppies look, they smell and taste 10 times better.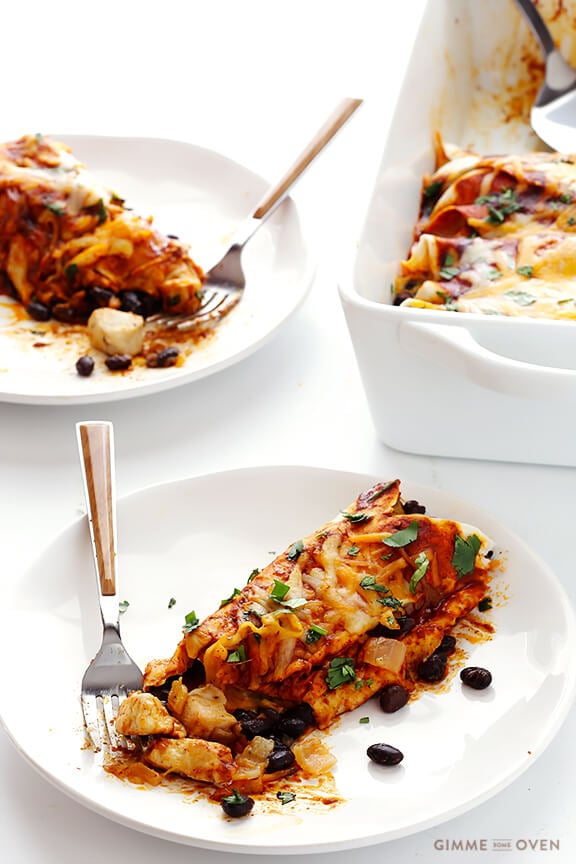 Ok, actually enchiladas in a single serving aren't the prettiest.  But hey, at least they taste good.
Seriously, I can't recommend this recipe enough.  Biggest thanks to Liisa for teaching me how to make it so many years ago, and even though we now live half a country apart, I love that I still think of her whenever I make them.  That's what happens when good food and friendship come together, right?
Enjoy everyone!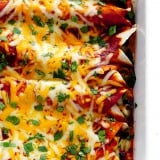 Best Chicken Enchiladas Ever!
No kidding. These seriously are the best enchiladas ever, and it's all due to a special (and easy) homemade enchilada sauce that will rock your socks off.
Ingredients:
2 Tablespoons vegetable oil
1 small white onion, peeled and diced
1.5 pounds boneless skinless chicken breasts, diced into small 1/2-inch pieces (*or see substitution below for using pre-cooked shredded chicken)
salt and pepper
1 (4-ounce) can diced green chiles
1 (15.5 ounce) can black beans or lentils, rinsed and drained
8 large flour tortillas
3 cups Mexican-blend shredded cheese
1 batch red enchilada sauce, or 1 can store-bought enchilada sauce
(optional: 1/4 cup chopped fresh cilantro)
Directions:
Preheat oven to 350 degrees F.  Prepare your enchilada sauce, if making homemade.
In large saute pan, heat oil over medium-high heat. Add onion and saute for 3 minutes, stirring occasionally.  Add diced chicken and green chiles, and season with salt and pepper.  Sauté for 6-8 minutes, stirring occasionally, or until the chicken is cooked through.  Remove from heat and set aside.
To assemble the enchiladas, set up an assembly line including: tortillas, enchilada sauce, beans, chicken mixture, and cheese. Lay out a tortilla, and spread two tablespoons of sauce over the surface of the tortilla.  Add beans in a line down the middle of the tortilla, then add in a spoonful of the chicken mixture, then sprinkle with 1/3 cup cheese. Roll up tortilla and place in a greased 9 x 13-inch baking dish. Repeat with the remaining ingredients.  Then spread the remaining enchilada sauce on top of the tortillas, and sprinkle on the remaining shredded cheese.
Bake uncovered for 20 minutes.  Remove from oven and serve immediately, garnished with chopped fresh cilantro if desired.
*If you are using pre-cooked chicken, just leave it out of the saute and cook the onion and green chiles for 1 additional minute (instead of 6-8).  Once you remove the onion and green chiles from the heat, stir in the chicken (which should be shredded or chopped into bite-sized pieces).
All images and text ©
If you make this recipe, be sure to snap a photo and hashtag it #gimmesomeoven. I'd love to see what you cook!
This post contains affiliate links.