Bourbon-Soaked Cherries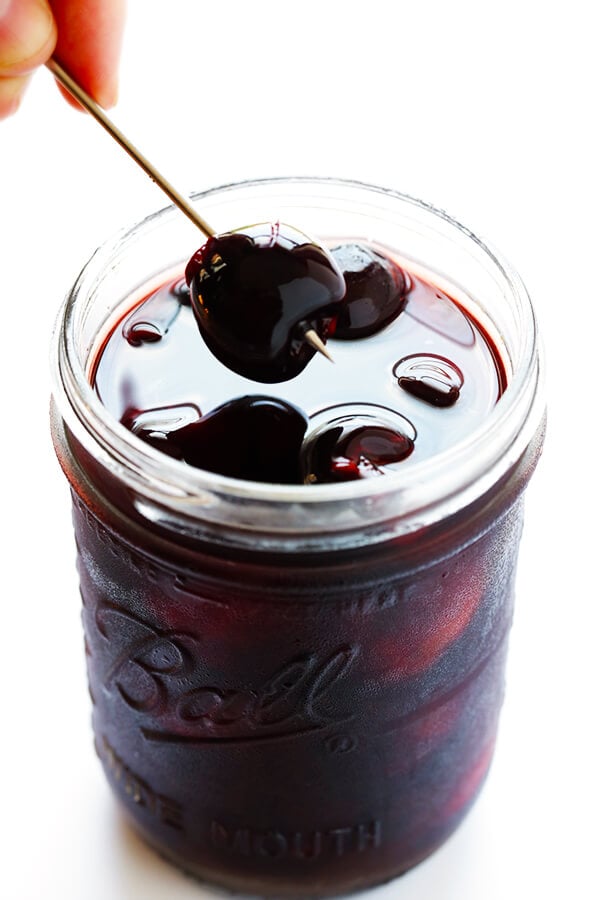 One of the many things I've loved about dating Barclay this year has actually been double-dating with Barclay this year.
I know it may sound cheesy.  But during all of my single-girl years, one of the things I always felt like I missed out on and soooo looked forward to someday was being able to go out with couple-friends as a couple.  Everything from grabbing a bite to eat together, to going on trips together, to someday maybe even hanging out while having little ones play at our feet together always sounded so dang fun.  And now that we get to do that regularly — well, minus the little ones of our own, obvs ;) — I'm not taking a second of it for granted.  Love double-dating!!!
Without a doubt, one of our favorite couples to hang out with are our friends, Lindsey and Will.  Barclay and I actually each knew them independently before we got together.  And Lindsay will forever and always hold a special place in our hearts, since she was the first of our three conspiring matchmakers to suggest that Barclay and I should meet.  ♥  But together, these two (and their sweet girl, little Lincoln) are hands-down some of our favorite people to spend time with.  I mean, what's not to love?  They are equally as obsessed as we are with good Mexican food (and making their own killer margaritas), they also love entertaining and live music and traveling galore, they're super-supportive and encouraging and ask good questions about how things are going with Barc and I ("fun secrets", as Lindsay likes to call them), and really, they're just so easy and fun to be around and feel like family.  We love 'em!
That said, one more thing I love about them is that I can almost always count on Lindsey or Will to throw out a new recipe idea for the blog whenever we hang out.  And sure enough, over Mexican food a few weeks ago, the conversation turned to making homemade brandied cherries.
I had mentioned how I was trying to make my way through the end of an enormous (surprise!) shipment of fresh cherries that I had just received in the mail.  And Lindsey and Will both immediately piped up and said that I had to try their recipe for brandied cherries.  The idea sounded great, especially since my favorite cocktail cherries are so dang expensive to buy.  So I rounded up the ingredients, and got ready to make them.  Although I didn't have any brandy, so I decided to try swapping in some bourbon in place of brandy.
And oh my goodness, they weren't kidding.
These cherries are delicious.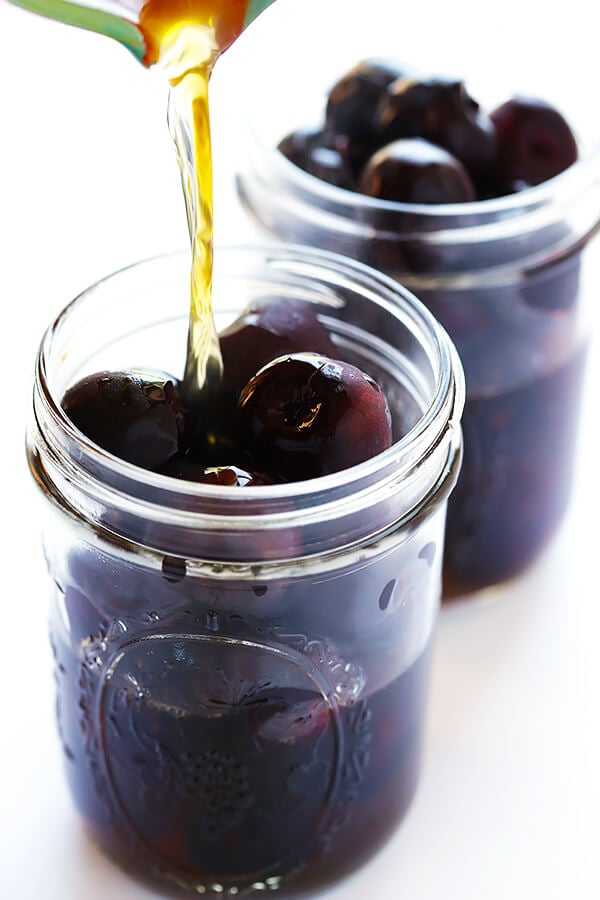 And even better?  They're so dang easy to make.
Just gather a bunch of fresh cherries, which are conveniently in-season right now, and go to town pitting them.  (Which — PSA — if you love cherries and don't already own one of these cherry pitters, I can't recommend buying one enough.  I'm generally opposed to single-use gadgets, but this one is freaking brilliant.  And that's an affiliate link.)
Place your cherries in a clean mason jar or two.  Then on the stove, bring some water, honey, vanilla, nutmeg, a cinnamon stick, and a large orange peel to a simmer over medium-high heat until the honey has dissolved.  Reduce the heat and let it simmer for awhile for those flavors to meld.  Then remove from the heat and stir in the bourbon.  Mmmmm.
Pour the mixture over the cherries, and let the jars rest for awhile until they cool to room temp.  Then place them in the refrigerator for at least a few days before using.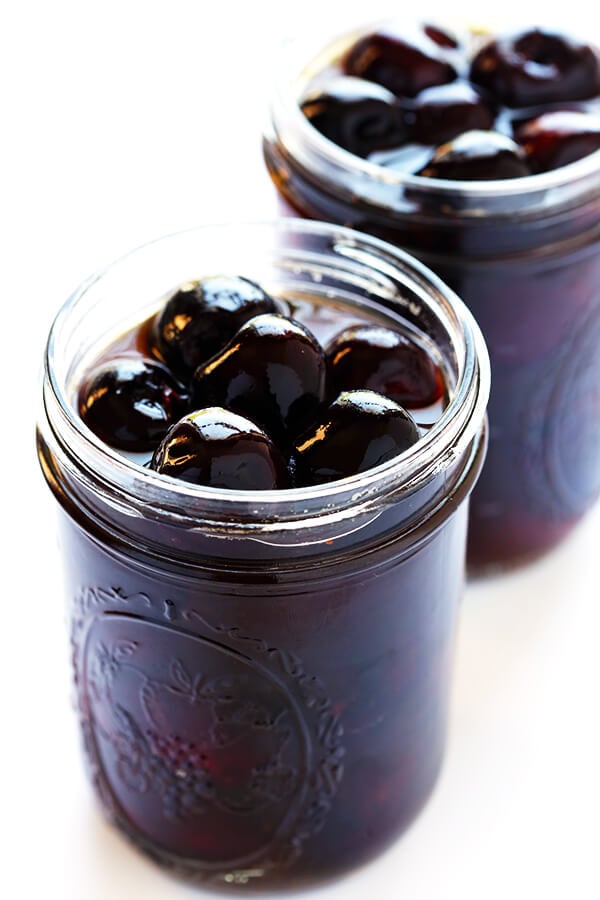 Then these delicious, naturally-sweetened, bourbon soaked cherries will be yours to enjoy for a few months to come.  Use them to top a good Manhattan, a classic Old Fashioned, a French 75, you name it.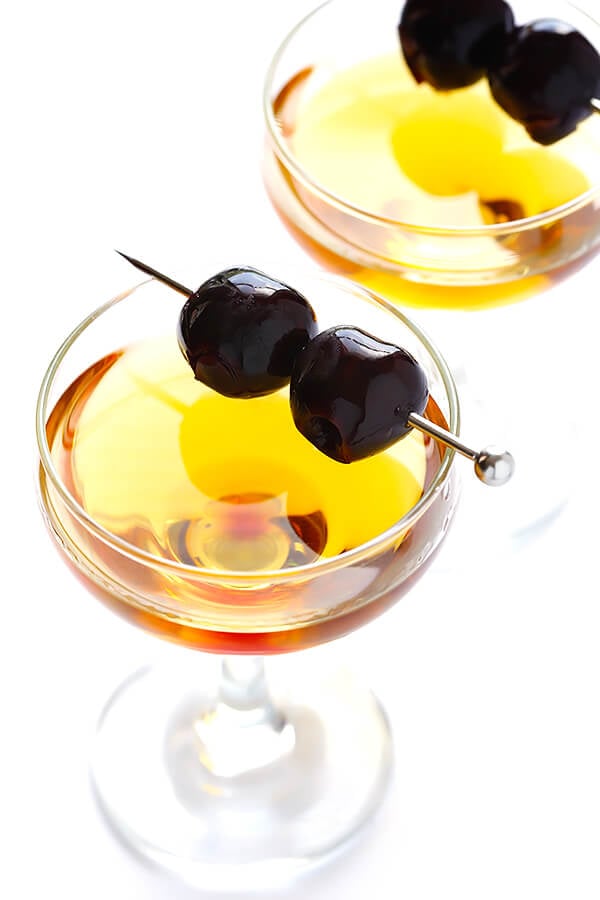 I love them because they're naturally sweetened with honey (and sweet but not too sweet), made with natural ingredients (and zero food dyes, as opposed to common maraschino cherries), and they pack a great bourbon kick that tastes great with just about any cocktail.  So if you love good cocktails, grab some fresh cherries while they're still in season and make a batch!  They'd be perfect for an easy date night "in", or even a double-date night "in".  ♥
All my thanks to Lindsey and Will for the recipe recommendation!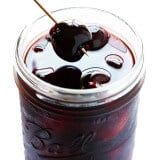 Bourbon-Soaked Cherries
This Bourbon-Soaked Cherries recipe is quick and easy to make, naturally-sweetened, and a delicious addition to your cocktails.
Ingredients:
Directions:
Place the cherries in two clean pint-sized mason jars (or one large quart-sized mason jar).  Set aside.
In a medium saucepan over medium-high heat, whisk together the water, honey, vanilla extract and honey until combined.  Gently stir in the cinnamon strip and orange peel.  Continue heating, stirring occasionally, until the mixture reaches a simmer.  Reduce heat to medium-low, and continue simmering for another 10 minutes for the flavors to meld.
Remove from heat, and strain out the cinnamon stick and orange peel.  Slowly add in the bourbon, and stir to combine.
Pour the bourbon mixture evenly over the cherries, then let the mixture cool completely to room temperature.  Secure the lids on the mason jars, give them a shake, and refrigerate for at least 3 days before using.  The recipe should last for up to 2-3 months.
*If you want softer cherries, you're welcome to add the cherries to the honey mixture and let them simmer for that 10 minutes together.  Then just stir in the bourbon, and add them to the pint jars, etc.
All images and text ©
If you make this recipe, be sure to snap a photo and hashtag it #gimmesomeoven. I'd love to see what you cook!