Chai-Spiced Granola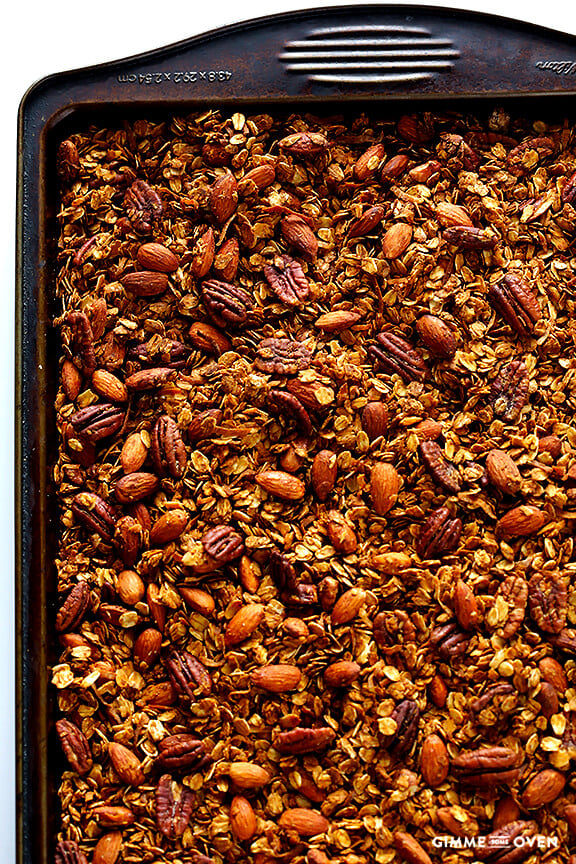 This weekend, I dove into full-on nesting mode.
After having been away for a week with friends in sunny Mexico (and successfully eating chips and salsa at every meal), and then coming home to New Year's parties, coffees, brunches, lunches, and meet-ups galore, I was very ready for some good ol' introverted alone time to rest up and recharge over the weekend.  And it was delightful.  I spent hours and hours curled up with my pup watching The Good Wife, I had a few jam sessions with my pretty new electric guitar, I made a few batches of soup to freeze and a big batch of this deliciousness for the week ahead — chai-spiced granola.
I learned long ago that there is a 100% direct correlation between how I plan ahead for breakfasts and what I end up eating.  If I'm intentional about it and have my pantry and fridge stocked with good options, I'll eat 'em!  If that doesn't happen, I either skip breakfast entirely (not wise) or don't always make the healthiest choices.  C'est la vie.
So to kick off the new year right, I brought home my favorite Greek yogurt, a big bunch of bananas (my favorite parfait topping), and decided to make a big protein-packed batch of granola that tastes like my favorite warm winter drink.  Mmmm, chai.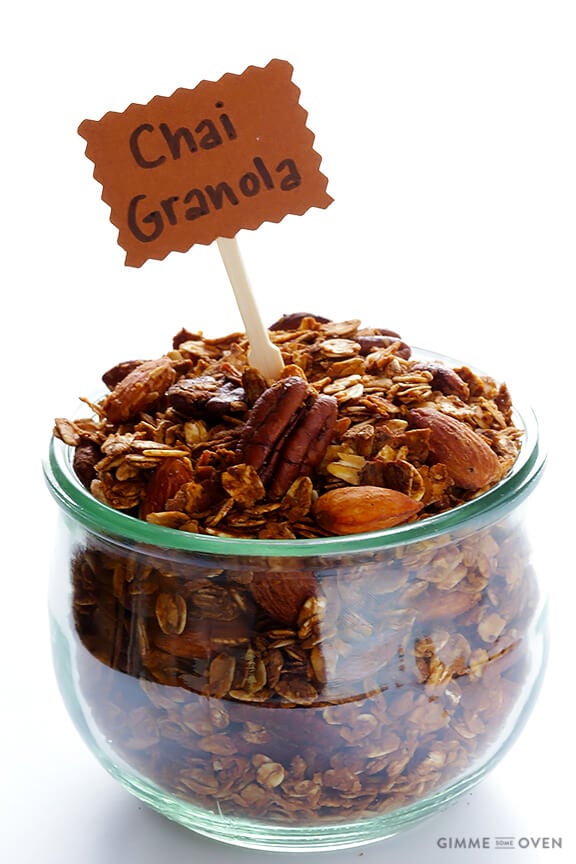 I was initially going to name this "Chai Granola", but I realized that might be a tad bit misleading since this recipe contains no tea (or caffeine).  Instead, I just pulled together all of those delicious spices and seasonings that make the drink so wonderful and stir them into a batch of honey-sweetened granola.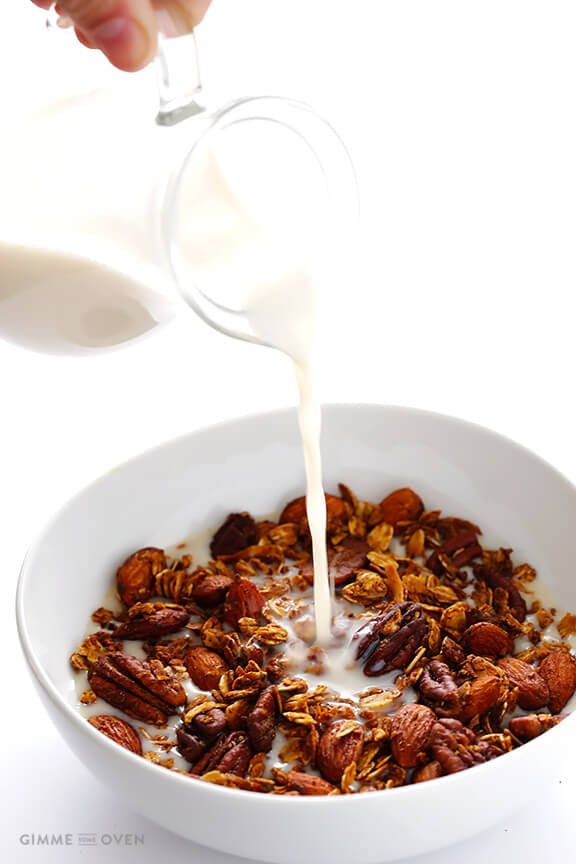 This turned out to be a very good idea.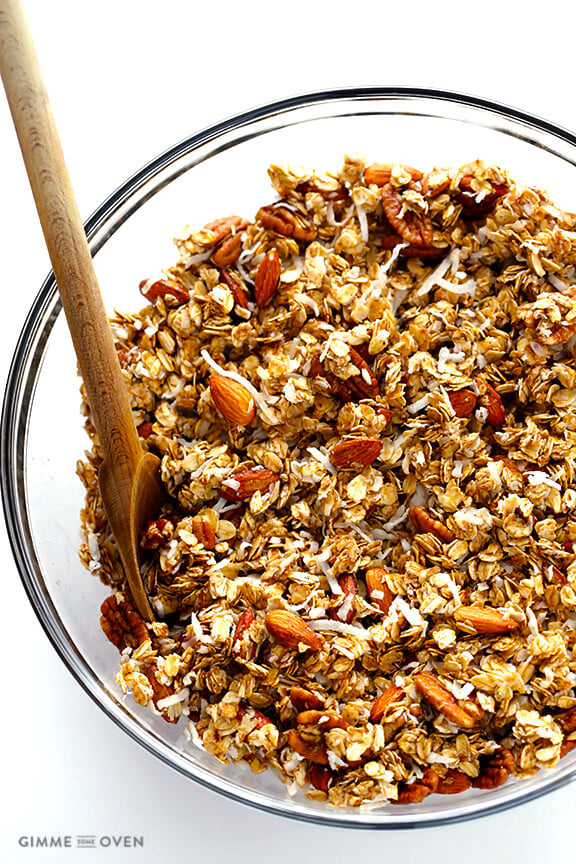 To make the granola, I simply mixed together my favorite base recipe which includes oats, your choice of nuts, coconut, and is naturally-sweetened with honey (instead of sugar).  And then I stirred in lots of chai spices so that you're sure to taste them in every bite.
(Note that when I say "spices", this is not spicy.  Rather, it's spiced with cinnamon, cardamom, ginger, allspice, cloves, etc.)  ;)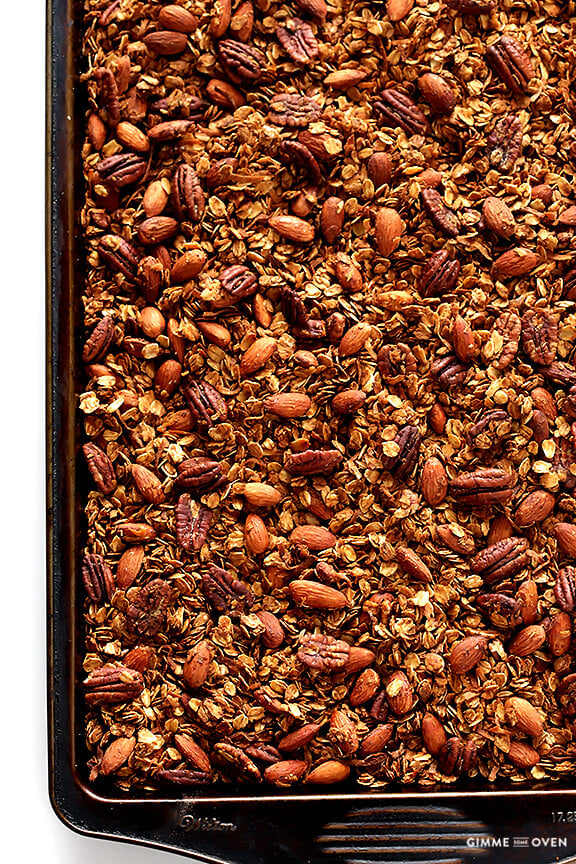 Then just bake it all up until it's nice and toasted.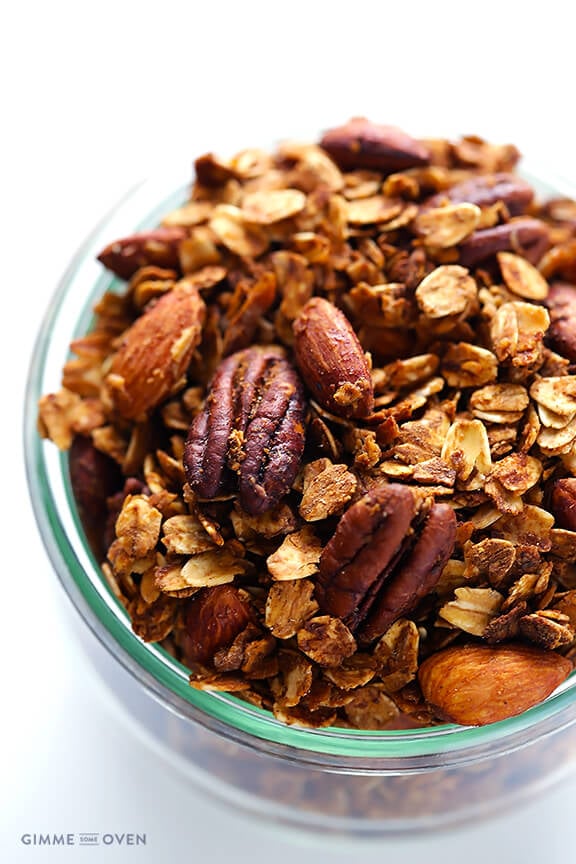 And serve it however you'd like!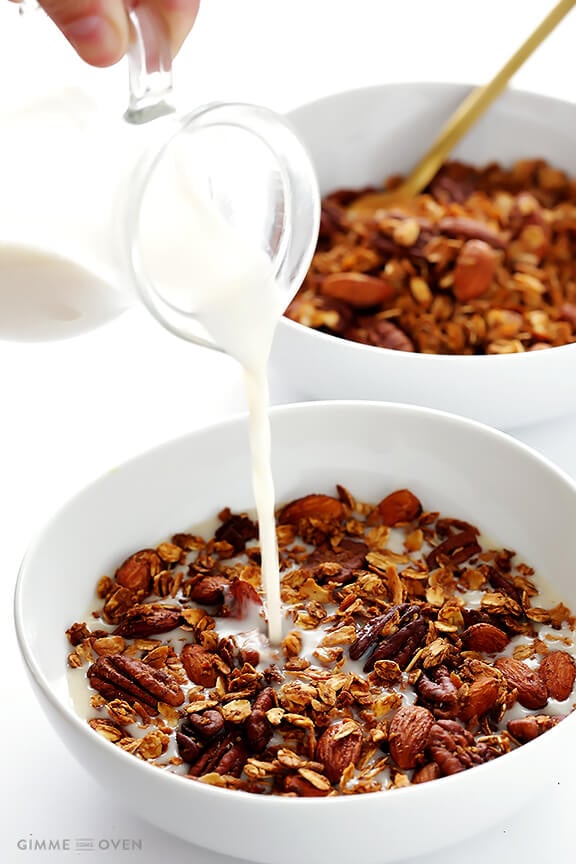 I generally like my granola served simply with almond milk, or in a Greek yogurt parfait topped with fruit.  But it's also a delicious snack when enjoyed just plain on its own.  Go with whatever floats your granola-lovin' boat.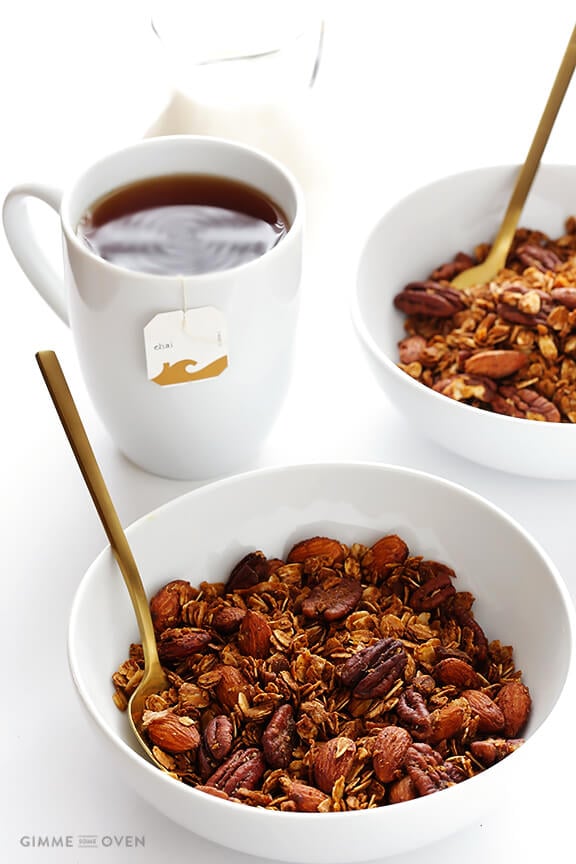 If you're really feeling the chai love, you can even serve it with some chai tea on the side.  Overkill?  ;)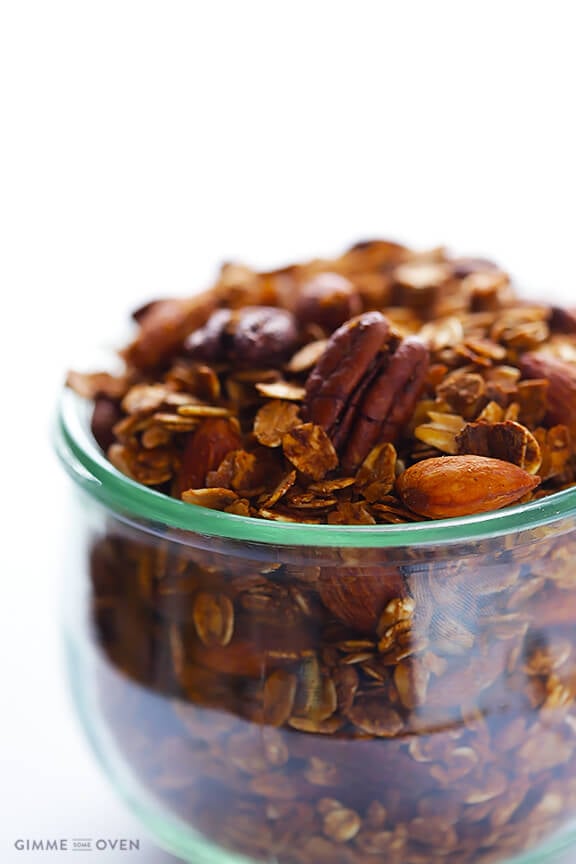 Of course, the granola can also be kept in a sealed container for up to 3 weeks or so, making it a fantastic pantry staple to have on hand.  Or if you're feeling generous, it also makes for a great gift to give to friends.  ;)
The chai spices definitely kick this up a notch from your usual plain granola.  So if you're a fan, you should definitely make this recipe happen.  Enjoy!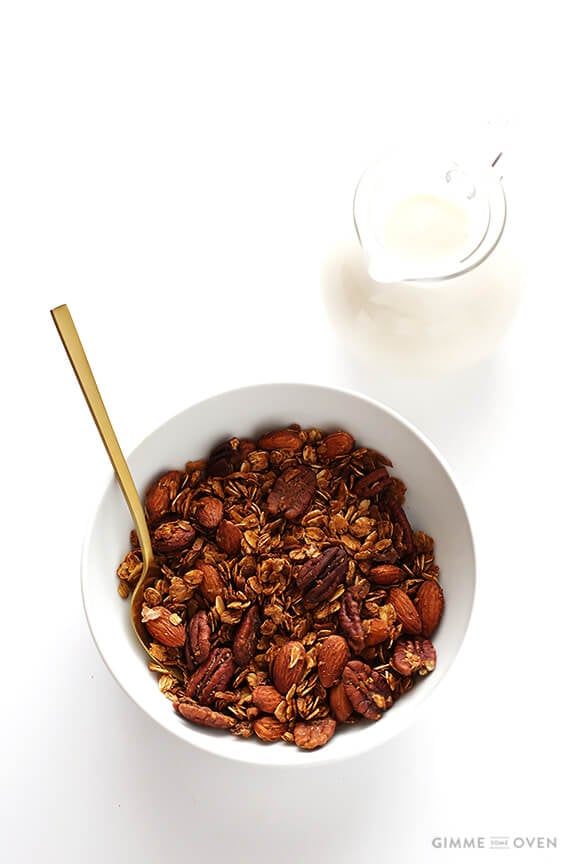 Chai-Spiced Granola
This chai-spiced granola recipe brings all of the goodness of chai seasonings to a protein-packed, naturally-sweetened granola!
Ingredients:
Chai-Spiced Granola Ingredients:
1/2 cup honey or agave, warmed
2 tablespoons coconut oil, melted and hot
1/2 teaspoon vanilla extract
1/2 teaspoon almond extract
4 cups old-fashioned oats (or gluten-free oats)
2 cups nuts (I used half almonds, half pecans)
1 cup shredded coconut
chai spice mix (see below)
Chai Spice Mix Ingredients:
2 teaspoons ground cinnamon
1 teaspoon ground cardamom
1 teaspoon ground ginger
1/4 teaspoon allspice
1/4 teaspoon black pepper
1/4 teaspoon ground cloves
1/4 teaspoon salt
Directions:
Preheat oven to 300 degrees. Line a large baking sheet with parchment paper or aluminum foil.  (Or if your baking sheet isn't very large, I would recommend lining two smaller sheets.)
In a small mixing bowl, whisk together the warmed honey, coconut oil, vanilla and almond extracts until combined.  Set aside.
In a large mixing bowl, toss together oats, nuts, coconut and chai spice mix until evenly combined. Add in the honey mixture, and toss until the dry ingredients are evenly coated.  Spread the mixture out on the prepared baking sheet in an even layer. Bake for 20 minutes, removing the sheet from the oven at the halfway point to give the granola a good stir for even cooking.  Return sheet to the oven and bake for an additional 5-10 minutes, or until the nuts are toasted.
Remove sheet from oven and cool on a wire rack.  Store in a sealed container and keep for up to 3 weeks.
All images and text ©
If you make this recipe, be sure to snap a photo and hashtag it #gimmesomeoven. I'd love to see what you cook!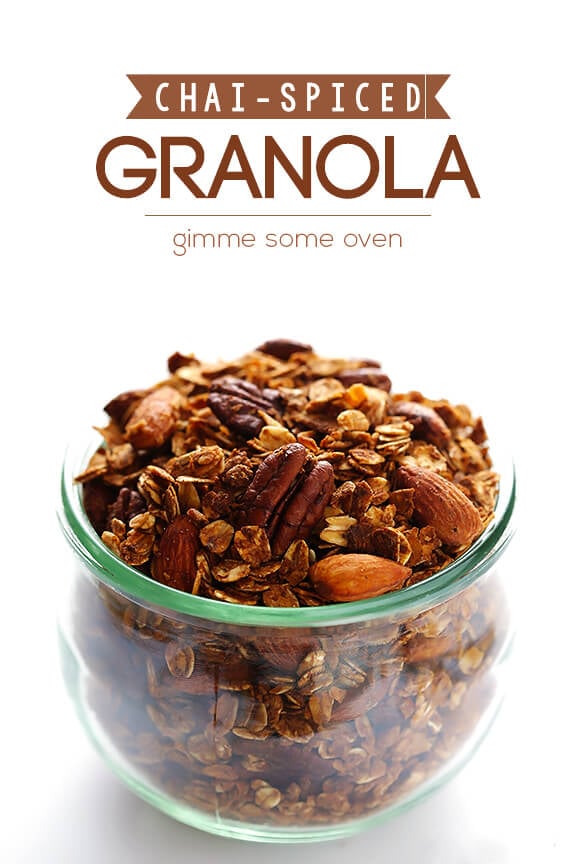 Also, check out these other great granola recipes!