cherry, almond & white chocolate biscotti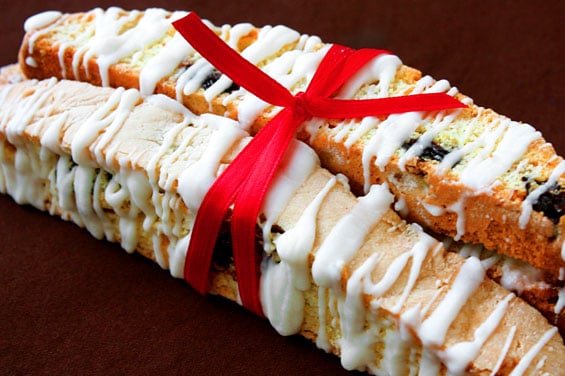 To kick off the Christmas baking season on the blog, allow me to introduce you to….my favorite biscotti.  EVER.
That's right – no exaggeration here.  :D  In my opinion, and in the enthusiastic reactions of friends and family, this stuff is truly in a league of its own!
First of all, who can go wrong with the cherries+almonds+white+chocolate combo??  The flavors and textures perfectly complement one another, and are enhanced even moreso by the delicious almond extract mixed into the dough.  Yum.
Secondly, since I seem to be on a kick this week with recipes that are often made with unnecessary fats, I'm happy to point out that this recipe only calls for 1 Tbsp. of olive oil.  Once more, it just amazes me how many people throw 1 or 2 sticks of butter into biscotti recipes!  Completely unnecessary, and these still taste great.  (Of course, I completely negate this by drizzling white chocolate all over them, but I'll vote for extra chocolate calories any day over butter!  ;))
And finally, the texture is exactly what I love in biscotti.  It seems that so much of the biscotti I've tried over the years is either rock hard, or super-soft and chewy like scones.  This recipe thankfully strikes the perfect balance — crunchy and crisp on the outsides, but still soft and slightly chewy on the inside.  Perfect for enjoying on its own, or dipping in some coffee or hot cocoa.
So if you're looking for some fun baked goods to give as gifts to friends and family this year, or if you're just looking to cozy up with some deliciousness, I cannot recommend this recipe enough!  Oh.  So.  Good.  :)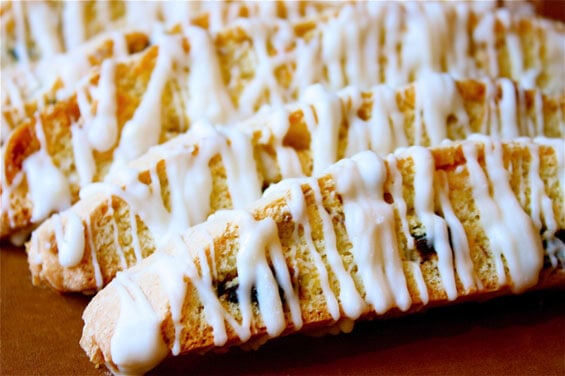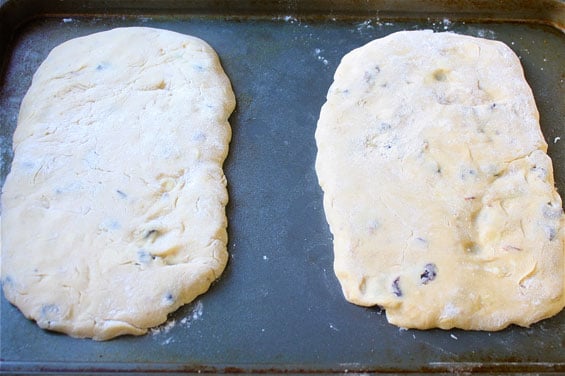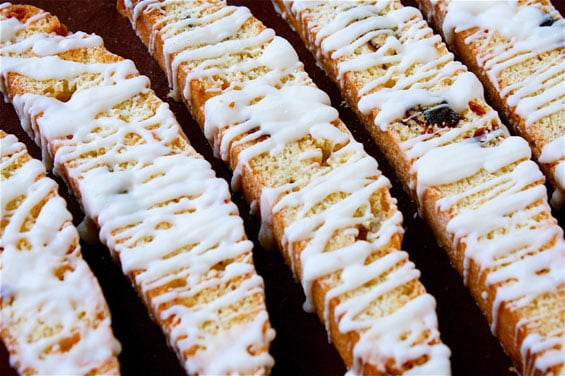 Cherry, Almond & White Chocolate Biscotti
This Cherry, Almond and White Chocolate Biscotti recipe is simple to make, and it also makes the perfect gift!
Ingredients:
2 2/3 cups all-purpose flour
1 cup sugar
2 tsp. baking powder
1/8 tsp. salt
1 Tbsp. oil
1 tsp. almond extract
1 tsp. vanilla
4 large eggs
1/2 cup dried berries (cherries or cranberries)
1/3 cup white chocolate chips
1/3 cup sliced or slivered almonds
white chocolate baking squares or chips (optional)
Directions:
Combine flour, sugar, baking powder and salt together in a bowl.  Set aside.
Mix eggs, oil, and extracts in a bowl with an electric mixer.  Then add in dry ingredients and mix together until combined.  Then add in berries, chocolate and almonds – and either mix by hand with a wooden spoon, or very briefly with the electric mixer.
Turn the dough out onto a lightly-floured surface.  Knead lightly a few times to be sure that berries, chocolate and almonds are well-distributed.  (Dough will be sticky, so you may need to lightly re-flouring your surface once or twice.)  Divide dough in half.
Shape each half into long logs, and flatten to 1″ thickness.  Place on a baking sheet and bake at 350 degrees for 35 minutes.  Remove rolls from baking sheet and cool for 10 minutes on a wire rack.  Then cut each roll diagonally into 1/2″ slices.
Place the slices cut-sides down on a baking sheet.  Reduce oven temperature to 325 degrees, and bake for 10 minutes.  Remove, and turn each slice over, and bake for another 10 minutes.  Remove and cool on wire racks.
To add white chocolate, simply melt your desired amount in a double boiler or (carefully!) in the microwave.  Use a fork to drizzle it over the biscotti slices.  Or you can dip each slice in a bowl of the melted white chocolate.
Ali's Tip:
I often use this recipe as a base for making many other different flavors of biscotti.  So feel free to experiment around with it — subbing out the cherries, white chocolate, and almonds for whatever deliciousness you have on hand!
If you make this recipe, be sure to snap a photo and hashtag it #gimmesomeoven. I'd love to see what you cook!