Chicken Enchilada Nachos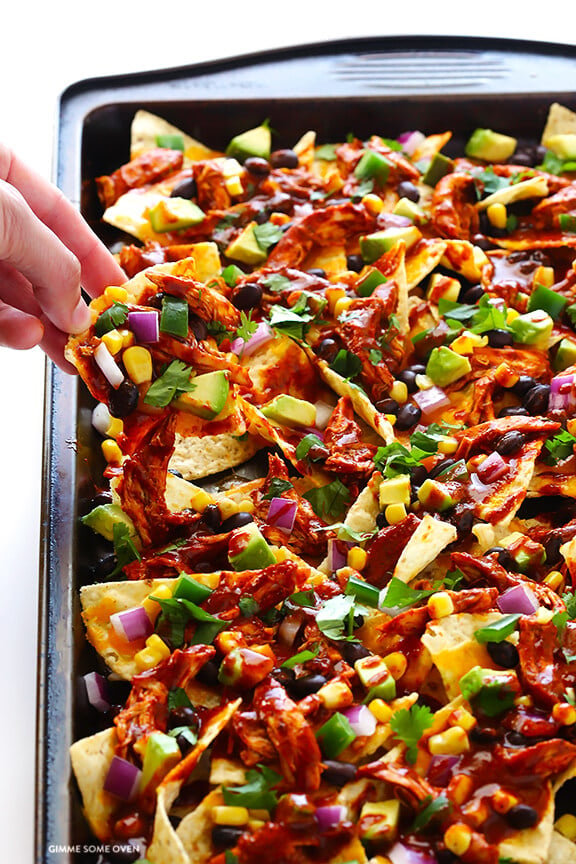 When people find out that I'm a food blogger, there's usually one question that almost always follows — "So, what's your favorite dish to make?!"  I've been asked this now probably hundreds of times.  And hundreds of times, I have answered the same thing:
NACHOS!
Any of my friends will be the first to tell you — I love my 'chos.  And while I order them out just about every chance I get, I love them even more homemade.
As such, there's a permanent space reserved in my pantry just for (multiple) bags of tortilla chips, a shelf in my fridge always stocked with at least a few blocks (not bags, mind you, for optimal-melting) of cheese, and a baking sheet ready and waiting whenever the craving strikes to bake up a mega pan of 'chos.  And when I say mega, I'm not kidding.  Nachos in my house are serious business, and I like mine fully loaded with toppings galore.  And in this recipe's case, I also like them drizzled with my favorite sauce galore.
That's right.  Today we're talking Chicken Enchilada Nachos.
Yep, these are indeed the nachos that many of you spied on my Instagram a few months ago, as well as in the behind-the-scenes video that I posted yesterday and thought I'd share again above.  (Thanks for all of your encouraging words on the video, by the way.  I'm completely honored to be a part of this #ShowMeKC series, which you can read all about here!)  But I should know better by this point in blogging to post a yummy picture without a recipe.  So after your kind requests, today's the day — let's learn how to make these 'chos!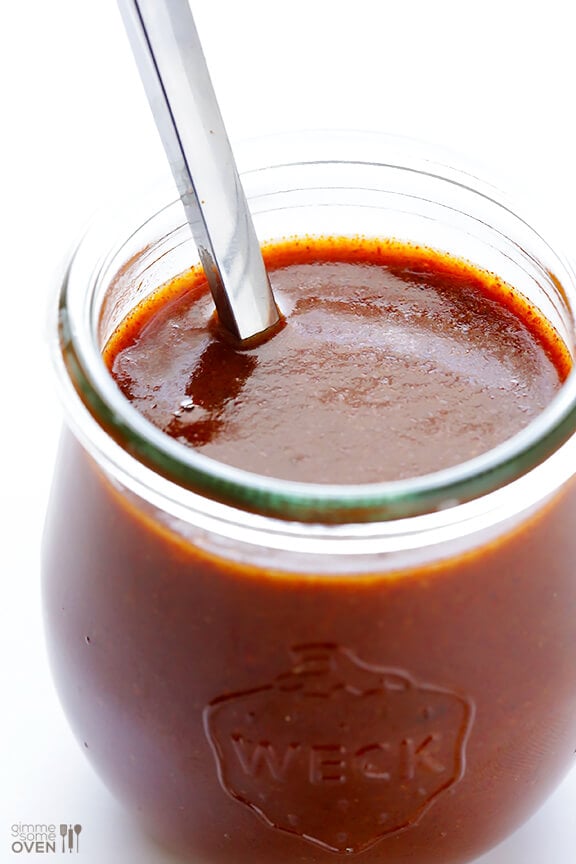 The first and most important ingredient you must make is this sauce.  My homemade red enchilada sauce.  If I were to ever insist that you learn how to make one sauce homemade, it's this one.  It's easy, it's made with simple ingredients, and it is a game changer in any enchilada recipe you will ever make.
Including these nachos.
Make it.
Then load up your 'chos.  For this recipe, I went in this order:
Add tortilla chips (get some relatively thick ones so that they can support the toppings).
Sprinkle sharp cheddar cheese (buy it in the block, then grate it by hand for optimal melting).
Pop the pan under the broiler to melt the cheese.
Add warmed shredded cooked chicken (I used rotisserie) that has been coated in the enchilada sauce.
Add black beans.
Add diced red onion.
Add corn.
Add diced jalapeno.
Add diced avocado.
(Optional: Add some extra shredded cheese on at this point.)
Pop the pan back under the broiler for 30-60 seconds just to warm the toppings.
Add chopped fresh cilantro.
Drizzle some extra (hot) enchilada sauce on top.
Then diiiiiiiiive in.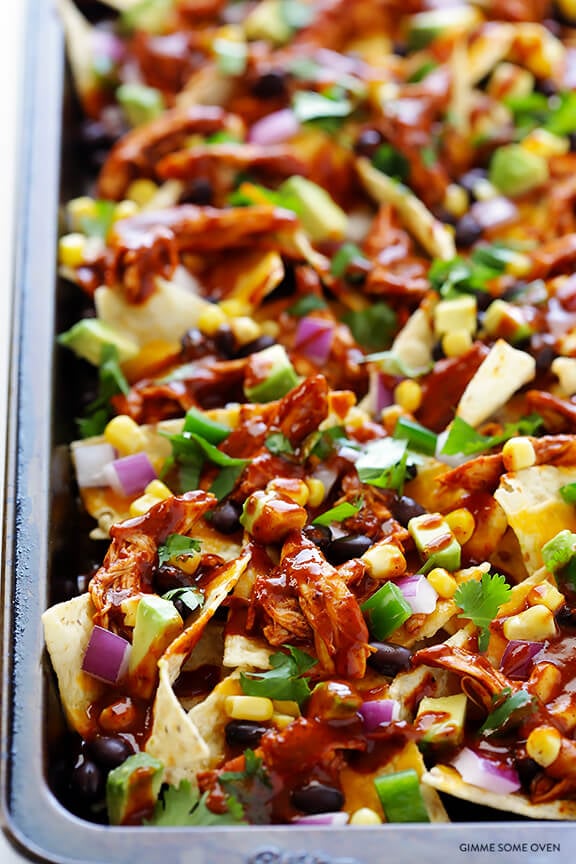 As you can see in the video, my neighbors and I had no problem doing just that when I served a few pans of these at one of our #NeighborNights a few months ago.   And with good reason — they're fun, they're flavorful, and they're fully loaded with every single ingredient that I love in chicken enchiladas.
My kind of 'chos.  :)
Hope you enjoy them too!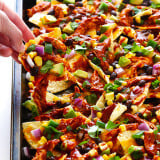 Chicken Enchilada Nachos
These chicken enchilada nachos are fun, flavorful, and fully-loaded with all of your favorite chicken enchilada ingredients! (They're also naturally gluten-free when made with GF enchilada sauce.)
Ingredients:
2 cups shredded cooked chicken
1 1/2 cups red enchilada sauce, homemade or store-bought, divided
10 ounces corn tortilla chips
8 ounces sharp cheddar cheese, freshly-grated
1 avocado, peeled, pitted and diced (and tossed with a tablespoon of lime juice, if you'd like to prevent browning)
1/2 cup black beans, rinsed and drained (about half of a 15-ounce can)
1/2 cup diced red onion (about a quarter of a medium red onion)
1/2 cup whole kernel corn, drained (about half of a 15-ounce can)
1 small jalapeno, stemmed, seeded and diced
1/2 cup chopped fresh cilantro leaves
(optional: sour cream)
Directions:
Preheat your broiler.
Add chicken and 3/4 cup enchilada sauce together in a medium mixing bowl.  Toss until the chicken is evenly coated.  Set aside.
Spread the chips out evenly on a large baking sheet.  Sprinkle evenly with the cheese.  Then place the sheet in the oven under the broiler until the cheese is melted, about 1 minute.  (Watch the oven carefully.)
Remove, then top the chips evenly with the shredded chicken, avocado, black beans, red onion, corn, and jalapeno.  Return the sheet to the broiler for another 30-60 seconds, just to heat the remaining ingredients, if desired.  Then remove then sheet.  Sprinkle the chips evenly with the chopped cilantro, then drizzle with the remaining 3/4 cup enchilada sauce.  (Optional: If you would also like to add sour cream, you can drizzle it on with a fork or a piping bag.)
Serve warm.
*If making these gluten-free, be sure to use gluten-free enchilada sauce.  (You can substitute equal parts cornstarch in place of flour in my red enchilada sauce recipe.)
All images and text ©
If you make this recipe, be sure to snap a photo and hashtag it #gimmesomeoven. I'd love to see what you cook!