Chicken Marsala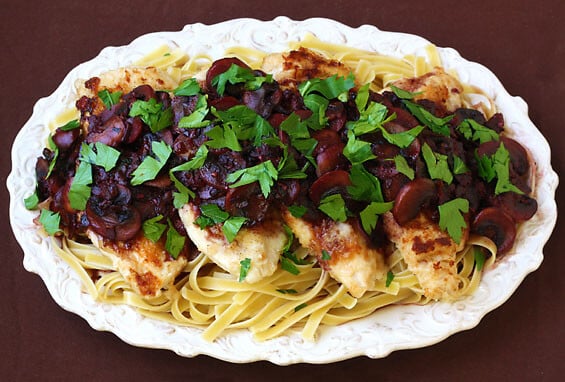 Ok, I am now officially in love with my most recent cookbook purchase — The New Best Recipe from Cook's Illustrated.  For anyone who's followed this blog for awhile, this of course comes as no surprise.  :)  I'm a huge fan of Cooks Illustrated!!  But seriously – I've been trying all sorts of recipes from it for the last few weeks, and have yet to find one that I don't completely enjoy.
The best part of CI, of course, is the great articles that go with each recipe explaining all of the various methods they tested in arriving at their final recipe.  (I always learn a lot!)  Thus, when I had a craving for chicken marsala recently, I decided to see what they had to say.  Sure enough, they had a great recipe listed that looked like the classic method I've used before, although they also added in some crispy pancetta, and used more butter in the sauce instead of cream.  I was a little curious, but hey – bacon and butter?  I'll go for those ingredients anyday!  ;)
Needless to say, this recipe was another HUGE winner.  The flavors blended together perfectly, highlighting (but not overwhelming us with) all the mushrooms, the crispy and salty pancetta, perfectly cooked chicken, and of course — a knock-your-socks-off sweet marsala sauce (in which I actually loved the butter substitution!).  The fun surprise is that, if you have your ingredients ready to go, it actually comes together in about a half hour.  Although your friends and family will think you've been laboring over that sauce for hours…  :)
Anyway, this is definitely my new "go-to" recipe for this classic dish.  So light some candles, pop on some great music, and give this one a go.  I think you'll love it!!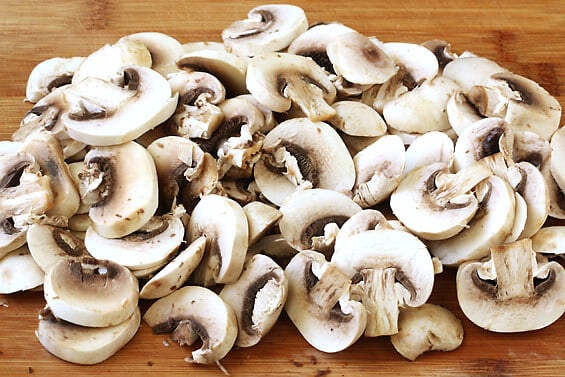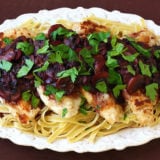 Chicken Marsala
The best recipe I've found for "chicken marsala" — and it's yours to enjoy in just 30 minutes! Detailed recipe and photographs included.
Ingredients:
4 boneless, skinless chicken breasts (about 5 ounces each)
1 cup unbleached all-purpose flour
salt and black pepper
2 Tbsp. vegetable oil
2 1/2 ounces pancetta (about 3 slices), diced into pieces 1 inch long and 1/8 inch wide
8 ounces white mushrooms, sliced (about 2 cups)
1 medium clove garlic , minced (about 1 teaspoon)
1 tsp. tomato paste
1 1/2 cups marsala wine (**see tip below**)
1 1/2 Tbsp. lemon juice (from 1 small lemon)
1/4 cup (4 Tbsp.) unsalted butter, cut into 4 pieces, softened
3 tablespoons chopped fresh parsley leaves
optional: 1 lb. pasta (I used fettucine), cooked according to package instructions
Directions:
Adjust oven rack to lower-middle position, place large heatproof dinner plate on oven rack, and heat oven to 200 degrees.

Heat 12-inch heavy-bottomed skillet over medium-high heat until very hot (you can hold your hand 2 inches above pan surface for 3 to 4 seconds), about 3 minutes. Pat chicken breasts dry. Meanwhile, place flour in shallow baking dish or pie plate. Season both sides of chicken cutlets with salt and pepper; working one piece at a time, coat both sides with flour. Lift breast from tapered end and shake to remove excess flour; set aside. Add oil to hot skillet and heat until shimmering. Place floured cutlets in single layer in skillet and cook until golden brown, about 3 minutes. Using tongs, flip cutlets and cook on second side until golden brown and meat feels firm when pressed with finger, about 3 minutes longer. Transfer chicken to heated plate and return plate to oven.

Return skillet to low heat and add pancetta; sauté, stirring occasionally and scraping pan bottom to loosen browned bits until pancetta is brown and crisp, about 4 minutes. With slotted spoon, transfer pancetta to paper towel–lined plate. Add mushrooms and increase heat to medium-high; sauté, stirring occasionally and scraping pan bottom, until liquid released by mushrooms evaporates and mushrooms begin to brown, about 8 minutes. Add garlic, tomato paste, and cooked pancetta; sauté while stirring until tomato paste begins to brown, about 1 minute. Off heat, add Marsala; return pan to high heat and simmer vigorously, scraping browned bits from pan bottom, until sauce is slightly syrupy and reduced to about 1 1/4 cups, about 5 minutes. Off heat, add lemon juice and any accumulated juices from chicken; whisk in butter 1 tablespoon at a time. Season to taste with salt and pepper, and stir in parsley.

Pour sauce over chicken and serve immediately. (Serve over pasta if you would like.)

If you make this recipe, be sure to snap a photo and hashtag it #gimmesomeoven. I'd love to see what you cook!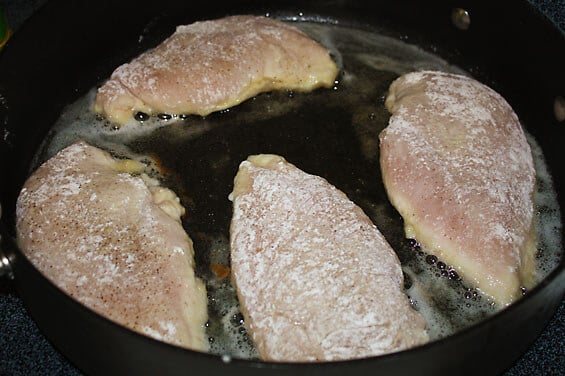 Ali's Tip:
If you don't have any marsala wine on hand, feel free to substitute in Madeira, Port, or a dry Sherry.  (Or just use a favorite red wine and add in a pinch of sugar if you'd still like the sweetness!)