Chocolate Chip Meringue Cookies
Alright, I've realized that this blog has been woefully low on dessert recipes during our healthy eating month.  But fear not!  I'm about to fix that next week.  But in the meantime, I thought I would circle back and share my favorite Chocolate Chip Meringue Cookies with you.  I made a batch for my book club this month, and since each of these little guys rings in at just 35 calories, I thought I'd re-shoot and share them with you!
Now before you go telling me that you "don't make meringue", let me assure you that this recipe is super easy!  It was one of the very first cookie recipes of my mom's that I learned how to make way back in college, and I've made them dozens of time since.  So if I could do it even before I knew anything about "stiff peaks", you can definitely do it too.
All you need is a good mixer, 6 simple ingredients, and you're good to go.  These meringue cookies do take a little while to bake in the oven, but the prep is simple.  And once they're done, these chocolate chip meringue cookies are the epitome of melt-in-your-mouth deliciousness.  They're light and crispy on the outside, and perfectly melty and full of surprise chocolate chips and chewy-ness galore on the inside.  And did I mention they're only 35 calories each?!?
Yep.  I think it's settled.  You need to try these.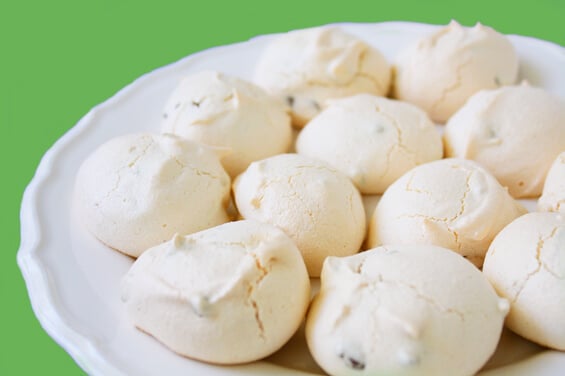 Alright, before we get rolling, I thought I would include the "before" photo for this recipe for ol' time's sake.  Chocolate Chip Meringue Cookies circa 2009.  I still remember taking this photo…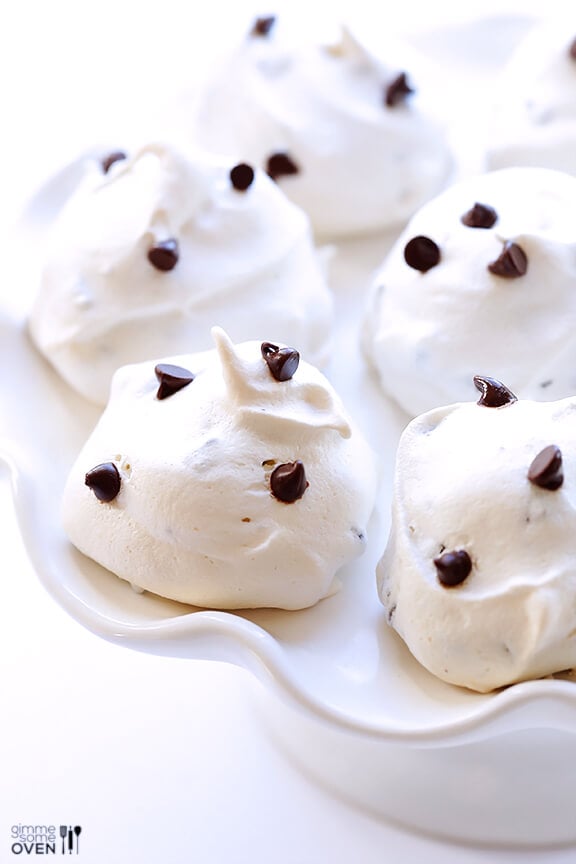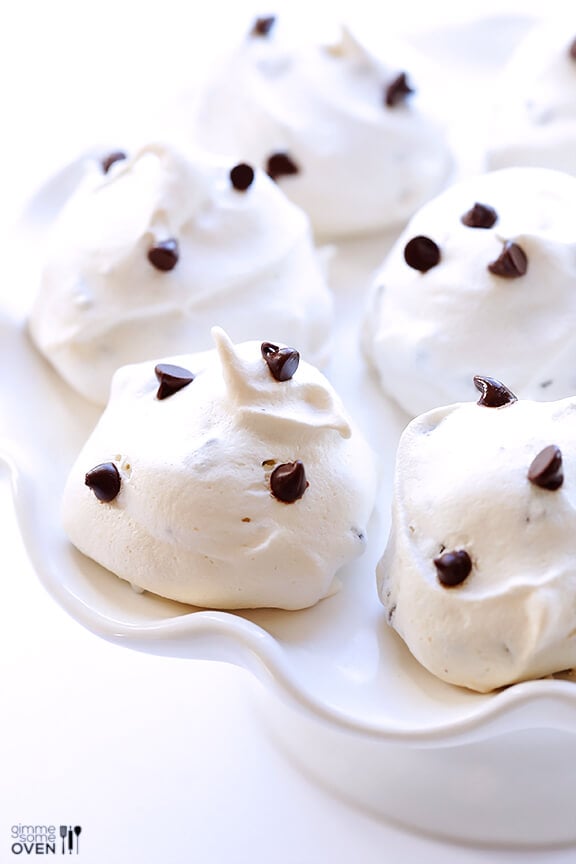 But a few hundred recipes and years spent with my camera afterwards, here's the "after" photo.  The cookies still taste the same!  But there are a few tiny differences:
More Chocolate Chips: Just about any chocolate chip cookies look better with a few extra chocolate chips sprinkled on top before baking, and these meringues are no exception.  The chocolate chips usually get hidden inside as "buried treasure" while baking, which is all well and good.  But if you want them to be a little cuter on the outside, sprinkle a few extra chips on before baking.
Cracking:  If you look closely, you might also notice that I didn't quite understand how to prevent meringues from cracking last time I photographed them.  But now I know.  Quite simply, you need to:
cook low and slow
let the cookies cool in the oven
Meringue is kind of like cheesecake.  If you flood the hot oven with cool air once the baking time is over, they cookies will crack.  If you let the air cool off gradually, they won't.  And the key is always to cook them low and slow.  Patience, young grasshopper.
Even if they crack, though, they still taste like heaven.  :)
Piping: Also, if you want to get fancy, you can pipe the meringue batter into nice perfectly swirled cookies.  But I grew up just plopping a dollop of batter on a cookie sheet, and kind of like how casual they look that way.  Go with whatever floats your boat.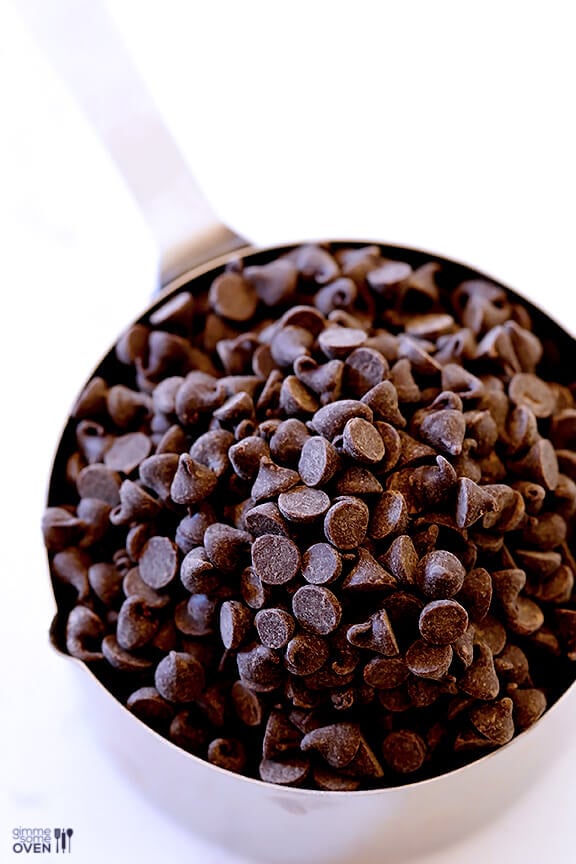 The other key to making these is to use mini semisweet chocolate chips.  Regular-sized chocolate chips are a little too heavy and large.  The baby ones, though, are perfect for topping the meringues and hiding away inside for that heavenly chocolate-y surprise when you bite into a cookie.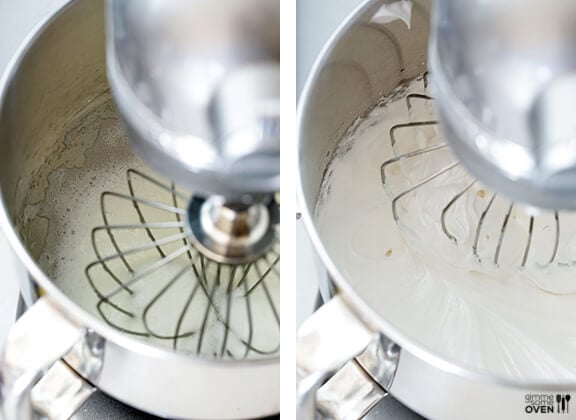 To make the cookies, simply whip up the egg whites, salt, cream of tartar and vanilla until soft peaks form.  Then gradually add in the sugar and continue beating until stiff peaks form.  If you stick a spoon in the batter and lift directly up, the batter should follow and form a "peak" and stay put (not fall over).  That's when you know that it's ready to go.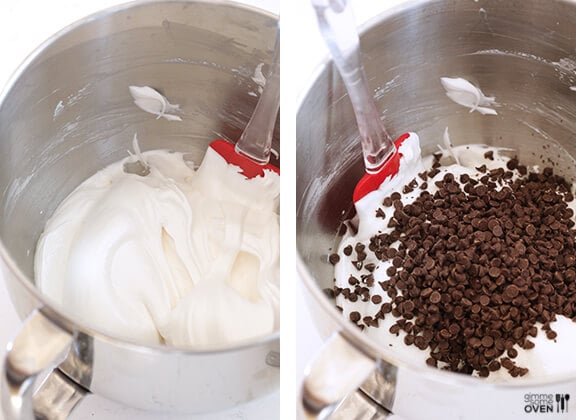 It's amazing how much meringue batter fluffs up!  Gotta love those egg whites.
Once the batter is ready, gently fold in your chocolate chips by hand until they are just combined.  Resist the temptation to overmix!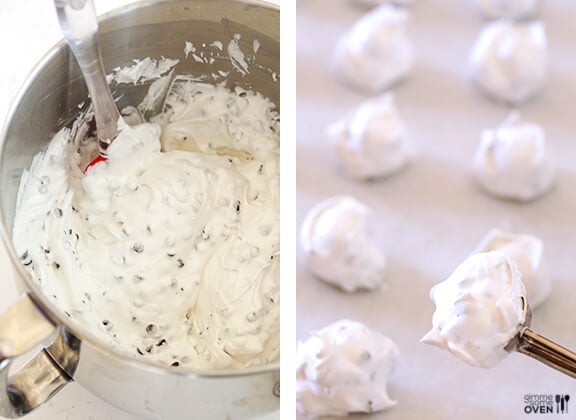 Once the batter is ready, drop it by tablespoon-fulls onto a prepared baking sheet, at least 1-inch apart.  (This will require at least 2 baking sheets, depending on the size you have.)
Then if you want to get all food style-y, sprinkle just a few extra chocolate chips on top.
Bake them low and slow until they form that crispy light crust we all love.  Once that happens, just turn the oven off and let the cookies cool for about a half hour inside of the oven.  Then pop it open, and enjoy!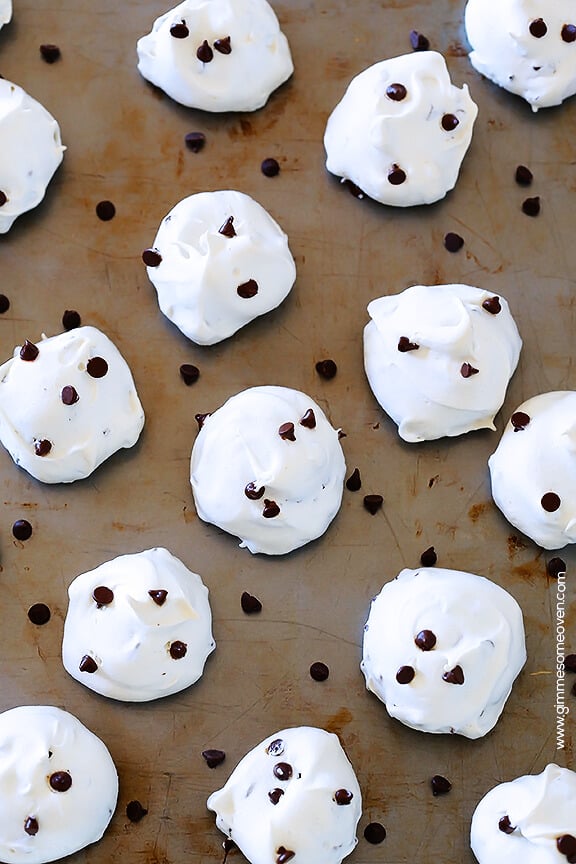 Look how cute they are!  And of course, the best part is the "surprise" inside — all of those tasty chocolate chips!
If your friends are like mine, they will adore these cookies once they give them a try.  And then they will happily go back for seconds (and maybe thirds) once they learn that they are only 35 calories each.  ;)
They will definitely always be a favorite of mine!  Hope you enjoy them as well!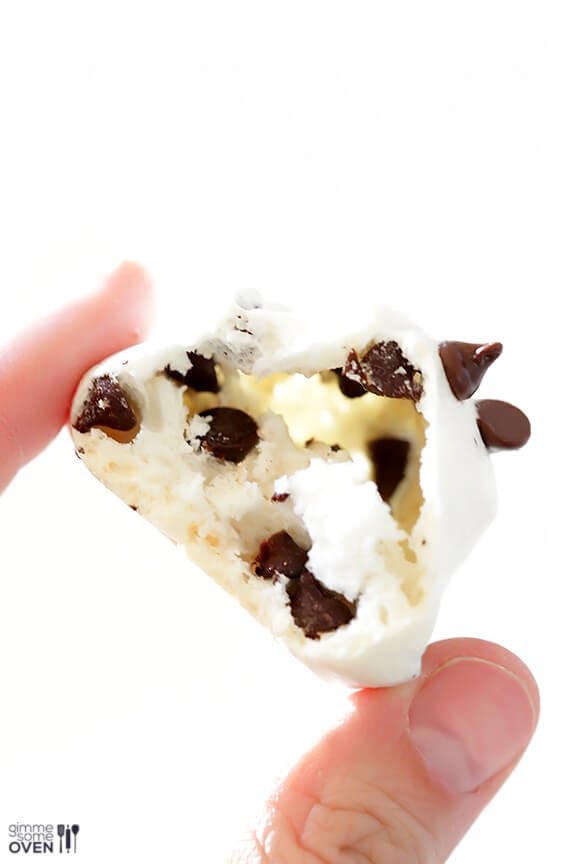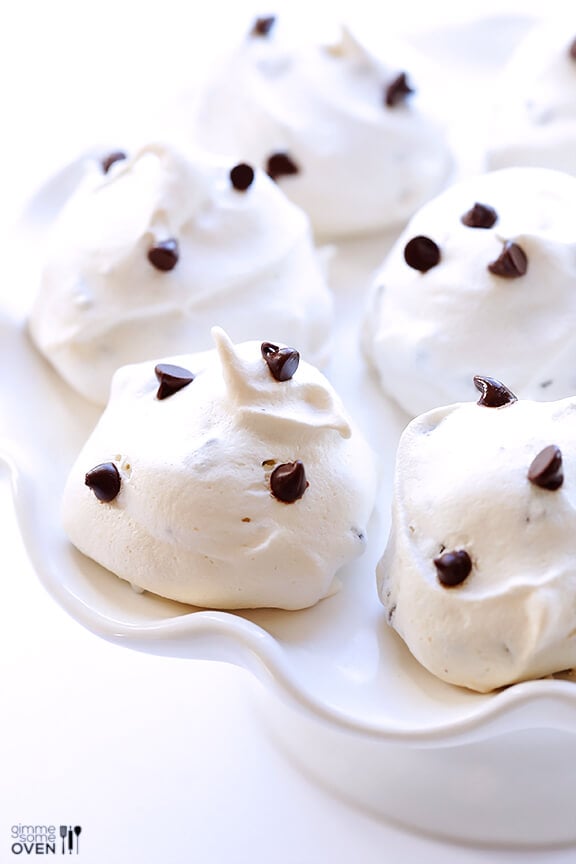 35-Calorie Chocolate Chip Meringue Cookies
These chocolate chip meringue cookies are simple to make, healthier, and melt-in-your-mouth delicious!
Ingredients:
4 egg whites, room temperature (very important!)
1/4 tsp. salt
1/4 tsp. cream of tartar
1 Tbsp. vanilla extract, store-bought or homemade
1 1/4 cups granulated sugar
1 cup mini semisweet chocolate chips
Directions:
Preheat oven to 300 degrees F. Line a baking sheet (or two) with parchment paper.
Using a stand mixer, beat egg whites, salt, cream of tartar and vanilla on medium-high speed until soft peaks form.* Slowly add sugar and beat until stiff peaks form, about 5 minutes. Gently fold in chocolate chips by hand until combined.
Drop batter by heaping tablespoon-fulls onto cookie sheet. Bake at 300 degrees for 25-30 minutes until the cookies are cooked and slightly golden. Turn the oven off, and let the cookies cool in the oven for an additional 20-30 minutes until cool. Remove and serve immediately, or store in an airtight container.
All images and text ©
If you make this recipe, be sure to snap a photo and hashtag it #gimmesomeoven. I'd love to see what you cook!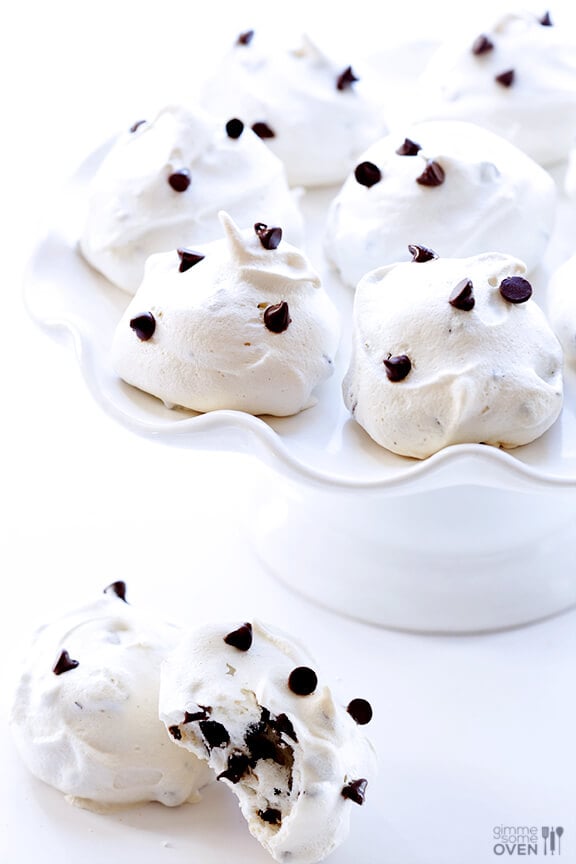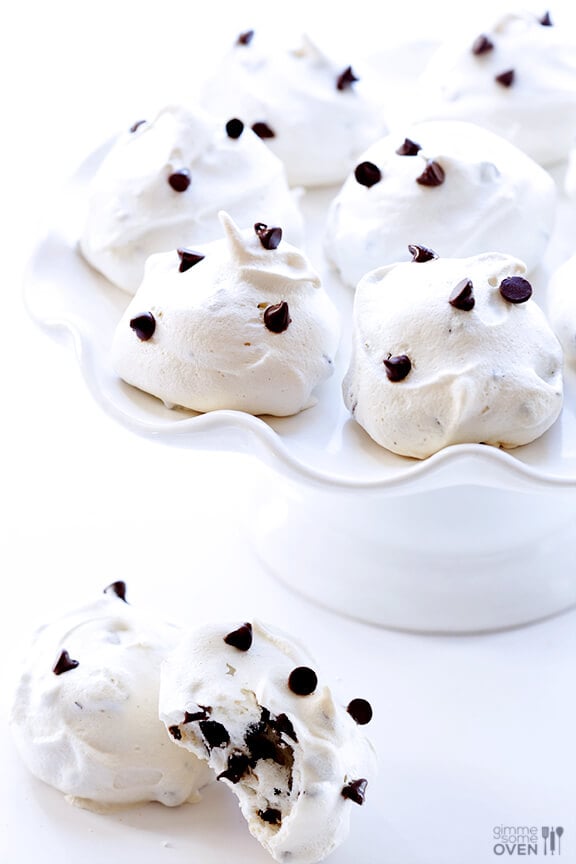 *Nutrition facts estimated using My Fitness Pal.  Facts may vary based on the exact size of your cookies.