Chocolate-Covered Ritz & Peanut Butter Cookies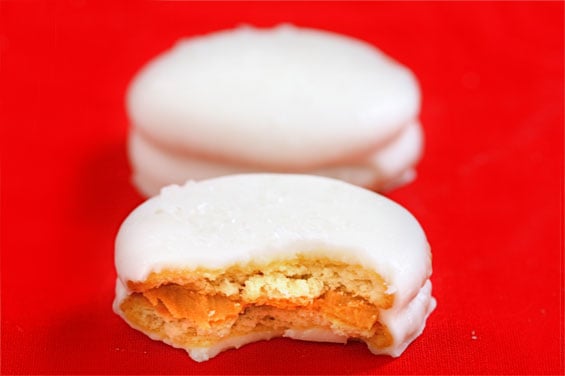 I was once a proud Girl Scout.  For…um…two weeks.
Yes, it's quite the tragedy.  I was super-excited.  Had my little Brownie outfit.  Went to the first two meetings.  Picked up my cheese and sausage order forms and skipped around the neighborhood using my best sales and persuasion strategies (grew up with a dad in marketing) to sell as much merch as possible.  But then…a sad day arrived.  :(  For reasons still unknown to me, our troop leaders spontaneously backed out and apparently couldn't find replacements.  So this poor little Brownie was left to make another loop around the neighborhood, apologizing and informing everyone that the delicious cheese and sausage would no longer be arriving.
Aw, I feel sad for little 7-year-old me just writing this!  Ha…thankfully, I think I turned out ok.  :) And managed to grow up still loving Girl Scout merch — especially cookies!!!
So for my next Christmas cookie (although they're obviously fantastic year-round), I present to you my take on "tagalongs".  Or as I used to know them…"peanut butter patties".  Oh my goodness – I love these little guys.  And especially love the idea of using white instead of dark, milk or semisweet chocolate.  (Although you could easily substitute any of those!)  For me, the flavors are just perfectly complimentary.
So grab these three (yes, just three!) ingredients, and have fun making these fun no-bake cookies!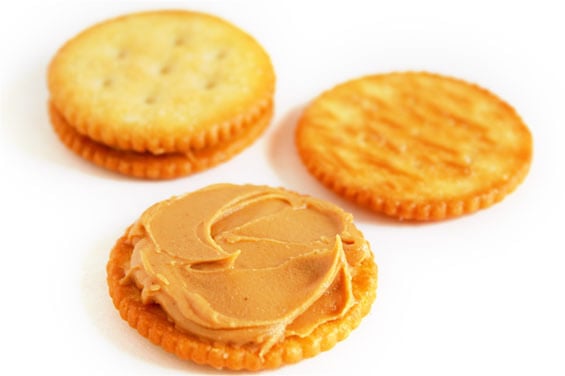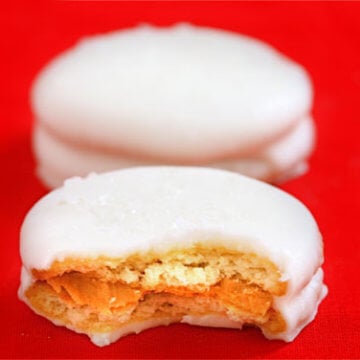 Chocolate-Covered Ritz & Peanut Butter Cookies
You'll love this Chocolate-Covered Ritz & Peanut Butter Cookies Recipe! It will almost remind you of Girl Scout cookies!
Ingredients:
Ritz crackers (or other favorite buttery crackers)
vanilla almond bark or white-chocolate chips
peanut butter
Optional: sprinkles for decorating
Directions:
Begin making the "sandwiches" by spreading a small dab of peanut butter atop the flat side of a cracker, and then attaching the flat side of another cracker on top. Repeat with the remainder of the crackers and peanut butter.
Then melt your vanilla almond bark (or white chocolate chips) in the microwave or a double boiler. If the chocolate is too thick, feel free to add in a few teaspoons of shortening to thin it out.
Then carefully drop each "sandwich" in the chocolate and submerge so that it's fully-coated. Remove with a fork and set on wax paper, parchment paper, aluminum foil, or a Silpat to dry. Feel free to decorate with sprinkles or drizzle with extra chocolate for decor! (I used clear sugar sprinkles above.)
Ali's Tip:
For some extra fun, feel free to add a dab of your favorite jelly on the inside of the sandwiches to give an extra fruity flare and turn these into "chocolate-covered PBJ's"!
***Ingredient amounts will vary, depending on how thick you like the outer chocolate coating, and how much peanut butter you like. But note that if you use an entire box of Ritz, you'll likely need at least 1.5 packages of almond bark. Otherwise, feel free to use less crackers if you'd like to use just one package.***
All images and text ©
If you make this recipe, be sure to snap a photo and hashtag it #gimmesomeoven. I'd love to see what you cook!