Chocolate Guinness Cupcakes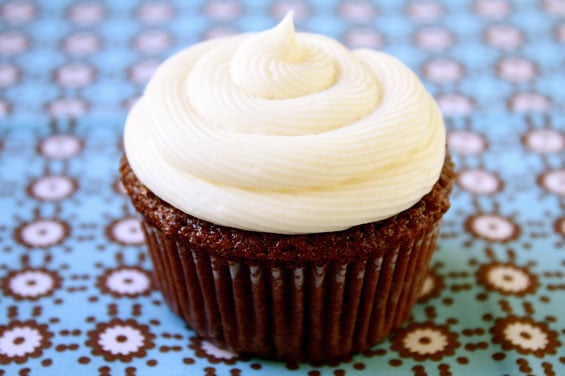 Yes, you read correctly.  Three favorite words, all combined into one fabulous dessert.  :)
I made my first batch of these this weekend to bring along to a "Tribute To Beers From Around The World" party, hosted by two friends who know more about the subject than just about anyone I know.  :)  Since I've never been a huge fan of beer – would prefer a glass of wine any day – I was all for the option of bringing a beer-themed food to contribute instead!  Thought about of course bringing some beer bread, or doing a beer-cheese fondue…but I'd had a craving for cupcakes all week.  So did a bit of searching, and sure enough – was stoked to find a number of recipes out there for this chocolate + Guinness combination!  After reading lots of reviews, ended up going with this specific recipe from a blogger I love.
And holy cow – so glad I did!  These were SUCH a success!!!  I ended up making a double batch to take to work as well as the party (why not, when you're going to the effort anyway??), and pretty sure they were gone almost instantly.  Everyone loved them!!  In addition to rave reviews about the delicious flavor with the subtle yeast-y hint of the Guinness in the background, probably the number one comment was about how incredibly moist they were.  (Props to the yogurt!)  And then of course…the homemade vanilla cream cheese frosting was as irresistible as always.  Y-U-M.
Overall, definitely a winner.  Will undoubtedly be making these again soon.  Cheers!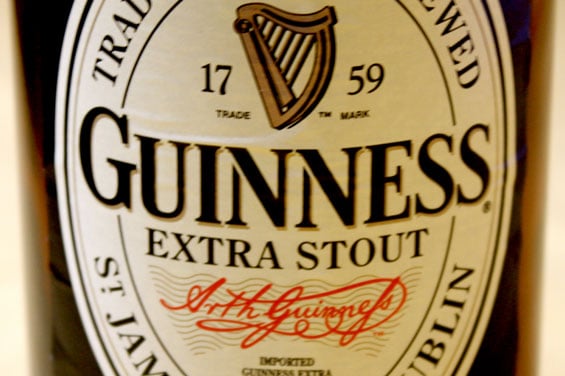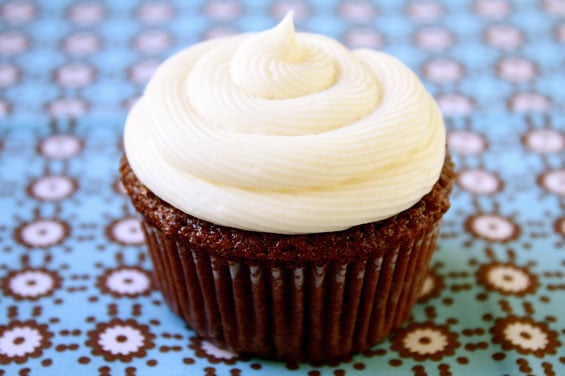 Chocolate Guinness Cupcakes
This Chocolate Guinness Cupcakes recipe can be made in less than an hour, and is a perfectly sweet treat!
Ingredients:
Cupcake Ingredients:
2 large eggs, at room temperature
1/2 cup plain yogurt, at room temperature
6 oz. dark stout (I used Guinness), at room temperature (*measure after the foam has settled)
2 tsp. vanilla extract, store-bought or homemade
1/2 cup cocoa powder
1 cup sugar
1 1/4 cups all-purpose flour
1 tsp. baking soda
1/8 tsp. ground cinnamon
6 Tbsp. butter, melted
Frosting Ingredients:
8 ounces cream cheese, at room temperature
4 Tbsp. butter, at room temperature
4 cups powdered sugar
1 tsp. vanilla extract, store-bought or homemade
Directions:
To Make Cupcakes:
Preheat oven to 350 degrees. Line a 12-cup cupcake pan with cupcake papers; spray the whole thing, cupcake papers and all, with nonstick spray. Set aside. Melt butter in microwave or on stove top, then set aside.
In a mixing bowl, whisk together eggs and yogurt. Add beer and vanilla whisk until well combined.
Sift all the dry ingredients together (cocoa powder, sugar, flour, baking soda, and cinnamon) into a separate bowl.
Add about a third of the flour mixture into the wet ingredients and blend well using a mixer on low speed, or a hand mixer. Add the rest of the flour mixture, a third at a time, mixing well after each addition. When all ingredients are blended, add the melted butter then continue mixing until very well combined.
Pour batter into the 12 cups, filling each only about 3/4 full. (Since the batter is not super-thick, I found it easier to use a measuring cup or other cup with a spout to pour the batter into the muffin cups, rather than spooning it in.) Bake on center rack of the preheated 350 degree oven and for approximately 25 minutes. When cupcakes are done (toothpick inserted in center of a cupcake will come out clean), remove the pan to a wire rack. Let cool for ten minutes then remove cupcakes from pan and let them cool completely on wire rack.
To Make Frosting:
In a medium bowl, blend together cream cheese, butter, and vanilla. Gradually add powdered sugar, mixing well until it's all incorporated. Use immediately. The frosting will harden in the fridge, so plan on bring it back to room temperature if you must refrigerate it before frosting the cupcakes.
Ali's Tip:
I used a Wilton #199 tip to frost these cupcakes.
For a fantastic tutorial on how to frost cupcakes, would encourage you to check out this helpful site.  For the classic "swirl" technique, you can also look at this site.  It's super-simple, and makes them extra-cute.  :)  So would encourage you to give it a try!!
(**This recipe is supposed to yield 12 cupcakes, but mine made enough batter to fill at least 16 per batch. And then I was able to frost about 18 cupcakes (pictured above) with this recipe, but you could easily stretch it to frost 24 if you used slightly less per cupcake.**)
If you make this recipe, be sure to snap a photo and hashtag it #gimmesomeoven. I'd love to see what you cook!