French Onion Soup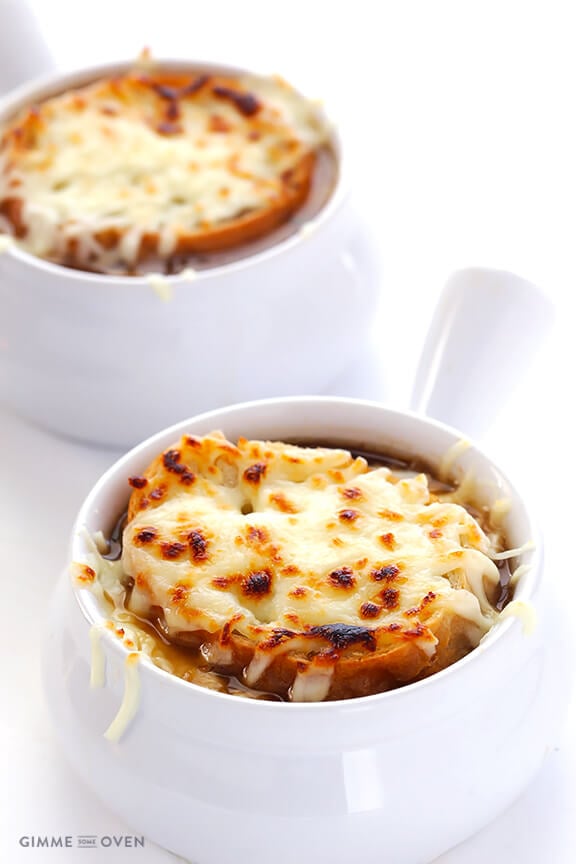 Can you tell that I have been craving caramelized onions lately?
After posting tutorials this past week for how to make caramelized onions the traditional way (on the stovetop) and my still-can't-believe-it-works "modern" way (in the slow cooker), I thought it was only appropriate that I pull up an old recipe from the archives for classic French onion soup.  Aka, the ultimate ode to caramelized onions.
I initially posted this recipe in my third month of blogging back in 2009, but French onion soup and I actually go way way back.  Like, back to my days in high school and college when a can of Campbell's French onion soup was one of my favorite after-school snacks.  I didn't know much about cooking, but I could whip up a batch of the canned stuff like a pro.  When I lived with an oven, I would pop a slice of sandwich bread on top with some shredded cheese and toast up a bowl to melty perfection.  And even when I lived in a dorm without ovens, I quickly figured out how to improvise with a hot piece of toast sprinkled with cheese that tasted about the same.  I loved French onion soup.
And of course, I still do.  But nowadays, my pantry is happily free from overly-processed cans of soup.  And I have learned how much more delicious this soup is when made from scratch with homemade caramelized onions.  And I tend to prefer to keep this soup a little lighter by using whole-grain baguettes or a few croutons for the topping, sprinkled with just a bit of cheese.  But a steaming hot bowl of this soup makes me as happy as it did when I was a 16-year-old, and I'm pretty positive I'll still be making it when I'm 61.  So if you love it too, join me and let's make a batch homemade.
To make this soup the classic way, it does require a bit of time babysitting your caramelized onions as they cook.  So pour an extra glass of some of that white wine that you'll be cooking with, put on some music, and tap into your inner Julia Child for about an hour or some good French cooking ahead.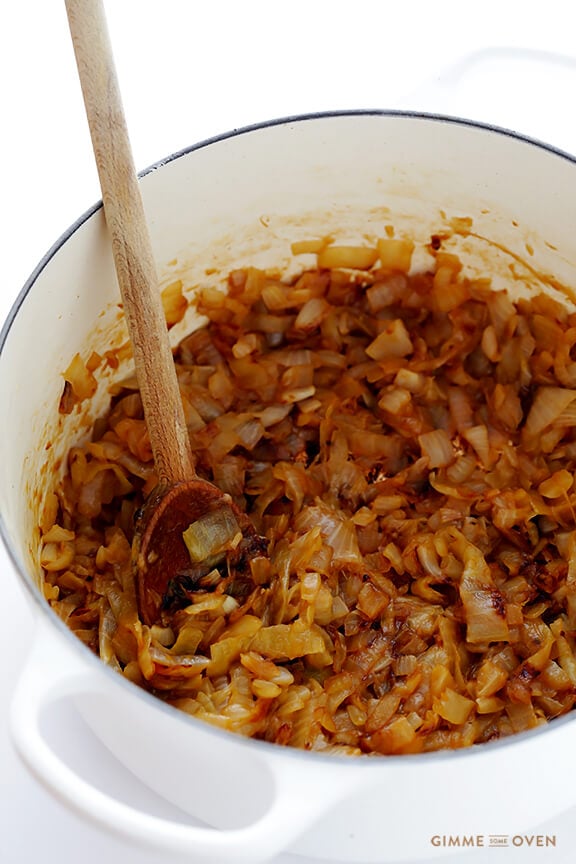 We begin by, of course, caramelizing those onions.  These guys are the rockstar of this soup, so take your time until the reach a deep golden brown color and are nice and caramelized.  Then add garlic, and flour to thicken.  Then deglaze the pan with white wine, being sure to use a wooden spoon to scrape up any of those browned bits that have accumulated on the bottom of the pan while you were cooking the onions.  They are full of fantastic flavor.
Add the rest of your stock and seasonings and let the soup simmer for awhile for those flavors to meld.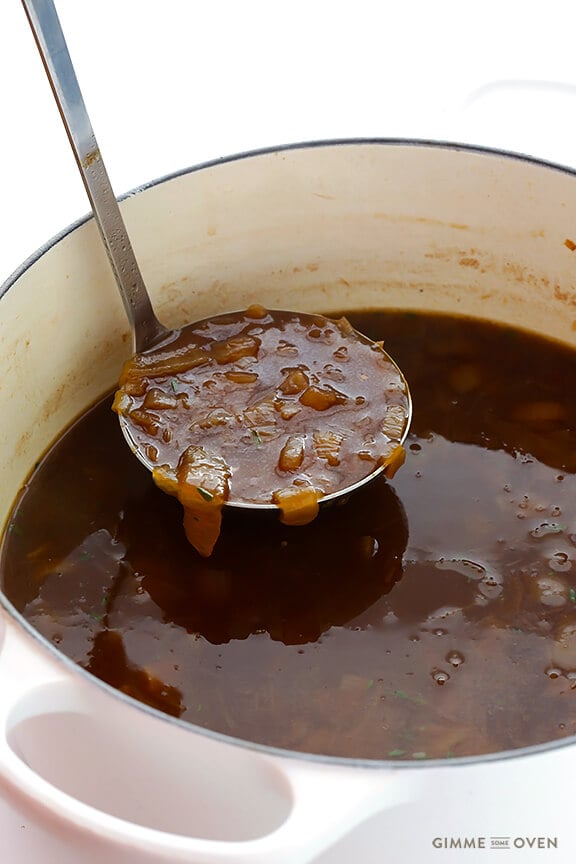 And then when you're ready, ladle up that soup into some oven-proof bowls or crocks.  Top each with a slice of toasted baguette and some cheese, and pop them under the broiler for a few minutes until the cheese is perfectly bubbly.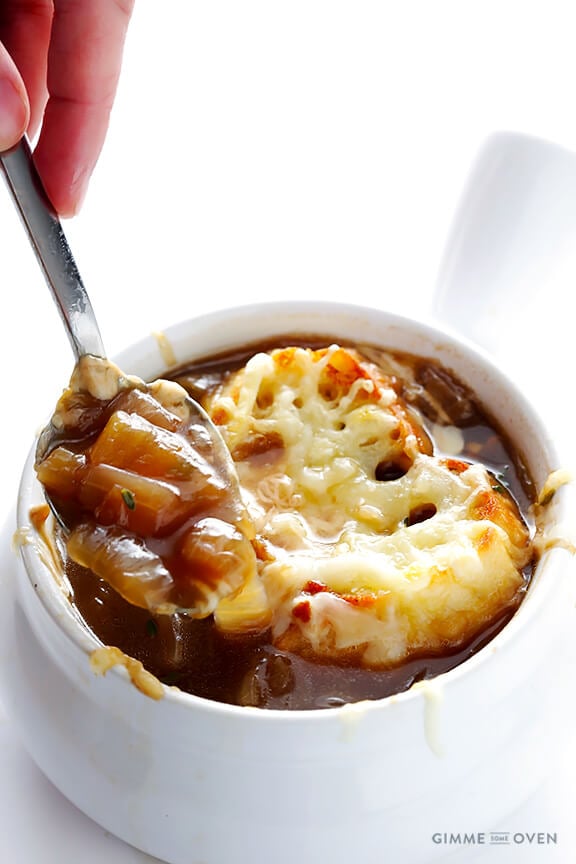 And serve it up warm, so that you can get a bit of that ooey gooey melted cheese and toasted baguette with every delicious bite of onion soup.  Or if you need a shortcut and don't have access to a broiler, you can always pop some croutons and cheese on top, and let the hot soup just melt the cheese.  (I often do this for leftovers.)  Or if you're going the lighter route, you can always skip the bread and cheese all together and just enjoy the flavorful onion soup on its own.
However you make it, this soup is definite comfort food.  And on cold winter months like these, I'm convinced it is the most delicious way to warm up.  Hope you enjoy it!
French Onion Soup
This classic recipe for French Onion Soup is comforting
Ingredients:
4 pounds yellow onions, peeled and thinly sliced (approximately 5-6 large onions)
3 tablespoons butter
4 cloves garlic, minced
3 tablespoons flour
1/2 cup dry white wine
6 cups of beef stock
1 teaspoon worcestershire sauce (optional)
1 bay leaf
3 sprigs of thyme (or 1 teaspoon dried thyme)
a few generous pinches of salt and freshly ground black pepper, to taste
baguette
grated cheese (Gruyere, Asagio, Swiss, or Mozzarella)
Directions:
In a large heavy-bottomed stockpot, melt the butter over medium-high heat.  Add the onions and saute until well browned and caramelized (but not burnt), about 30-40 minutes, stirring every few minutes.  Add garlic and sauté for 1 minute.  Stir in the flour and cook for an additional 1 minute.  Stir in the wine to deglaze the pan, using a wooden spoon to scrape up any browned bits on the bottom of the pan.
Add the stock, worcestershire sauce (optional), bay leaf, and thyme. Bring to a simmer.  Then reduce heat to medium-low and simmer for at least 10-15 minutes, partially-covered.  Season to taste with salt and pepper. Discard the bay leaf and sprigs of thyme.
Preheat oven to 400 degrees F.  While the soup is simmering, slice the baguette into 1-inch thick pieces and arrange them in single layer on baking sheet.  Bake for 6-8 minutes, until the bread is toasted and golden around the edges.  Remove and set aside.
Switch the oven to the broiler.  When ready to serve the soup, place your oven-safe bowls or crocks on a thick baking sheet.  Ladle the soup into each of them, then top with a baguette slice and your desired amount of cheese (I used about 1/4 cup shredded cheese for each).  Place on an oven rack about 6 inches from the heat and broil for 2-4 minutes until the cheese is melted and bubbly.  Remove and serve immediately.
*If you do not have access to a broiler or would like to save time, I also love just topping this soup with croutons and shredded cheese.
(Recipe updated in January 2015.)
All images and text ©
If you make this recipe, be sure to snap a photo and hashtag it #gimmesomeoven. I'd love to see what you cook!