Easy Blueberry "Cheesecake" Bites
I made you a new snackity snack!
And I hereby name them "cheesecake bites".  Aren't they cute?!?
As you might wisely infer from the name, these little guys taste just like sweet cheesecake.  But by contrast to a big ol' slice of cheesecake, these little guys are much more reasonably portioned into little bite-sized treats.  They're perfect for snacking, perfect for dessert-ing, perfect for entertaining, or perfect for any ol' time the cheesecake craving hits.  And they're no-bake, so no hot oven required.

And the best part??  All you need are 4 easy ingredients and about 1 minute to make one.
I kid you not.  :)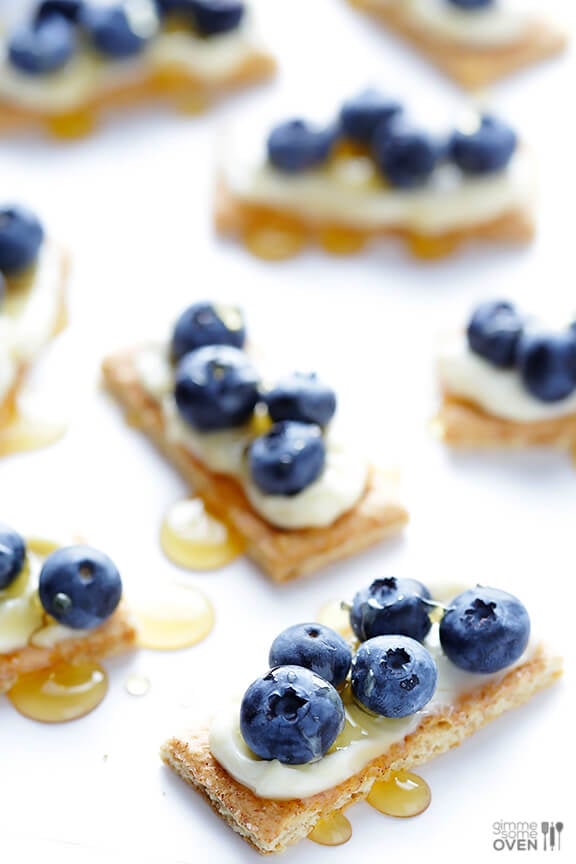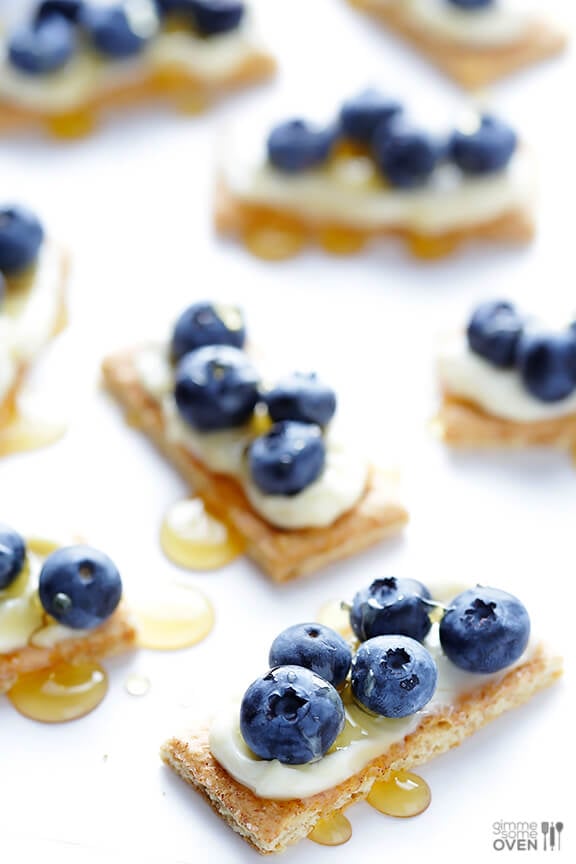 I actually was inspired to make these when craving my favorite Lighter Blueberry Cheesecake the other day.  I had all of the ingredients on hand — including fresh blueberries galore — but I didn't feel like heating up the oven in the middle of August.
So instead, I decided to experiment with making an alternative using those cute little The Laughing Cow cheese wedges instead.  The Laughing Cow had actually reached out to me this summer to see if I would like to join in with their program to "reinvent snacking", and this little treat sounded right up that alley.  I'm all in with their efforts to celebrate snacks that are creative, simple and delicious.  And I'd also add to that intentional.  I'm one of those people who can get in trouble with mindless snacking.  But when I'm intentional about it, and actually take a minute beforehand to plan out what I want to eat and then take the time to savor it, my snacking habit is all the more enjoyable.
And talk about enjoyable — this little "cheesecake bites" experiment turned out to be a delicious success!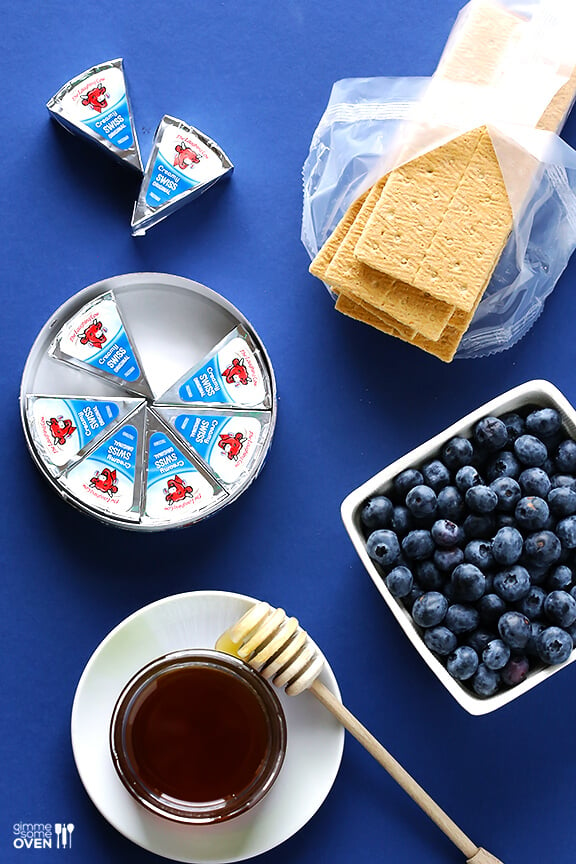 And as I said, all you need are 4 simple ingredients.  (If you're snacker at work, you can even keep these in your office fridge and desk drawer!)  You'll need:
The Laughing Cow cheese wedges (I used Creamy Original Swiss)
graham crackers (I like the cinnamon ones)
fresh blueberries (or any fruit)
honey or agave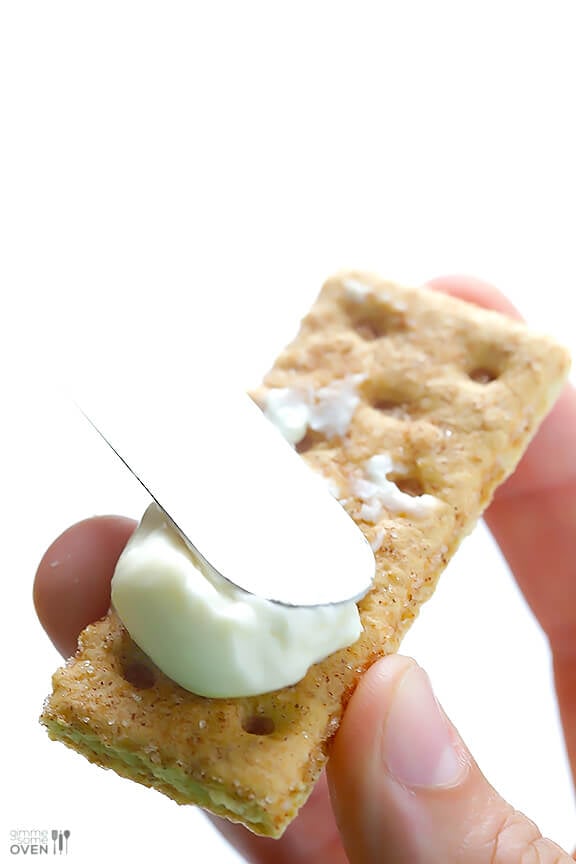 Just spread some of the cheese on a graham cracker.  (I used about 1/3 of a wedge per graham cracker.)
Then top each of them with some blueberries, and drizzle with honey.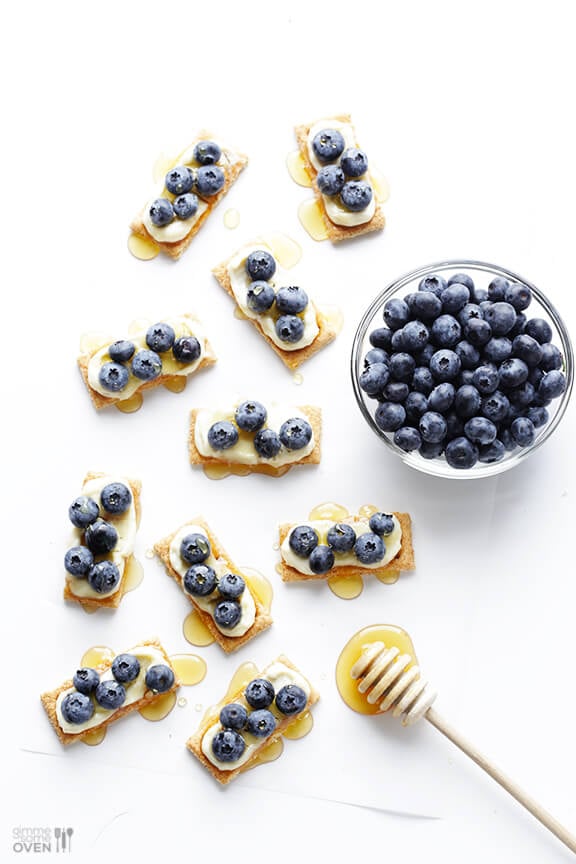 And admire how cute they are!!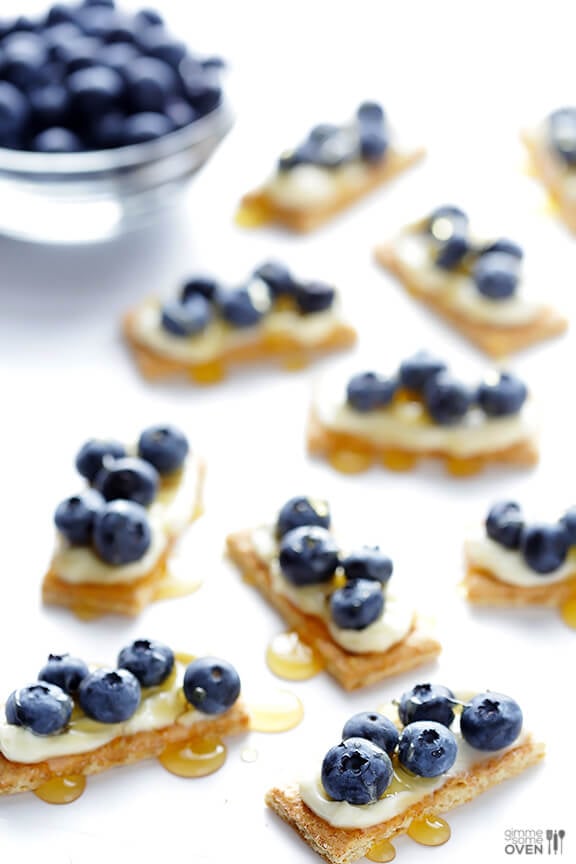 Or more importantly, take a bite.  :)
The mild cheese combines with the honey to taste just like cheesecake filling.  And then when paired with the graham cracker "crust" and blueberry "topping", I promise that they're guaranteed to satisfy that craving.  My kind of snack for sure.
Be sure to check out The Laughing Cow Facebook page for more ideas and recipes to help #reinventsnacking.  Enjoy!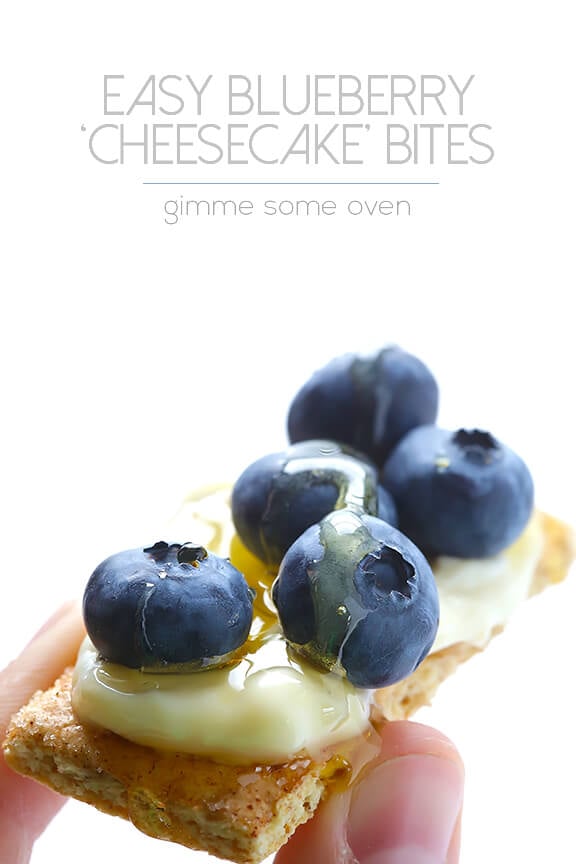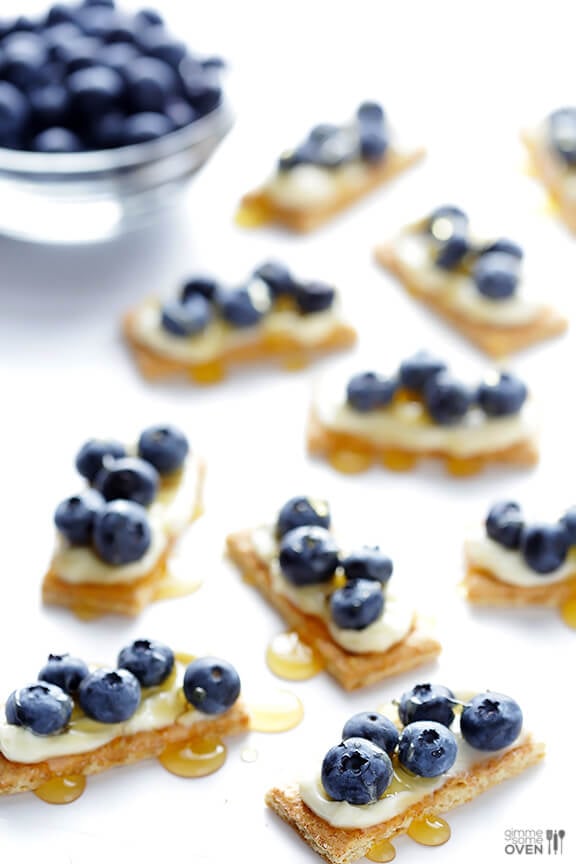 Easy Blueberry "Cheesecake" Bites
These Easy Blueberry "Cheesecake" Bites take less than a minute each to make, and are the perfect sweet snack or dessert.
Ingredients:
12 individual graham cracker pieces (or 3 large graham crackers)
4 wedges The Laughing Cow Creamy Original Swiss (or Creamy Light Swiss)
1 cup fresh blueberries
1/4 cup (4 tablespoons) honey or agave nectar
Directions:
Spread about 1/3 of a cheese wedge atop an individual graham cracker. Top with a few fresh blueberries, then drizzle with a teaspoon of honey. Enjoy immediately.
(The graham crackers will start to get a little soggy if they are not eaten within 10-15 minutes. So I recommend drizzling them with honey JUST before eating.)
All images and text ©
If you make this recipe, be sure to snap a photo and hashtag it #gimmesomeoven. I'd love to see what you cook!
Disclaimer: This is a sponsored post in partnership with The Laughing Cow.  I am brainstorming a few new snacking ideas to share with you this month and have been compensated for my time, but all opinions are 100% my own as always.  Thanks for supporting the brands that help make this site possible.