Green Margaritas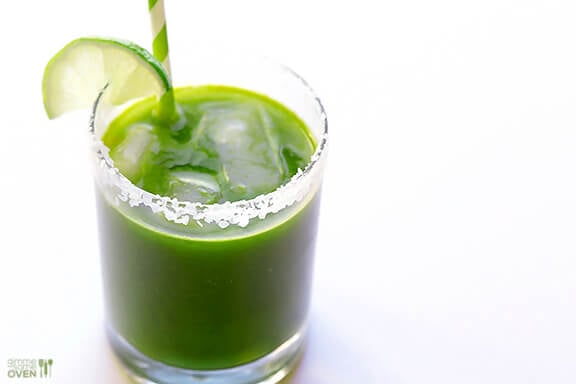 It's no secret that I love a good margarita.
Nor is it a secret how much I adore green juices and green smoothies.
So why on earth it took me until now to consider combining the two?!?  I have no earthly idea.  But green margaritas have now arrived in mi casa.  And they are absolutely, positively, oh-so-deliciously, super-food-ly, easy-to-make-ly, irresistibly here to stay.
So grab your juicer, your blender, your food processor — or heck, save a few minutes and pick up some green juice at the store — and come join me in toasting these green machines.  And get ready, because your happy hours will never be the same.  :)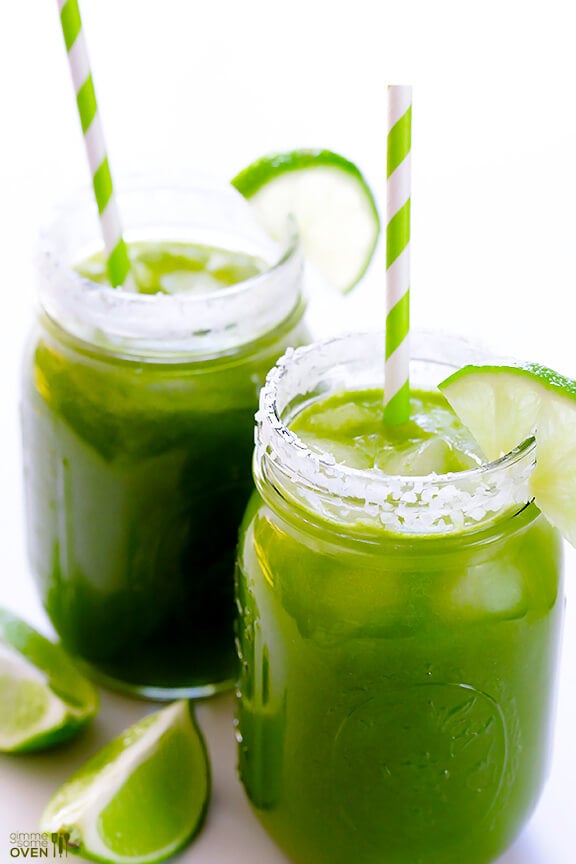 Ok, but before we dive into the recipe, I have been informed by friends and neighbors that I need to give a little explanation first about what this mysterious "green juice" is.  I thought the whole world knew about and loved this tasty trend.  But for those of you who have yet to try it, green juice is simply juice that has been made in some part with fresh greens (like spinach or kale) and/or green herbs (like parsley or cilantro) and/or green fruits and veggies (like celery or green apples or cucumbers).
Sometimes it can be tangy or taste like vegetables.  But most of the time, green juice tastes fresh and sweet like many other juices.
Spinach is by far and away the most popular ingredient to turn a juice "green", partly because it is nearly flavorless when added to juices and smoothies, and partly because it is so darn good for you.
Nowadays you can buy green juices pre-made at local juice shops or at the grocery store.  I'm a big fan of the Suja and Evolution Fresh green juices, but the widely-available "green machine" Naked Juice would also be fantastic in this green margaritas recipe.
Or…
…you can easily make them at home!!  I somehow scored and found a nice juicer at a garage sale years ago for $20, and have been using it to juice ever since.  But you can also easily make green juices using a blender or food processor — just puree the fruit, and then strain out the juice using a cheesecloth or fine-mesh strainer.
I have included a recipe below for a simple green juice.  But really, all you need are some juicy fruits and greens, and you're good to go!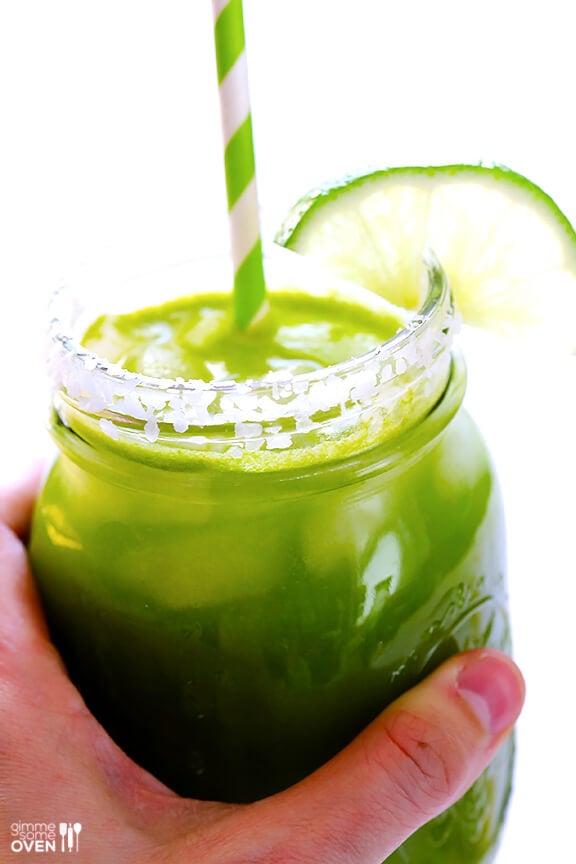 So to make this green juice margarita, just combine your favorite green juice with some fresh lime juice, tequila, orange liquor and maybe some extra simple syrup (if your green juice needs a little extra sweetening).  And literally in minutes, this fab green margarita will be ready to go.
I mean, let's be real, I had no doubt that this recipe would be a winner.  Green juice?  Yum.  A drink that's packed with tons of great nutrients and antioxidents?  You don't come across those everyday!  And a beautiful, vivid margarita that can be made in minutes?  It's pretty much guaranteed to be the talk of your happy hour.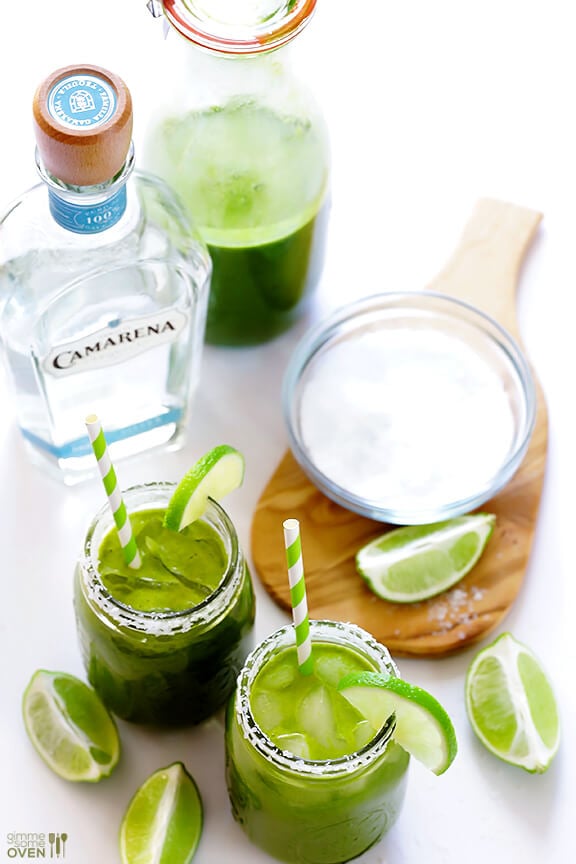 So grab some greens, and make one for yourself.  And if you do, be sure to Instagram it and tag me (@gimmesomeoven), because I want to see it.  :)
Cheers, friends!!!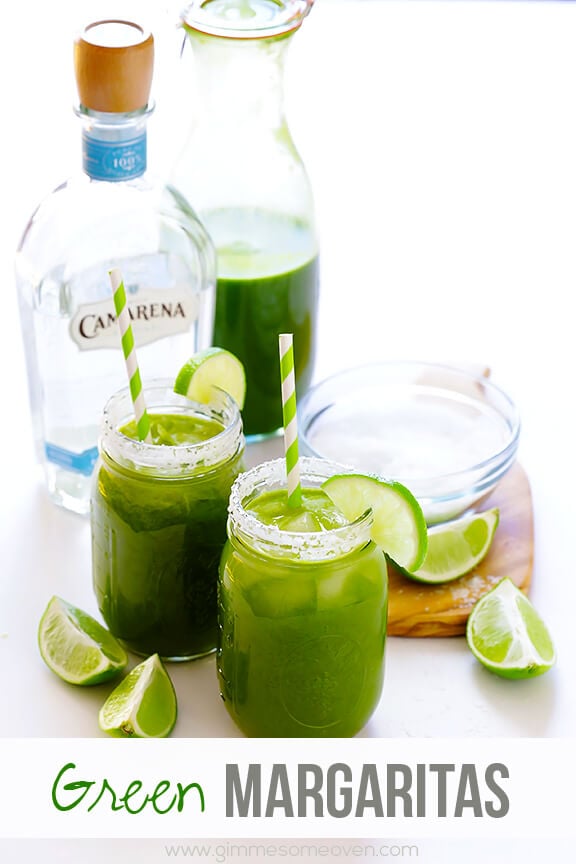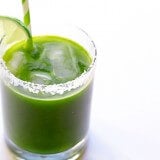 Green Margaritas
Green juice meets tequila in this delicious (and easy!) green juice margarita recipe!
Ingredients:
1 1/2 cups green juice, *homemade or **store-bought (see note/recipe below)
1/2 cup fresh lime juice
3/4 cup tequila
1/2 cup orange-flavored liqueur, such as Cointreau or Triple Sec
ice cubes
(optional: simply syrup to sweeten, if needed)
Directions:
Stir all ingredients together until blended. If you feel the margarita needs sweetening, add simple syrup to taste.
Serve over ice in sugar- or salt-rimmed glasses, garnished with lime wedges or slices if desired.
*Just about any homemade green juice will work for this recipe. I made mine in a juicer with 3 oranges, 2 green apples, 2 inches fresh ginger, 2 limes, and 6 handfuls of fresh spinach. You can also puree the fruit in a blender or food processor and strain it through a cheesecloth or fine-mesh strainer if you do not have a juicer.
**Any store-bought green juices will work for this recipe. I recommend going with a sweeter juice, but go with whatever you'd like.
All images and text ©
If you make this recipe, be sure to snap a photo and hashtag it #gimmesomeoven. I'd love to see what you cook!
Be sure to check out my other favorite margarita recipes!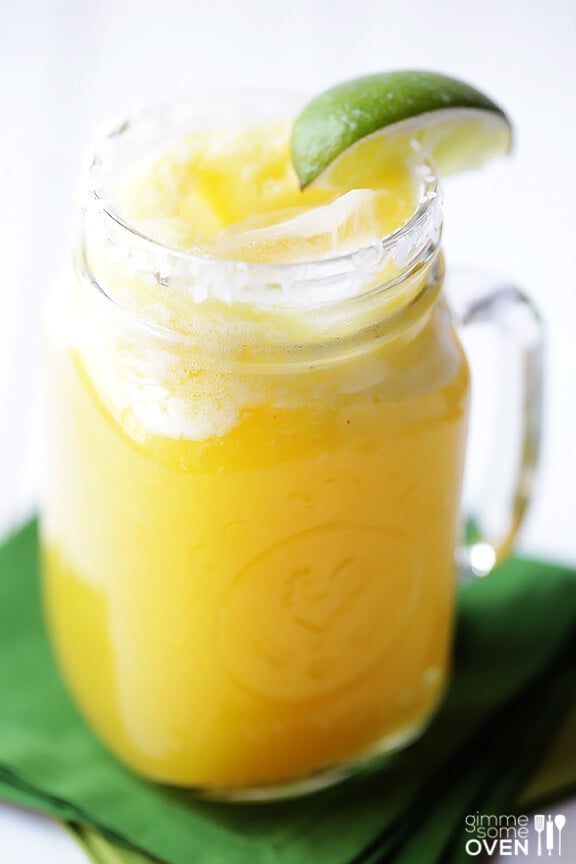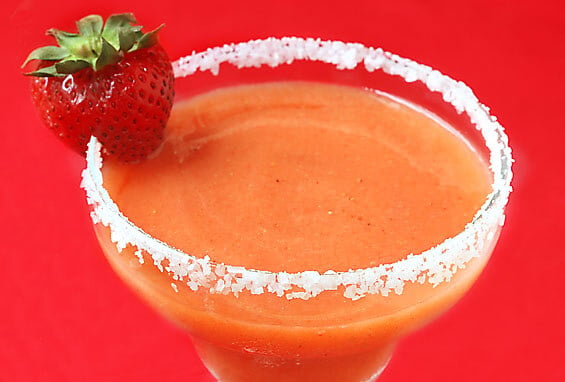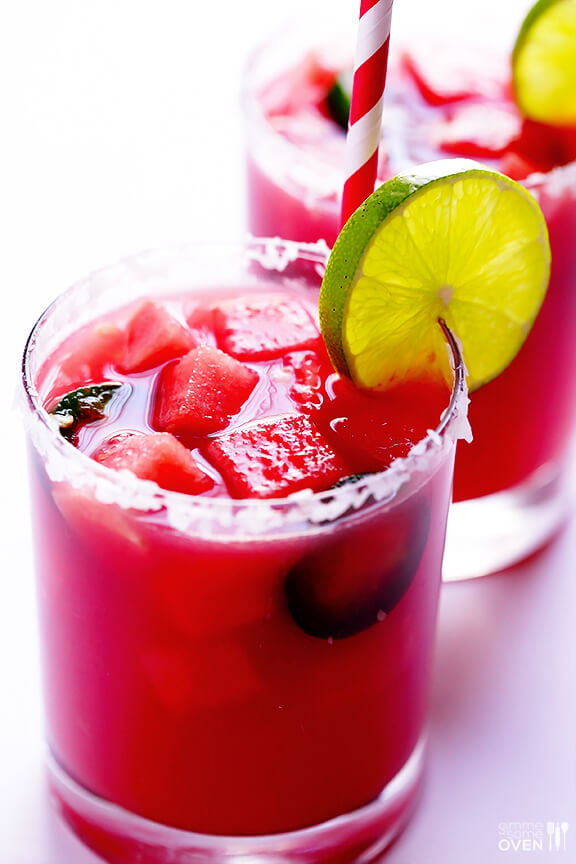 Jalapeno Watermelon Margaritas