Easy Sesame Shishito Peppers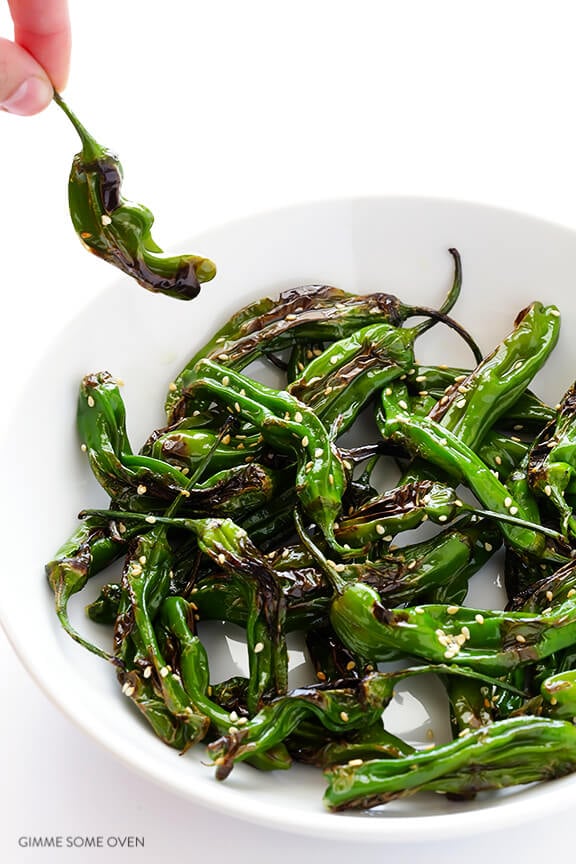 So, I'm curious, how do you all feel about eating out at a restaurant…alone?
And, no, dining on chips and salsa and a margarita at the airport's Chili's Too amongst tons of other solo travelers doesn't count.  (Not that, ahem, it's my tradition to make that happen every time I fly or anything.)  No, I'm talking about full-on just going to a regular restaurant on a regular Tuesday night, grabbing a seat at the bar or a table for one, and enjoying a meal on your own.
Awkward?  Empowering?  NBD?  No way, Jose?
I'd say that I probably answer "yes" to all of the above.  I've tried it dining out alone a handful of times.  And while occasionally I get lucky and end up sitting at a bar with cool people, or find myself getting totally lost in a good book or (ahem) playing on my phone, the vast majority of the time I would rather have a friend along to eat with…or just grab take-out and eat at home.  Some of my friends totally love it.  But meh, I've made my peace with the fact that there are plenty of other ways I'd like to spend my awkwardness or empowered-ness.  ;)
However.  While Kathryne was out of town for two days during our stay in Austin last month, I decided to bite the bullet and hit up some restaurants and venues that were left on our bucket list…solo.  I could have called up a few friends, but I had a random list of places to hit, so decided to just venture out on my own.  And while I'm in no hurry to do it again soon, I have to admit that it was surprisingly fun.  I definitely got lucky sitting down at a few places next to some really friendly, cool people, which was awesome.  And at the one restaurant where I was feeling super-introverted, I decided to whip out my book, which actually had the opposite effect and ended up sparking this long conversation about Donald Miller with the bartender and people around me.  The other fun perk of eating out on my own?
I ordered the most scrumptious bowl of shishito peppers…and didn't have to share.
All.  Mine.  :)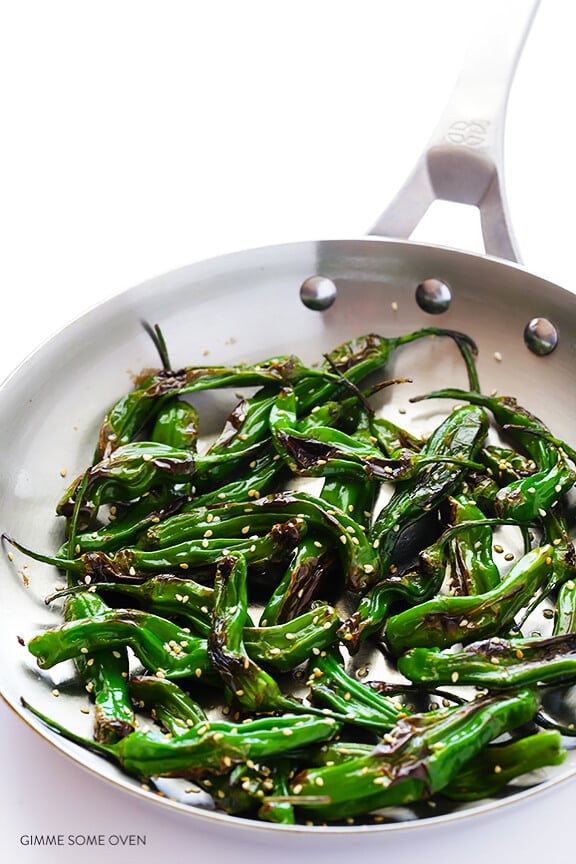 Actually, I ordered shishito peppers three different times while we were in Austin.  And I swear that they turn me into this guy:
("Ali doesn't share shishito peppers!!!")
Ok, ok, I work very hard to share when they are served.  But if were up to me, I would happily eat an entire batch anytime I'm around them.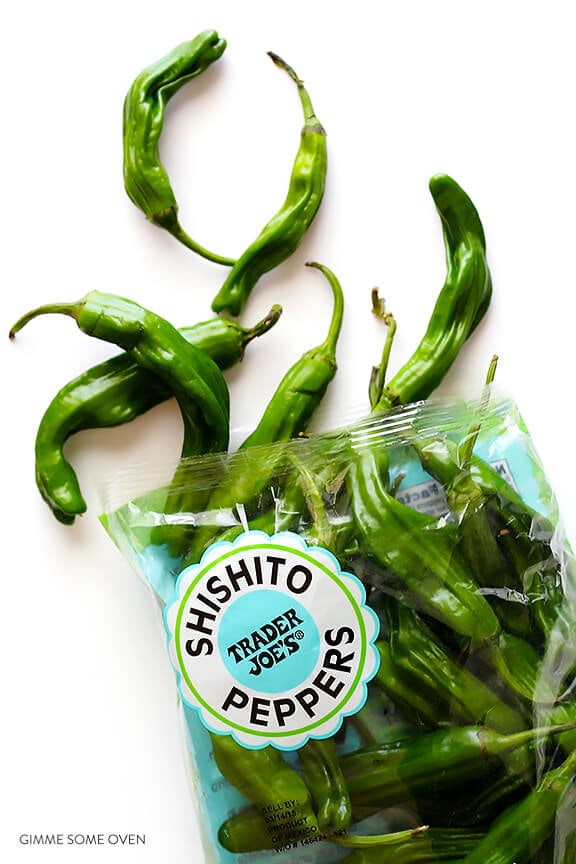 Well, of course, the good news is that I no longer have to go out (on my own) to make this happen, because guess what I spotted at Trader Joe's last week?  
Boom.  Shishito time.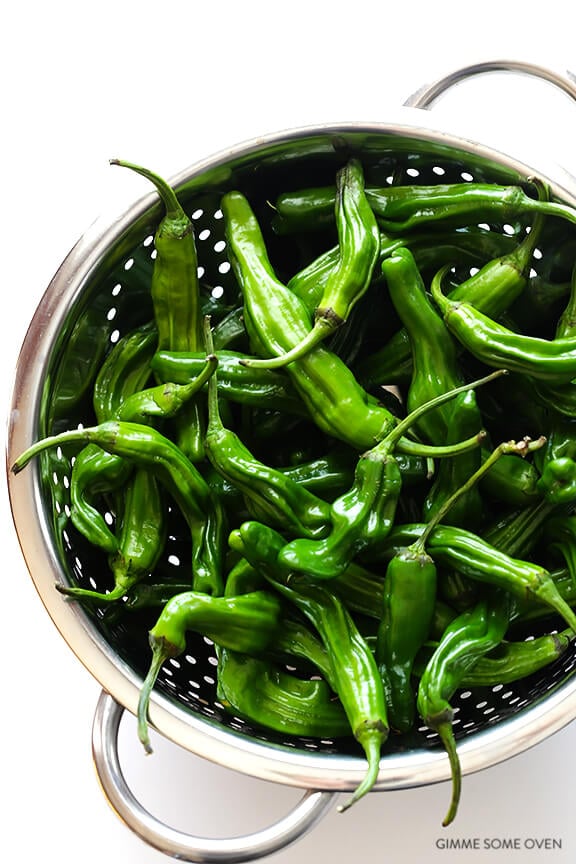 If you are new to the shishito pepper craze, don't freak out at their spicy-good-looks.  They are actually incredibly mild, sweet, thin little peppers.  And once they are blistered and charred, they turn into the most irresistible soft and smoky little treats.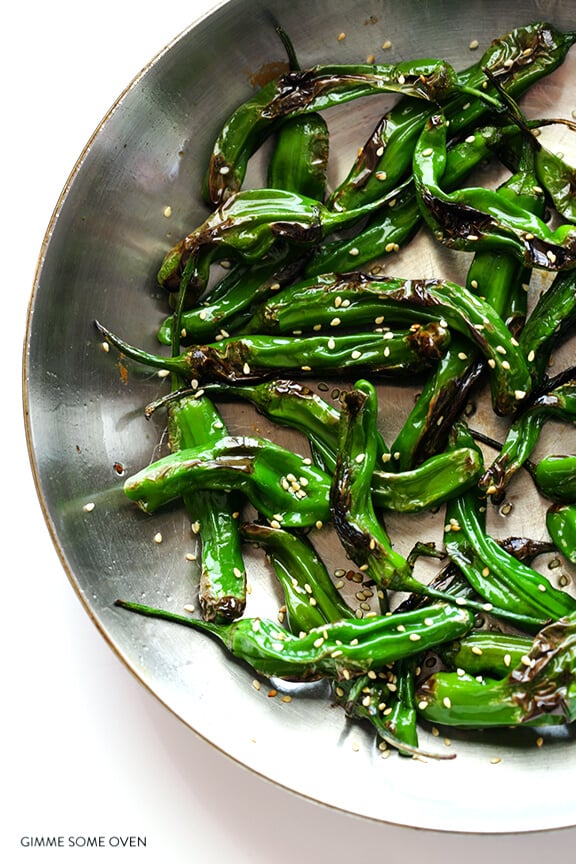 For my first batch, I decided to go the Asian route and toss them with some sesame oil, sesame seeds and a hint of salt and pepper for seasoning.  Super simple, but trust me, it's all you need.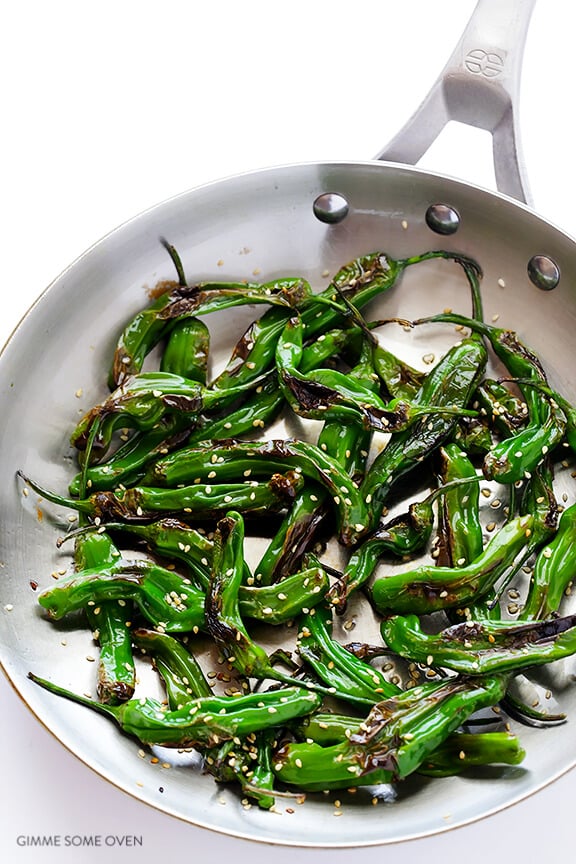 Just saute them in some high-heat-safe oil until they get nice and charred, seasoning them with salt and pepper along the way.  (Note: the peppers first turn a light shade of brown, then blacken the longer they sit directly on the heat, which is what you want.)  Then once they're done, toss them in the sesame oil, soy sauce, and sesame seeds.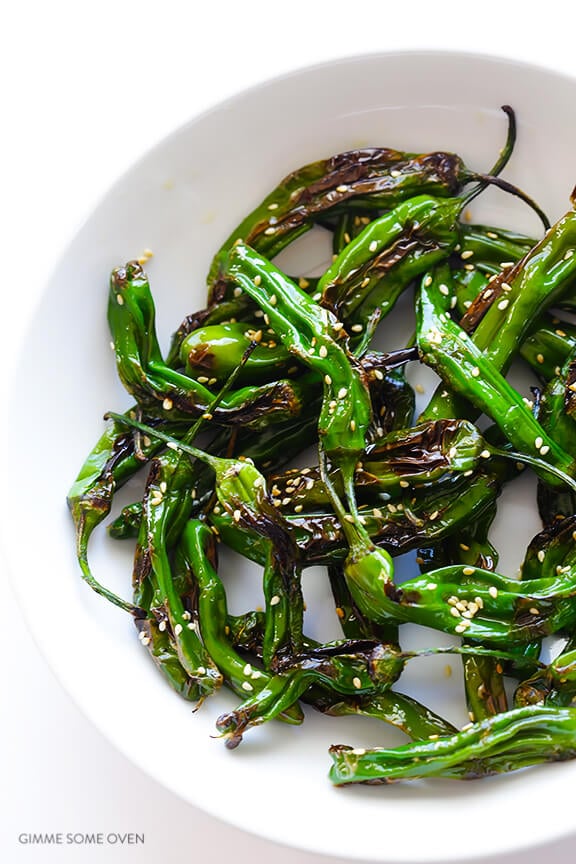 And literally in just about 5 minutes, these guys will be cooked and wilted and perfect for snacking.  Feel free to tinker with the seasonings if you'd like.  (And if you happen to have some fancy salts at home, this is a perfect time to use them!)
Just BE PREPARED.  You may very well want to eat the entire batch.  :)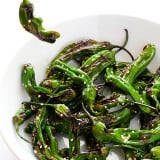 Easy Sesame Shishito Peppers
This Easy Sesame Shishito Peppers recipe is quick and easy to make, naturally vegan and gluten-free, and absolutely irresistible as an appetizer or snack.
Ingredients:
2 teaspoons canola or vegetable oil (*or any high-heat cooking oil)
6 ounces shishito peppers
sea salt and freshly-cracked black pepper
1/2 teaspoon toasted sesame oil
1/2 teaspoon soy sauce (or gluten-free tamari if making this recipe GF)
1/2 teaspoon toasted sesame seeds
Directions:
Heat a heavy-bottomed saute pan or cast iron pan over high heat for a few minutes until it is hot.  Add canola oil and shishito peppers and season with a generous pinch of salt and black pepper.  Immediately toss to combine.  Then saute for 3-4 minutes, tossing every 45 seconds or so, until the peppers are mostly charred (blistered) on all sides.  Remove from heat and transfer the peppers to a serving bowl.  Toss with sesame oil and soy sauce (or tamari) until the peppers are evenly coated, then sprinkle with sesame seeds.
Serve warm.
All images and text ©
If you make this recipe, be sure to snap a photo and hashtag it #gimmesomeoven. I'd love to see what you cook!