Easy Spinach Artichoke Quiche Cups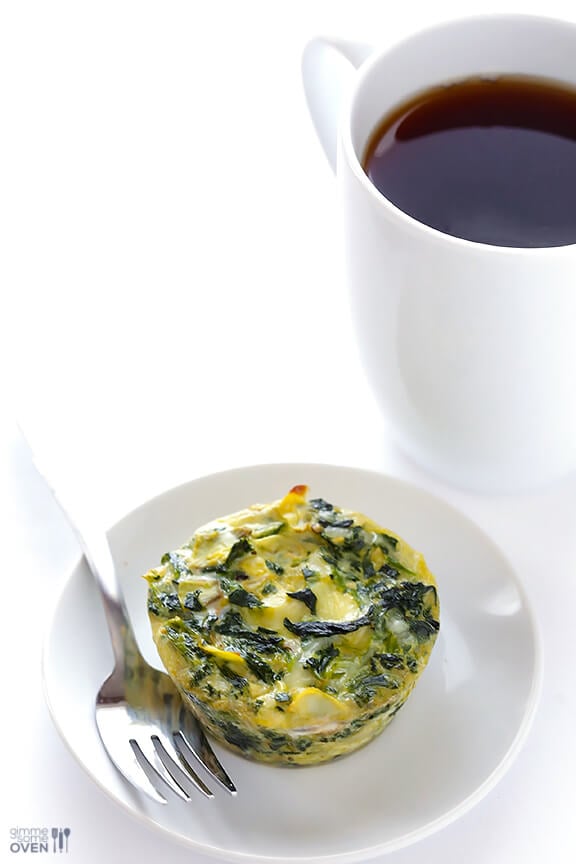 So…can we talk about Dancing With The Stars for a sec??
I have to admit that I've never really watched the show until this season.  But when my friend Meg was in town a few weeks ago, we randomly decided to do a girls' night in and spotted DJ Tanner (!!!) and Winnie from The Wonder Years on the preview and decided to tune in.  And DJ is now a conservative mom with 4 kids!  And Winnie writes girl-power books about math!  And Drew Carey is, like, genuinely cool.  And those Olympic ice dancers are so darn humble.  And Amy Purdy's story and dances leave me absolutely speechless each week.  And I kind of think that Carrie Ann Inaba is one of the coolest judges ever.
Oh.  And I basically cry every single week.
Seriously, why didn't anyone warn me that this show is such a tearjerker??  I swear, it's turning into my new Parenthood.
Anyway, since I'm rarely home in the evenings, this show has turned into my new Tuesday morning tradition on Hulu.  Which means that said star-crushing, and crying, and cheering, and — yes — much more kitchen dance partying is happening in my kitchen while I cook breakfast.  Which happened to be the case on the day that I made these adorable little spinach artichoke quiche cups.  (That also happen to be gluten-free!)
They were so good that I just might have done a little flying leap across the kitchen after my first taste.  ;)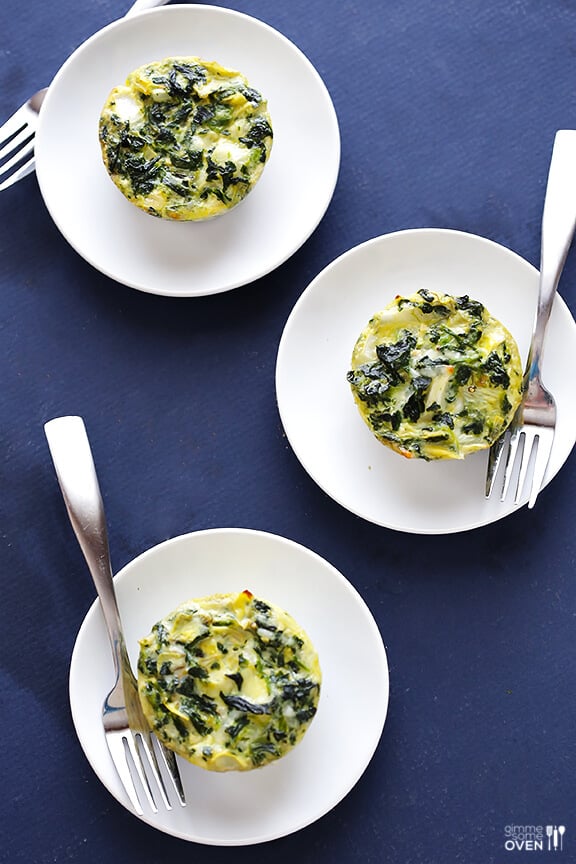 I mean, let's be real — it's kind of impossible not to love something spinach-artichoke-y.  It's like mac and cheese.  Peas and carrots.  Milk and cookies.
Spinach and artichokes are just kind of made for each other.  (Like, um, Merill and Maks in this week's episode of Dancing?  Hello, chemistry!!)
The good news about this spinach and artichoke quiche recipe, though, is that it literally just takes a few minutes to whip up.  No crust necessary.  And you can totally freeze these guys for future breakfasts on-the-go.  Here's the how to: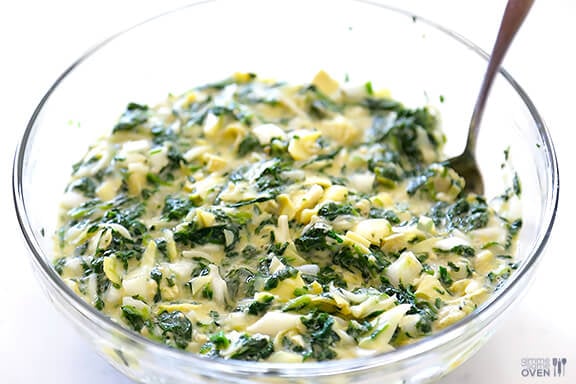 Actually, there's hardly anything to say for this step.  Stir everything together!!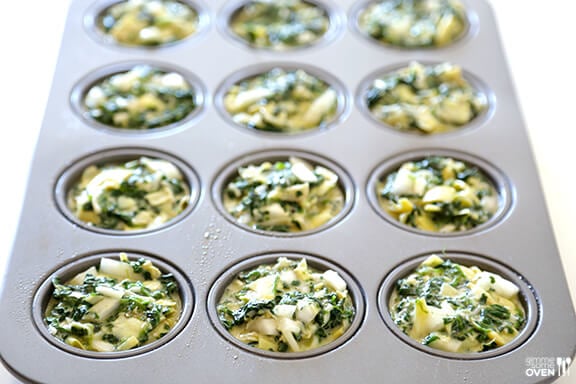 Then portion the mixture into 12 prepared baking cups.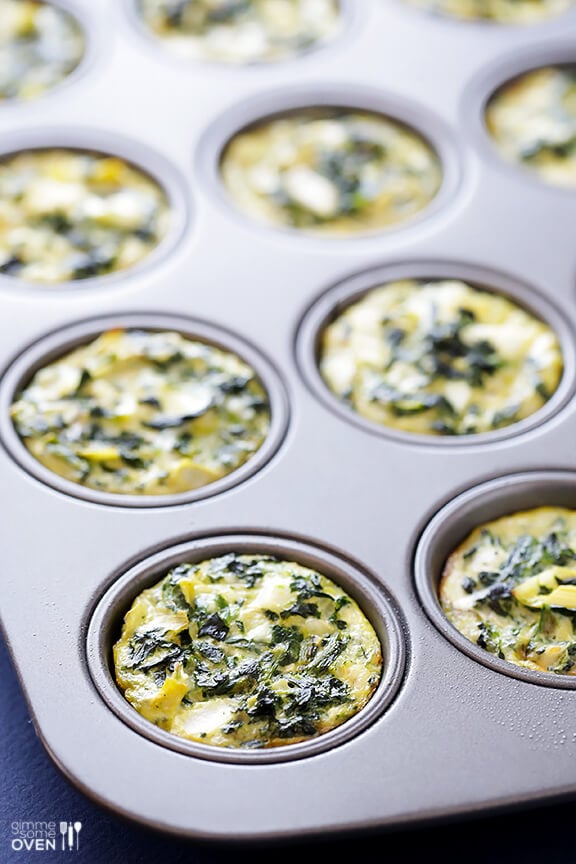 And bake em' up to quichy-tasty perfection.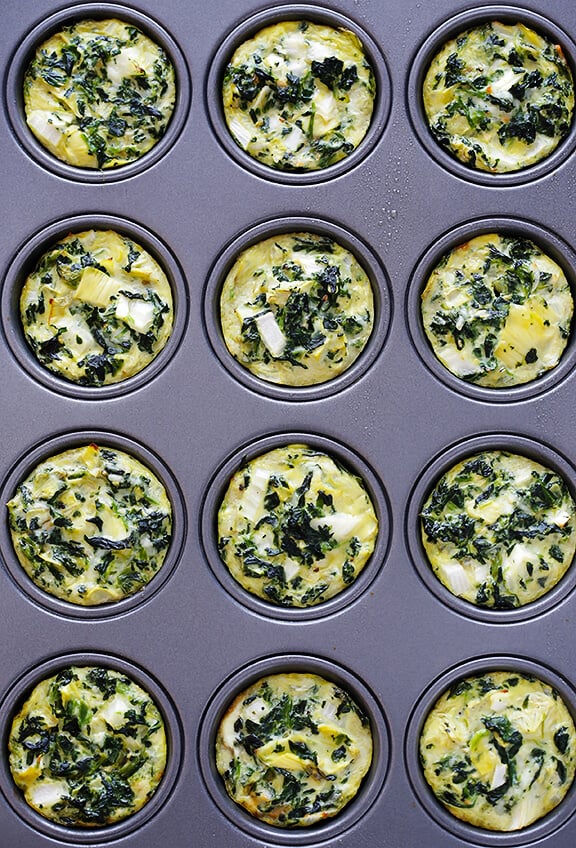 Unbelievably easy.  And unbelievably good.  Dive in!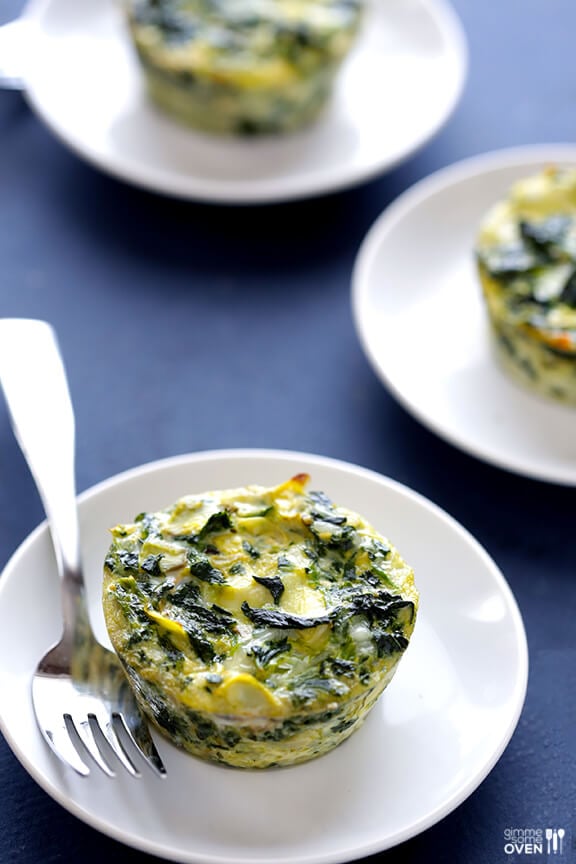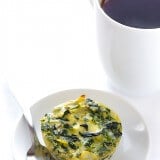 Easy Spinach Artichoke Quiche Cups
These delicious spinach artichoke quiche cups are easy to make and delicious to enjoy!
Ingredients:
1 (14.5-ounce) can artichoke hearts, drained and chopped
1 package frozen spinach, drained
5 eggs, whisked
3/4 cup shredded mozzarella cheese
2/3 cup milk (any kind)
1/2 cup chopped white onion
1/4 cup grated Parmesan cheese
2 cloves garlic, minced
1/4 teaspoon salt
1/4 teaspoon pepper
Directions:
Preheat oven to 350 degrees F. Prepare 12 baking cups by either spraying them liberally with cooking spray, or lining them with paper liners.
Stir all ingredients together in a large mixing bowl until combined. Portion the mixture into the 12 prepared baking cups so that they are all nearly full.
Bake for about 20 minutes, or until the eggs are set and a toothpick inserted in the middle of the quiche comes out clean. Serve immediately.
All images and text ©
If you make this recipe, be sure to snap a photo and hashtag it #gimmesomeoven. I'd love to see what you cook!