Fattoush Salad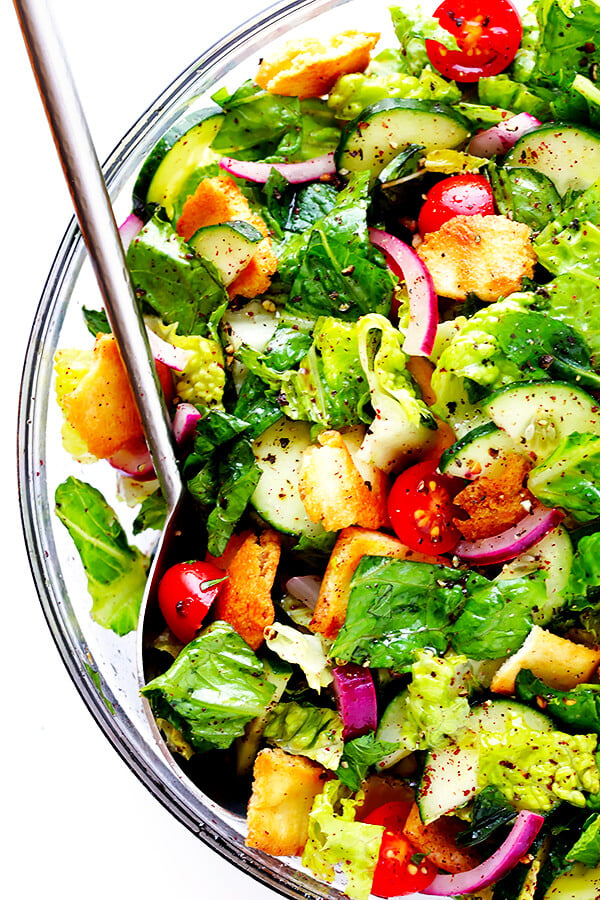 A few weeks ago, my friends Michelle and Rachel randomly texted on Thursday afternoon and said that they were in my neighborhood just a few blocks away, and wondered if I wanted to grab a spontaneous lunch together in like…5 minutes.  ;)
It was one of those days when I had a list a mile long to finish up, and I was in "go-mode" trying to check-check-check things off the list.  But, I happened to be free at that very second, and I also happened to be very hungry, and I also happened to be long-overdue for a good catch-up with these two.  So I closed up my laptop and hopped across the street to this little Mediterranean place to meet them…and I'm so happy I did.
Because I forget how much I love taking lunch breaks with friends!!!  I know that's what most of the world does each day with co-workers, and I totally used to be in that rhythm back when I had my office job.  But ever since I started been working from home, I've gotten in the habit of usually just grazing on a snack lunch while I'm working, and rarely stop to actually eat a meal at the table.  But, whenever I slip out with friends and enjoy a legit "break" over the lunch hour, I'm reminded of how nice it is to break up the workday that way.  Even if it's just catching up with friends for 45 minutes over falafel and kabobs and salad before we all hustle back to our jobs, those brief moments to connect are good and energizing for my little heart.
Anyway, the random highlight of my lunch that day was actually this killer fattoush salad that came as a side with my entree, which reminded me that it had been forever since I made my own fattoush salad recipe that I really love.  So the next day, I whipped up a big batch of it for lunch, and then saved some of the dressing and had it again for dinner.  And then I was still craving it later that week, so I decided to re-photograph it for the blog to have an excuse to make it yet again.
And I'm tellin' ya, this salad has a way of getting better and better every time.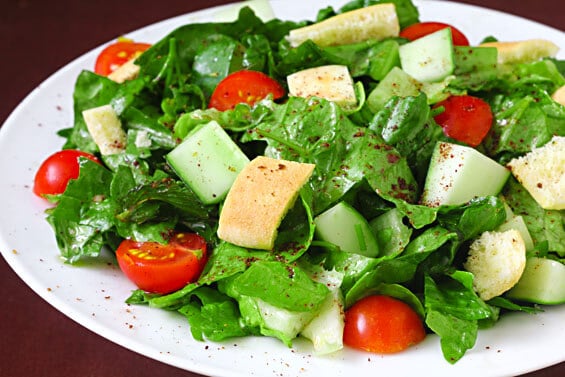 I actually first shared my fattoush salad recipe on the blog way back in 2010 (there's the photo above!).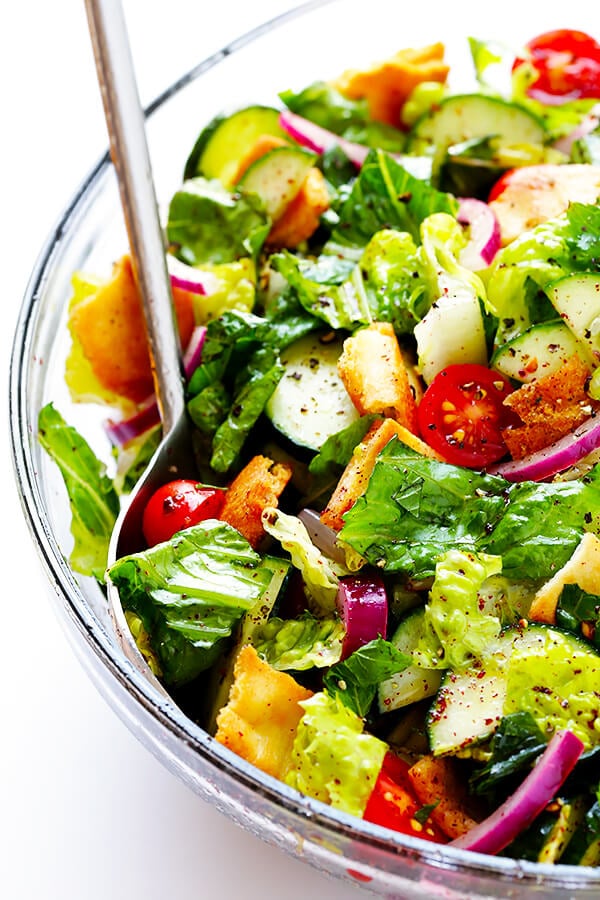 And today, it's still one of my all-time faves.  I mean — with tons of fresh greens, juicy tomatoes, crisp red onions, toasted pita bread, crunchy cucumbers, a zesty lemon dressing — who wouldn't love this classic salad?!
I'm also a big fan of it because it's quick and easy to make year-round.  Just toss all of your ingredients in a bowl…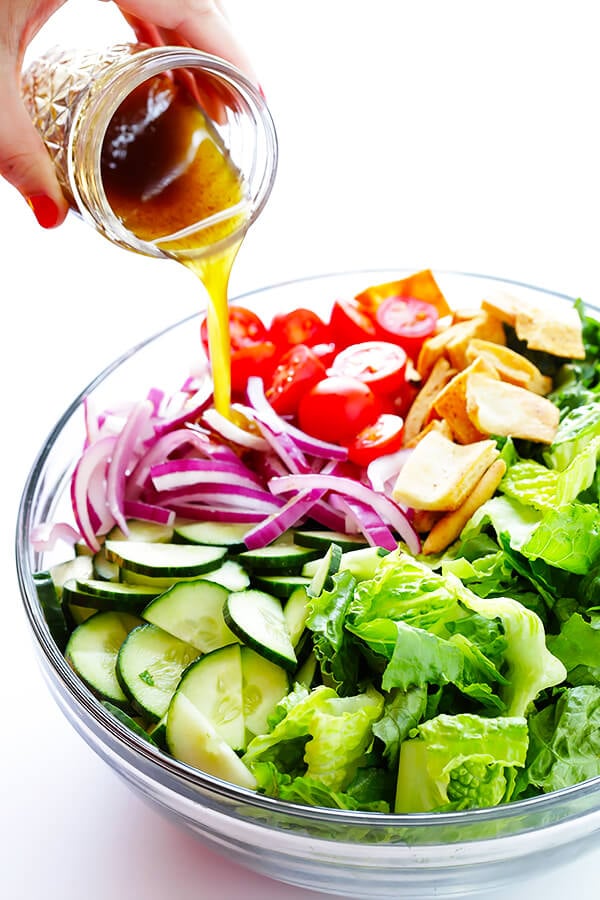 …whip up that classic lemon dressing (with sumac, which you may need to add to your grocery list if you don't already have it!)…
…give it all a good toss…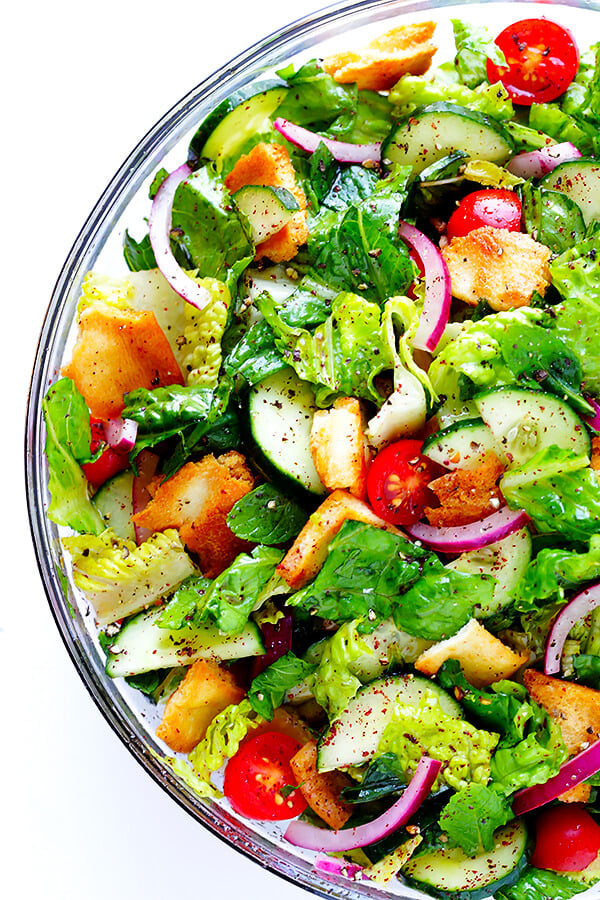 …and in less than 20 minutes, this gorgeous fresh salad will be yours to enjoy.
Feel free to toast up your own pita to make those crispy pita chips, or save a step and buy them store-bought.  I also like tossing in some sliced radishes and feta to kick up the flavor, but the classic version below is plenty delicious on its own.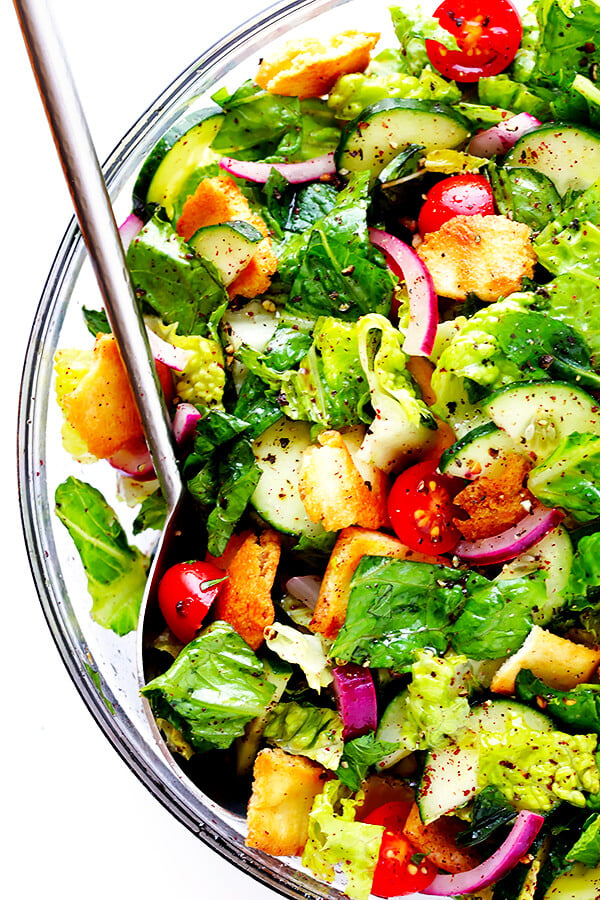 So cheers to good salads, and good people to enjoy them with (especially on a lunch break).  ;)
Fattoush Salad
This Lebanese Fattoush Salad recipe is a delicious combination of fresh veggies, a bright citrus dressing, flavorful herbs and toasted pita bread.
Ingredients:
Fattoush Salad Ingredients:
1 head Romaine lettuce, chopped into bite-sized pieces
1 English cucumber, thinly-sliced
half a small red onion, peeled and thinly-sliced
2 cups pita chips, homemade or store-bought
1 cup cherry or grape tomatoes, diced
1/2 cup coarsely-chopped fresh mint leaves
1/2 cup coarsely-chopped fresh flat-leaf parsley (leaves only, no stems)
1 batch lemon dressing (see below)
toppings: ground sumac and freshly-ground black pepper
Lemon Dressing Ingredients:
1/3 cup extra-virgin olive oil
3 tablespoons freshly-squeezed lemon juice, or more to taste
1 clove garlic, peeled and minced (or pressed)
1 teaspoon sea salt
1 teaspoon ground sumac
(optional: 2-3 teaspoons honey, if you'd like a sweeter dressing)
Directions:
To Make The Fattoush Salad:
Add the lettuce, cucumber, pita chips, tomatoes, mint, parsley and green onions together in a large bowl.  Drizzle with the lemon dressing, and toss until evenly combined.
Serve immediately, garnished with an extra sprinkle of ground sumac and some freshly-ground black pepper.
To Make The Lemon Dressing:
Whisk all ingredients together until combined.  (Whisk in the honey, to taste, if you'd like a sweeter dressing.)
Recipe updated August 2016.

All images and text ©

If you make this recipe, be sure to snap a photo and hashtag it #gimmesomeoven. I'd love to see what you cook!