French Toast Cups
This post is brought to you in part by West Elm and their Front + Main blog, where I am also guest-posting today.  Be sure to pop over and check it out!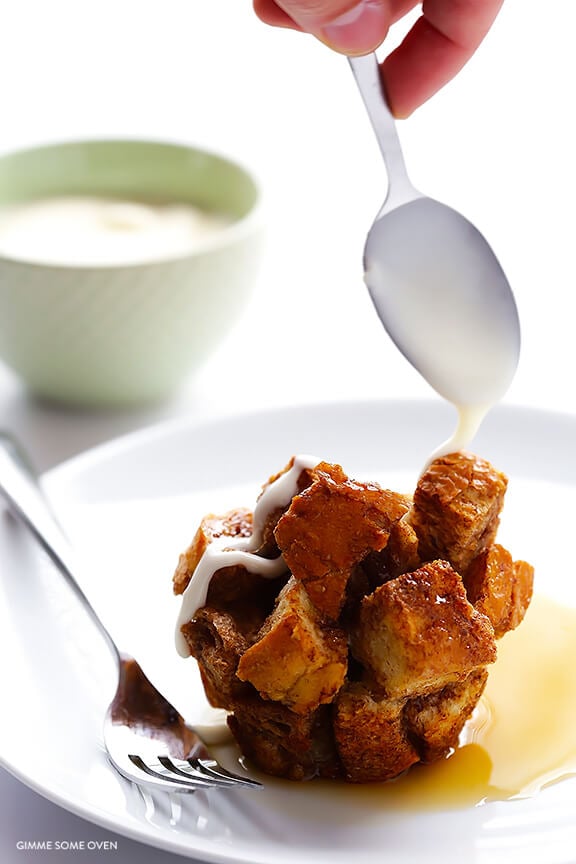 Saturdays were made to be brunch days.
I mean, if you ask me, it doesn't get much better than sleeping in nice and late in the weekend sunshine.  Then padding to the kitchen in your pjs and slippers to make a slow batch of pour-over coffee.  Maybe turning on some relaxing weekend tunes.  Then pulling out all of your pots and pans, and leisurely whipping up a feast of all your favorite breakfast comfort foods.  Mmmm.
Well, actually there's one thing that could make this picture even better: inviting a bunch of your closest friends to gather around the table and share in it all together.
Oh, and one more thing: serving them adorable little French toast cups, drizzled with an epic whiskey cream cheese glaze.
Now that's my kind of Saturday.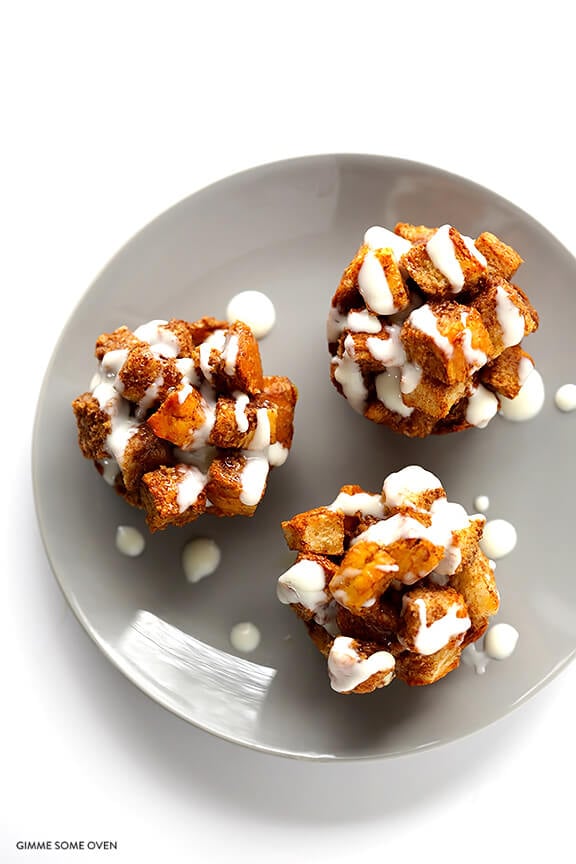 And on the last Saturday morning of January, we had just such a brunch at my place.
It was the day before I packed up and drove to spend the month in Austin, and I was feeling all choked up about saying good-bye to my friends for the month.  So for one final Kansas City hurrah before leaving, I invited my Wednesday night small group from Jacob's Well to come over for brunch, along with Kathryne who was coming to Texas, and my neighbor Cate who offered to come by and snap some photos.
More often than not, my friends tend to like to go out to local restaurants or coffee shops on Saturday mornings.  But I decided to wake up early and cook up some of my favorite foods so that we could enjoy a nice and relaxing morning in.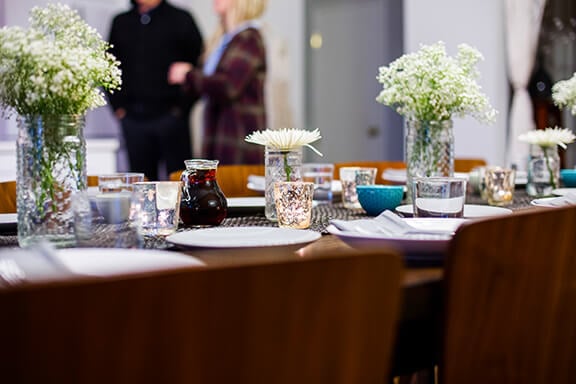 And since West Elm offered to partner with me on a post celebrating Saturdays (with their new Kate Spade Saturday collection), I even woke up early and set the table.  A pretty start to the weekend.  :)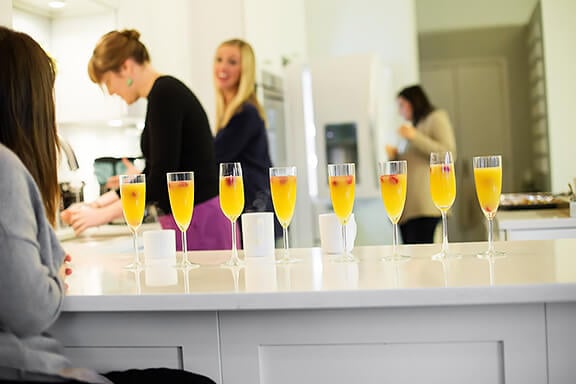 Friends slowly started showing up, and together we made some mimosas to pass around, along with lots of coffee.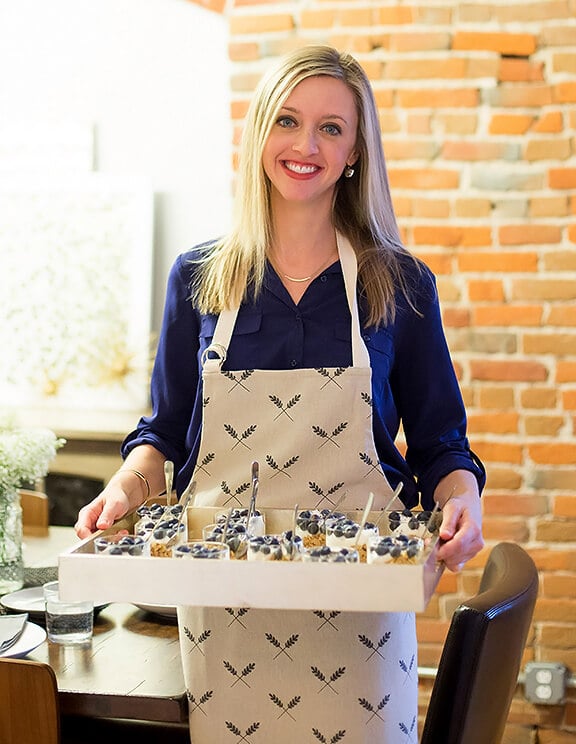 I made a bunch of my favorite mini breakfast parfaits, with granola, Greek yogurt, blueberries, honey and chia seeds to start things off.  Along with some roasted hashbrowns and veggies.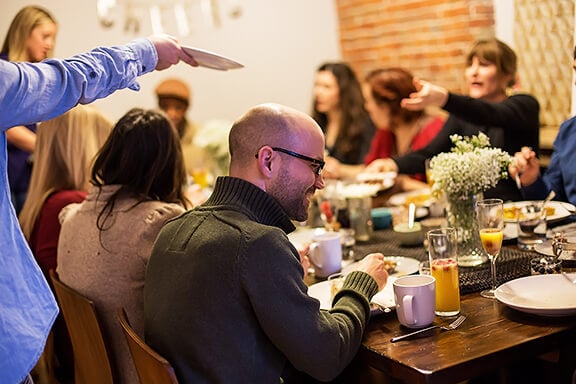 And sure enough, once the food started coming out, everyone found their way to the table.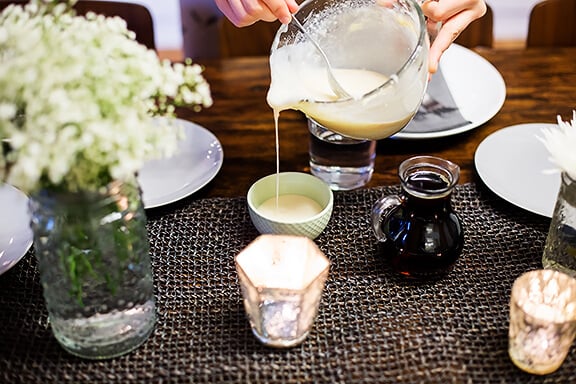 I realized at the last second that I forgot to make a topping for the French toast cups, so I whisked together a quick cream cheese glaze.  And then made an impromptu decision to kick it up with some whiskey.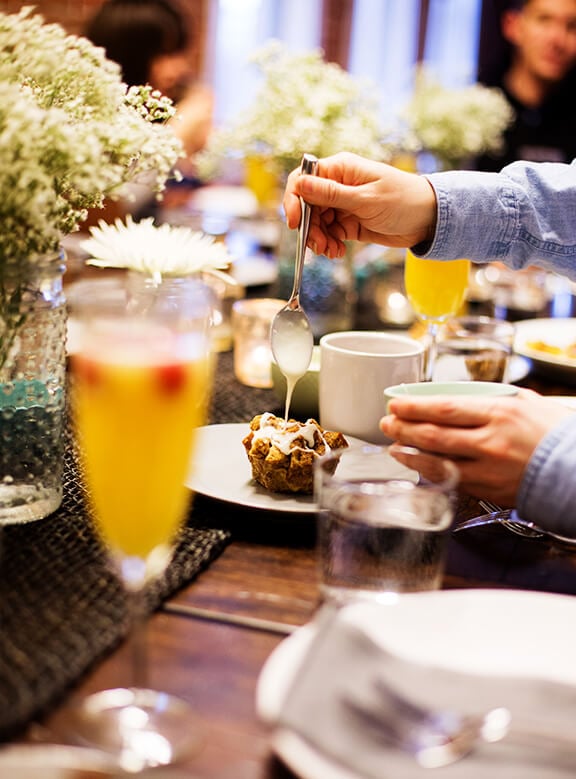 Needless to say, it was very popular.  :)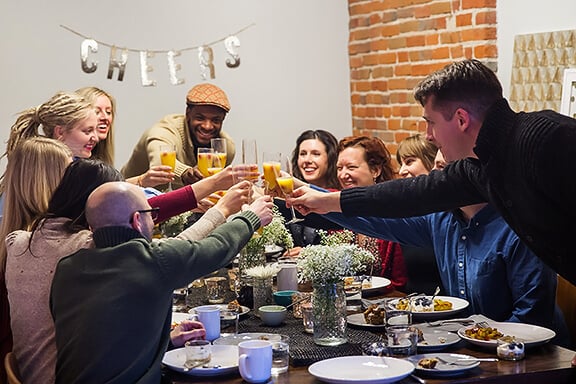 But as good as those little French toast cups ended up being, nothing beat the feeling of having so many people I loved all gathered around for a final meal in Kansas City.  These friends are my people, and for the 1000th time, I felt beyond lucky and grateful to have them in my life.  And now that our whirlwind month in Austin has past, I'm grateful for the 1001st time to be back with them.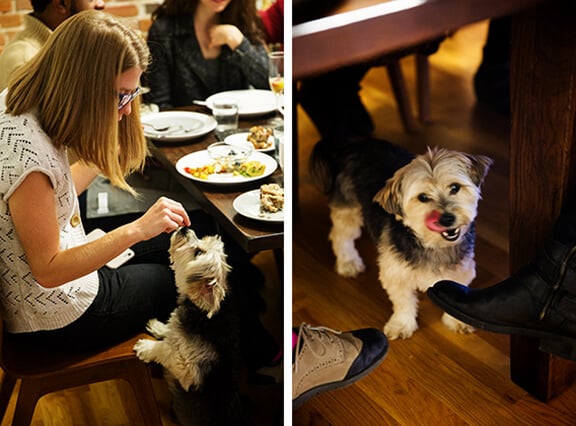 Henry asked me to mention that he loves them too.  Especially when they feed him French toast cups.  :)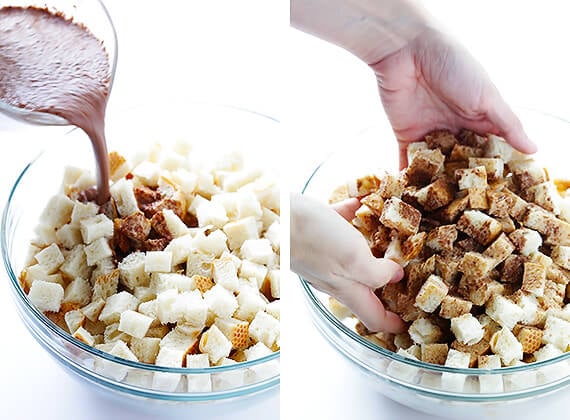 Speaking of, let's talk about how to make these delicious little pieces of work!
They're basically all of the goodness of French toast, but chopped into small pieces and baked up in muffin cups.  The single serving size makes them perfect for serving to a crowd of people…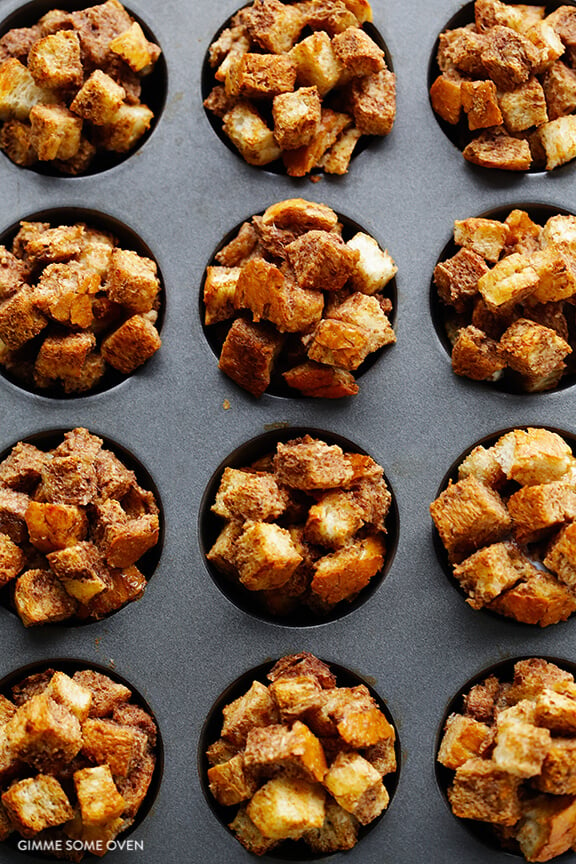 …which my people completely supported.  :)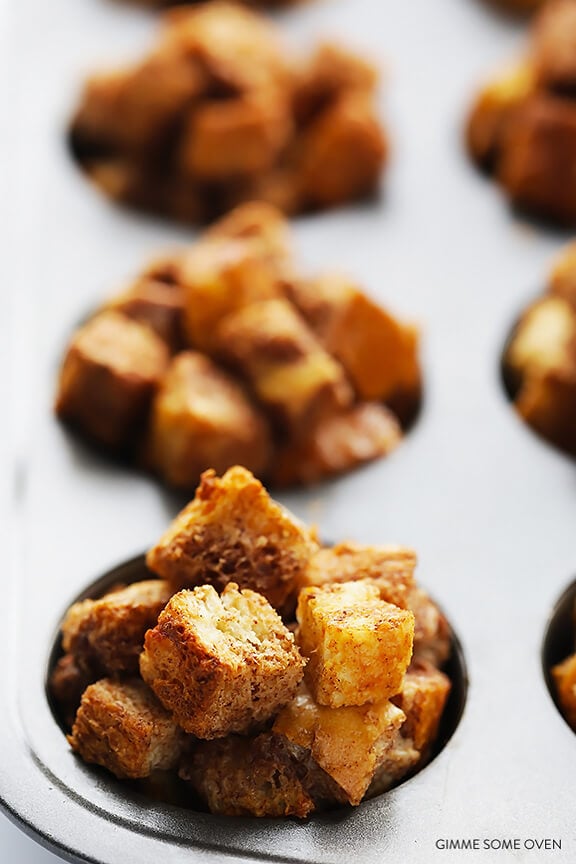 These French Toast Cups came out of the oven nice and crispy on top, with soft and chewy centers buried in there.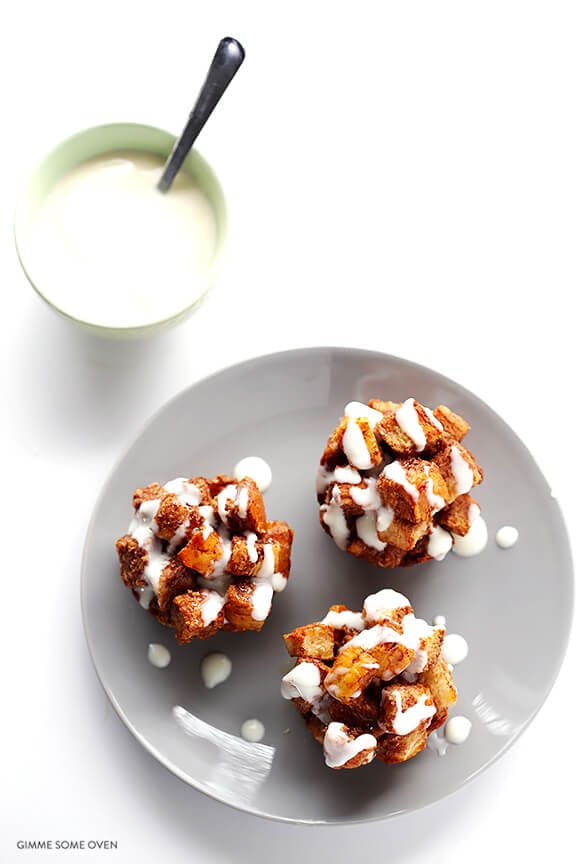 Then everyone had the option of topping them with the whiskey cream cheese glaze or maple syrup…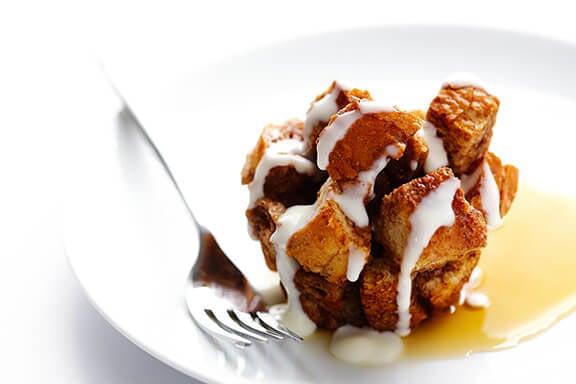 …or both.  (I highly recommend both.)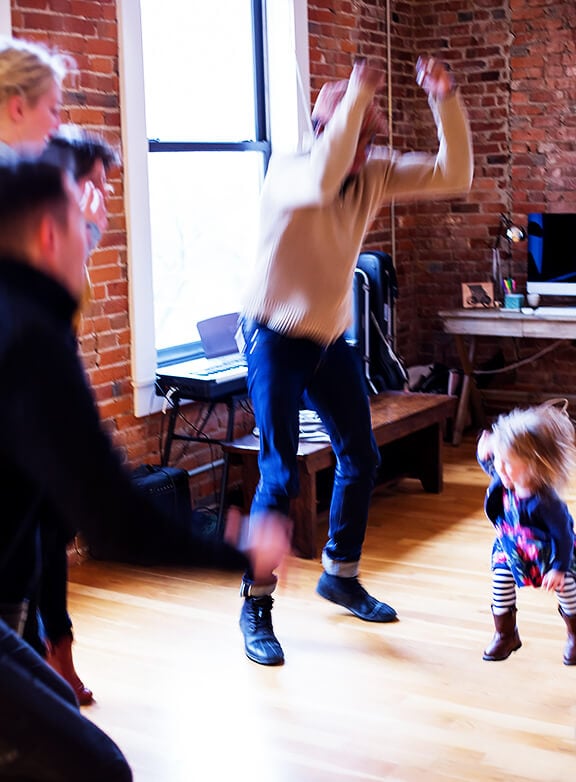 Just look out.  They're so good they just might make you want to have a mini dance party and high-jumping contest with your favorite 2-year-old friend.  :)
Big thanks to West Elm, who loves celebrating Saturdays as much as I do, and for sponsoring some of the dinnerware and products for this brunch, and for launching a gorgeous new collection in their stores, in partnership with Kate Spade Saturday.  (You've got to check it out — so fun!!)  You can read more about this recipe and my thoughts on Saturdays on their Front + Main blog.  Big thanks to my neighbor, Cate, as well for snapping some photos.  And as always, big thanks to all of you for supporting the brands that help make this site possible.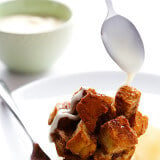 French Toast Cups
These French Toast Cups are quick and easy to make, they come in single servings, and they are topped with a heavenly whiskey cream cheese glaze.
Ingredients:
French Toast Cups Ingredients:
6 large eggs, whisked
1 1/2 cups milk
1/4 cup light brown sugar, packed
1 tablespoons vanilla extract
1 tablespoon ground cinnamon
1/2 teaspoon salt
15 cups of 1/2-inch bread cubes*
for serving: whiskey cream cheese glaze (see below) and maple syrup
Whiskey Cream Cheese Glaze Ingredients
4 ounces cream cheese, softened
3/4 cup powdered sugar
2 tablespoons whiskey (or you can substitute milk if you'd rather nix the whiskey)
1/2 teaspoon vanilla extract
2-3 tablespoons milk
Directions:
To Make The French Toast Cups:
Preheat oven to 350 degrees F.
In a large mixing bowl, whisk together eggs, milk, brown sugar, vanilla, cinnamon and salt until combined and smooth. Add in the bread cubes, and toss until they are evenly coated with the egg mixture. Cover the bowl with plastic wrap and refrigerate for 10 minutes. Remove the bowl and toss the bread cubes once more with the egg mixture, and refrigerate for 10-30 more minutes.
Grease a 12-cup muffin pan with cooking spray, or line each cup with paper liners. When the French toast mixture is ready, portion it evenly into the 12 muffin cups, pressing down on each one a bit as needed so that it will fit into the cup.
Bake for 25-30 minutes, or until the tops are crispy and golden. Remove and let cool for 5 minutes. Then serve warm, drizzled with syrup and/or the whiskey cream cheese glaze.
To Make The Whiskey Cream Cheese Glaze:
Whisk cream cheese, powdered sugar, whiskey and vanilla together until smooth. Add in milk to thin out the glaze, one tablespoon at a time, until it reaches your desired consistency.
*I recommend using a brioche, challah or sourdough bread for this recipe. I just cut mine into small cubes with a bread knife.
All images and text ©
If you make this recipe, be sure to snap a photo and hashtag it #gimmesomeoven. I'd love to see what you cook!