Ginger Beer Mojito
Before I moved into my loft, I owned a cute little bungalow for four years.  It was located in a cute little neighborhood, had a cute little front porch, a cute back deck, a cute (and tiny) little kitchen, and a not-so-cute garden.
By about this time each summer in mid-June, it had usually turned into a jungle.  I was NOT a good gardener.
You see, I was really good about dreaming of the idea of a garden (and being one of those cool gardening types).  And I was really good about shopping for plants for my garden.  And I was even pretty good at devoting a long Saturday each Spring to prepping and planting my garden.  But what's that they say about the best laid plans….?
Suffice it to say that a bad memory for watering combined with a squealing fear of bugs combined with weeds that somehow produced a raging case of poison ivy each year like clockwork didn't fare well for my dreams of garden-to-table entertaining.  Actually, I was amazed at how much produce I still harvested despite my worst efforts.  But after my fourth year of wishful gardening, I decided that I would be much happier as a cheerleader and supporter of other gardeners.
So I moved downtown to a loft literally across the street from the largest farmers market in Kansas City.  And started supporting what I think is basically the coolest local CSA ever.  And I ooooh and ahhhh over my friends' beautiful gardens and gladly take home any surplus produce they have to offer.  And it's basically awesome.
So a few weeks ago on a weekend when I picked up fresh mint from the market, and then it also arrived in my CSA, and then a friend also coincidentally brought by a little mint bouquet, I thought it only appropriate to make some fresh mint mojitos with my favorite ginger beer to celebrate this abundance that I most happily did not have to grow myself this year.  :)
But back up, you say.  Ginger beer?  In mojitos?
Heck to the yes, I say.
I have been adding ginger beer to mocktails and cocktails ever since I became super hooked on it a few years ago.  And it is seriously the best mixer!!  It's already sweetened, it has the nice spicy kick of the ginger (10x better than gingerale), and it is nice and fizzy and perfect for cool summer drinks like mojitos.
After much ginger beer taste testing over the years, I still hold that this guy right here is my favorite — Bundaberg.
When we're lucky, it occasionally shows up at Costco here in Kansas City.  But otherwise, seems to be available year-round at World Market and a few other stores.  Or you can even fork over extra for shipping and order it online.  But if you're new to the ginger beer scene or looking for a good one, you must give this one a try.
Sure, you can use any ginger beer for this recipe.  But I guarantee your mojitos will be all the tastier if you find this one.  (And how cute is that bottle?!?)
Other than the ginger beer, all you need are 3 other simple ingredients:
fresh lime juice
fresh mint leaves (I prefer peppermint, but spearmint or most other fresh mints will also work)
rum (I prefer light for looks, but you can use any, or nix the rum all together)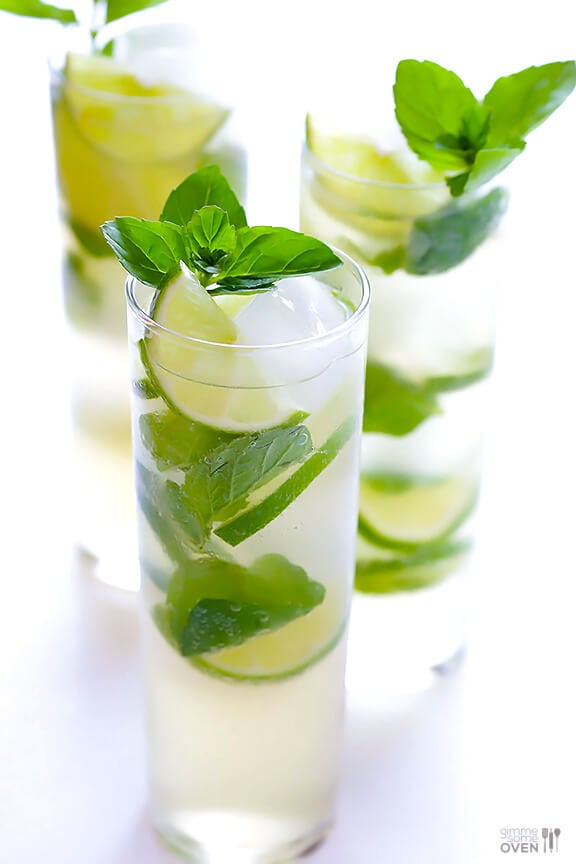 Just muddle the mint in with the lime juice.  Then add in some ice cubes, rum and ginger beer.  Then top it off with some extra mint and lime slices for garnish if you'd like.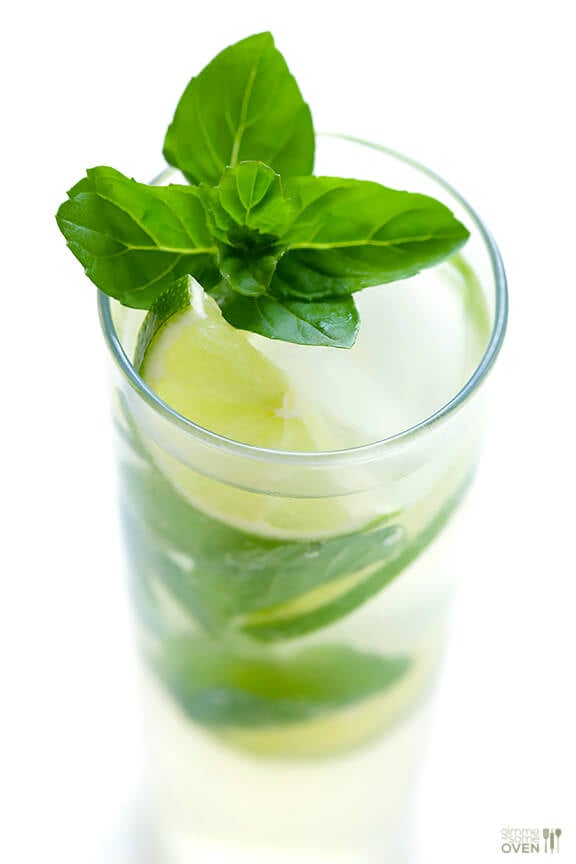 This drink literally takes about a minute to make, which is good, because you likely will want to make more than one.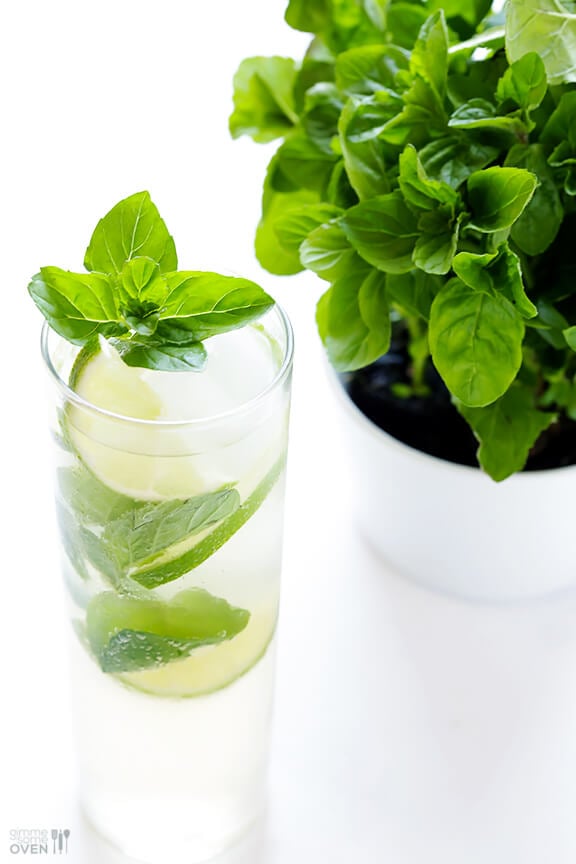 It's also the perfect party drink, and easy to customize for those who want it more minty (just muddle more mint), sweet (more ginger beer), tart (more lime), or boozy (more rum).  OR, for those who don't drink alcohol, this recipe actually makes a really yummy mocktail without the rum.
Bottom line, I'm pretty sure you'll love it.  And if you happen to be one of those gardeners who has a mega surplus of summer mint, or a non-gardening friend or shopper who wants to support those who do, this is a delicious way to put a lot of fresh mint to use.
Hope you enjoy!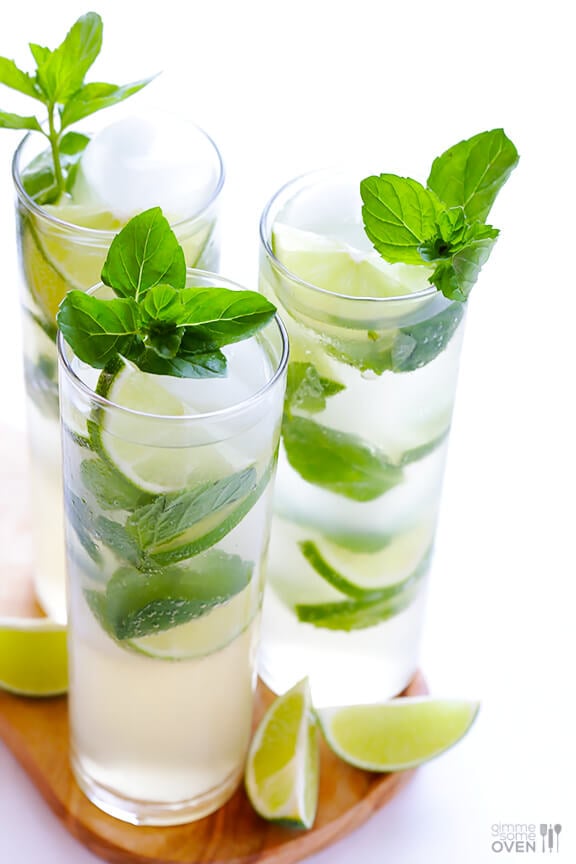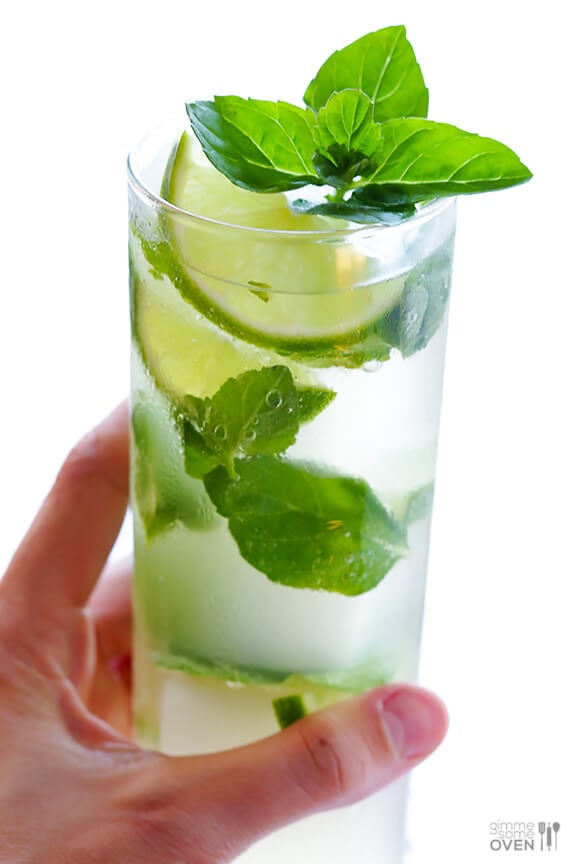 Ginger Beer Mojito
Ginger beer meets mint and lime and rum in this simple Ginger Beer Mojito.
Ingredients:
10 mint leaves
2 ounces fresh lime juice
ice
1.5 ounces light rum (optional if you want to turn this into a mocktail)
4 ounces ginger beer
garnishes: fresh lime wedges or slices, fresh mint sprigs
Directions:
Muddle the mint together with the lime juice in a glass. Add a few large ice cubes, then pour in the rum and ginger beer. Finish the drink with additional garnishes, if desired.
(*I strained out the mint leaves that I used to muddle with the lime juice after the first step. Then added in a few extra fresh mint leaves along with the lime wedges as a garnish. Just a personal preference, but you can totally leave the original mint leaves in the drink if you'd like.)
All images and text ©
If you make this recipe, be sure to snap a photo and hashtag it #gimmesomeoven. I'd love to see what you cook!