Ginger Carrot Dressing
This Ginger Carrot Dressing recipe is inspired by the Japanese restaurant classic we all love.  Plus, it's quick and easy to make, full of the best sweet and savory flavors, naturally gluten-free, and SO delicious!  (This post contains affiliate links.)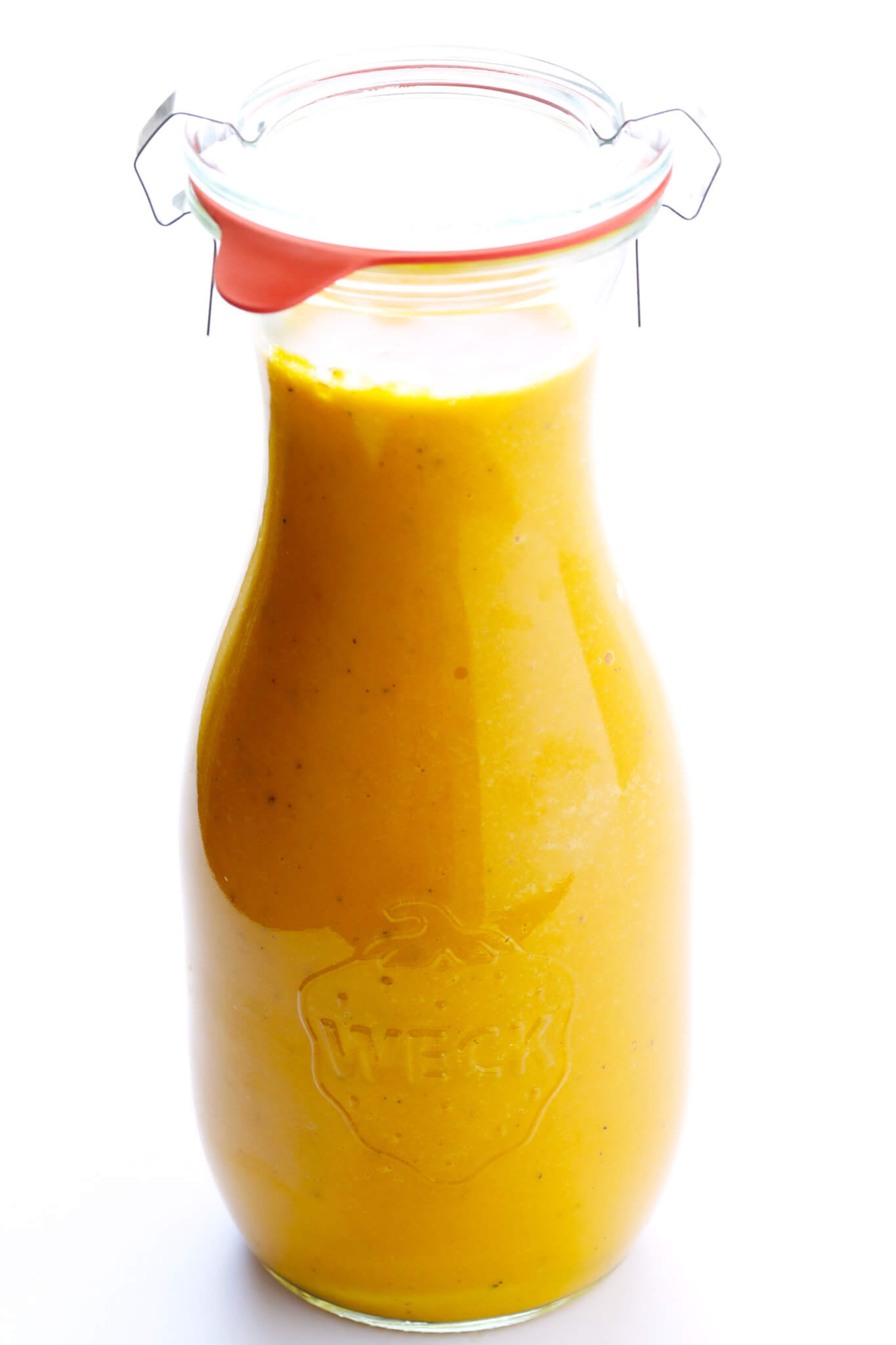 For the past few years, Barclay and I have had the tradition of going out for sushi every Monday night at our favorite little neighborhood Japanese restaurant.  And every Monday night, we both always kick off our meal by ordering a house salad, topped with the most amazing ginger carrot dressing.  And every Monday night, it totally hits the spot.  💛
I mean, let's be real.  We mayyy have started out ordering this salad to balance out the embarrassing amount of half-price sushi that consume on a Monday.  But thanks to that irresistible dressing, I think it's safe to say now that we both look forward to the salad just as much as the sushi.
It's the best!
Seriously, it's the perfect balance of sweet and savory and tangy, and is guaranteed to kick up any standard green salad from "meh" to "magical" just like that.  So of course, after years of loving the stuff, I finally went on a mission to learn how to make it from scratch about a year ago.  And as it turns out, it's a totally simple recipe, made with ingredients you probably already have on hand.  Which is also, like I said, the best.  😉
To make the dressing, simply toss all of the ingredients in a food processor or blender, and puree until completely smooth.  Feel free to thin it out with some extra water if needed.  And if you'd like a spicier kick, I also really love adding in a pinch of cayenne to give it some subtle heat.
This Ginger Carrot Dressing would taste great mixed into:
Or it could even be a delicious dipping sauce for a veggie tray (with things like sliced cucumbers, radishes, carrots, celery, etc.)
However you serve it, I hope you enjoy it as much as we do!
Ginger Carrot Dressing
This delicious Ginger Carrot Dressing recipe is inspired by the Japanese restaurant version we all know and love, and made with an irresistible combination of sweet and savory ingredients.
Ingredients:
1 large carrot, peeled and roughly-chopped
1/4 cup rice vinegar
2 tablespoons avocado oil or olive oil (or any mild-flavored cooking oil)
1 tablespoon finely-chopped fresh ginger
1 tablespoon honey or maple syrup*
1 tablespoon white (shiro) miso
1/2 teaspoon toasted sesame oil
Kosher salt and black pepper, to taste
Directions:
Add all ingredients to a blender or food processor, and pulse until completely smooth.  Season to taste with salt and pepper.  (And feel free to add extra honey if you'd like a sweeter dressing.)
Serve immediately, or store in a sealed container for up to 1 week.
*Use maple syrup if making this recipe vegan.
**The top photo in this post shows a double batch — about 2 cups yield.
All images and text ©
If you make this recipe, be sure to snap a photo and hashtag it #gimmesomeoven. I'd love to see what you cook!
Be sure to also check out my other favorite salad dressings!