Gingerbread Cookies
This classic gingerbread cookies recipe is easy to make, totally delicious, and perfect for decorating!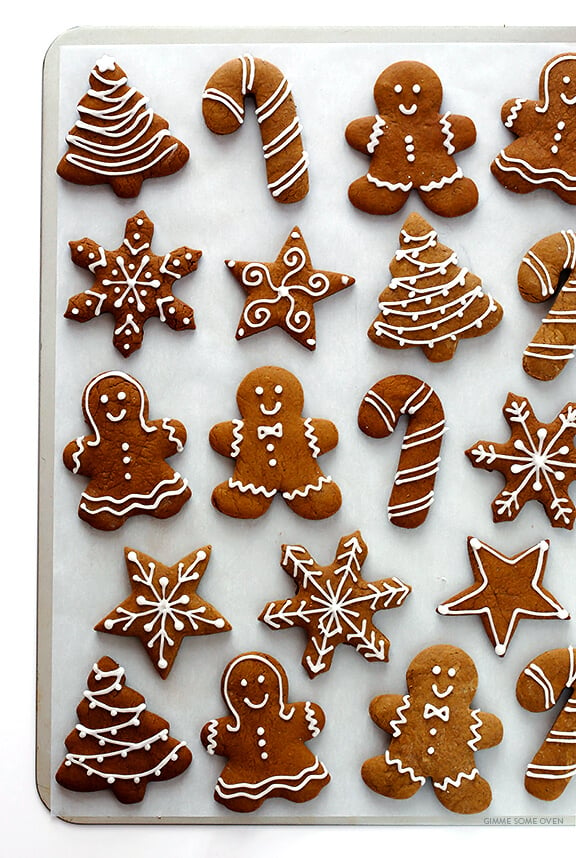 This week I made my annual pilgrimage up to the verrrrrry top shelf in my kitchen to retrieve my big box of cookie cutters…
…because it's Gingerbread Cookie season!
Yes, probably like many of you, these cute little cookies have been a tradition in my family for as long as I can remember.  My sister and I always used to love cutting them out and decorating them galore as kids.  And as an adult, I must confess that I love the way they make my home smell amazing almost as much as I love eating them!  They definitely beat out a holiday candle any day.  ;)
So for anyone else looking to bake up a batch, here is my go-to gingerbread cookie recipe that was originally developed by my friend, Elise Bauer of SimplyRecipes.com.  It's easy to make, perfectly soft and delicious, and it never fails me.  Let's make some!
I actually just went in and updated the photos for this recipe, but here's a shoutout to the original photos I took way back when I first posted in 2009.  I forgot about that scarf — so cute!
To make these, simply mix up the dough.  Then let it chill thoroughly in the fridge (so that your cookies don't puff up and spread out too much while cooking).  Then roll it out on a floured surface and bring on your favorite cookie cutters!
I kept things traditional this year with some classic holiday shapes, but you can use whatever you'd like!  Or if you don't have cookie cutters, a biscuit cutter or the top of a (rinsed-out) aluminum can will also work.
Once they're baked up, let them cool to room temperature…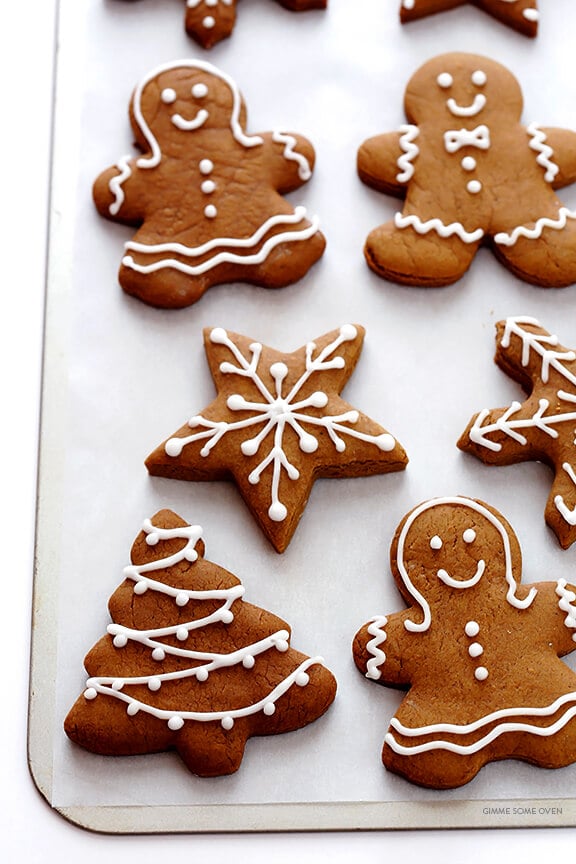 …and then decorate them with my simple frosting recipe if you'd like.
Happy baking!
Gingerbread Cookies
A delicious recipe for classic gingerbread cookies that never fails me!
Ingredients:
Gingerbread Cookies Recipe:
3 1/4 cups all-purpose flour
1 tablespoon ground cinnamon
1 tablespoon ground ginger
3/4 teaspoon baking soda
3/4 teaspoon ground cloves
3/4 teaspoon salt
1/2 teaspoon ground nutmeg
3/4 cup (1 1/2 sticks) unsalted butter, softened to room temperature
1/2 cup packed dark-brown sugar
1 large egg
1/2 cup unsulfured molasses
optional toppings: simple icing (see below), red hots, sprinkles, etc.
Simple Icing Recipe:
2 cups powdered sugar
2-3 Tablespoons milk
1/4 teaspoon vanilla extract
Directions:
To Make The Gingerbread Cookies:
In a large mixing bowl, whisk together flour, cinnamon, ginger, baking soda, cloves, salt and nutmeg. Set aside.
In an electric mixer fitted with the paddle attachment, beat the butter and sugar together for 2 minutes on medium-high speed until light and fluffy.  Add in eggs and molasses, and beat on medium speed until combined. Reduce mixer speed to low, and gradually add the flour mixture until just combined.
Divide the dough into two equal portions, and form them each into a ball.  Then gently use your hands to flatten each ball into a 1-inch thick disk, wrap tightly in plastic wrap, and chill in the refrigerator for at least 2 hours or overnight.
Once the dough is thoroughly chilled and you're ready to bake the cookies, heat the oven to 350°F.  Unwrap the dough and place it on a large, lightly-floured hard surface.  Use a floured rolling pin to roll the dough evenly until it is approximately 1/8-inch thick.  Then use your favorite cookie cutters to cut out your desired shapes, re-rolling the dough as needed to cut out more.  Transfer to parchment-covered baking sheets.
Bake for 8 to 10 minutes, or until the cookies are crisp around the edges and on top. Remove from oven and let cool for 5 minutes, then transfer to a wire rack to finish cooling.
Once the cookies are room temperature, feel free to decorate them as desired with the icing (see below) and serve.  Or store in a sealed container for up to 4 days.
To Make The Simple Icing:
Whisk all ingredients together in a bowl until smooth.  If your icing is too thin, add in a little more powdered sugar.  If your icing is too thick, add in a tiny bit of milk.
Use a piping bag, or a ziplock bag (with the corner snipped off), or a plastic squeeze bottle to pipe the icing onto the cookies.
If you make this recipe, be sure to snap a photo and hashtag it #gimmesomeoven. I'd love to see what you cook!