Chocolate Crinkle Cookies
This classic Chocolate Crinkle Cookies recipe is easy to make, and sooo delicious!  Perfect for the holidays!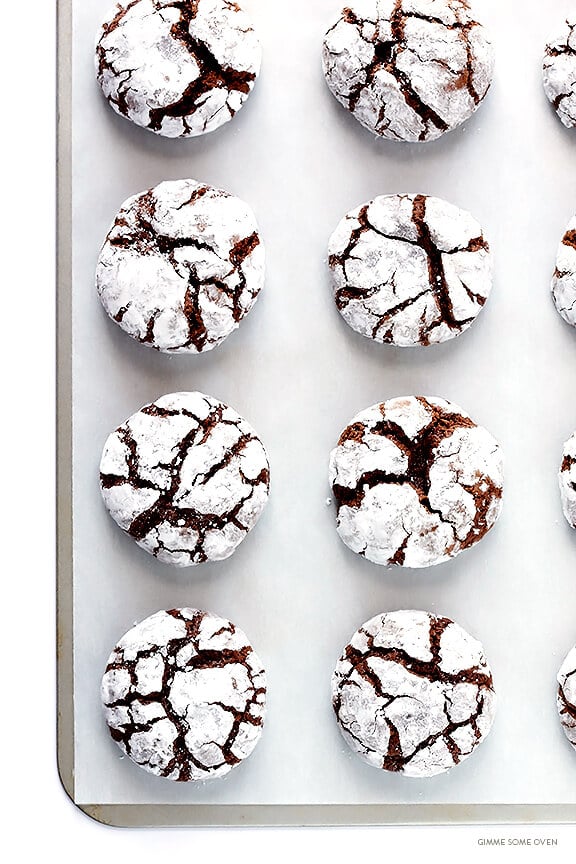 One week until Christmas!!  One week until Christmas!!
Man, Santa's going to be here and hungry for some cookies any day now.  So if you're looking for a last-minute recipe to bake up for the man in red — or (if like in this song) you feel like a little extra sugar for yourself — I thought I'd share one last cookie recipe for the season that I'm pretty sure everyone will love.  Or at least, it has always been the cookie that seems to disappear the fastest at any cookie exchange I've ever attended.  :)

MY LATEST VIDEOS
Who wants a Chocolate Crinkle Cookie?
I'll be the first to say that this is my recipe for classic Chocolate Crinkle Cookies.  It's not lightened up.  There's no whole wheat flour in there.  Just a delicious, soft and chewy chocolate cookie…that's coated in powdered sugar…
…and then baked up to sweet crinkled perfection.
Aka — a total treat.  :)
If you'd like to make them extra chocolate-y, you're welcome to dip them in a mixture of powdered sugar and cocoa powder (use a 1:1 ratio of each).  Or if you can also mix in an extra cup of semisweet chocolate chips to the dough before rolling it up.  Or if you really want to go crazy, you could add in some peanut butter chips and make just about every chocolate-PB-dessert-lover's dreams come true.
Me?  I'm sticking with the classic this year.  And if Santa's lucky, I might save one for him too.  ;)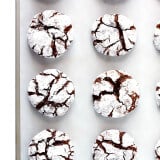 Chocolate Crinkle Cookies
This Chocolate Crinkle Cookies recipe is a classic for a reason! They're easy to make, wonderfully sweet and chocolatey, and perfect for the holidays!
Ingredients:
1 cup all-purpose flour or white whole wheat flour
1/2 cup unsweetened cocoa powder
1 teaspoon baking powder
1/4 teaspoon salt
3/4 cup granulated sugar or cane sugar
1/4 cup vegetable (or canola) oil
2 large eggs
1 teaspoon vanilla extract
(optional: 1 cup semisweet chocolate chips)
1 cup powdered sugar, for coating the cookies
Directions:
In a medium bowl, whisk together the flour, cocoa powder, baking powder and salt until combined.  Set aside.
In the bowl of a stand mixer, add the oil and granulated sugar. Beat on medium-high speed for 2 minutes, or until the mixture is light and fluffy.  Add in the eggs one at a time, beating on medium-low speed until combined.  Add in vanilla, beating on medium-low speed until combined.  Then gradually fold in the flour mixture, and beat on medium-low speed until combined.  (If you would like to include chocolate chips, add them in at this point and beat on medium-low speed until combined.)
Form the dough into a large ball, and place it on a large sheet of plastic wrap.  Wrap the plastic around it so that it is sealed tightly.  Refrigerate for at least 2 hours (or up to 24 hours) until the dough is chilled completely through.
When you're ready to bake the cookies, preheat the oven to 350°F.  Line a large cookie sheet with parchment paper.  Scoop the sugar into a small bowl.
Remove and unwrap the dough.  Then roll the dough into 1-inch balls, dip each ball in the powdered sugar until it is completely covered on all sides, and then place the dough balls at least 2 inches apart on the prepared baking sheet.  Bake for 10 minutes, then remove and let the cookies cool on the baking sheet for 3 minutes.  Transfer the cookies to a wire rack, and let them cool until they reach room temperature.
Serve immediately, or store in a sealed container for up to 5 days.  These cookies (either in dough form, or baked) can also freeze for up to 3 months in a sealed container.
All images and text ©
If you make this recipe, be sure to snap a photo and hashtag it #gimmesomeoven. I'd love to see what you cook!