Peanut Butter Cookies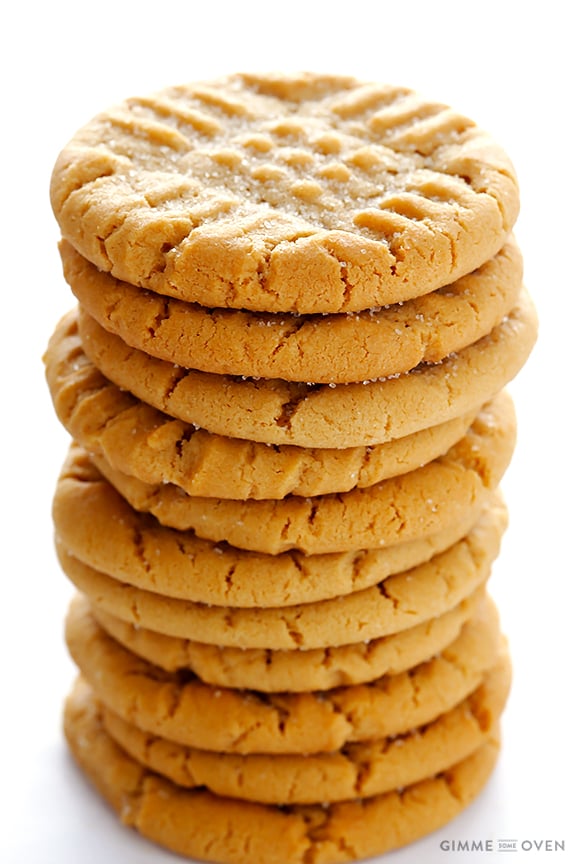 How do you organize your life?
Are you someone who lives and breathes by your Google calendar?  Carry around an old-school paper agenda?  Decorate your office with Post-Its?  Call on Superwoman Siiri to save the day?
My not-so-organized life seems to always include a bit of each of those.  But I'm finally caving to the crowds and trying out Evernote to see if it can streamline things a little more.  I have some friends who are die-hard fans of the app and swear that it will absolutely change your life (no less), so I have slowly been trying to make it become a habit.  We'll see.  I'm pretty sure that Post-Its will forever and always still be in my life.
But I have been trying to get a little more organized about planning out recipes for the blog, and specifically, making a note on Evernote whenever you all out there send in recipe requests.  And I have to say that the tally for two cookie recipes on has reached an all-time high this holiday baking season.  I bet you can guess them.  One happens to have the initials CCCs (which I may post sometime soon, although I still love my coconut oil version!).  And the second is none other than one of my favorite classics.
Peanut butter cookies.
Google tells me there are 41 million search results for peanut butter cookie recipes online.  But hey, you requested it, so today I thought I'd make it 41 million and one and share my favorite recipe with you.
Let me be clear upfront that these are indeed what I consider classic peanut butter cookies.  Which means that they're full of peanut butter…and also lots of butter and sugar and everything else indulgent that goes into classic cookies.  If you want a slightly healthier version, you can check out my Peanut Butter Banana Cookies.
These guys are the real-deal, eat-one, and savor-every-last-sweet-bite kind of cookies.  You know, the ones we grew up on.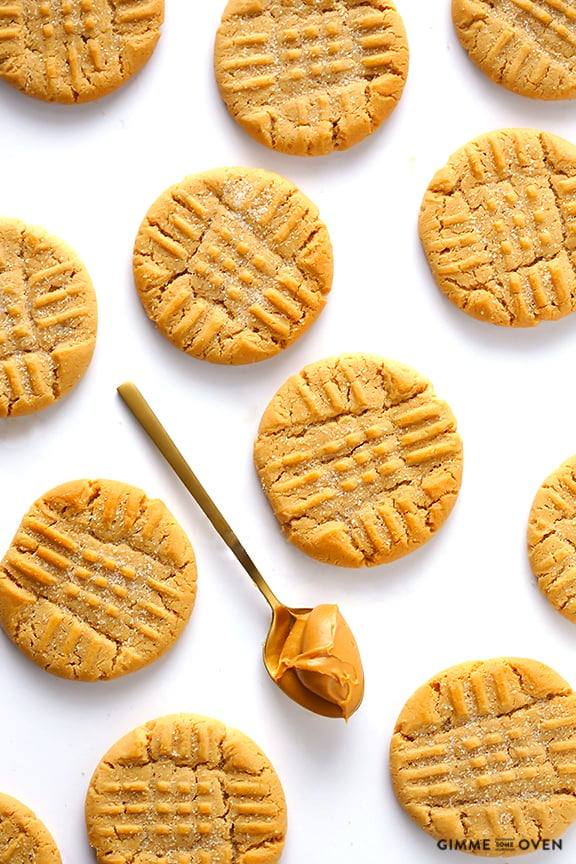 I would also like to point out that they are the soft and chewy version of PB cookies, because that's how I like 'em.
(Although if you insist on liking a crispy cookie, just bake them in a slightly hotter 375-degrees-F oven so that the edges get a bit crispier.)
Either way, to make the cookies, simply whip up a quick batter in your mixer.  Then roll them into balls, and use a fork to make a criss-cross pattern to flatten them a bit, since these cookies don't rise much during baking.
If you'd like, you can roll the dough balls in sugar before doing the criss-cross thing.  Or you can also sprinkle on sugar after they have been flattened.  But actually, the cookies are plenty sweet on their own, so no need to add extra sweetener if you'd rather not.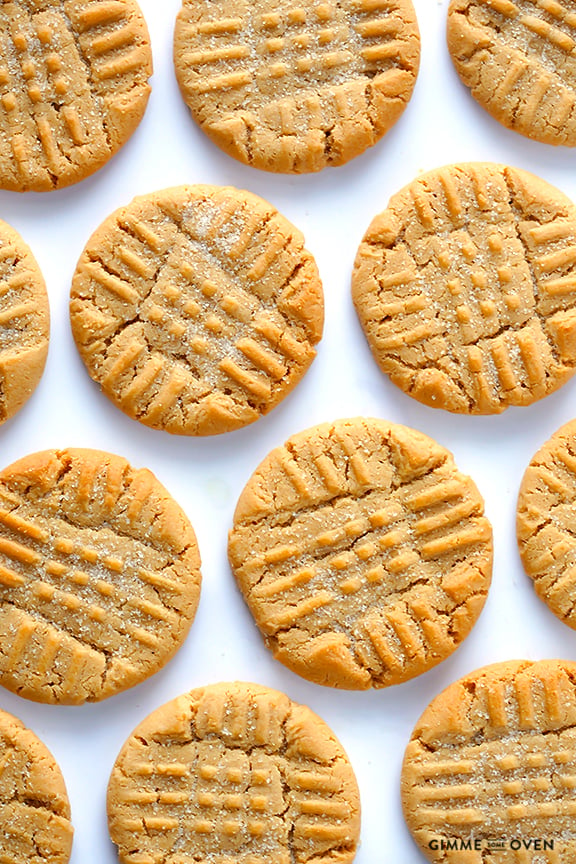 Then bake them up…
…and please, I insist, you must eat at least one of these while they're warm.  :)
Otherwise, store them in a sealed container so that you can enjoy them later with a nice glass of milk, or pass around the sweetness with your friends and co-workers if you feel like sharing.  ;)
I have made these countless times throughout the years, and I have to say that I have yet to meet someone who doesn't love a good peanut butter cookie.  So if you're looking for a trustworthy recipe for the classic, I've gotcha covered.
(And hey, you might even Evernote it to keep track of it!)
Enjoy!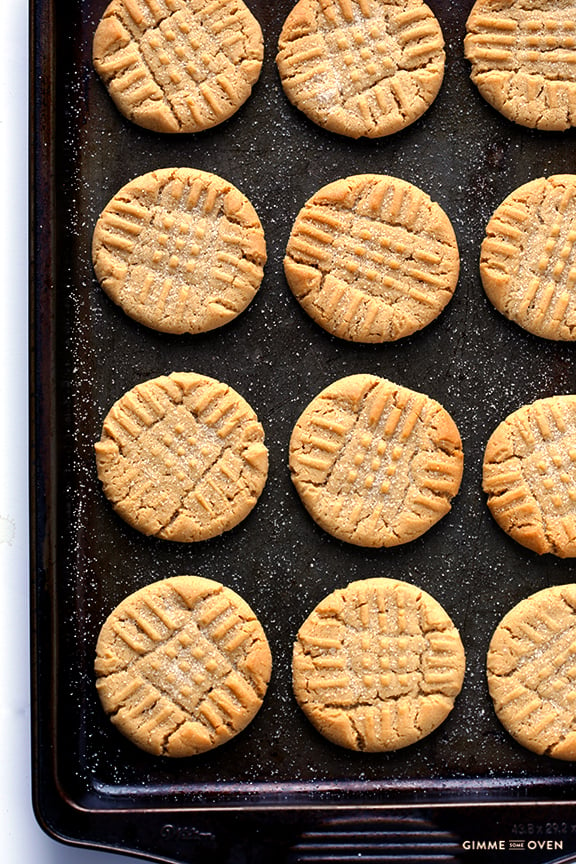 Peanut Butter Cookies
These peanut butter cookies are soft, chewy, and absolutely delicious!
Ingredients:
2 2/3 cups all-purpose flour
1 teaspoon baking powder
1 teaspoon baking soda
1 teaspoon cornstarch
1 teaspoon salt
1 cup (2 sticks) butter, softened
1 cup granulated sugar
1 cup packed light brown sugar
1 cup peanut butter (smooth or crunchy)
2 teaspoons vanilla extract
2 large eggs
(optional: 1/2 cup granulated sugar for rolling the dough balls)
Directions:
Preheat oven to 350˚F.
Whisk together flour, baking powder, baking soda, cornstarch and salt in a large bowl and set aside.
In an electric mixer fitted with the paddle attachment, beat together the softened butter, granulated sugar and brown sugar on medium speed until light and fluffy (about 3 minutes). Mix in peanut butter until it is incorporated and smooth. Add vanilla and eggs, one at a time, scraping the bowl down after each addition. Reduce mixer speed to low and slowly add dry ingredients until they are just incorporated and the batter is smooth, being careful not to over-mix.
Form the dough into 1.5-tablespoon round balls and place on a parchment-lined baking sheet.  (If you'd like, you can roll each of these balls in a bowl of granulated sugar before adding them to the baking sheet.)  Press a criss-cross pattern into each dough ball with a fork to flatten, being sure that each dough ball is at least 2 inches apart.  Bake for 10-12 minutes, until the edges are golden brown and the centers are slightly puffy.  Remove from the oven, and then transfer the cookies to a cooling rack to cool.
Serve warm, or store in a sealed container for up to 1 week.
All images and text ©
If you make this recipe, be sure to snap a photo and hashtag it #gimmesomeoven. I'd love to see what you cook!