Gingerbread Scrabble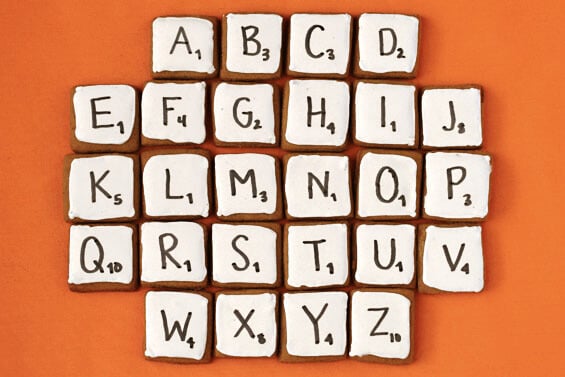 I happen to have quite the fondness for Scrabble.  Love playing it with friends and family, love collecting extra Scrabble tiles to turn into cute necklaces (so fun – Google those if you have never seen Scrabble necklaces!), and this year — had a blast turning my favorite gingerbread cookie dough into little gingerbread Scrabble pieces!!
Oh my word — these were too cute!  And completely delicious too.  (Perfect for if you, um, get stuck with that annoying letter Z and need it to "disappear" before your next turn!)
So read on for a simple tutorial on bringing together a favorite recipe and a favorite game.  Fun!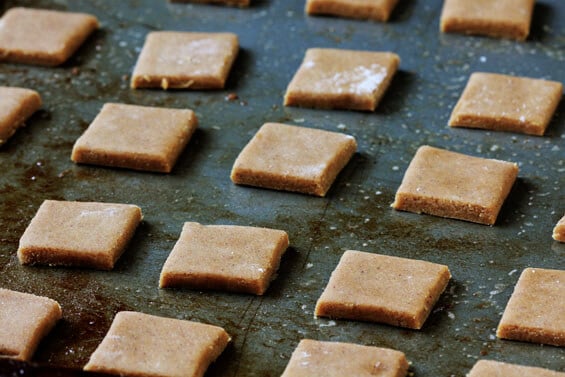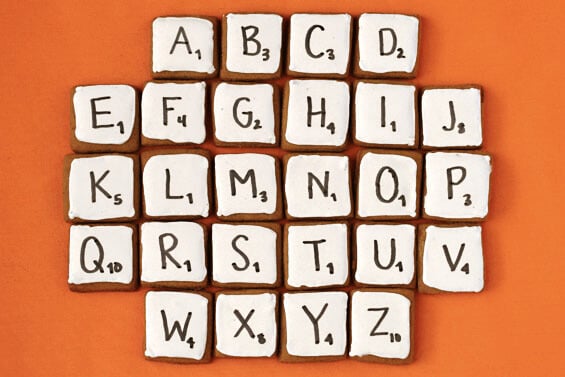 Gingerbread Scrabble
A fun and detailed tutorial on how to turn your favorite gingerbread cookies into Scrabble tiles! You will love this Gingerbread Scrabble recipe!
Ingredients:
Directions:
Heat oven to 350F.

Prepare the gingerbread cookie dough. Once it is ready, place a dough third on a large piece of lightly floured parchment paper or wax paper. Using a rolling pin, roll dough 1/8 inch thick. (Refrigerate again for 5-10 minutes to make it easier to cut out the cookies if needed.)

Using a knife or a pizza cutter, carefully cut the dough to make a grid of Scrabble tiles. You can be as precise about this as you would like. (Mine were not that precise!) Actual Scrabble tiles measure 2 cm x 1.5 cm, so if you want to be exact, I would size them 1/2 cm smaller, knowing that they will expand slightly when cooked. In American Scrabble, there are traditionally 100 tiles. See the tip below for the letter and points distribution.

Once you have your desired amount of "tiles", lay them out on a cookie sheet at least 1″ apart, and bake until crisp but not darkened, 7 to 9 minutes. Remove from oven. Let sit a few minutes and then use a metal spatula to transfer cookies to a wire rack to cool completely.

Prepare your Royal icing according to directions, and carefully make a strong border around the outside of each tile. Then fill with the slightly diluted icing. Use an edible marker to write a letter and point value on each "tile".

Then use them to play, eat, and enjoy!!

All images and text ©

If you make this recipe, be sure to snap a photo and hashtag it #gimmesomeoven. I'd love to see what you cook!
Ali's Tip:
Apparently Scrabble has different configurations with letters and point values in different countries. But these are the letter distributions and point values for "American Scrabble". (The tiny "×12" numbers represent how many tiles there are of that specific letter.)
2 blank tiles (scoring 0 points)
1 point: E ×12, A ×9, I ×9, O ×8, N ×6, R ×6, T ×6, L ×4, S ×4, U ×4
2 points: D ×4, G ×3
3 points: B ×2, C ×2, M ×2, P ×2
4 points: F ×2, H ×2, V ×2, W ×2, Y ×2
5 points: K ×1
8 points: J ×1, X ×1
10 points: Q ×1, Z ×1