Golden Milk (Hot or Iced)
Guys, have you tried golden milk yet??
A few weeks ago, I mentioned how I've been drinking this stuff non-stop lately, and a bunch of you messaged asking where to buy it or how to make it.  I'm sure a store-bought version is available somewhere.  But I've been making my own — both hot and iced — and it's totally easy to whip up.  And somewhat to my surprise, it's also totally tasty.
Golden milk is typically made with some sort of milk (I went with almond milk), a handful of warming spices (cinnamon, ginger, etc.), a hint of sweetener (maple syrup, honey, etc.), and a splash of vanilla if you'd like  — very similar to the flavors in chai.  But the main ingredient in there which makes it "golden" — and all the more vividly so, depending on how much you add — is the almighty turmeric.
I don't know how familiar you are with turmeric, but in addition to being a popular flavor used in curries, it also boasts an impressive list of health benefits. a natural anti-inflammatory, antioxident, anti-depressant, and is said to also help prevent or treat all sorts of major diseases.  (Google it!)  I also happen to think it's quite tasty, with its distinctly warm, earthy, peppery and slightly bitter flavor.  Some people aren't a fan, but I really love it.  And the great thing about making golden milk (a.k.a. "turmeric milk") is that you can start with a small amount and add however much turmeric you'd like to taste.
Interested??  I totally think you should try some.  ?
Golden Milk Recipe | 1-Minute Video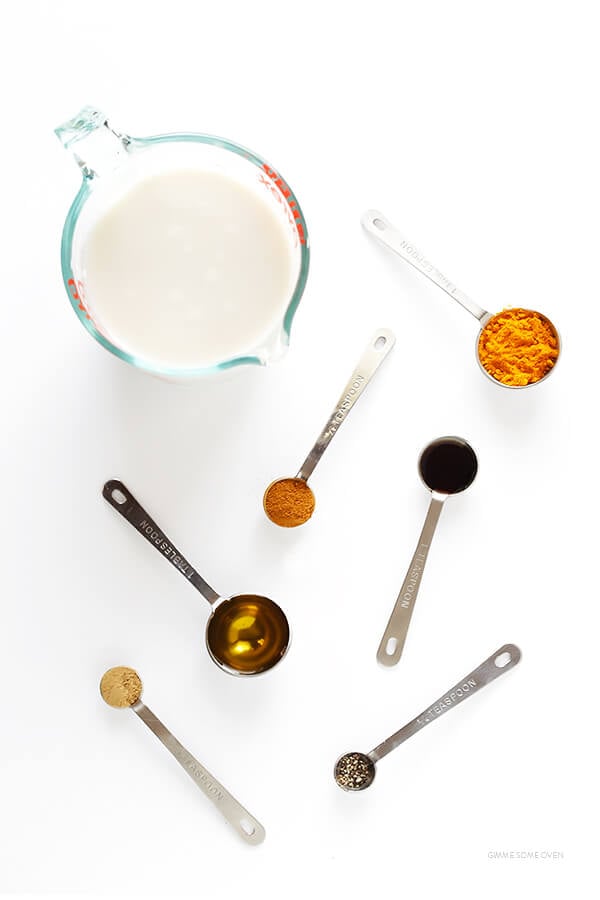 As I said, the ingredient list is really similar to a chai.  You just need:
milk (I used almond milk, but any kind will do)
ground turmeric*
ground ginger
sweetener (maple syrup, honey, or whatever you'd like)
vanilla extract
and a hint of black pepper
Why the black pepper?!  Studies have shown that it majorly helps your body to absorb the nutrients from the other spices (especially turmeric) even better.  Plus I like the little kick it adds.
*Heads up on the turmeric though — it is a major stainer.  I'm talking about teeth, countertops, stain-able mugs, you name it — they can also turn golden.  So be careful to wipe up any golden milk that might accidentally drip down the bottom of your mug, and also consider using a straw or brushing your teeth soon after drinking.
To make the golden milk, just bring your milk to a simmer and whisk in all of those spices until they're totally combined and the milk turns a brighter "golden" color…
…and then you can either serve it up hot…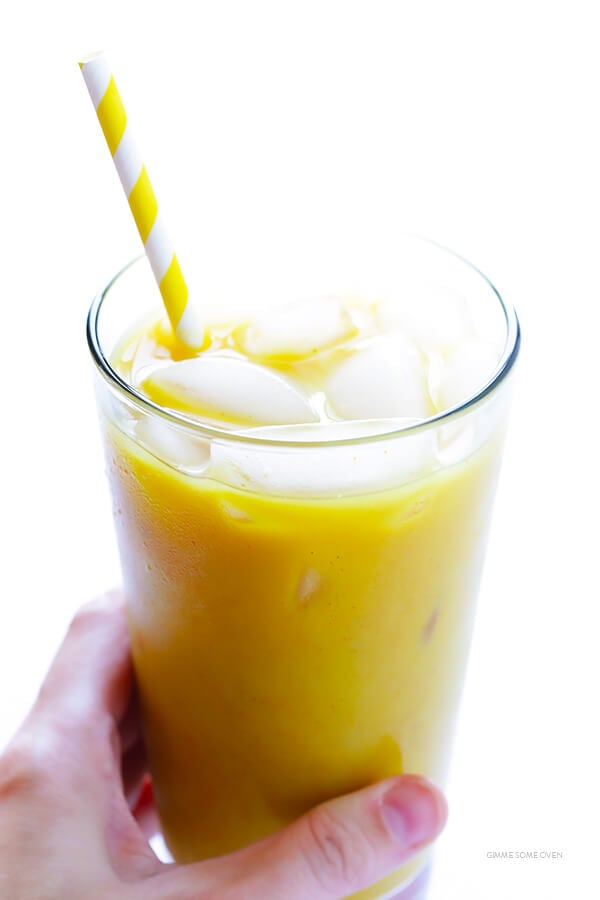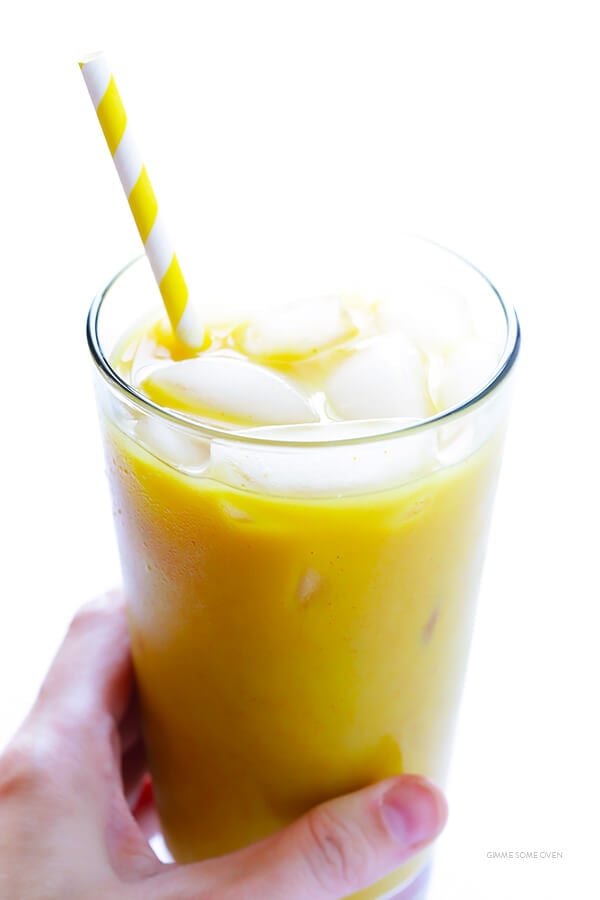 …or chill it down with some ice.  (<– My favorite this time of year!)
Some recipes call for using actually turmeric root, ginger root, cinnamon sticks, etc. — which you're totally welcome to try — but I find that this recipe with the powdered spices is the quick and easiest version to make.  Which means that I'll actually make it.  Often.  :)
Some other recipes lean toward a water-based version that they call turmeric tea, which you're also welcome to experiment with (adding in a tea bag if you'd like).
My favorite, though, is this classic turmeric milk — golden milk.  It seriously tastes like such a treat at any hour of the day, and I love knowing that it's actually good for you too.  Of course, I have to disclaim that I'm not a doctor and can't prove any of the health benefits of this (talk to your doc if you'd like to know more).  But from what I've heard, this one is as good for you as it is good to sip.  :)
So cheers, friends!  Hope you enjoy it!
Golden Milk (Hot or Iced)
Learn how to make homemade golden milk with this simple recipe. It's quick and easy to make, full of good-for-you turmeric, and it's delicious hot or iced!
Ingredients:
2 cups almond milk
2-3 tablespoons maple syrup or honey (or any favorite sweetener, add more/less to taste)
1 teaspoons ground turmeric (or more to taste)
1 teaspoon vanilla extract, store-bought or homemade
1/2 teaspoon ground cinnamon
1/4 teaspoon ground ginger
pinch of black pepper
(optional: tiny pinch of ground cloves, cardamom, and/or nutmeg, if desired)
Directions:
Heat almond milk in a small saucepan over medium-high heat until it begins simmering (not boiling).  Add in the remaining ingredients, and whisk for a minute or so until everything is combined and smooth, and the spices are completely dissolved.  Taste and add in extra sweetener if needed.
Serve immediately.  Or let the milk cool to room temperature, then refrigerate in a sealed container for up to 3 days.  You can either reheat it then, or serve it chilled over ice.
All images and text ©
If you make this recipe, be sure to snap a photo and hashtag it #gimmesomeoven. I'd love to see what you cook!